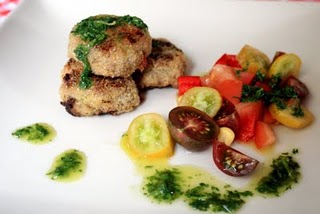 These little guys were the result of my tea time cooking last night.  I had some minced turkey to use and wanted something more interesting than a pasta bolognaise sauce. I normally coat my meat balls with flour but in search of an alternative in my cupboard I decided upon polenta.  The selection of ingredients are based upon a recipe for cornbread topped chilli from the party chapter of Nigella Lawson's book Feast: Food that Celebrates Life .  I have made this as straight chilli before but for some reason always make it with turkey rather than beef.  The cocoa stops the minced turkey looking too anaemic.
The three types of tomatoes came courtesy of my good neighbour, gardening writer and blogger Martyn Cox.  Martyn often gives us cuttings and this year we gratefully received half a dozen tomato plants.  We didn't realise until they started growing that there were three different varieties of tomato amongst them; a big fat wrinkly beefy style, little black cherry tomatoes and some pale green/yellow speckled plum cherries. I haven't a clue what the proper names of these varieties are but needless to say they all taste fabulous. It's always with sadness that mid September sees me buying supermarket tomatoes after the season ends.  Dressing the tomatoes we have a coriander and basil dressing.  I'm not sure that coriander is normally paired with basil but it's what I had fresh to hand and it has worked well.
I am trying to design recipes which would adapt for party catering.  I think these would be good if you made them a little smaller so you could pop one in your mouth in one or two bites.  The chilli here is quite mild so you could add more if you want them to be hotter.
Big wrinkly tomatoes and one green-yellow plum tomato in foreground.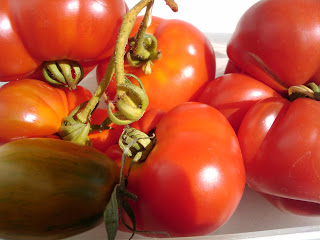 Black cherry tomatoes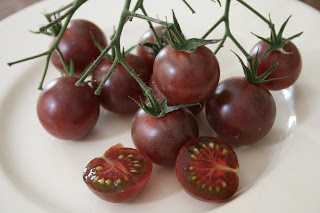 Turkey Chilli Burgers with Three Tomato Salsa and Herb Dressing
Ingredients:
For the patties (makes 22-24 plum sized meatballs – fewer if you prefer burger size):
500g turkey mince
1 medium onion, finely shopped
1/2 red pepper finely diced
1 tablespoon cocoa
1 medium size egg
1 tsp coriander
1 tsp garlic puree or 1 clove garlic
1 tsp cumin
2 little shakes of chilli powder from the jar or 1/2 finely chopped red chilli minus the seeds
150g polenta/cornmeal for coating
olive oil to fry
For the salsa:
2 tbsp olive oil
1 tbsp white wine vinegar
Juice of half a lime
1 tbsp coriander leaves
1 tbsp basil leaves
3-4 average size tomatoes – I used an equivalent quantity of big and cherry sized ones.  Sadly I will not always have 3 varieties of tomatoes to hand…
1/2 red pepper diced, but bigger than for patties
50g sweetcorn (tinned)
Tabasco sauce to taste
Salt and pepper
Method:
1.  Keeping the oil and polenta aside, combine all of the other ingredients for the patties in a big bowl.  Use hands to squeeze ingredients together.  Roll mixture into little balls and coat them with the polenta.
2.  Heat the olive oil and fry the patties 4-5 at a time.  Add more oil to pan if it gets dry and starts to smoke.  (I had my back door open as my smoke alarm gets twitchy when I cook things like this).
3.  Meanwhile put the oil and white wine vinegar in a hand blender cup with the herbs for the salsa dressing.  Give them a quick blitz – not too much or it will go frothy.  Add more oil and vinegar if you think you need more dressing. Pour into a small container ready for spooning onto the salsa vegetables.
4.  Mix the tomatoes, diced red pepper and sweetcorn in a bowl.  Squeeze the lime over them and season with salt and pepper and add your tabasco.
5.  Serve the burgers and salsa on a plate.  Drizzle spoons of the dressing over the patties and the salsa as you wish.  Alternatively you could toss all of the dressing onto the salsa.
This is best served immediately but my husband and I both enjoyed left over patties cold for lunch today.  Any remaining herb dressing will keep for a 1-2 days but don't put it in the fridge as it may solidify.