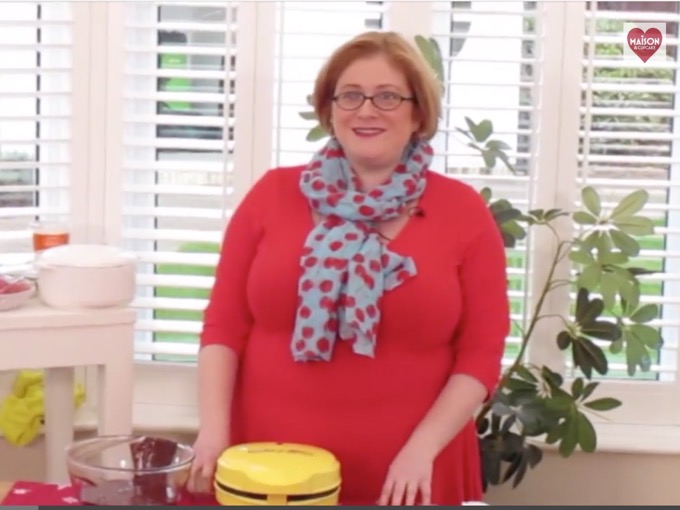 Have you ever bought anything from a TV shopping channel? More to the point, do you ever watch TV shopping channels?
It was a world I was largely ignorant of until I received an invite from Ideal World TV to visit their Peterborough HQ and come behind the scenes for the day.
Laughably I had imagined "around 30 people" might work for a TV shopping channel. How wrong I was. It's actually several hundred and their HQ, home to all the buyers, planners, studio and despatch – every part of the process – is the size of an aircraft hanger.
I also imagined these stations only sold jewellery, crazy exercise equipment and beauty products. Sure they do that but also quality gadgets and electronics which might only otherwise be sold through places like Harrods or Selfridges. The Nutribullet is a current favourite.
Inside, from the moment we arrived in reception to every step of the way through our tour, a TV screen airs each show live.  Like The Truman Show – everyone knows what's going on.
Our tour guide was presenter Joanne Vandermerwe-Mahon (above) who we had seen onscreen whilst waiting in reception. As she started explaining about the process involved in selecting products to sell on air – and indeed it is the selling that counts – I realised just how much work goes into a shopping channel broadcast.
It starts with choosing what to sell. Items might take several months to make it onscreen. Obviously the buyers will be assessing profit margins and likely volume but they also choose items based on whether someone can actually talk about the item for a show lasting over 55 minutes. (We'll come back to how tough that is later!)
On the morning of our visit Ideal World were broadcasting a show about reconditioned iPads which are cheaper than brand new ones. The target audience for the show will include older people or those who live far away from an Apple store who might never had seen one demonstrated properly. The near hour long slot gives Ideal World not only opportunity to sell their product but to demonstrate it throughly. They're also able to answer questions from the audience live on air (which you wouldn't get in a YouTube video). Furthermore, purchases from Ideal World can be spread over time giving viewers an opportunity to buy higher price items they might not afford in one hit.
What I liked about this station was that the prices remain static throughout the broadcast (rather than gimmicky price drop tactics on other stations) and the shows themselves are chatty, relaxed and similar to watching any other daytime TV show.
Alongside the cost benefits of purchasing through the station, I started to understand why viewers would develop a habit of tuning in. These shows aren't designed to entertain a viewer for the duration, few people will sit and watch a shopping station for an entire evening. But I could see the sense in making it a habit to check in regularly and see what was on offer.  And when you've bought something once, it's much easier next time. Kind of like shopping with any other online retailer really. If you want to get organised and preview which items are due to be shown on air, check out the Ideal World TV schedule. Some items are also available to buy from the website.
So let's get on with the tour: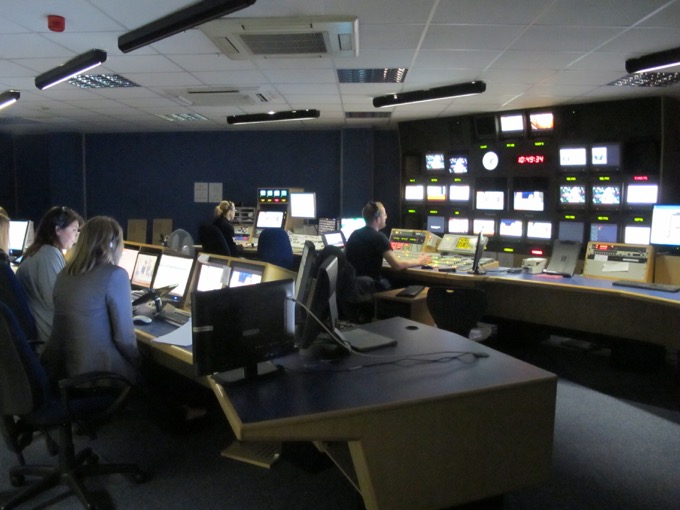 This is the gallery. A team of around five people are constantly talking and guiding the onscreen presenters downstairs.
They direct which camera angle goes on screen when, they monitor which sequences prompt higher sales (it's all about the sales), publish the text and graphics onscreen and play video tape of pre-recorded content.
We had to be very quiet in here as everyone is concentrating very hard.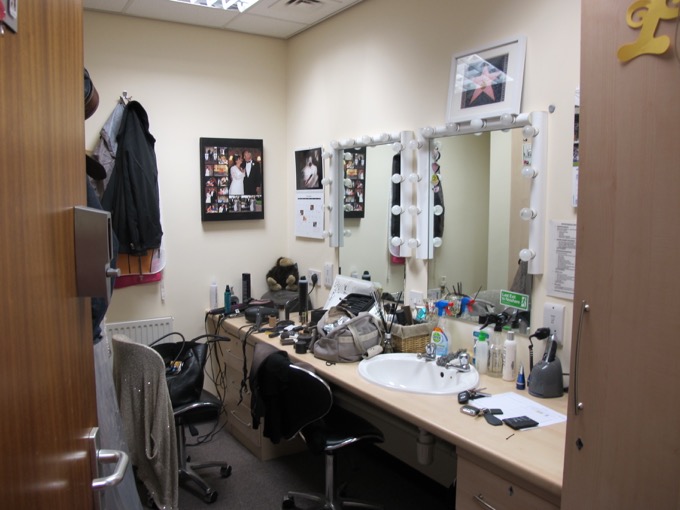 Downstairs there is a green room area with kitchen and rest facilities for any guests due to on air with regular presenters. Here is a presenters' dressing room with those pleasing Hollywood style lights around the mirrors. I want some of those.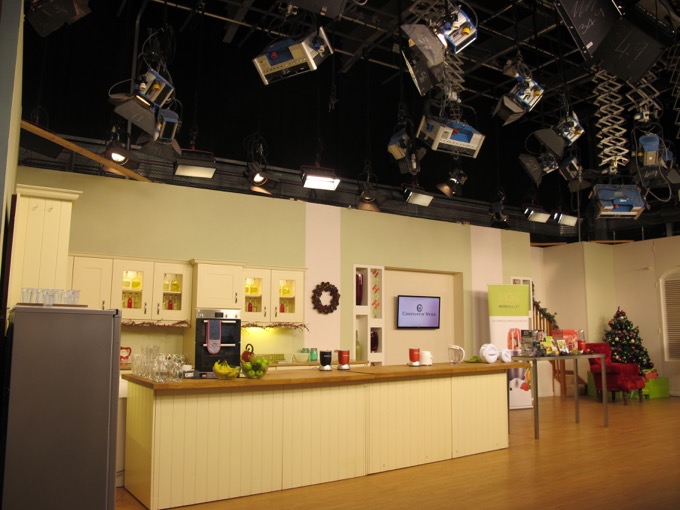 Next door we were able to step in and earwig on a live broadcast. The studio contains around 5 sets for different types of product. This is one of the kitchen sets and alongside a floor man was busy fluffing up a duvet on the bedroom set for a steam cleaner demo taking place later that day.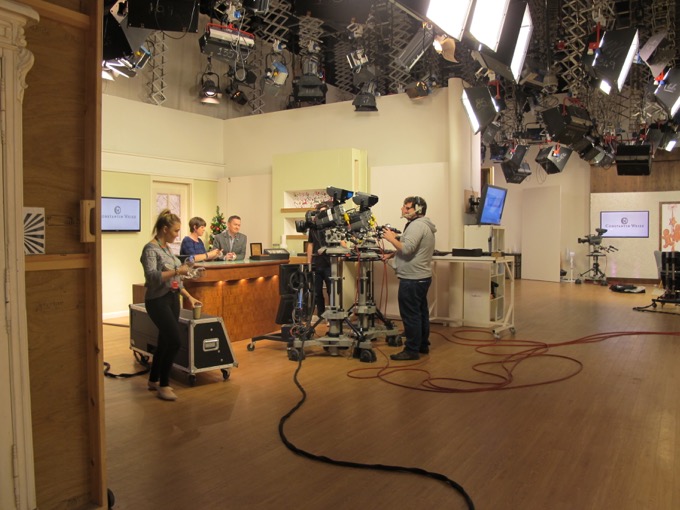 Typically I noticed that a show carries two or three similar items and (usually but not always) has two presenters.
This was a show selling watches so the cameras have to get incredibly close to the presenters. There are wires and lights everywhere.
The few minutes' gap between shows allows for handover of a new presenting team and moving to an adjacent set suited to that product. On air during this time some brief adverts are played. During the show broadcasts, the only breaks presenters get are when VT or video tape of pre-recorded material is shown (maybe a minute or two long). Presenters might do more than one show back to back and it must be very mentally draining.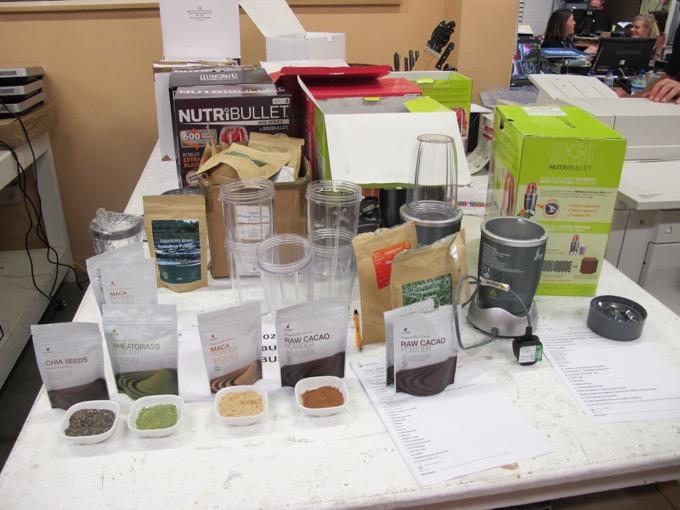 Outside the studio, there are various tables set up with equipment and product for shows due to be broadcast later that day. There is so much advance preparation that goes into these onscreen demos, I had no idea. Joanne our tour guide said presenters would typically take a gadget home for a week to test it themselves before talking about it onscreen. I saw a lot of similarities with blogging!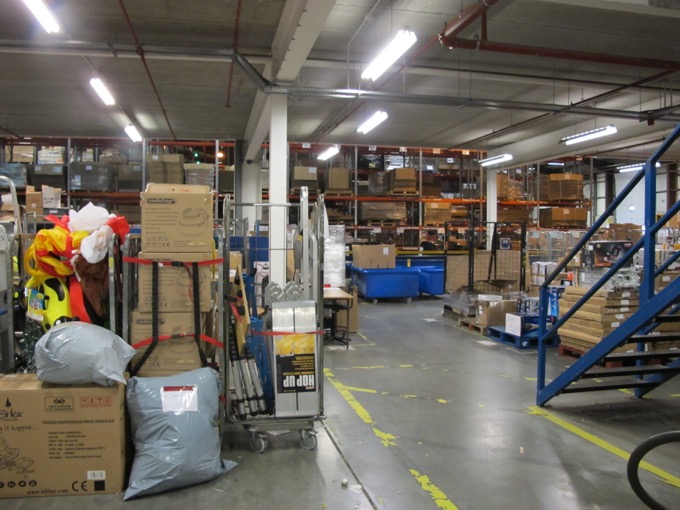 And out back there's a huge team beavering away to package up and despatch all the purchases. Some items that are regular big sellers might have shows broadcast once a week for a period but others are complete one offs waiting to be snapped up.
After our tour it was time to have our moment finding out what it was like to waffle on about a product in a live recording. Not on air of course – they wouldn't be that crazy but we were given free rein in Ideal World's conservatory set used for summer shows.
I had expected to be briefed a little about this machine but instead was thrown in at the deep end. So this is just for fun. Don't use this video to influence your purchasing decisions about doughnut makers because 99% of what I say here is totally made up.
So I gabble a lot. If less panicked I might slow down and actually say something sensible. But if you were live on air you wouldn't be able to go back and un-say something, it feels like verbal tight rope walking that you wobble and waver towards the other side. And in my case, fall off.
Can you imagine presenting on live TV?
With thanks to Ideal World TV for our behind the scenes tour. Ideal World TV can be found on Freeview 22, Virgin Media 747, Sky 654 and Freesat 812 and online at Idealworld.tv
See also posts published on A Mummy Too and Tinned Tomatoes.