Want an easy recipe using marmalade that's a comforting winter pudding too? Look no further.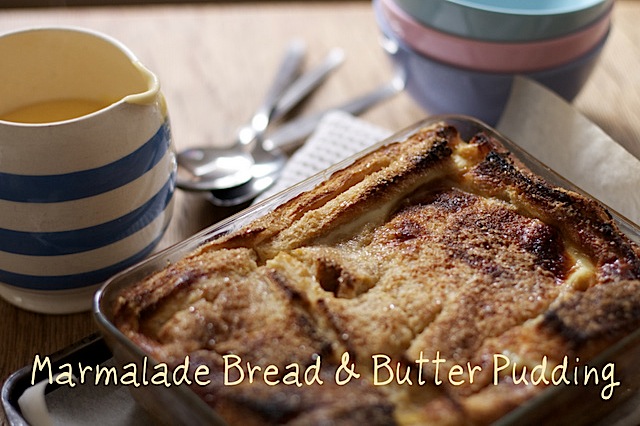 Wallowing in winter, we have grown somewhat addicted to a bread and butter pudding each Sunday.
When you're not in the mood to do much, this comforting pudding is barely more difficult than making a round of sandwiches and lately I've been going on auto pilot each weekend to knock one up after our roast dinner that leaves us with enough pudding to enjoy for a few days during the week too.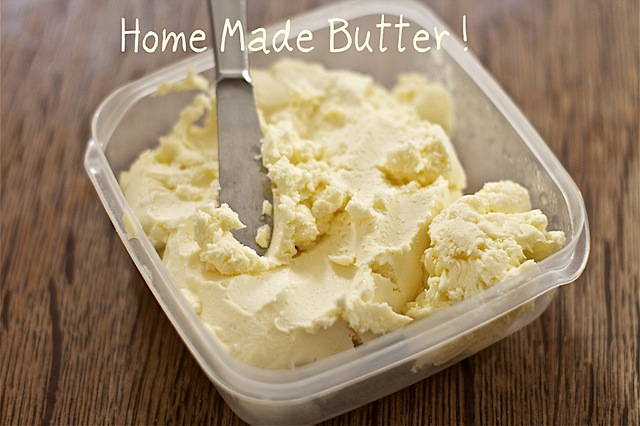 Helen recently told me about making home made butter in the food processor and I scooped up the next batch of reduced cream I spotted at the supermarket to make some myself. It's astonishingly easy and whilst questionable whether it saves you money, certainly the home made butter is no more expensive than basics range if you buy your cream marked down. Using your own butter to bake is very satisfying if nothing else. Simply blitz it in the processor with usual blade until it "breaks" then pour off the buttermilk (for muffins!).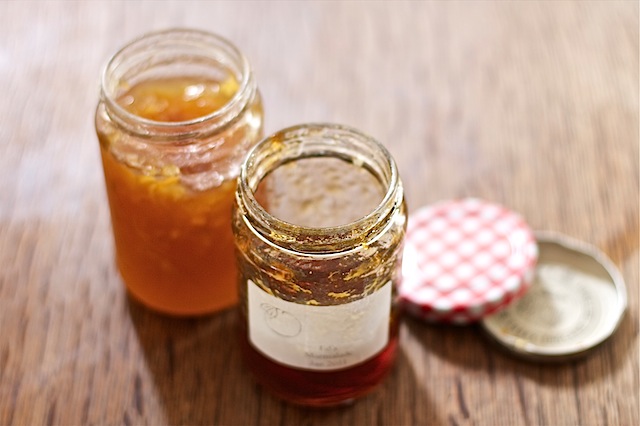 Making my own marmalade is not something I've managed yet. Probably the vast supply I have received from other people has rendered doing it myself fairly pointless. With a heaving store cupboard of jars, I vowed this year to use up things lurking at the back lest they sit there unloved another year.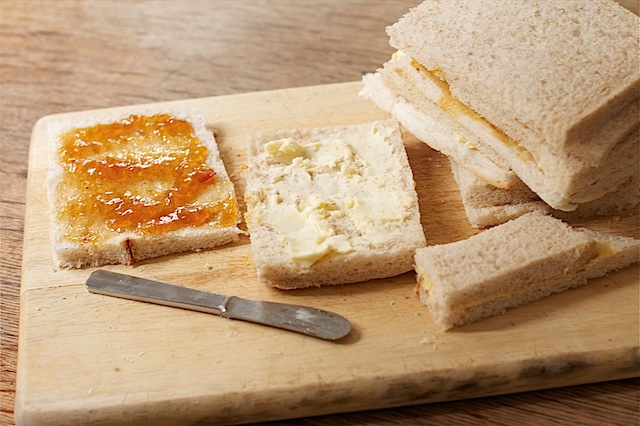 Marmalade takes the traditional bread and butter pudding up a gear. Paddington certainly knew what he was talking about. I think marmalade tastes much better on sandwiches than toast.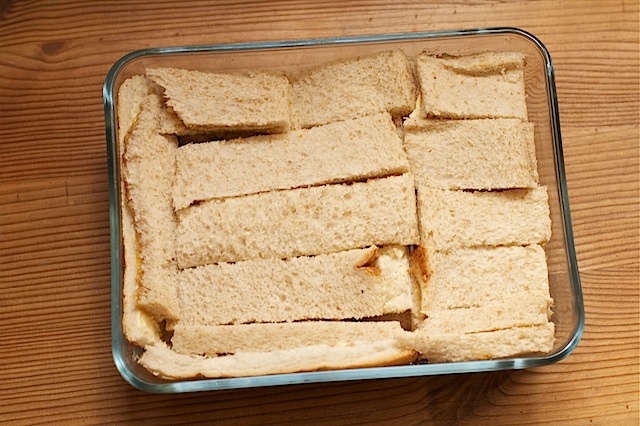 These are all shoved in really. There's no point worrying about how neat they are as the pudding puffs up in the oven anyway.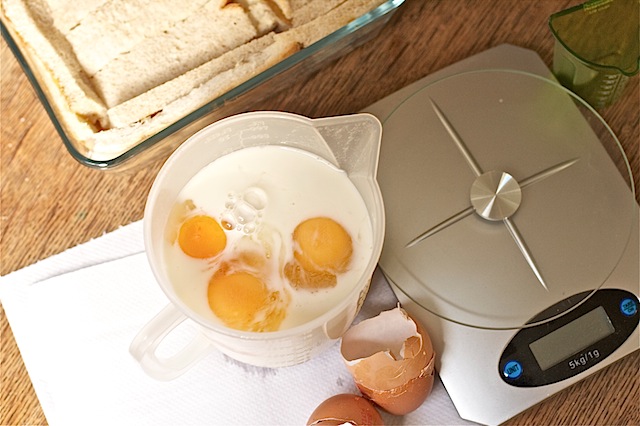 The puffing up is my favourite part. The pudding looks done after 45 minutes but if you give it another ten the surface of the bread rises up and looks more impressive. It sinks back down afterwards anyway but I rather enjoy the moment and give mine extra time to rise.
So three or four weeks later, having mastered a fairly basic bread and butter pudding I am toying with more exotic versions.
Or would this, pun well and truly intended, be over egging the pudding?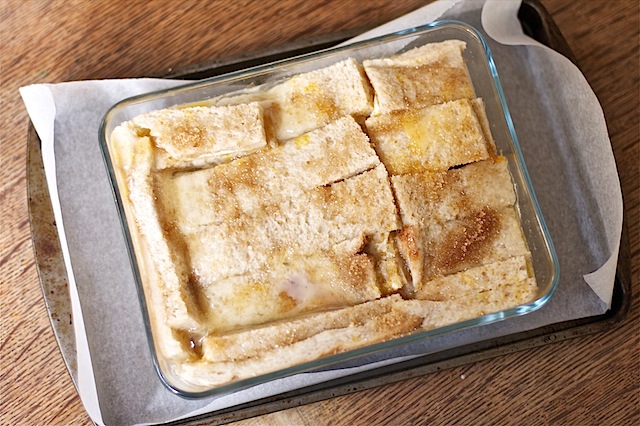 Marmalade Bread and Butter Pudding

Serves 6-8

Ingredients

8 slices of bread or 10 with crusts removed

3 tbsp butter

200g marmalade (shredless or with shred picked out)

500ml whole milk

100ml double cream (I use Elmlea reduced fat version)

3 large eggs

100g sugar

1 tsp vanilla extract

1 tsp nutmeg

demerara sugar for sprinkling

You will need a medium size oven proof dish.

Directions

1. Preheat the oven to 160c / Gas 3. Spread the bread as if making sandwiches with the butter and marmalade. I prefer mine with shred removed but you can leave it in if you like.

2. Sandwich slices together then cut vertically into three strips. Arrange the strips in the dish, first one direction then the other, piling on top of each other and fitting snuggly.

3. Beat the milk, cream, eggs, sugar , vanilla and nutmeg together in a jug and whisk until the yolks have been broken. Slowly and evenly pour over the breadstrips.

4. Sprinkle demerara sugar over the top and bake for 50-60 minutes until puffed up. This pudding is best served warm.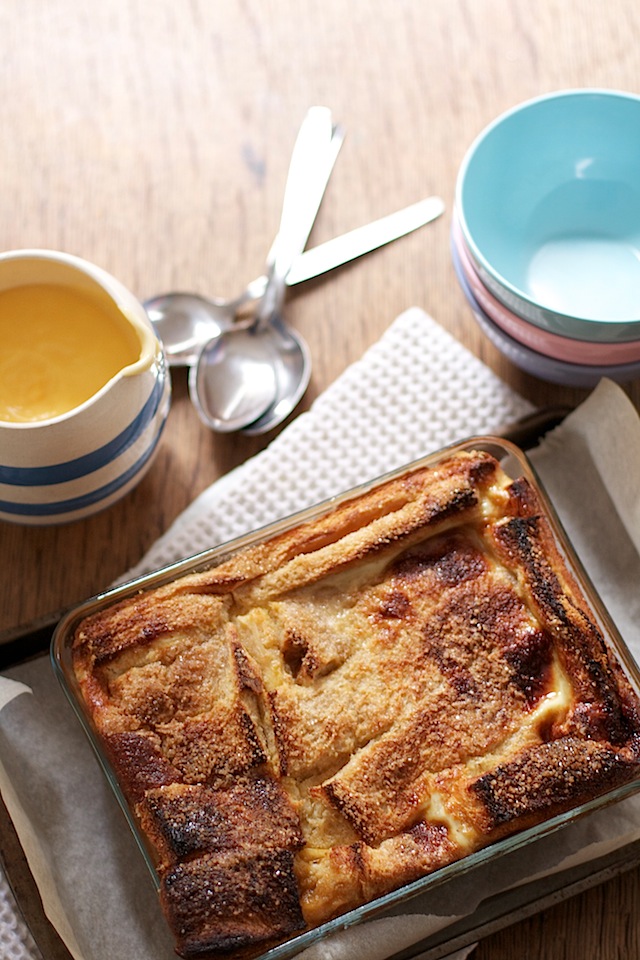 I am sending this post to Family Friendly Fridays at Ren's Fabulicious Food.