I'm not a big user of packet cake mixes but curious whether making cakes with children using ready made cupcake mix would be successful. What are the advantages?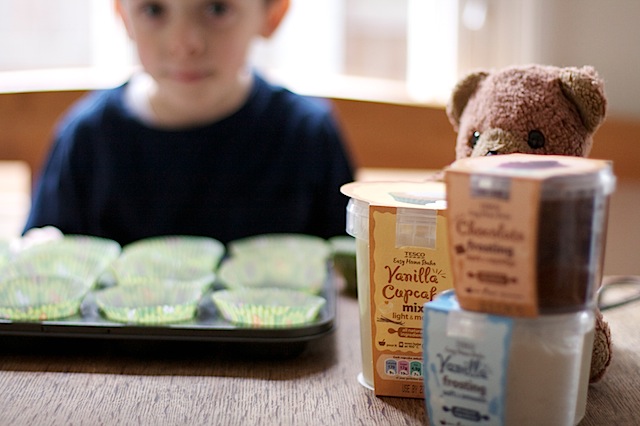 We have a furry visitor. Billy Bear goes on little holidays to visit all the children in my son's class and this week it's our turn. We're sure Billy Bear will love making cakes with children but according to his diary he's never done it before.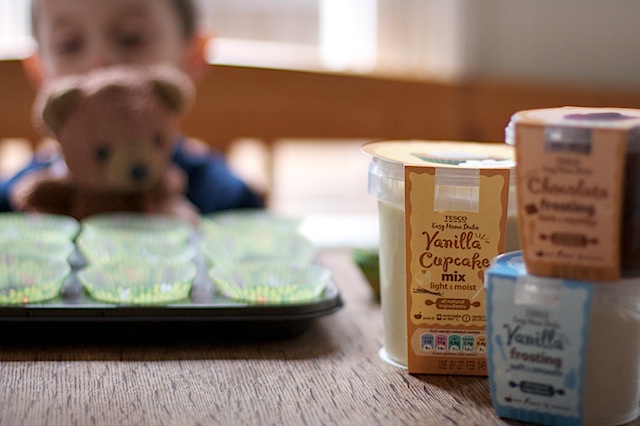 Billy Bear arrives in a spotty duffle bag with a diary to complete about his adventures at your house. So you get to read what he's been doing with everyone else in the class. Billy Bear has been to karate classes and various day trips but had never been baking cakes with the children.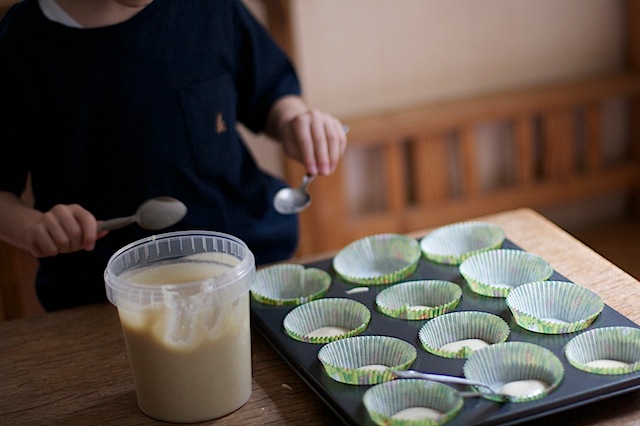 We squeezed a batch of cupcakes into the gap between the end of the school day and tea time.
Billy Bear is a baking newbie and I'd been sent some ready made Tesco cake mixes and ready made icing to play with,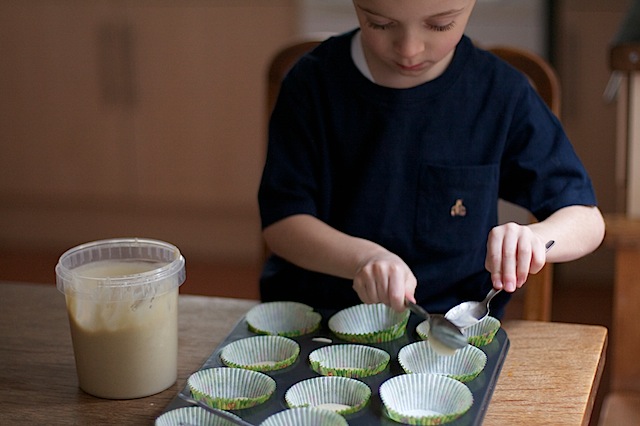 Social media is full of folk making scathing remarks about convenience food. Actually there's a lot to be said for a little kit that allows children to be fully involved in a project with a lot less mess being made in the process.
Granted it doesn't take that long to whip up your own sponge batter but if you're pushed for time and tired enough making that night's dinner, a little person pleading to make cakes at the same time can send you over the edge.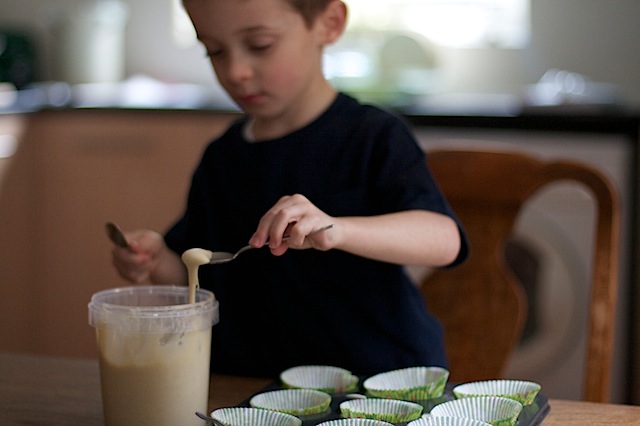 Hence the appearance of a product that lets them get on with it with no more assistance than separating those fiddly paper cake cases is pretty darn appealing.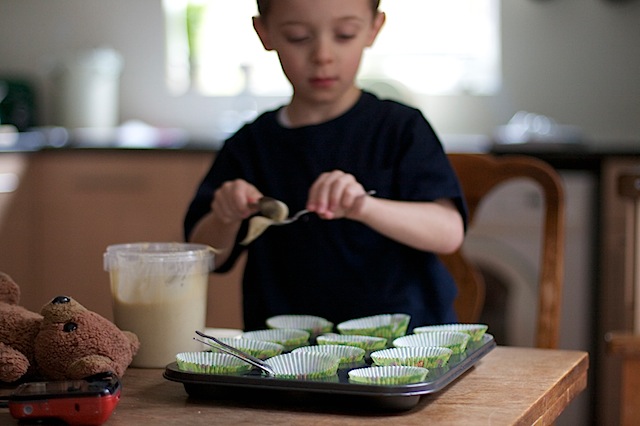 Because in all seriousness, if you're making sponge batter with a mixer (or the Magimix as I often do), the main bit where children get to help is spooning the batter into the cases (and decorating the finished results). So I'm all in favour of sometimes letting them get on with it a bit quicker without creating all that extra washing up!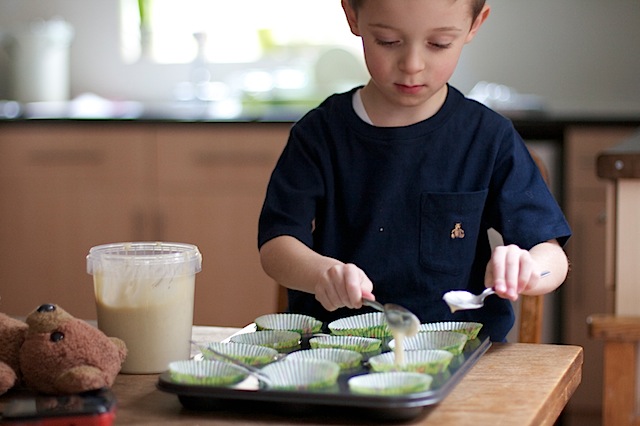 When you're a grown up, you forget how tricky spooning cake batter into cases is. It's a delicate art to plop it into the centre without the cases tipping up or getting it stuck to the edge.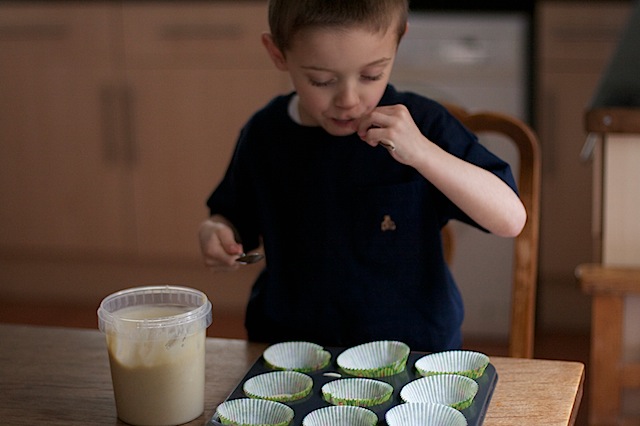 Naturally the best part of making cakes is to lick the spoon.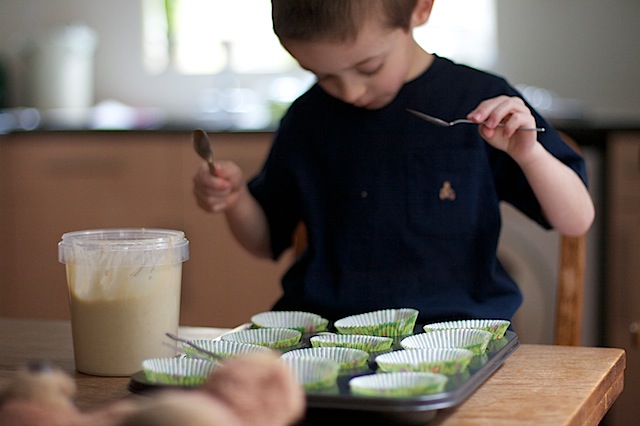 People may scoff at the notion of buying a tub of ready made cake mix batter. Indeed I won't pretend it tasted anywhere near as good as home made. However for the fun factor and participation, this quick little baking project was the perfect activity to fill 20 minutes before dinner.
Ted enjoyed himself just as much as I'd made the cake batter and that's what counts. Certainly I was more relaxed having had none of the hassle!
He's even been copying me taking pictures of what he's doing! The Baking Blogger apprentice!!
(As an aside, this is Ted's Kodak Easyshare camera* that he had for Christmas. Sturdy, no zoom lenses popping in and out, it's the perfect camera for a small child and a real pity if Kodak is going under that they may not be available much longer. What's more it's completely waterproof and you can take it in swimming pools!)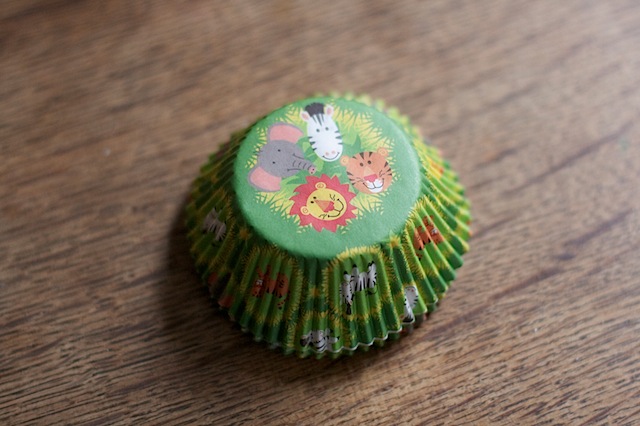 As these were going to be pretty bog standard cupcakes I got out these pretty Wilton Jungle Pals Cupcake Cases*.
They'd be ideal for kids parties but I found they went very translucent after baking and you'd need to pop them into a second case for better looking presentation.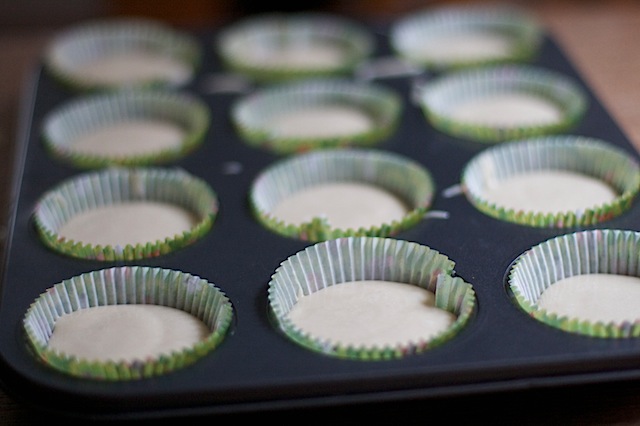 Now as you can see, these cases are not by any means over filled. Half filled, as instructed on the pack. The batter is baked at a fairly low heat, 160c for 20-25 minutes.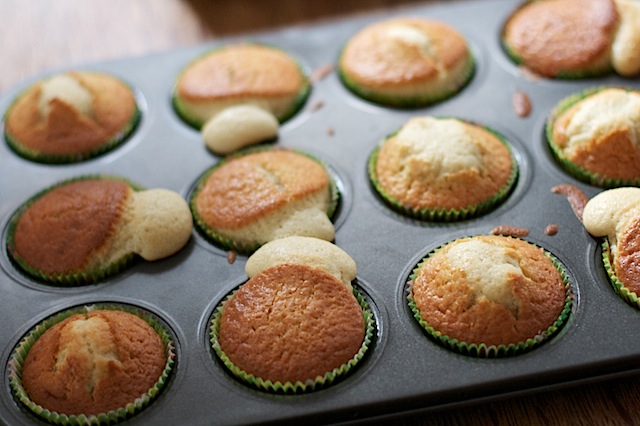 Unfortunately even at this low heat, the cakes erupted badly and burst out of the cases. This was after 20 minutes from an oven that had had the scantest preheating time. A cocktail stick already came out completely dry.
The tub says this is enough batter for 12 cakes. These were fairly big cases although not as big as Lakeland Muffin Cases (my go-to large muffin case) and I had retained enough batter for 2 more cakes. It's a good job I'd not been tempted to spread that remaining batter across the dozen else they'd have been far worse.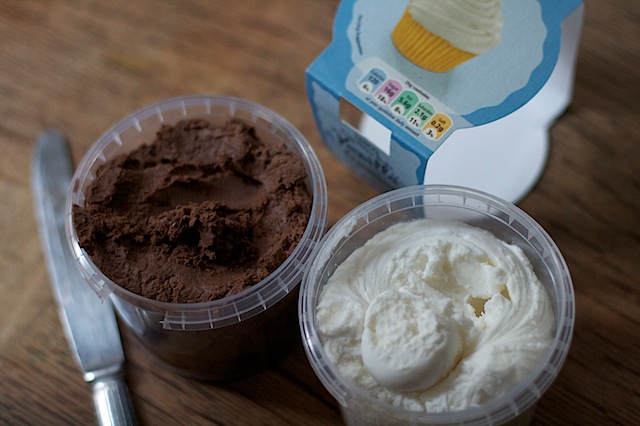 This Tesco range also includes cupcake frosting. The chocolate one is quite stiff even after being at room temperature for an hour. The vanilla one is a much lighter consistency, more like whoopie pie filling marshmallow fluff than buttercream. Both are made with oil rather than butter. The chocolate one was too stiff to pipe but the vanilla one piped very easily. It kept a swirl shape reasonably well but there was only enough to cover 8-9 cakes (bearing in mind that probably I ought to have baked larger cakes) so the ratio of frosting to cake batter isn't very even unless you choose to spread it on with a knife instead. The packaging shows swirly piped buttercream so clearly the user is suggested this is how to present the stuff.
Taste-wise, the frostings weren't as bad as I expected, actually the chocolate one is quite nice and I'm comparing this with ready made Betty Crocker frosting of which I'm NOT a fan. The vanilla frosting is less good, kind of like shaving foam (not that I've eaten this) or squirty cream. It's odd how the two flavours are completely different in texture. On the plus side, the vanilla can be piped straight from the fridge which is a boon when you're in a hurry.

Verdict: As an experience, these products have been fun to work with, especially making cakes with children for the first time. However I was shocked to learn the cost: at £3.50 for cupcake batter and £2.50 for frosting that doesn't even cover 12 cakes, you really are paying for the convenience of not having to weigh ingredients and less washing up. You could make home made cakes for half the price. As a bit of occasional fun it's ok but I wouldn't buy these products regularly. Should you spot them on BOGOF I'd say go for it but at RRP they're very pricey considering this is Tesco and not Waitrose.
Other items in the range I've tried are:
Chocolate Brownies (£3.50): bake this batter in a 7″ tin rather than the 8″ one suggested and you'll get a moister brownie. Follow the pack and instructions and you'll end up with biscuits. They taste mediocre compared to home made brownies but were quite acceptable straight out the oven with single cream over them.
Choc Chip Cookies (£3.00): again, take care not to over bake these. They're similar to the chewy cookies you get in the paper bags at the supermarket only 70% as good. My favourite product from the range.
With thanks to Tesco for the sample products. The Tesco Easy Home Bake range will be in chiller aisles from this month. *Affiliate links used in this post.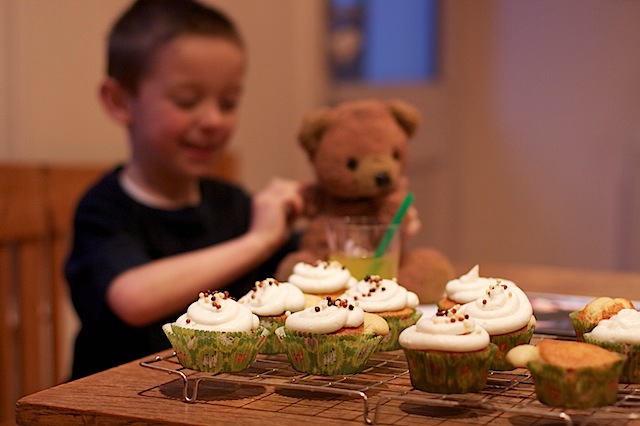 Billy Bear says he loves making cakes with children and hopes he'll be coming to visit Ted again soon.