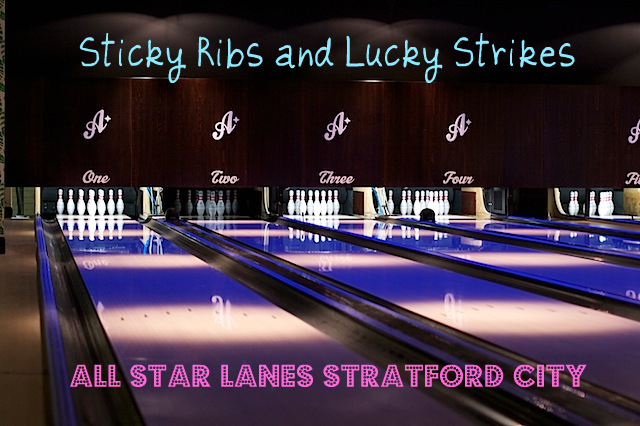 Westfield Stratford City is dangerously close to home. I can be there door to door inside 15 minutes.
I have my own parking space outside Waitrose and am not far off from doing a Tom Hanks à la The Terminal and moving in.
With much delight, joined by a bunch of other bloggers on the east side of the City, I have been gradually working my way around the various hang outs Westfield Stratford City has to offer.
Back in January it was the turn of All Star Lanes bowling alley and American diner.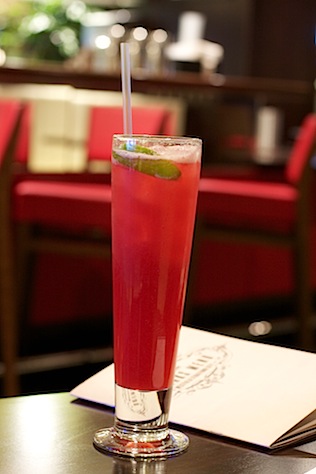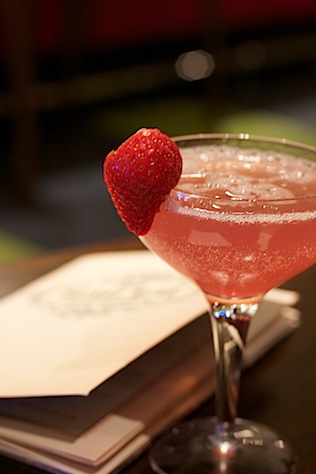 My limited experience of bowling alleys is that they were echoey cold fluorescent strip lit places with the atmosphere of a council run badminton court.
All Star Lanes is completely different to this. Warm, lively and without that swimming pool acoustic experience. Better still they have a fabulous American diner style restaurant in house so you can enjoy a meal before or after your game.
There is also a bar serving a range of cocktails – the staff are happy to mix up something off menu and since I was driving I went for a tall lemonade based non-alcoholic cocktail with raspberry and lime.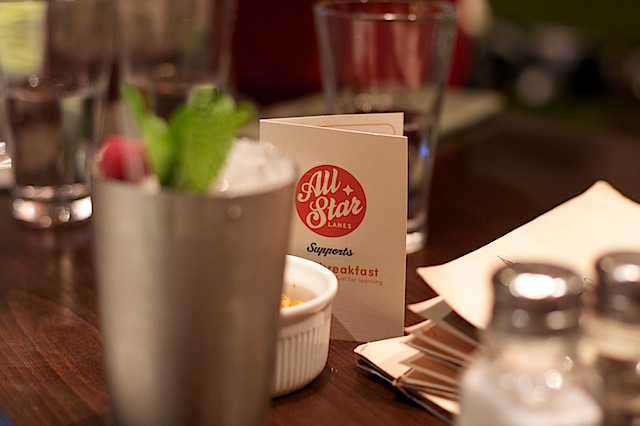 Fourteen lanes sit alongside the restaurant but you're far enough away not to be bothered by noise. Whilst the atmosphere is truly American and I felt I'd been beamed stateside for the afternoon, the booth seating areas are by no means some 1950s Grease movie pastiche like "Eds Diner", the decor is more like Malmaison with dark wood furniture and coloured lighting.
Stratford City is the fourth of All Star's branches and by far the largest. It boasts nearly twice the number of lanes of other branches at Bayswater, Holborn and Brick Lane.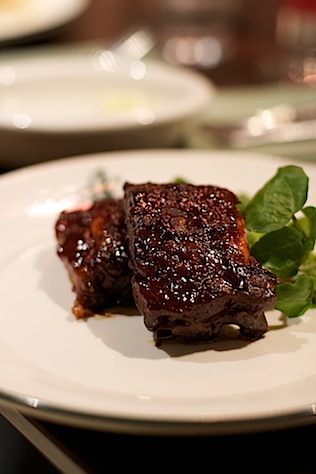 I started with a short rack of ribs (£7.00) that were joyfully sticky, juicy and tender.
Dining companion Michelle had salt and pepper squid presented in this Chinese take out container.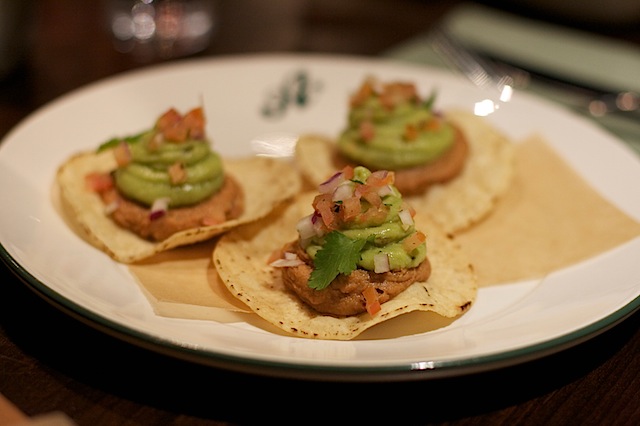 Jeanne's appealing trio of tostadas came with refried beans, guacomole and coriander.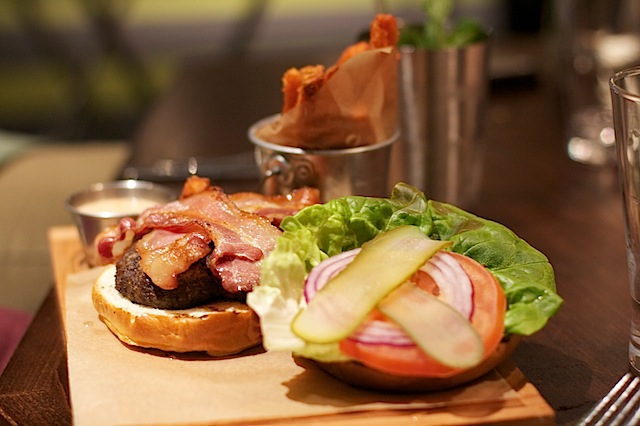 Surprisingly Louis' dry overdone burger with bacon turned out to be the most disappointing dish. An odd thing for them to mess up considering it's meant to be their signature burger.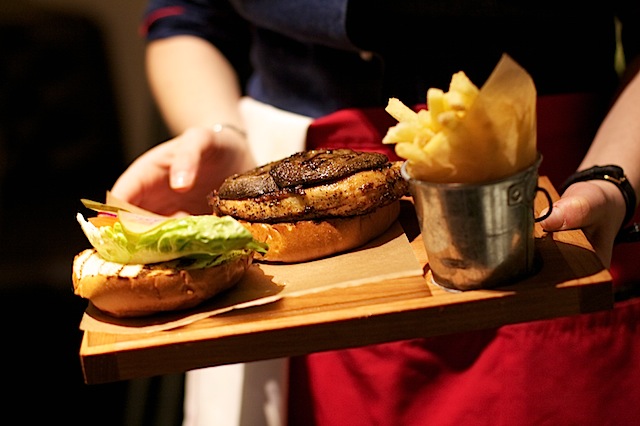 Conversely, my blackened chicken fillet burger with portobello mushroom (£9.00) was perfectly juicy when chicken is something other places dry out (Giraffe a few doors down, please take note).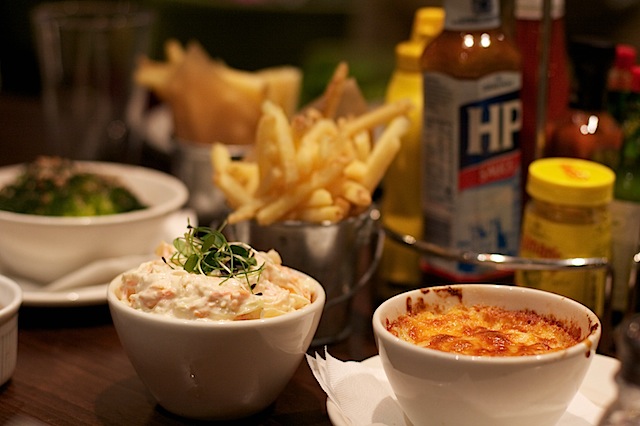 Sides shown above from left are (out of focus) the broccoli with almond butter (£3.00) which we all deemed very ordinary and disappointing, densely mayonnaise-y coleslaw (£3.00), fries (£2.00) and mini mac 'n' cheese (£3.50). Mini mac 'n' cheese was the star of the bunch which we thought would make a meal in itself alongside the whoopie pie dessert (below).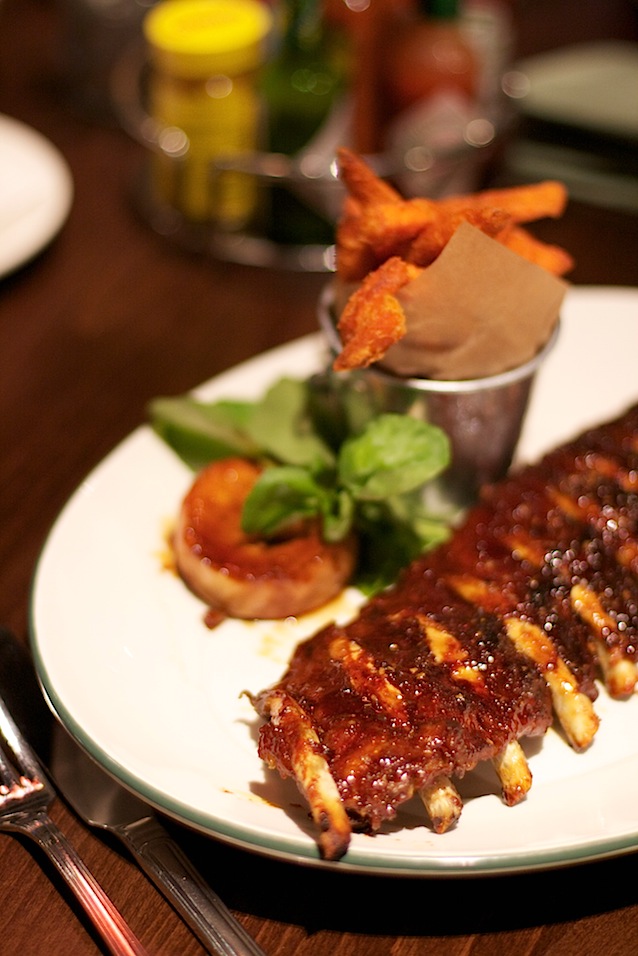 Michelle ordered the mains version of the ribs, served here with sweet potato fries (£16.00 and £3.00). I felt my starter ribs had had the edge sauce-wise but it was nevertheless the same dish in a larger size.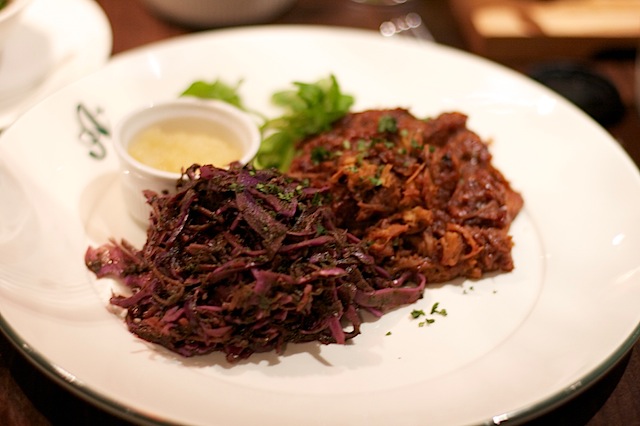 Jeanne opted for one of her all time favourites, pulled pork served here with rainbow slaw (£12.00) and wasn't disappointed.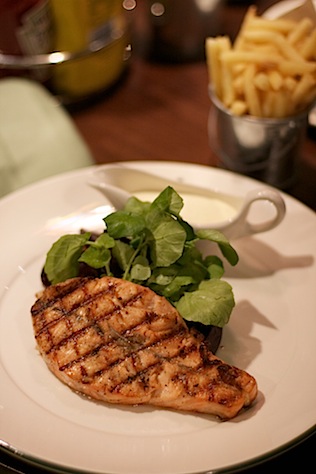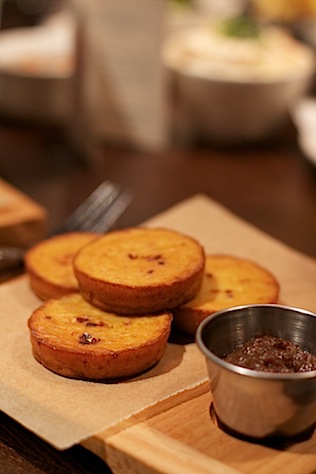 Margot ordered grilled salmon with candied beets and horseradish cream (£12.00). Above right is a side of cornmeal fritters endearingly known as "hush puppies" (£3.50).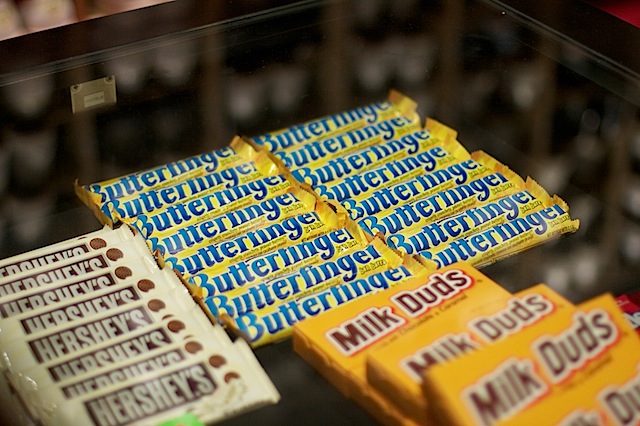 After lingering over mains, it was time for our bowling slot. If you weren't eating at All Stars you could always grab one of these candy bars with your game.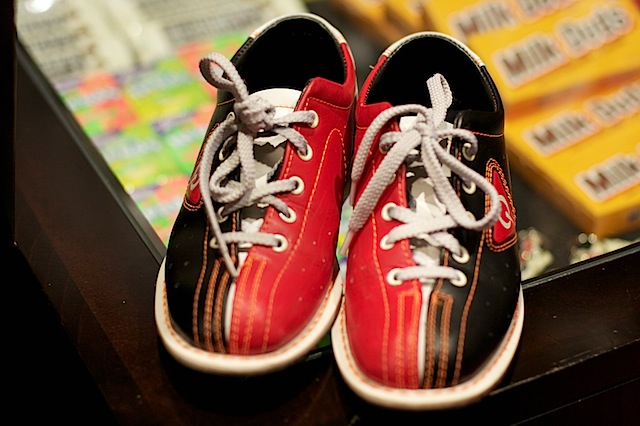 The shoes were better than I remembered too!
A game between five of us took nearly an hour, Jeanne took an immediate lead scoring several lucky strikes whereas I was hit and miss knocking down nine or ten pins in some bowls and big fat zero in just as many others! But I was happy with that given I'd only played once twenty years ago.
Prices per person per game vary from £5 daytime during the week to £8 for Thursday – Sunday evenings. It's £5 for children at all times and a special rack is available for younger kids to roll their balls down the lanes with ease.
On occasion, some big name DJs come in to provide the sounds – I won't say "spin discs" as actually on lane 1 we had a bird's eye view of the digital DJ decks. Posters were advertising the Fun Loving Criminals being on the bill a few weeks later.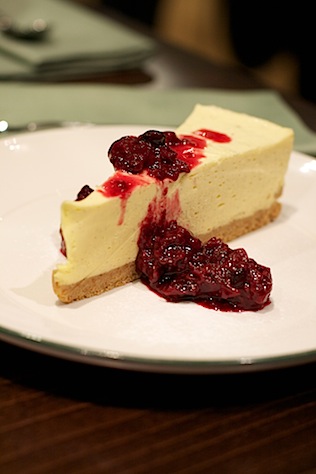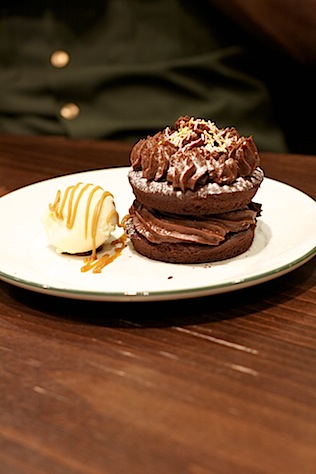 Having enjoyed a break with our game arguably we were really too full for dessert but felt we would be doing readers a disservice not to investigate. Dessert portions were huge with the whoopie pie above right virtually the size of a small birthday cake. The brownie was moist and puddingy drenched in chocolate and streaks of caramel and ice cream. Desserts cost between £3 and £5 and were all superb value.
Instead of dessert, Jeanne and I finished off with sweet and nubbly Reece's Pieces flavour deluxe milkshakes (£4.50) which were great taste and texture but could have been served colder. Alcoholic milkshakes such as Baileys or Rum & Raisin are also available although I think I'd have needed to be rolled home after one of those.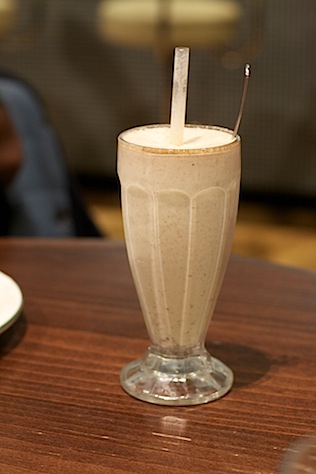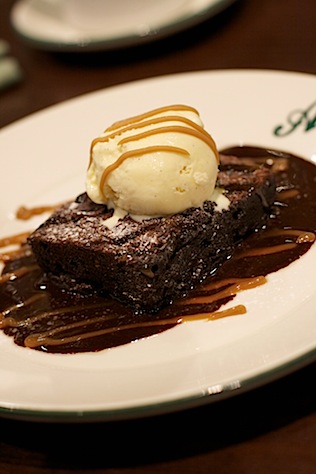 Verdict: Hugely enjoyable and atmospheric, All Star Lanes would make a great venue for a birthday party for any age. As nights out go, it's at the more expensive occasion end of the scale but a meal and game will stretch out all evening giving pounds per hour better value than a trip to the cinema. Staff are friendly and helpful but portion sizes are state size so do beware of eyes-bigger-than-stomach over ordering (you need to be mobile for your game!). Watch out for weeknight deals with two course meals and a game for £26 per person. Highly recommended to visit at least once and I can't wait for an excuse to go again.
For another take on our visit check out these other reviews by:
With thanks to All Star Lanes. Please note there have been some changes to the menu since my visit so not everything above may be available.