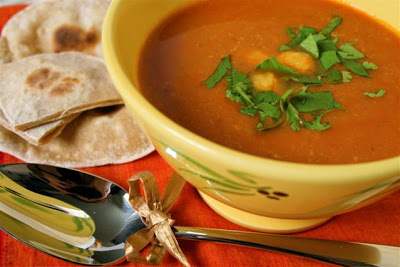 They say that when you attend any courses or training for work purposes that you only absorb about 10% of what you hear.  If this is true, at Food Blogger Connect last week, one of the messages I took home from Meeta of What's For Lunch Honey? was the importance of paying attention to styling food photos.
Meeta is a self-confessed prop-tart (not to be confused with Pop Tart). She is constantly on the look out for items that can be used in food photos even blagging bits of carpet from workmen to lay her food upon in shoots.
When we had finished dinner at the Natural Kitchen with some other folks from Food Blogger Connect on our Sunday trip to Marylebone, one move from Meeta to the dispenser of rustic disposable wooden cutlery accompanied by the words, "you can dye these and tie ribbons round them," had everyone sneaking their hands into the pot with such excitement they forgot to be clandestine about it. The waiter raised an eyebrow, we almost cleaned them out of wooden forks and spoons, but hey, we'd been good customers and they were going to get twelve food bloggers chirping about what a great time they'd had eating there.
Meeta's blog is home to an online food blogger get together called Monthly Mingle.  This month's mingle is hosted by Harini of Tongue Ticklers.
So it is with Meeta in mind that I set up the photos of my soup today.  I set up some gold voile material as a diffused background, tied some raffia around my spoon, carefully ironed an orange napkin and laid a textured place mat underneath.  Then I discovered what a pain soup is to photograph.  I started dishing it up downstairs with the intention of carrying it to my back bedroom (my new found best light – thanks also to Meeta's talk at Food Blogger Connect) but quickly realised that the soup would slosh around in the bowl on the journey upstairs leaving a messy orange ring.  Instead I decanted the soup carefully, spoon by spoon, into the bowl in situe.  The chapatti were delicately placed next to the bowl with me not daring to move them incase they left flour on the napkin.  A lot goes into this styling stuff I'm discovering.
Maison Cupcake Emma Bridgewater Give Away
The recipe follows below but whilst I've got your attention….*trumpeting fanfare*……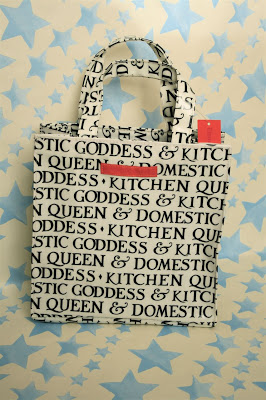 There's still time for you to enter the Maison Cupcake Emma Bridgewater Give Away.
Hungry Caterpillars Alert!
A bit of news before I go.  I've been asked to make a cake representing one of these: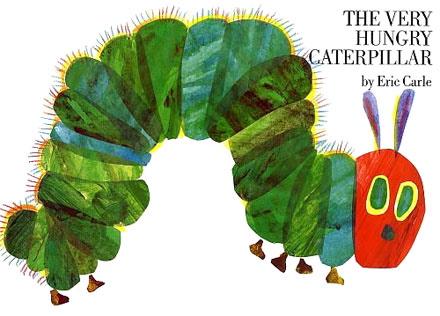 It will be the first cake I've made for a stranger so although I'm having a Susan Jeffer's Feel The Fear And Do It Anyway moment at the same time I know there's nothing involved that I can't do so I'm also excited.  I can't wait to show you the pictures when it is done.
Enough! Time for the soup course!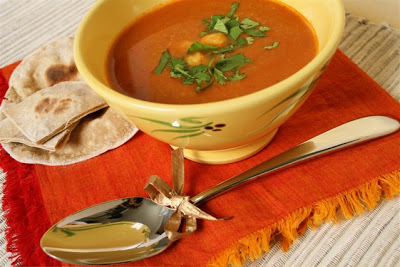 This soup is based on a chickpea curry in Anjum Anand's first, and in my opinion, best book, "Indian Every Day". I frequently take the title to heart and spend a week cooking curries for several nights in a row.
Everything I know about making curry I owe to this book.  I bought it over five years ago before she had a television series and during this time I have cooked about 70% of the dishes found in its pages.  I was about to say I'm not being paid to say this but that's not entirely true – if you purchase one of her books from Amazon using the links below I apparently get sent enough money to buy a few grains of rice but take it from me, her first book is excellent.
The chickpea curry is one of my favourites as it is totally store cupboard ingredients, is healthy (like most of her recipes) and can be made in around 20 minutes.  It is my favourite dish to make on nights my husband is out for the evening and I can curl up on sofa watching my favourite tv shows that he doesn't like.  I have tweaked the ingredients from the version in the book to items that I find quicker and easier to work with.  It was only my second time making chapattis (or should that be chapatti? someone tell me…) but they are dead easy. If you can make pastry you'll find chapattis a doddle.
Adapted from Anjum Anand's Chickpea Curry from Indian Every Day
Ingredients for the soup:
1 tbsp vegetable oil
1/2 tsp cumin seeds
1 heaped tsp chopped ginger (I use lazy stuff in jars… I have a toddler to deal with)
1 heaped tsp crushed garlic (ditto)
1/2 tsp tumeric powder
1/2 tsp coriander powder
400g can of chopped tomatoes (Anjum says do your own tomatoes but so far as I'm aware she doesn't have a toddler)
2 tbsp of shop bought curry paste, I use Patak's Balti paste (Anjum says make your own etc etc)
600ml vegetable stock
400g can chickpeas, drained
1 tsp chaat masala powder from Indian food store
2 good pinches each of garam masala, chilli powder, black pepper, cumin.
Salt to taste
Handful of chopped coriander
Method for soup:
Heat your oil in a large saucepan, add the cumin seeds and cook for a few seconds.  Stir in the ginger, garlic, tumeric and coriander powders and cook for further 30 seconds.  Stir in your chopped tomato, curry paste and 200mls only of the stock, saving the rest of the liquid for later.  Bring to the boil and cook for 2-3 minutes.
Add the chickpeas, cover and simmer for 6 minutes.  Get a hand stick blender and cup and decant half a blender cupful of the mixture (approximately 250ml worth), blend and stir back into the pan adding the remaining ingredients. These last spices will thicken the mix considerably, if you want you can serve this the way Anjum intended as a curry with rice but for soup you will be adding your final 400mls of stock.  Blend more or less of the chickpeas according to whatever texture you would like your soup to be.  Serve hot with coriander sprinkled on top.  I also like a blob of yogurt on mine but didn't have any to hand when I took the picture.
Ingredients for the Coriander Chapatti, adapted from Anjum Anand's Indian Food Made Easy:
150g chapatti flour (or half whole wheat and half plain flours)
1 heaped tsp coriander powder
Pinch of salt
90-110ml water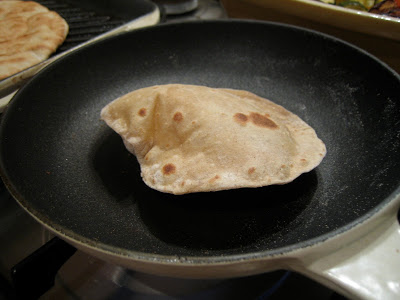 Method for the Coriander Chapatti:
Sift the flour and salt into a medium size bowl and make a well in the centre. Drizzle 3/4 of your water and mix drawing flour into the centre. It should be slightly sticky.
Knead for around 10 minutes and then leave in a covered bowl in a warm place for 30 minutes. After the time has passed, divide the dough into six golf balls. Flour your work surface and rolling pin and roll each golf ball into thin circles around 12.5 to 15cm across.
Heat a non-stick frying pan until quite hot. Toss the chapatti from one hand to the other to shake away any excess flour and place in the hot pan until small bubbles and brown spots appear on underside. Anjum says this takes 20-30 seconds but in my experience it's more like 90 seconds. Turn the chapatti over and cook on the other side for a similar length of time. It should puff up nicely.  Keep warm until ready to serve by wrapping in a napkin or clean tea towel.
Makes six 15cm wide chapatti.