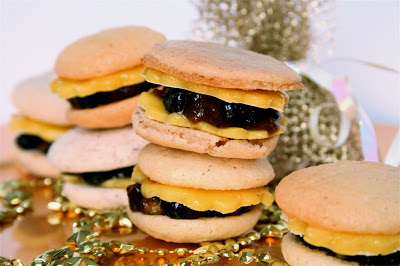 Getting worse at something the more times you do it is not a habit of mine. Yet it seems to be the case with macarons.
I have been baking macarons for this month's Mac Tweets challenge hosted by my chums from Food Blogger Connect, Jamie at Life's a Feast and Deeba from Passionate about Baking.  It hasn't been going very well.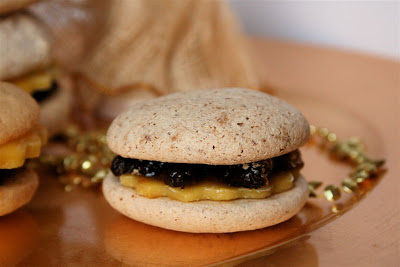 You, my loyal Maison Cupcake Readers will testify that I had immediate success with my first ever macs, Pecan Pie with Salted Caramel Sauce filling back in September. For a first go, they rocked. I was rightly proud of myself.  Next came the chocolate David Lebovitz macs filled with some beetroot and chocolate fudge that had refused to set properly.  The chocolate ones puffed up a lot but didn't have feet although they looked and tasted good.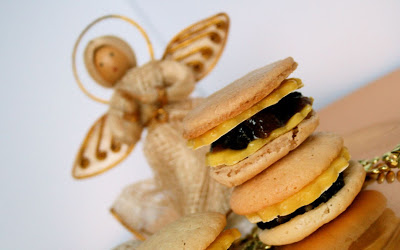 The descent down the slippery slope however continues until I've tumbled resoundedly into Mac Purgatory. December, when I ought really to be writing Christmas cards and selecting presents for my family, I have been making macarons around the clock. Midnight on Friday. Sunday afternoon. Tuesday early morning. Twice again on Tuesday afternoon.  Five batches of egg whites and many more trays so far to meet the deadline.  Feet, those pretty ruffly bits around the edge, have eluded me. Without feet, your macs may taste good but they just won't have that pizzazz. I feel like Samantha in that episode of Sex and the City where she hasn't… well you know…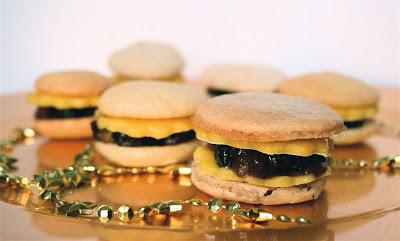 There's been plenty of support on Twitter from my Food Blogger Connect buddies and others.  I've had lots of tips and encouragement from Sunita of Sunita's World, Pam The Cooking Ninja and Alessio the Recipe Taster.  Sadly it doesn't seem to have been enough and I think I need a successful mac maker to move in.  I am using the same recipe throughout, I know it worked perfectly well the first time I used it so I can only put my repeated failure down to either:
1. Egg whites resting too long or not long enough
2. Cooler kitchen in winter
3. Mixing technique – maybe I'm being too careful?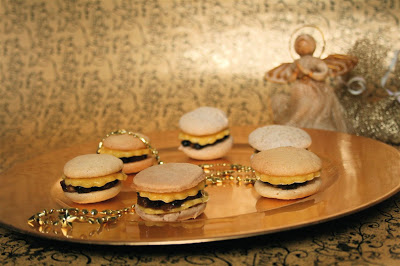 After a telephone call to Sunita, I changed my oven temperature to going from low to dry them out to higher to try and cause that pressure inside to create the feet.  The very last tray of four blobs of the last mixture were trying to get feet.  Really trying.  One managed it, the others cracked a bit.  So out of close to 200 macaron shells, I have one very thin pathetic one with feet. I named her Mariah.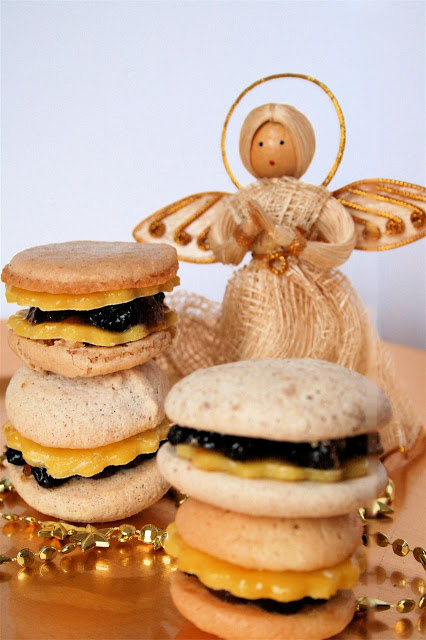 Nevermind. It's Christmas. Here we have the first of three Maison Cupcake Mince Pie themed recipes for December, Mince Pie Macarons.  I have found my crinkly feet in the shape of marzipan circles.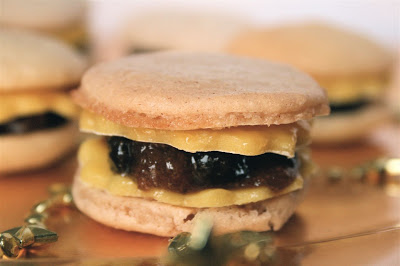 Mariah – before I ate her
Lack of feet was no excuse for crying off the photo shoot.  The single macaron with feet has been treated like her namesake, Mariah Carey on a gold platter this afternoon. Star of the show.  She threw a hissy fit about her co-star, Paris Hilton the macaron angel, said she stole her thunder and demanded more money.  I got my own back and ate Mariah.  Paris Hilton started eating the other macarons and I doubt she'll manage to clamber back on top of my Christmas tree once she's finished.
I'm taking a Mac break now for 2-3 weeks. I think I've earned it. But you can see my other two Mince Pie related recipes here during December.
Recipes for Macs are available from MacTweets and Helen at My Tartelette. You will also find lots of mac making tips there.  I was using a mix based on Helen's pecan pie macarons only without pecans:
Mince Pie Macarons
Ingredients (which I know by heart by now)
40g granulated sugar
200g caster sugar
110g ground almonds
3 egg whites (around 90g)
Method
Seriously?  Don't ask me.  Consult someone who has feet.  Like 
Mowie
or Sunita or 
Jamie
.  I can't be trusted…. yet.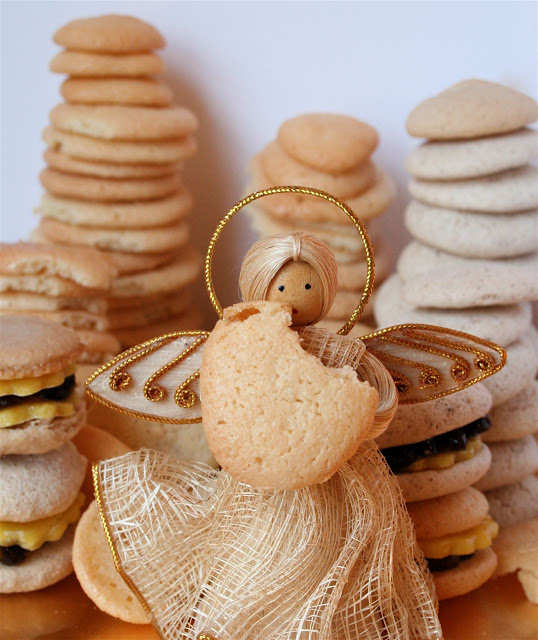 Paris enjoys a macaron or six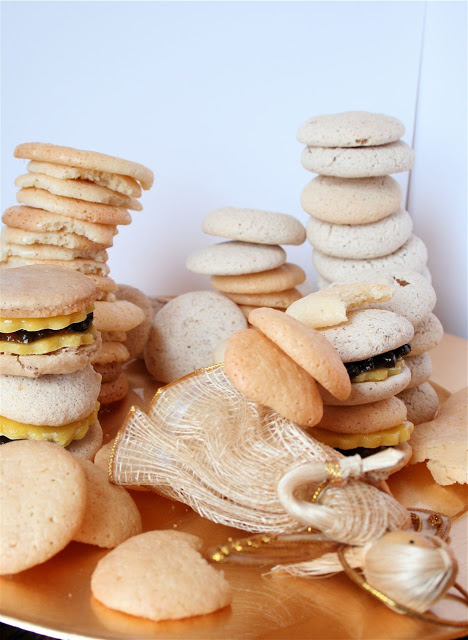 Oops back to macaron rehab we go..!
Pssst!  Want to win this Emma Bridgewater bag?