Kitchen giants Miele asked whether I'd do a steam oven review; I also attended a Miele steam oven demonstration during which we saw four family recipes cooked in steam ovens.
Even though they've been around since the seventies, I didn't know anything about steam ovens and was not sure what to do with with it.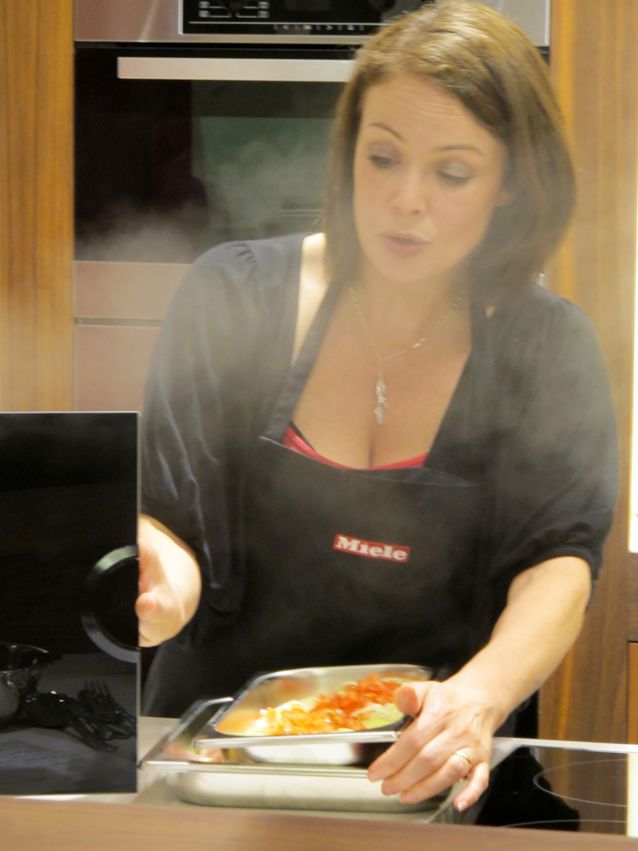 Miele steam oven demonstration
Fortunately, the Miele had also invited me to a mummy foodie bloggers' steam oven cookery demonstration at their London showroom featuring celebrity chef and writer Silvana Franco. The evening showed us how to create easy family meals using the steam oven. You may remember this was same place that hosted the food bloggers' Masterchef challenge back in July. Silvana and Miele Home Economist Elspeth Smith showed us how to make four family friendly recipes in a little over half an hour.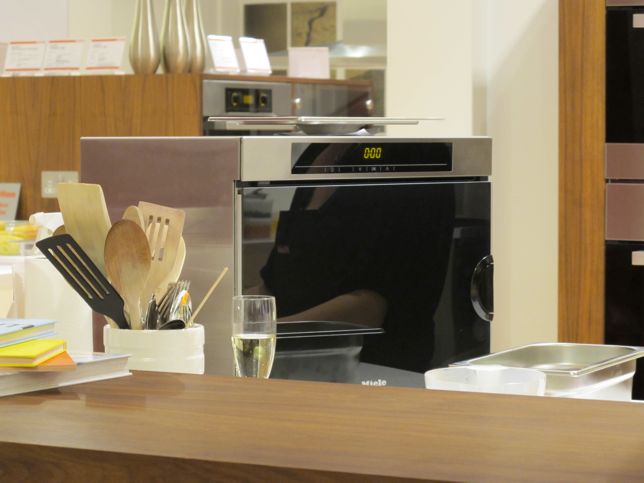 Miele make several versions of this steam oven, above is the countertop version which is the same as the one I am currently using.  They also make a built in model featuring a combination conventional and steam oven. Elspeth explained that this model could be used either as purely steam, normal convection oven or in combination – which apparently is crispy moist roast chicken nirvana.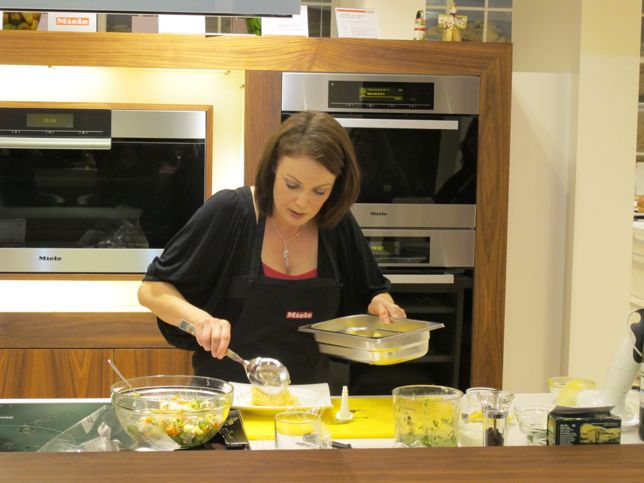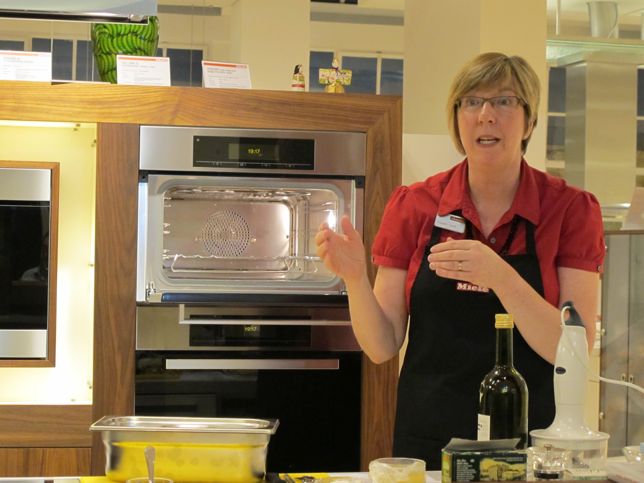 Countertop steam oven
The countertop steam oven looks similar to a very large microwave. The inside is not that much bigger as it also contains a kettle like vessel for water from which the steam comes out.  The worktop version plugs in just like a microwave. You need to allow several minutes for the water to heat up before the timer starts. Some steam escapes the first time you use it as the appliance sets itself according to your altitude but on subsequent occasions it just makes noises similar to a boiling kettle. Steam ovens can be used to defrost, cook or reheat food.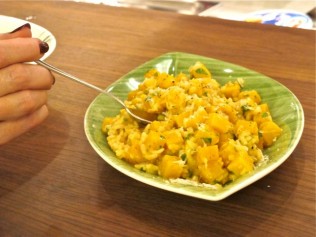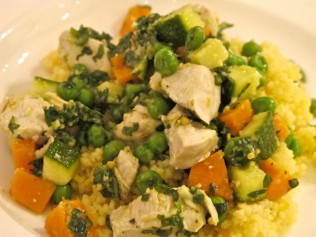 Steam oven recipes
Created before us were chicken cous cous with fresh pesto, butternut squash risotto, salmon leek and mascarpone parcels and vanilla poached pears.  The last two recipes were cooked in the steam oven together to demonstrate that the fish would not taint the flavour of the fruit. All four dishes were suitable for the whole family, from baby weaning to grandparents.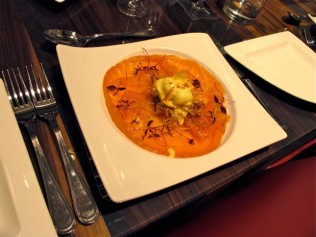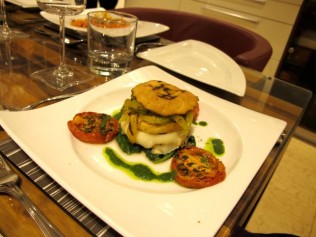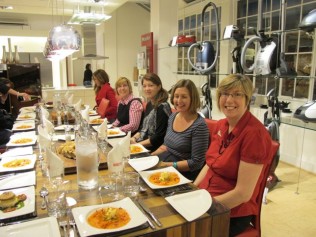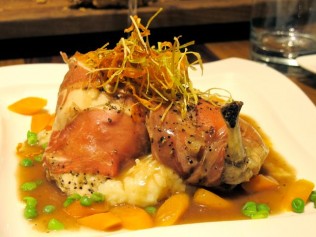 Afterwards we were treated to dinner with the Miele team; smoked salmon with hollandaise sauce and quail's egg, the alternative vegetarian starter I do not know the name of and chicken supreme wrapped in parma ham on mashed potato topped with crispy shredded leek.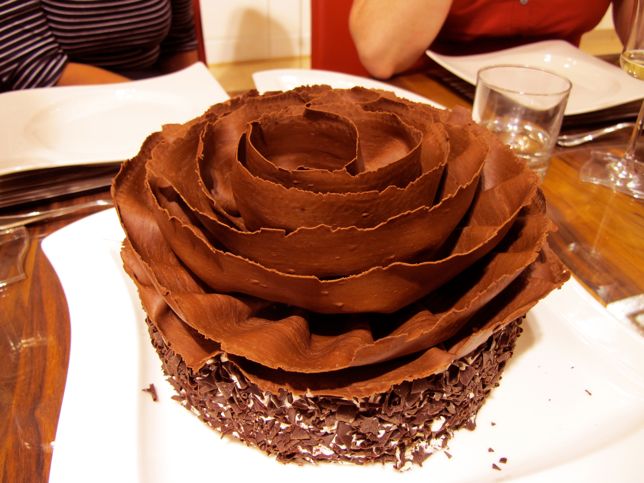 And a show stopping chocolate cake for dessert.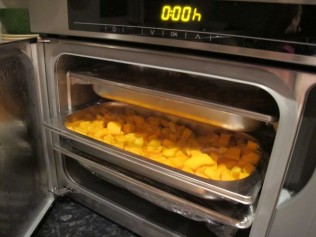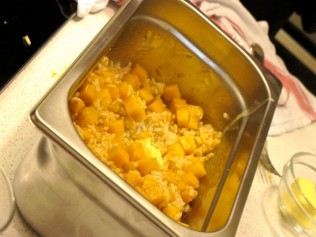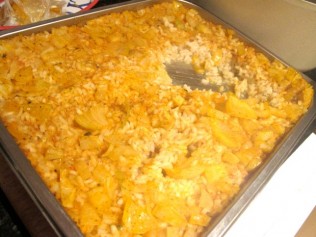 Steam oven review

Back home it was time to recreate one of the dishes in the borrowed steam oven.  Miele had given us goodie bags containing all the ingredients needed for the butternut squash risotto and I made it for several family members coming to dinner that weekend.  Making risotto for six would normally be a terrifying prospect but once the squash was chopped up, this dish did it's stuff in the steam oven whilst I sat with my guests.  It wasn't any quicker than making it on the hob, in fact at nearly 50 minutes including warm up time it was definitely longer but the beauty was that I had a perfect risotto without any stirring required. Heaven. Had I had the larger cooking dish seen at the demonstration (above bottom left), I think you could easily make risotto for 10 people in this way.  This appliance would come into its own at Christmas or when catering for large groups. The recipe manual is thin on sweet things but it would be very useful for steamed puddings and cooking large quantities of fruit.

Pros and cons using a steam oven

Pros of steam oven

The Miele steam oven cooks food such as rice, cous cous, vegetables and fish beautifully. Marvellous for risotto. Allows you to cook family size portions with ease. Relatively little washing up. Leaves your normal oven and hobs free for other things. Cooks food in a healthy low fat way without destroying nutrients. More even heat distribution so none of the hot spots associated with microwaves. Can cook using metal dishes and cutlery. Can warm food up without drying it out.

Cons of steam oven

Wiping all the condensation out of it afterwards is a pain. Not worth the effort of using unless cooking large quantities. Not suitable for all foods – but neither is a microwave. Size – it takes up as much space as a big microwave and kettle put together. Needs to be descaled regularly. Cost – £750 upwards for Miele models although some brands start from around £600

Steam oven review verdict:

Speaking as someone who has only owned 2 cookers both worth less than £300, the price of a steam oven initially made me sweat – especially when I can't quite shed the notion that it's a glorified kettle living in a box. Still, if we thought like that about conventional ovens, we'd still be rubbing sticks together in the woods. Although I found some aspects of the steam oven inconvenient; the warm up time, the wringing out of cloths dripping with condensation afterwards, it is very appealing to be able to produce large quantities of food that tastes better with minimum effort. If I were planning a kitchen from scratch, a steam oven would give an extra method of cooking which has many advantages.
Steam oven pros and cons with butternut squash risotto
Author:
Prep time:
Cook time:
Total time:
Ingredients
1 tbsp olive oil
1 large onion, peeled and chopped
2 garlic cloves, chopped
1 butternut squash, peeled, seeded and diced
400g risotto rice – we were given carnaroli
1600ml low salt vegetable stock
2 tbsp sun dried tomato paste
knob of butter
bunch of roughly chopped flat leaf parsley
150g freshly grated parmesan (I like my risotto very cheesy)
Instructions
Stir the sun dried tomato paste into the hot stock.
Put the rice, chopped onion and garlic into a large steam oven tray and pour over the hot stock. Cover with cling film.
Steam at 100c for 30-40 minutes until all the water has been absorbed into the rice.
Meanwhile place the squash in a steam oven tray, cover with cling film. When the rice has had about 10 mins, also add the squash tray to the steam oven.
When the rice has absorbed the liquid, remove the trays and combine the squash into the rice, stir in the butter, cheese and parsley then serve.
Notes
Alternatively, for the stove top method, heat the oil in a large flat pan and cook the onion, garlic and squash for five minutes until the onion has softened. Stir in the rice. Coat the rice in the oily onion etc. Mix the sun dried tomato paste into the hot stock. Start adding the liquid a little at a time. As each glug of liquid evaporates, add a little more until it has all been absorbed. Stir regularly to prevent sticking. Cook for a further ten minutes until all liquid has been absorbed and the rice is cooked. Stir in the butter and parsley. Serve topped with Parmesan.