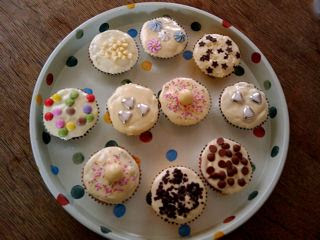 The Big Lunch cupcakes were all polished off and I had invited several friends round promising them left over cake.  So I had to make some more.  I flavoured them with lemon and coloured the icing pale yellow.  There were very pretty but I forgot to photograph them and these disappeared quickly too.
The next batch I made were these white chocolate ones which I have presented on an Emma Bridgewater spotty tray.  These are topped with:
Dr Oetker sugar flowers
Dr Oetker chocolate beans
Dr Oetker milk and white chocolate stars (he does have a frightening monopoly on the supermarket cake aisle)
Chocolate sprinkles
Silver chocolate dragees
White chocolate drops
Pink bauble sprinkles
I have got the knack of melting chocolate in the microwave now.  No more burnt sugar patches needed to be fished out.