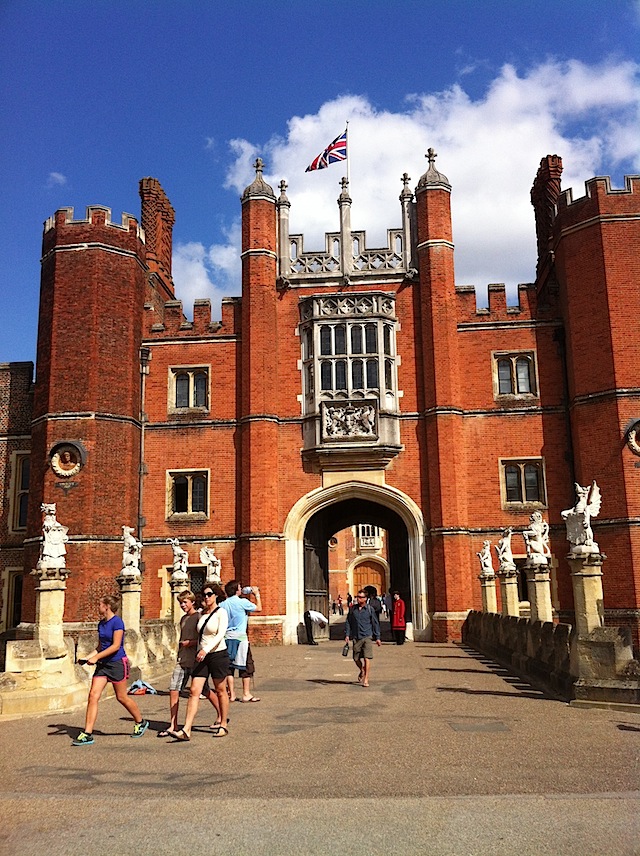 Treating someone to a special day out can solve the problem, what to give someone rather than material "stuff".Dare devil stuff like rally driving and paragliding is often associated with experience gifts however more every day activities such as beauty treatments and cookery classes are often offered too.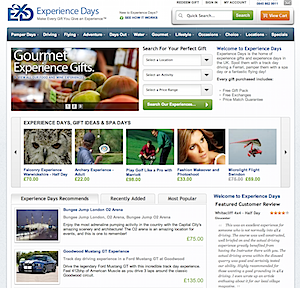 We were invited to try out using ExperienceDays.co.uk. They have a "gourmet experiences" section offering wine tours, chocolate workshops, afternoon teas and sushi making. However, since it is the holidays I opted for two family days out to Whipsnade Zoo and Hampton Court.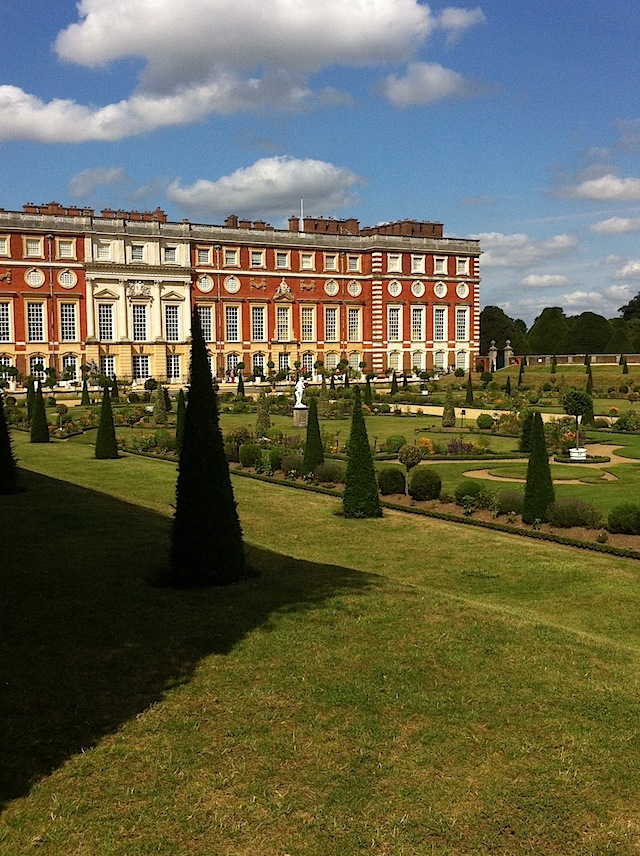 Our gift pack with voucher and activity information arrived by post for me to redeem on their website. Customers can buy the gift experiences by phone or online with the recipient being allowed ten months to redeem the voucher. Once you've got the gift pack, depending on the activity, Experience Days recommend booking experiences at least 7 days in advance (14 days for weekends or holiday periods). Some gift experiences will only be available on certain dates and offering 3 preferred participation dates may be required.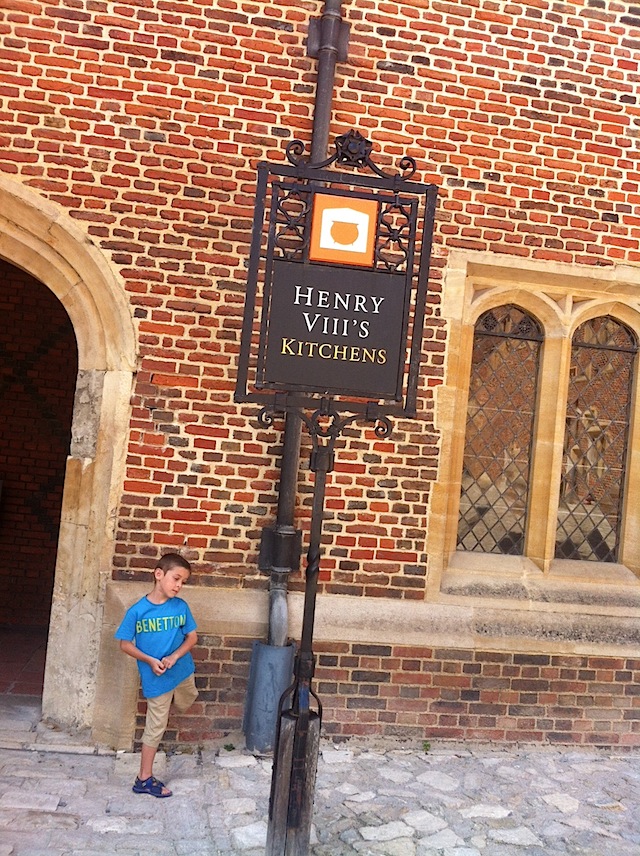 Our trips to Whipsnade Zoo and Hampton Court were not required to be booked on specified days. I could redeem the voucher online and present the confirmation details at the venue on a day of my choice.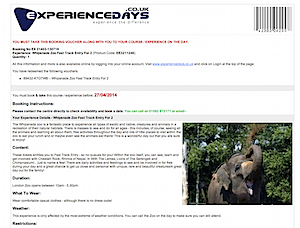 My thoughts on Experience Days:
The redemption process requires you to create an account with the site. You are encouraged to supply a mobile number for contact over bookings however assurance that this number is not going to be used for marketing purposes or sold elsewhere would be a good idea. The website offers the option to telephone or chat online with a real person throughout the process.
On redemption, the gift recipient has the option to exchange their experience for another activity. So if you'd rather go to a spa than scuba diving this is ok.
Recipients are also offered the chance to book extra tickets for friends to join them with 10% discount.
Some activities are dependent on weather conditions (i.e. hot air balloons) and your activity may be rescheduled.
Redemption online is quick and easy once you've filled in the registration form (you can opt out of further mailings) but the gift pack makes it look more complicated than it is.
Experience costs are from tens of pounds to hundreds. Admission costs to Whipsnade and Hampton Court were marginally cheaper by using Experience Days rather than buying advance tickets through the websites (and cheaper still than prices on the door for Hampton Court).
I was surprised by the breadth of activities offered by Experience Days although I found the gourmet options a bit ordinary.
If looking for activities in a specific geographical area, this will narrow down your choice.
Probably more people would buy experiences as gifts if they realised recipients had flexibility to switch to a different experience. You're effectively giving a gift voucher to the site which the recipient can add more money to buy something more experience or take extra people.
Giving a family day out gift to relatives could be a great choice without bogging them down with material "stuff" without costing any more than buying 3-4 family members individual gifts.
Experience gifts could be suitable for a present from several people who've clubbed together i.e. for a colleague leaving an office, or a special birthday or anniversary.
My thoughts on Hampton Court:
Of all the Historical Royal Palaces I've visited (this one, Tower of London and Kew Palace), Hampton Court is my favourite.
Vistors are extremely well looked after with helpful staff guides, plentiful toilet facilities and high quality restaurant and cafe facilities. The cafe offers jugs of cold water – most welcome on a hot summer's day.
Henry VIII may be the most famous monarch associated with the palace but the contributions made by the Stuarts and House of Hanover are well documented without being stuffy or dumbing down.
We were a little freaked out by the "Secrets of the Bedchamber" exhibition which involves lying on mattresses in the dark staring at a weird film on the ceiling. If your feet hurt you'll benefit from a lie down here.
The gardens adjacent to the river including the great vine are stunning. Although the palace is made famous by the Tudors, the "newer" palace to the rear is more like Versailles. The contrast between the two sides of the palace is fascinating.
For an in situe lesson in British royal history, Hampton Court probably covers a broader period than any other building left standing.
Ted's favourite feature was naturally the maze. It's in much better condition than my previous visit, an alarming 17 years ago. It's a similar size to the maze at Cliveden (National Trust) although in my opinion, somewhat easier.
Have you ever given an experience gift?
With thanks to Experience Days who provided two family days out. Stay tuned for pictures from our trip to Whipsnade Zoo!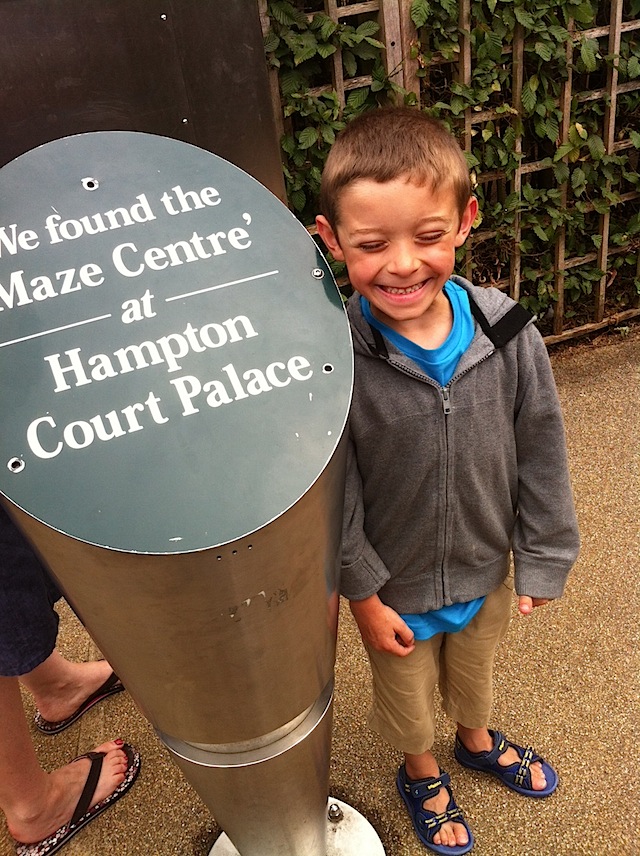 I'm sharing my family day with Greta at Mums Do Travel: