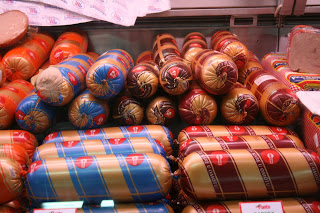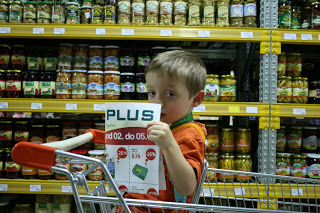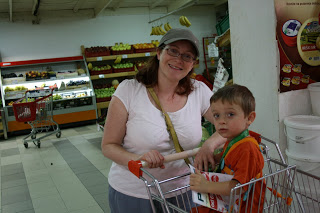 Anyone following me on Twitter will be sick to death of hearing this. I have had no broadband since I got back from our holiday in Montenegro earlier this week. I am therefore posting from my mobile which is a bit fiddly.
Normal service should be resumed next week.
In the meantime I share with you some pictures of myself and Ted in "Panto", the Montenegro equivalent of Tesco. As you can see they do a wide selection of pickles, processed meats and gouda style cheese. Montenegro imports most things so it is very expensive (their adopting the Euro as their currency has made this worse for travellers from the UK). Locally produced tomatoes, nectarines and eggs are good value. Panto was not disimilar to Turkish supermarkets in London.
Restaurants in Herceg Novi were uninspiring and we fleeced fifty quid for a very mediochre one course meal for four in Dubrovnik. Ice cream "sladoled" on the other hand was very good. Imported wine is pricey and local wine tends to be Riesling (yuk). Beer though was drinkable – we were amused by local brand "Niksicko" since my husband's name is Nick and too much beer certainly makes him Sicko.
Whilst away I read Julie & Julia (since making a trip to the cinema is unlikely) and in a similar vein, my late grandmother's copy of Fanny Craddocks's The Cook Hostess' Book. I considered whether a Julie & Julia style cook through of Fanny Craddock would be fashionable or insane and reached the conclusion that a few hand picked gems would be the best option. Most of it is well… plain offal. My grandmother also left me a copy of Fanny Craddock's Coping with Christmas so I may also refer to this in the coming weeks!
During "radio silence" this week, I wish I could say I'd been working hard in the kitchen but actually my food cupboards have been bare and instead I've been spending my evenings watching Electric Dreams and Micro Men on catch up TV.
The absence of proper internet renders it impractical to cook five recipes from the Hummingbird Bakery book as I had planned – because it is so notoriously full of errors that they have an erraratum on their website and I don't dare make anything without checking that first.
Instead I will be concentrating on something seasonal. Now let's see if I can finally hunt down that Libbys Pumpkin Puree…
PS Apologies for any typos. This has been a nightmare to type on tiny QWERTY keypad.