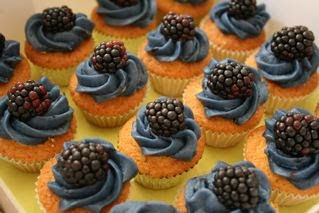 I have been very quiet this week.  My dad has been staying in the spare room where computer is so I've not been able to get on here first thing in the morning when I do most of my blogging.
Earlier in the week I made this batch of mini cupcakes following in the theme of my recent Cupcakes with Crushed Raspberry Cream .
The blackberries give the butter icing a sludgy lilac colour by themselves so I have added some blue food colouring here to make the icing more blackberry-like.  Personally I felt it very refreshing to see some real blackberries instead of meaning I was talking about a smart phone.  It is ironic how the word blackberry is now in common parlance yet the fruit itself is a relative rarity in the supermarket.
This weekend I am donating some cupcakes to my local National Childbirth Trust Nearly New Sale.  I will post pictures when they are decorated.