Can pumpkin puree be used to make frosting for cupcakes? Absolutely.See below how I was inspired by this Harry Eastwood (of Cook Yourself Thin) recipe.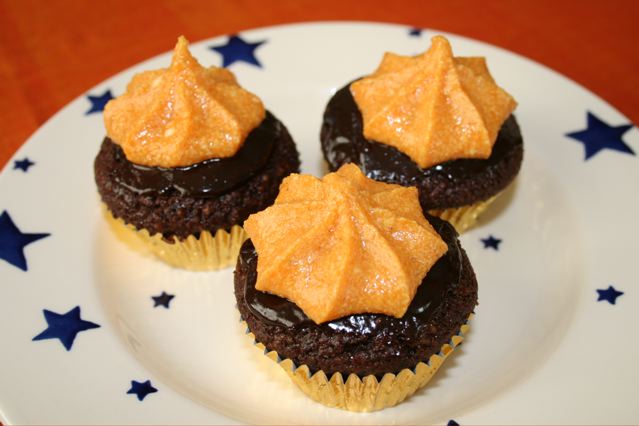 Going away on holiday is terribly inconvenient when you're a food blogger. In the last month I've had both a weekend away to Provence and a week in Montenegro.  In between these trips my father was staying in the back bedroom keeping me away from the computer in the early morning and late evening when Ted is asleep.  Then when I returned from holiday something really awful happened.  I had no broadband for a week (I know… worse things have happened but it was very inconvenient). I should have been hard at work in the kitchen but the reality was that I was catching up on holiday laundry, clearing through the dregs of my yard sale and arguing with broadband technical support people about why they couldn't put me back online until November 5th (I won – as you can see). The upshot of this is that my food blogging routine has been turned on it's head in the past month and not a lot has made it from my table to the screen (though it managed to find my tummy quite easily).
Behind the scenes though I have been working towards cooking at least five recipes from Harry Eastwood's Red Velvet Chocolate Heartache . Partly this was because I have been trying to eat less dairy produce and also because I couldn't check the internet for the erratum of the Hummingbird Bakery Book which was previously my book of the month.  First up were these chocolate and peanut cupcakes onto which I added my own pumpkin puree buttercream (yes I found pumpkin puree at last!).  I chose them because they seemed Hallowe'en-ish without being too scary.
Red Velvet Chocolate Heartache is one of the prettiest and most atmospheric cookery books I have read since Joanne Harris's French Market.  Harry Eastwood (best known for her Channel 4 series "Cook Yourself Thin" presents over 180 pages of cakes made with less butter and wheat flour and more vegetables.  Each recipe is depicted as being a personality such as scones who are "a choir of happy children" or Victoria Sponge who is "at the  Vicar's house with a perfectly ironed apron".
With no butter I was sceptical that this cake mix would be wet enough to come together but I need not have worried, the moisture comes from the peanuts and butternut squash. In fact, Eastwood ends each chapter with "Cake Diaries" where she shares details from less successful earlier versions of some recipes to give you an idea how they evolved (and a warning in case you should dare deviate in the same way). I had a bad experience with Donna Hay peanut butter cupcakes made last month so I was delighted to see these butter free cakes rising beautifully.  They taste delicious too.
The dismal Donna Hay peanut butter cupcakes
The other recipes I intend to cook from this book in the forthcoming weeks are Orange and Saffron Sand Cake, Beetroot and Chocolate Fudge, Caramel and Passionfruit Swiss Roll and definitely the eponymous Heartache Chocolate Cake which is made with 2 aubergines no less.
Ingredients:

100g unsalted peanuts
3 medium free range eggs
200g light muscovado sugar
200g peeled and finely grated butternut squash or pumpkin
100g rice flour
40g cocoa powder
2 tsp baking powder
1/4 tsp salt

For the icing:

60g smooth peanut butter
2 tbsp icing sugar sieved
2 tbsp cocoa powder
5 tbsp boiling water

For my pumpkin icing:

1 generous tbsp pumpkin puree
100g icing sugar
50g butter

The recipe for these chocolate and peanut butter cupcakes can be found on page 44 of Red Velvet Chocolate Heartache by Harry Eastwood, Bantam Press RRP £20.  

See how I got on making other Harry Eastwood recipes for check out the original version in Red Velvet Chocolate Heartache on Amazon.