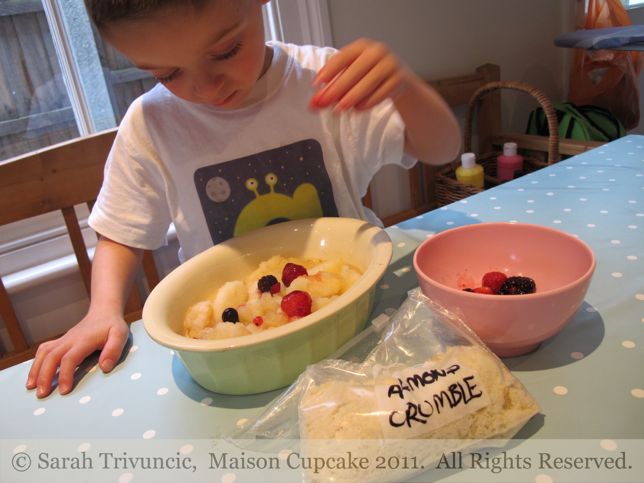 Where did the time go?
My little boy is starting primary school. I'm used to him being in preschool or nursery all day so being away from me isn't that new.
It is however a step on the way to my losing my motherly grip on what he does, what he eats, who his friends are etc.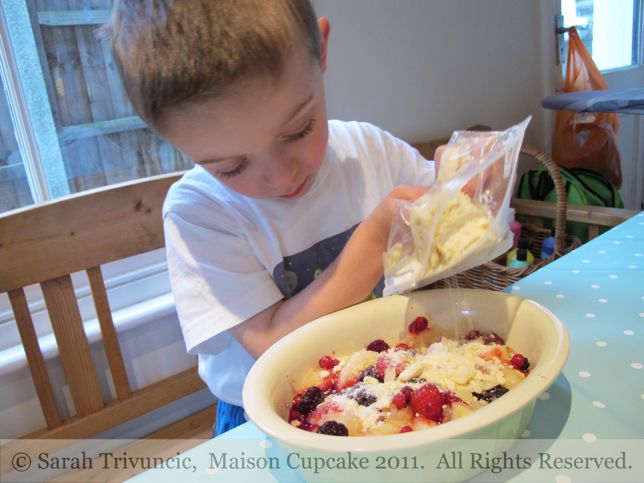 I hope as he gets bigger that he'll still enjoy helping me in the kitchen like the day we made this crumble.
Now crumble isn't rocket science but when you're only four, it's nice to have a dish that you feel like you've made all by yourself.
We already had a big batch of cooked apple chunks from Grandaddy's tree. They'd been wrapped in newspaper in the shed for a few months and it was time to use them up before the new ones arrived this autumn.
Magic moments… never has a simple pudding tasted so good.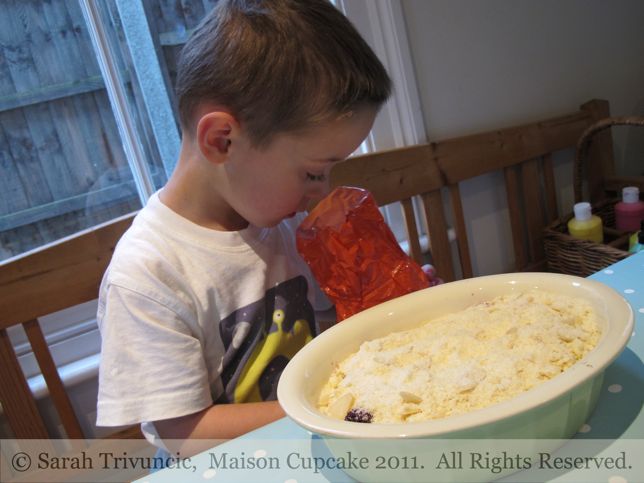 Recipe: Grandaddy's Apple and Forest Fruit Crumble
Serves 4-5

Ingredients
For the crumble topping
50g wholemeal flour*
40g plain flour*
30g wheatgerm*
50g unsalted butter cut into cubes
30g soft brown sugar plus extra for sprinkling on top


For the fruit filling
25g butter
6 average size cooking apples, peeled, cored and chopped into medium size chunks
75g frozen berries
4 tbsp soft brown sugar

*or use 120g gluten free flour instead of this blend of wholemeal/plain/wheatgerm.

Directions

1. Preheat the oven to 180c or gas mark 4.

2. Rub the flours, wheatgerm and unsalted butter together until the mixture resembles breadcrumbs – you can pulse it in the food processor to do this if you prefer. Stir in the sugar. Set aside while you make the fruit filling.

3. Melt the butter in a medium sized saucepan and when it is fully melted add the apple chunks. Leave the lid on to keep condensation in, turn the heat to moderately low and allow the apple to cook down for 5 minutes, then add the sugar and berries and leave for a further 5 minutes. By now the fruit should be soft and cooked but do not leave so long it turns to mush.

4. Pour the fruit mixture into a baking dish. Cover with the crumble mix and sprinkle the top with soft brown sugar.

5. Bake in the middle of the oven for 20 minutes and serve with cream, custard or ice cream as desired.