Apricot ice cream may not be the most obvious flavour but it's one you should try.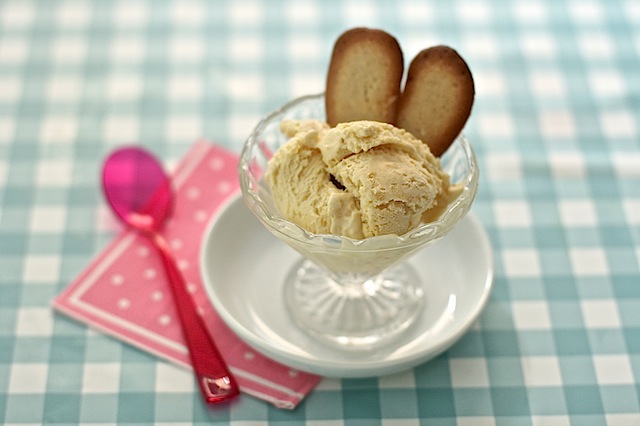 I can't tell you how long this apricot ice cream was in the making. Well ok yes I can, I originally decided last Christmas to use up the last of a bottle of amaretto liqueur by tipping it into a plastic tub of dried apricots. They've sat pickled in my fridge until summer.
And jolly plumped up and boozy they were too.
For years I coveted a fancy ice cream maker that I could just plug and go. I think fifteen years ago I had my eye on some Gaggia number that was several hundred pounds. Goodness knows where I'd have put it.
My aunt gave me a dinky Kenwood ice cream maker as an engagement present (now ten years ago) and it has served me well ever since.
Yes it has a bowl you have to store in the freezer and yes I hear you cry "but I'd never have it ready when I wanted to use it", "but my freezer is always full so I'd never have space for it".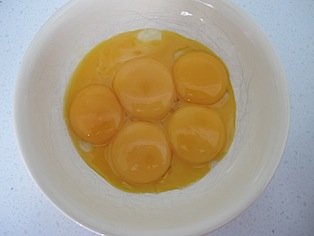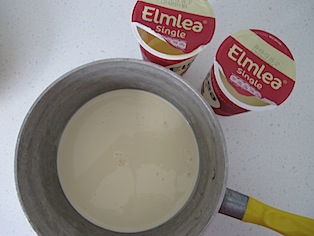 <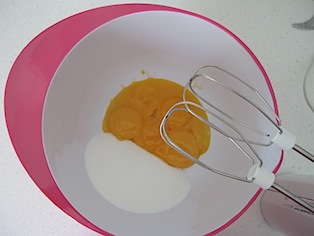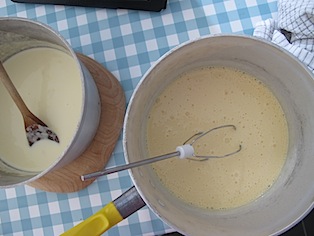 In fact, I keep my ice cream maker bowl in the freezer whenever it's not being used. In a white swing bin bag. It's always ready to go and quite often has a bag of peas stashed in the central chamber making the most of that precious freezer space.
You see the argument that you've not got space for the bowl doesn't really wash when you consider you're going to need space to freeze the ice cream any way. If I make two tubs of ice cream two days on the trot, these take up nearly as much room as the bowl on it's own would have done.
And frankly once I've got two tubs of ice cream in the freezer I won't be making any more until we've eaten them and thus I'll have freed up the space again.
Well that's my logic anyway.
You might recognise the biscuits above from my post When a published recipe is plain darn WRONG. These are the few that survived!!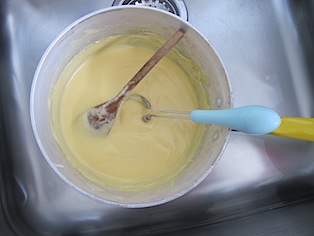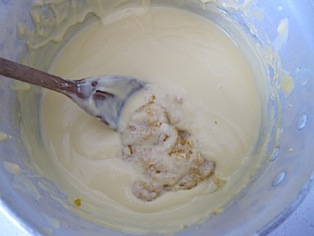 Apricot Ice Cream with amaretto
Ingredients:
75g dried apricots
150ml amaretto liqueur
500ml single cream
6 egg yolks
125g caster sugar
Instructions:
1. Pour the ameretto over the dried apricots and allow to soak for at least 24 hours.
2. When soaked, blitz the apricots in the food processor so they are finely chopped but not pulpy.
3. Half fill the sink with cold water.
4. Heat the cream in a medium size saucepan until it's about to come to the boil then turn down.
5. In another pan, whisk the egg yolks with the sugar until thick and creamy. Stir in the cream mixture beating all the while and then returning to a low to moderate heat. Stir continuously for 8-10 minutes.
6. Stand the pan in the sink of cold water and continue to stir vigorously.
7. When it is cold, fold in 3 tbsp of the apricot mixture* and churn in an ice cream maker for around 45 minutes.
8. Finally tip your ice cream into a tub for freezing. Freeze for at least several hours before serving and remove from the freezer 5-10 mins before scooping.
*You can add more, add all of it. But bear in mind higher alcohol content may affect the freezing qualities of your ice cream. Mine went solid using this amount and is nicely scoop-able five minutes after removing from freezer to serve. In my opinion you could use the entire amount of apricots soaked in amaretto shown without detriment but I haven't tried it with the increased amount.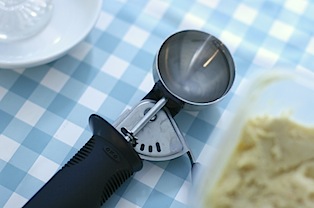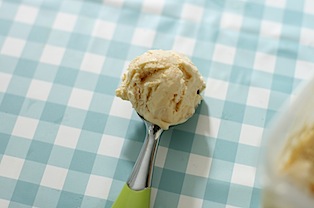 With thanks to OXO for their trigger ice cream scoop. Like all OXO hand held gadgets it's top quality and does the job well. However I've reached the conclusion I prefer my old lime green one with plastic handle because it takes up less space in the drawer and unless your ice cream is soft scoop (which home made generally isn't) the trigger effect doesn't really do it justice. So it's a lack lustre thumbs down from me for this particular gadget in the range. I did however rave about their cherry pitter.