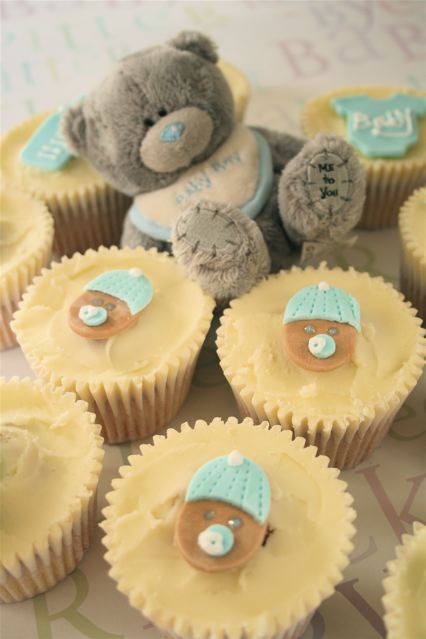 Welcome to my celebrations for the 100th Maison Cupcake Blog Post! 

To kick off I am going to do a round up of the Cake A Difference cupcake sales that I organised last month to raise money for Bliss, the premature baby charity.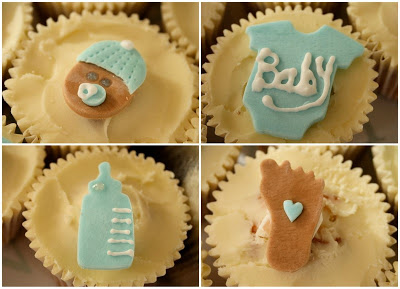 Over three days during Cake A Difference week, 8-14 February, I ran a series of cupcake sales at various Walthamstow toddler groups and following this also baked personalised boxes of cupcakes for local mums.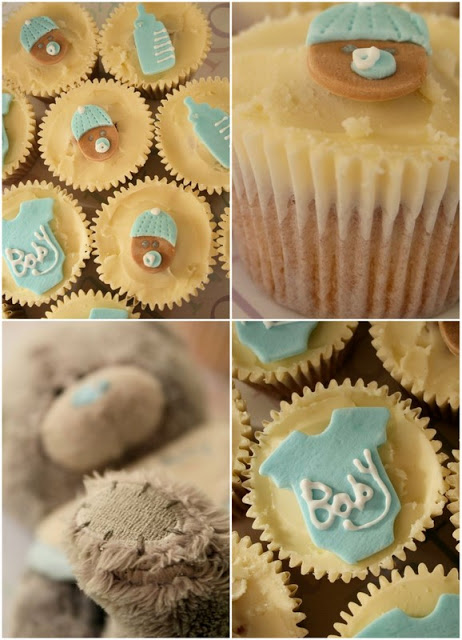 290 cupcakes…
6 kilos of butter…
5 kilos of flour…
5 kilos of caster sugar…
4 kilos of icing sugar…
2 litres of milk…
…not to mention all the cocoa powder, fondant icing, oodles of sprinkles, paper cases and cardboard boxes!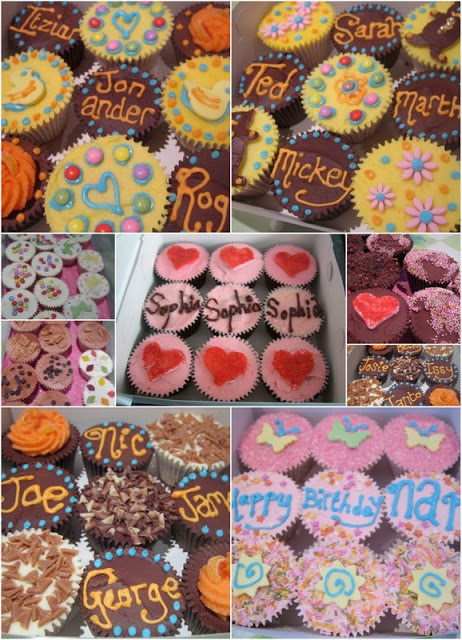 Spot the cupcakes for the other Sarah and Ted in my street. Yes really.

…oh yes, and verrrrry late nights producing 80+ cupcakes per night several days in succession.
…with a toddler running around causing chaos of course.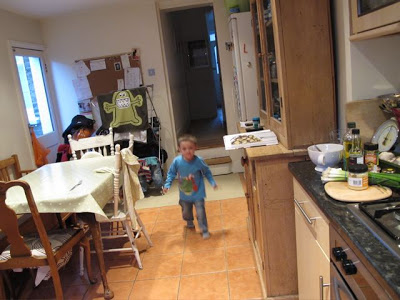 A blurred Ted spots the new camera.


It really knocked the stuffing out of me as you might have noticed lately.
The cupcakes were sold for 50p each at the toddler groups and the personalised boxes sold at £10 for boxes of nine.  The toddler group cakes were mostly kept quite simple with their tops being quickly rolled in sprinkles but the personalised cakes featured lots of colours of royal icing and/or hand made fondant decorations.  50p each might sound quite cheap for a cupcake if you are used to Hummingbird or Buttercup's prices of £2+ per cake, however in my neck of the woods it was a realistic price for mums at a toddler group. (One well meaning lady suggested I might sell them for 20p each…)


Those with an appreciation for the finer qualities of cupcakes were able to order the personalised boxes into which I put more work and charged a higher price. Around ten mums took me up on this offer ordering cupcakes for birthday parties, baby showers or just plain indulgence. I've been gradually doing everyone's personalised cakes in the past couple of weeks having taken a break after the frenzy of three back to back sales and the big number six birthday cake that I forgot to photograph in a panic.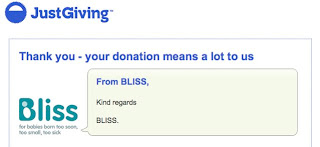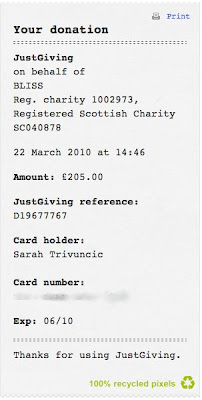 I am delighted to announce that we raised £205 for Bliss.  Thanks are owed to Miss Miranda Music Time and St Mary's Under Fives Fellowship for letting me host the cupcake sales at their groups that week, to the local mums who bought all the cupcakes and most of all to Morrisons who very kindly sponsored the costs of the baking ingredients meaning I could donate all proceeds to Bliss direct.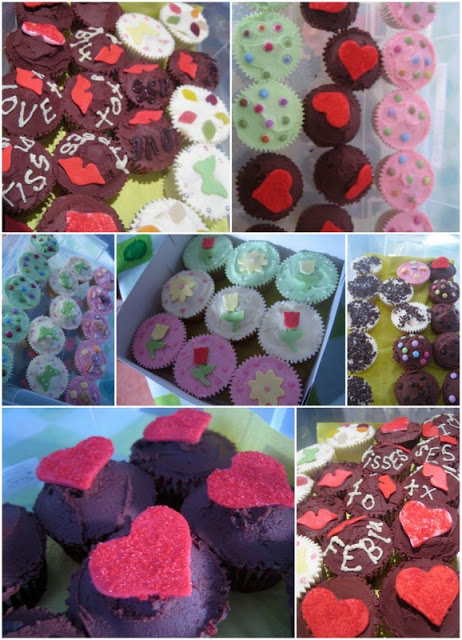 It was Valentine's week, hence the hearts


It was very tiring making so many cupcakes in one go, if I were a cupcake bakery I'd need to do that many and more all the time so it's useful to dip your toe in the water and see what it would be like.  I think I might go mad if I did that many cupcakes all the time… Writing my blog is my first love!


100 Blog Posts Later…
So it's no surprise then that I've reached the dizzy heights of 100 posts in less than nine months since I started.  When I started what was initially an online record of my cakes and baking shopping sprees, I never imagined I'd end up with real people reading what I posted on a regular basis.  Thank you very much to my regular readers and I really appreciate everyone who drops by here.
Leading up to my 100th post I asked if anyone had any questions for me about blogging, food, France or anything else.  Here they are:

What are your five favourite French desserts? 
These would be simple things that my husband and I have enjoyed on the menus of restaurants on holiday.  Things I order again and again are Isles Flottantes, Marquise au Chocolat, Crème Brulee, Profiteroles and Tarte Tatin.  Ironically I have a real thing about French "crème anglais" whereas I'm nonplussed about English custard!

If you had to rescue one cookbook in a fire which one would it be? 
Not a baking book actually! One book I could never memorise the contents of would be "Indian Every Day" by Anjum Anand which is full of curries and how to make Indian specialities such as chutneys, breads, paneer, desserts from scratch.  I am an ardent curry lover (more so than cake believe it or not) and would be in a real tizz without a book to refer to for authentic curry blends.

What is the best macaron you have eaten? 
Oddly, although I've had this macaron frenzy which is well catalogued here, I haven't eaten very many professional ones to even know what they're supposed to be like. I did however buy some from the Pierre Herme counter at Selfridges last month and my favourite one was passionfruit. Which is weird because I don't even like passionfruit.

What food brings back certain memories for you? 
Burton's Fish and Chips crisps in the bag printed like a newspaper would take me straight back to the playground. I've not seen them for years and don't know if they still exist. I went hunting for them online and got lost in here for several hours.


Thank you to Mary Moh and Alison at Deer Baby for their questions.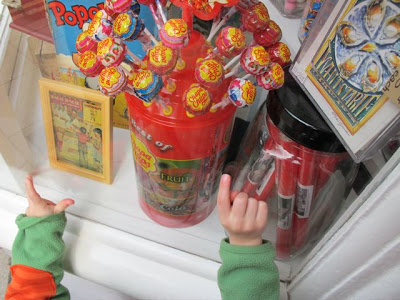 "I want that lolly mummy"

"Postcards from"… Lost in the post temporarily!
You may or may not have noticed that my regular weekend "Postcards from…" series has been missing for the past two weekends.  This was initially down to lack of computer time but on the second weekend it was deliberate as I didn't want my 100th post to be a Postcard post if that makes sense.  I know some of you have been enjoying the postcard series very much so it will return soon.  I also have plans for a series of child friendly restaurant reviews which will be published at weekends so the postcards may end up being more intermittent in future.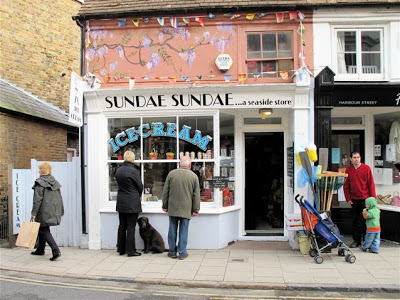 Spot the Ted. A bit like "Where's Wally?"

To compensate, today I have some photos from this weekend when I was out and about testing my new camera on a daytrip to Whitstable. I came across this lovely shop called Sundae Sundae, which sold ice creams and nostalgic sweets like sugar mice and Space Dust. Who of a certain age doesn't remember sitting with their mouth open with Space Dust noisily bubbling away inside?!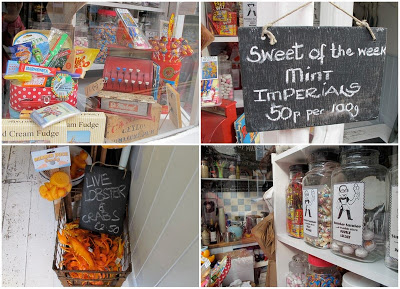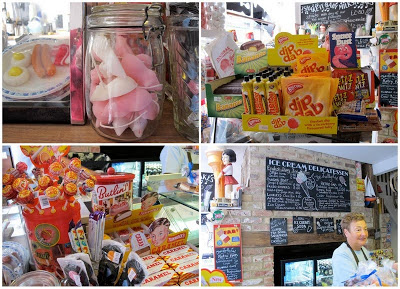 To celebrate my 100th blog post and all this excessive sugar consumption I've encouraged, I have an international giveaway. Up to half of my readers come from outside the UK and I prefer where possible to run giveaways that my overseas readers can enter too.
So here we have a delightful little book called "Sweet Temptation" by Nicki Trench, published by Cico books.  It features 25 recipes for homemade sweets, chocolates and other delicious treats including sugar roses, how to make your own chocolate easter eggs, marshmallows, honeycomb, florentines and much more.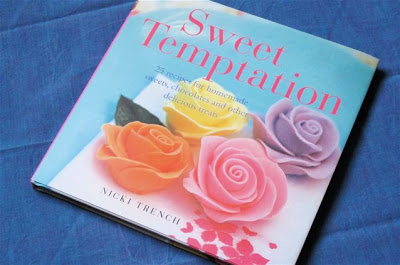 To enter please leave a comment below telling me what were your favourite nostalgic sweets from childhood? (Mine were pink fizzy "Wham" bars from the vending machine at Tamworth swimming baths)
Deadline for entrants, midnight GMT on Sunday 28th March 2010.
A winner will be chosen at random.


Good luck and thank you to all of my readers who have given me the motivation to keep blogging for the past 9 months.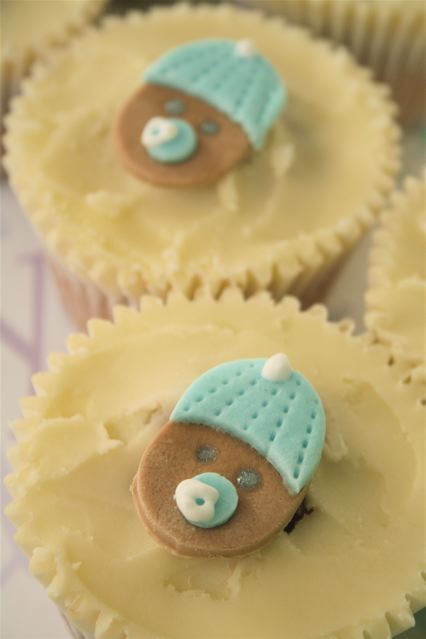 One last look at these cute little sugar babies. I was so pleased with these!