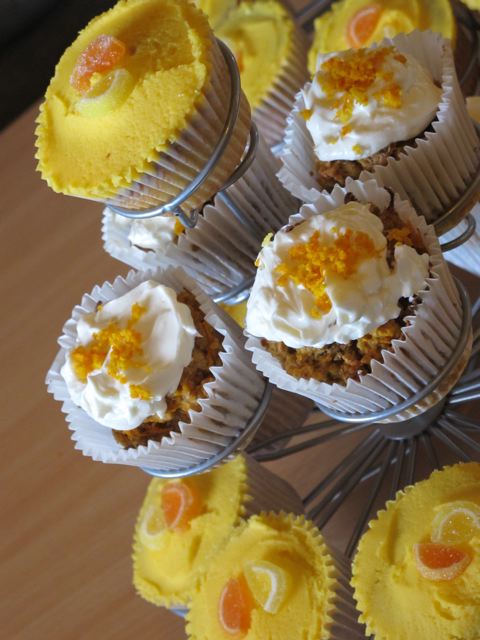 Virtuousness has been a rarity for me recently, although here I've discovered a recipe to coax my inner good girl back out.  This comes after making cupcakes for a family party celebrating my grandfather's 30th wedding anniversary.
My step grandmother, Anne, is diabetic so I looked for a low sugar alternative to the cupcakes. These carrot cake muffins topped with cream cheese frosting feature in celebrity chef Antony Worrall Thompson's book, The Sweet Life. Thompson had been diagnosed with borderline diabetes and developed the recipes to cut down his sugar intake whilst still enjoying cakes and desserts. I had been put off by the cheesy pictures of him posing with Splenda artificial sweetener and realised the book was a deliberate tie in with this product.  
Splenda is suitable for people living with diabetes. It's funny stuff, the box you buy is big but feels like it's full of fresh air. 75g of Splenda is equivalent sweetness to 750g sugar. There are of course other artificial sweeteners available but I have not tried using those yet and cannot advise what quantity of these you might use here.
My endeavours to lose weight since New Year, contrary to what you might imagine reading this site, had seen me eat NO cake (until around 3 weeks ago!) rather than try to expend effort on what I imagined would harness inferior results.  Faced with a request to make a low sugar cupcake style cake, I went ahead and made these muffins without any particular expectations what they might be like.  Right up until the mixture went into the oven I was sceptical if they'd be a success. The batter seemed dry, the ratio of carrot ridiculously high. They looked like shredded wheat bird's nests before being cooked. I was worried I'd end up with rock cakes by mistake.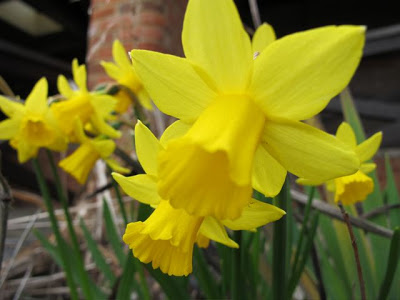 Twenty five minutes later I was converted.  Now, without the topping, they're not necessarily the greatest looking muffin around, no puffed up round tops, a bit rock cake looking – but let me tell you this, these carrot cake muffins taste marvellous.  Eaten warm straight from the oven, they were heavenly. Cooled, they are just as good, lightly spicy, soft and not at all dry with the cream cheese frosting adding a wonderful moistness.  On the day of the party, I chose one over the cupcakes. I will definitely make them again and experiment with further recipes from the book.
An explanation about the photos: they were taken in situe on a plain meeting room table with some hideous grey chairs in the background. I've done my best to conceal these from you even if it meant lopping the top off the stand in the picture below.
I have recently increased the size of my cupcakes by 20% so that I have enough batter to comfortably fill 24 cases without leaving great reservoirs to be filled with buttercream. If you want a higher ratio of buttercream to cake, simply spread your batter across more cases. Halve the recipe if you only want 12 cupcakes, although I have been making mine in batches of 24 lately.  I am now making buttercream in the food processor to avoid the clouds of icing sugar you get with a hand held mixer. It works just as well and is quicker.
Food colouring is also a personal choice, I don't have any hang ups about it myself and hence added yellow to my lemon cupcakes to get them that egg yolk daffodil brightness that complements the orange zest of the muffins.
After the party, Ted went to stay with his grandma on her narrowboat whilst my husband and I enjoyed a night in my home town, Birmingham. Here is a sneak peak of our stay in Malmaison at the Birmingham Mailbox.  I put the new camera through it's paces and will do a full post about our visit soon.  
Meanwhile, enjoy the two recipes below.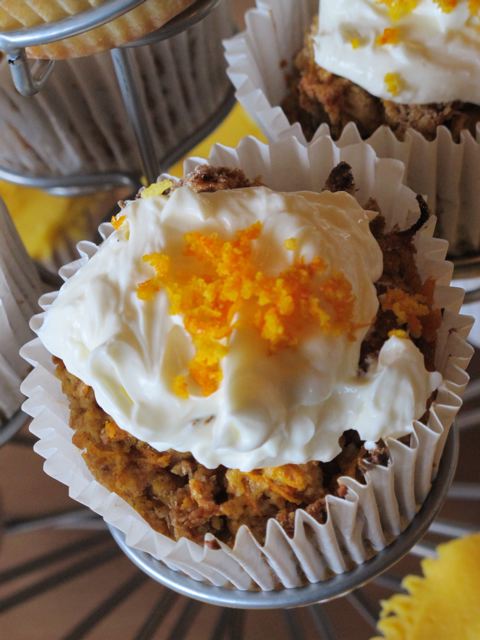 Low Sugar Carrot Cake Muffins 
Ingredients
300g wholemeal plain flour
2 teaspoons baking powder
12 tablespoons granulated artificial sweetener such as Splenda
finely grated zest of one orange
350g peeled and finely grated carrots
For the icing:
150g low fat soft cheese such as Philadelphia
1 tbsp artificial sweetener such as Splenda
Method:
1. Preheat the oven to 200c / 400f / gas mark 6.  Place 12 muffin cases in a muffin tin.
2. Sift the dry ingredients into a large bowl; flour, baking powder, mixed spice, salt, almonds. Make sure you keep in any bran bits sifted from the flour.  Stir in the sultanas.
3. In a medium size bowl beat together the wet ingredients; egg, vanilla extract, milk, oil and most of the orange zest retaining a little to decorate later.  Stir in the artificial sweetener. Tip in the grated carrots and stir well.
4. Tip the wet ingredients into the large bowl with the dry ingredients. Stir until just combined, do not over mix otherwise you will spoil the texture of your muffin. Spoon into the paper cases and bake in the oven for 20-25 minutes. A cocktail stick will come out just about dry when they are done. Allow to cool for a few minutes then transfer to a wire rack.
5. For the frosting, beat the cream cheese in a small bowl until it becomes sloppier – take care not to over do this else it will become runny. Incorporate the artificial sweetener into the cream cheese until smooth.
6. When the muffins are cool, spoon over the cream cheese frosting and decorate with a sprinkling of the remaining orange zest.
Lemon Cupcakes 
(Makes 24 standard size cupcakes or 18 large muffin size)
Ingredients
For the buttercream:
50ml milk (a little more if you need it)
yellow gel food colouring (optional)
For the cakes:
80 ml milk (a little more if you need it)
Method:
1. Preheat oven to 190c or gas mark 5. Simply blitz all of the cake ingredients together in the food processor except the milk which you drizzle in last through the funnel before pulsing a few times to a smooth batter.
2. Spoon the mixture into large muffin cases in a 12 hole muffin tray so that they are around two thirds full. Bake for around 15-18 minutes. For 12 large cupcakes  I set the timer for 12 minutes, turn around and leave for another 6 minutes.  For standard cupcake size and mini muffin size I set the timer for 10 minutes, turn around then give them a further
3. The centres may erupt like little volcanoes but that's ok, you can lop off these peaks if you want to ice them flat. Or, I have found lately that cooking them on a lower oven shelf seems to stop the eruption but your oven may behave differently.
4. When they are done a cocktail stick will just about come out dry.  With practice you get the confidence to know how early this is, leaving them even a couple of minutes beyond this point will make your sponge too dry.
5. Leave to cool in the tins for a few minutes before transferring to a wire rack.  Allow to cool completely before covering with icing.
6. For the buttercream, tip the softened butter, sifted icing sugar, lemon and milk into the food processor and mix until fully mixed and very soft and fluffy.  Add another tablespoon of milk if you think it's still too stiff. Beat the buttercream with the mixer for up to a minute, it will go fluffier and lighter. Remember that although it will be soft and squidgy now, the surface of the buttercream will go harder when it's had a couple of hours to dry out on the surface of a cake. If it lasts that long.
7. Paste your buttercream over the cool cupcake bases using a small palette knife.
8. If colouring your buttercream, you can either add this in the food processor or if you want lots of different colours, divide your icing into as many bowls you would like colours. Dip a cocktail stick into your gel food colouring and swirl around in the buttercream. Mix thoroughly with a small palette knife. Add further food colouring with a clean cocktail stick for a deeper colour.
9. Decorate as desired. Here I have used sugar jelly lemon and orange slices.