Simple and healthy but fabulous Ottolenghi cous cous recipe from the first Ottolenghi cookbook. Perfect for packed lunches, picnics and parties.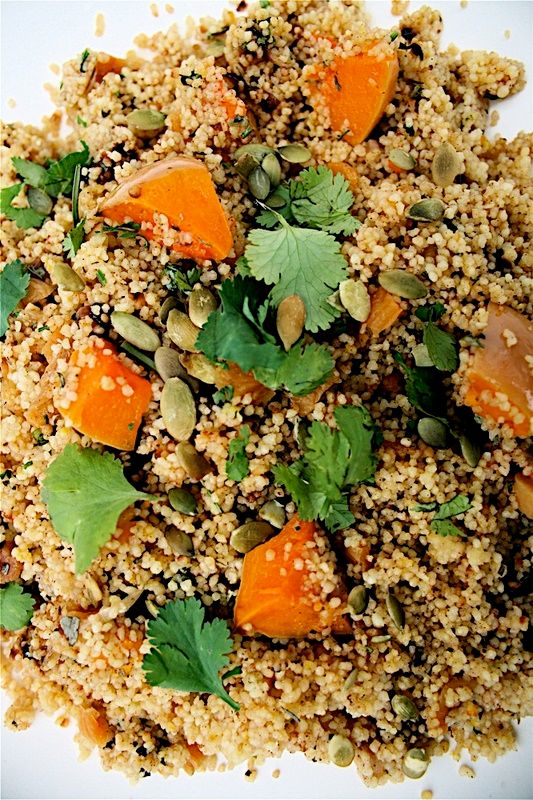 Brace yourselves! After weeks of squeaking in the comments of other peoples blogs "I've just bought the Ottolenghi book but so far only made the macarons," I can honestly say I have made up for this by cooking no less than SIX recipes from this wonderful book in one week. I won't post them all in succession but starting with this colourful Ottolenghi cous cous recipe do expect to see them all over the next few weeks. 
I even recruited a new member to the Ottolenghi Sista-hood (hello Deeba, Jamie, Meeta, Hilda etc etc!), Sarah of Scrumptious Sally who had been deliberating on Twitter whether to go ahead and buy the book. Fast forward a few days and we were tweeting what we were cooking from the book that weekend and bizarrely ended up choosing to cook two identical dishes at the same time. If we ever meet, we'll probably be wearing the same t-shirt.
This Ottolenghi cous cous recipe can be prepared in around half an hour. It is lovely eaten warm but equally good cold – it got me off the hook making my husband's sandwiches the next day and his colleagues at work were apparently very interested in what he was eating, so much so that one of them came round for dinner – an Ottolenghi supper of course.
The next Ottolenghi book, "Plenty", is due out later this month. Can it live up to the first one? I think so, I think we're going to see a series of successful books from this team as we did from River Cafe and Moro in the 90s and 00s. You'd best stock up on pomegranate molasses now!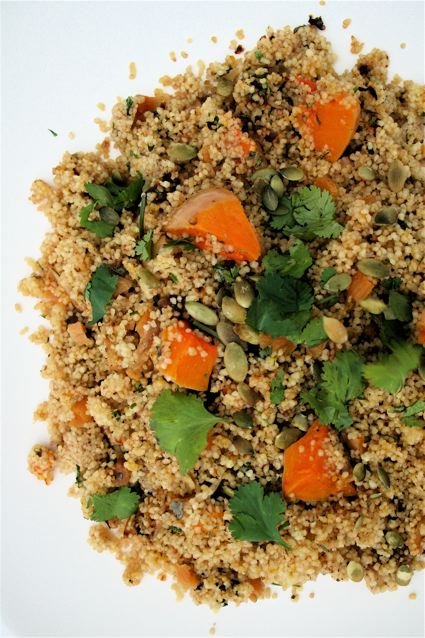 Couscous with dried apricots and butternut squash
Author:
Prep time:
Cook time:
Total time:
Ingredients
1 large onion, thinly sliced
6 tbsp olive oil
50g dried apricots
1 small butternut squash (about 450g) peeled, seeded and cut into 2cm dice
250g cous cous
400ml chicken or vegetable stock
a pinch of saffron strands
3 tbsp roughly chopped tarragon
3 tbsp roughly chopped mint
3 tbsp roughly chopped parsley
1 1/2 tsp ground cinnamon
grated zest of half a lemon
coarse sea salt and black pepper
<em>Optional – I also sprinkled over some pumpkin seeds which were not part of the original recipe. You can see these in the photo. </em>
Instructions
The original recipe text is available in Ottolenghi The Cookbook.
Take a look at other [url href="https://maisoncupcake.com/tag/ottolenghi"]Ottolenghi recipes[/url] previously featured on this site.