Chocolate Macarons are a French patisserie classic. This version filled with dark chocolate ganache for the ultimate Valentine's chocolate treat. Post commissioned by Expedia for their World on a Plate Challenge.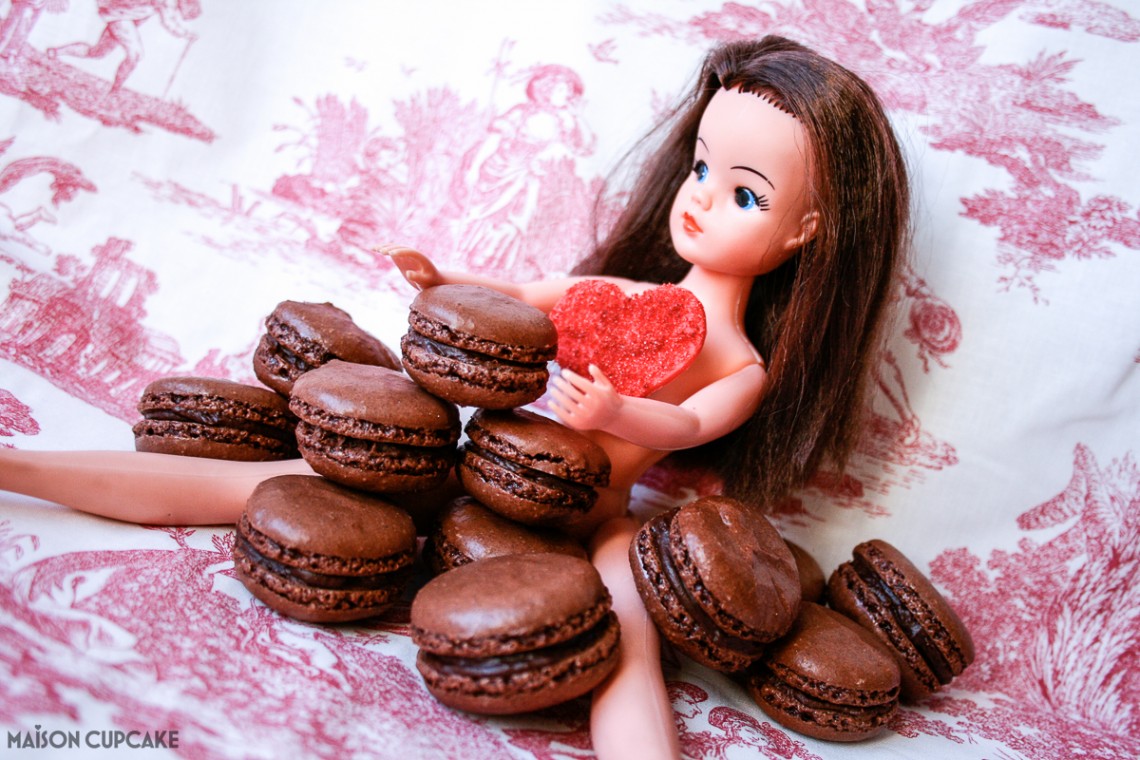 In the early days of writing this blog I had a mania about macarons. Back in the dark ages of blogging – 2009 – macarons were still a bit mystical. It was even a picture of Kylie Minogue posing with a macaron covered cake that triggered the very first post on this website.
I was fascinated by macarons, their glossy shells and squidgy fillings, their array of colours in Sofia Coppola's movie Marie Antoinette. We never had macarons when I grew up, we had jam tarts and eccles cakes. Macarons were other worldly, sexy and Parisienne.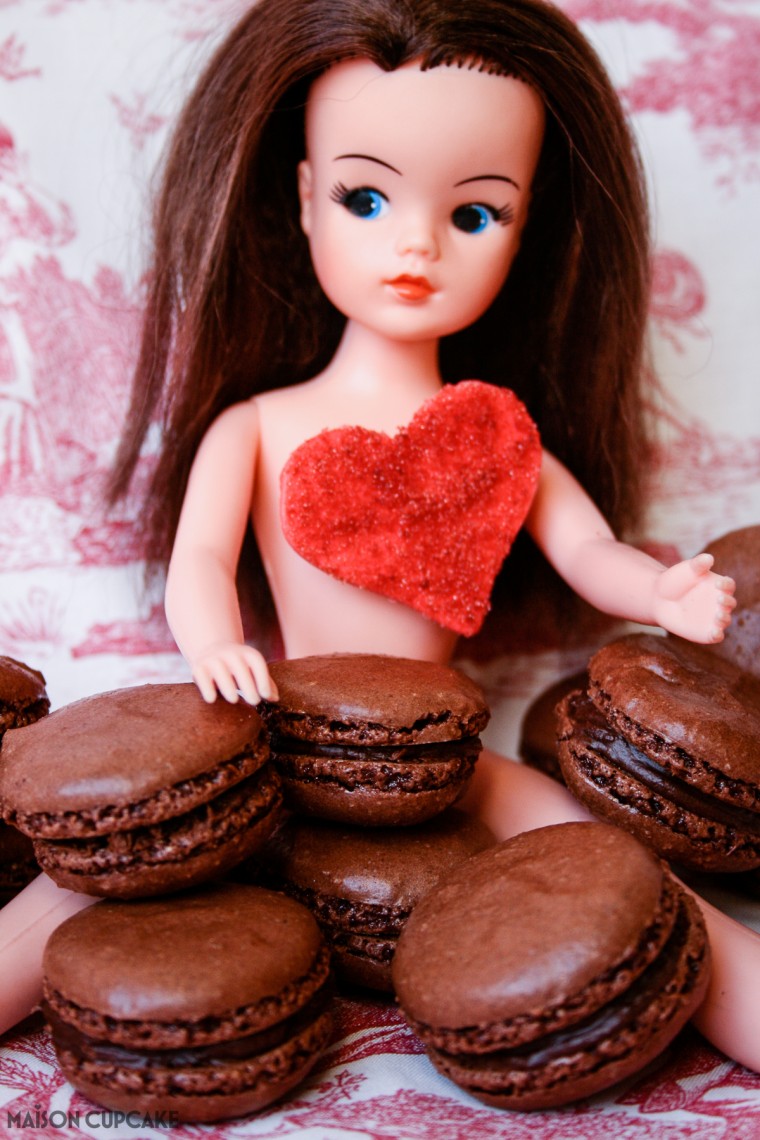 I'll wind back now six years to recount that I had a terrible fix baking my first macarons. The crinkly bits around the bases are known in macaron circles as "feet" and if you fail to get the feet your macarons just look a bit, well a lot, rubbish.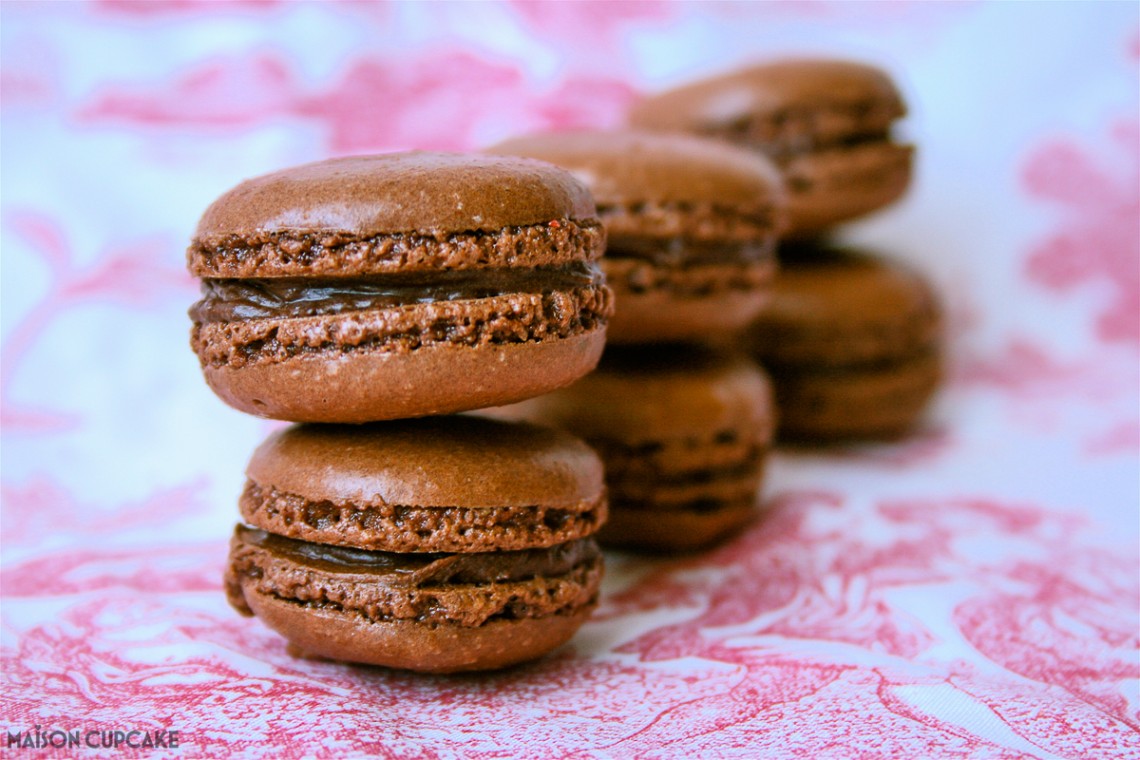 Making Chocolate Macarons
Batch after batch I made. All failing to get the elusive feet. Five batches in one hysterical Twitter fuelled evening (back in the days when bloggers still hung out on Twitter). I remember tweeting with American bloggers at 2am about my macaron failures.
My mistakes, it turned out, stemmed from a misunderstanding with pesky American recipes and me not knowing the difference between "superfine" and "confectioners" sugars. Once I twigged I'd been using caster instead of icing sugars it dawned on me why my macarons sank like stones. There was also confusion about egg white powders (impossible to buy then in the UK) and whether or not to "age" egg whites by a day.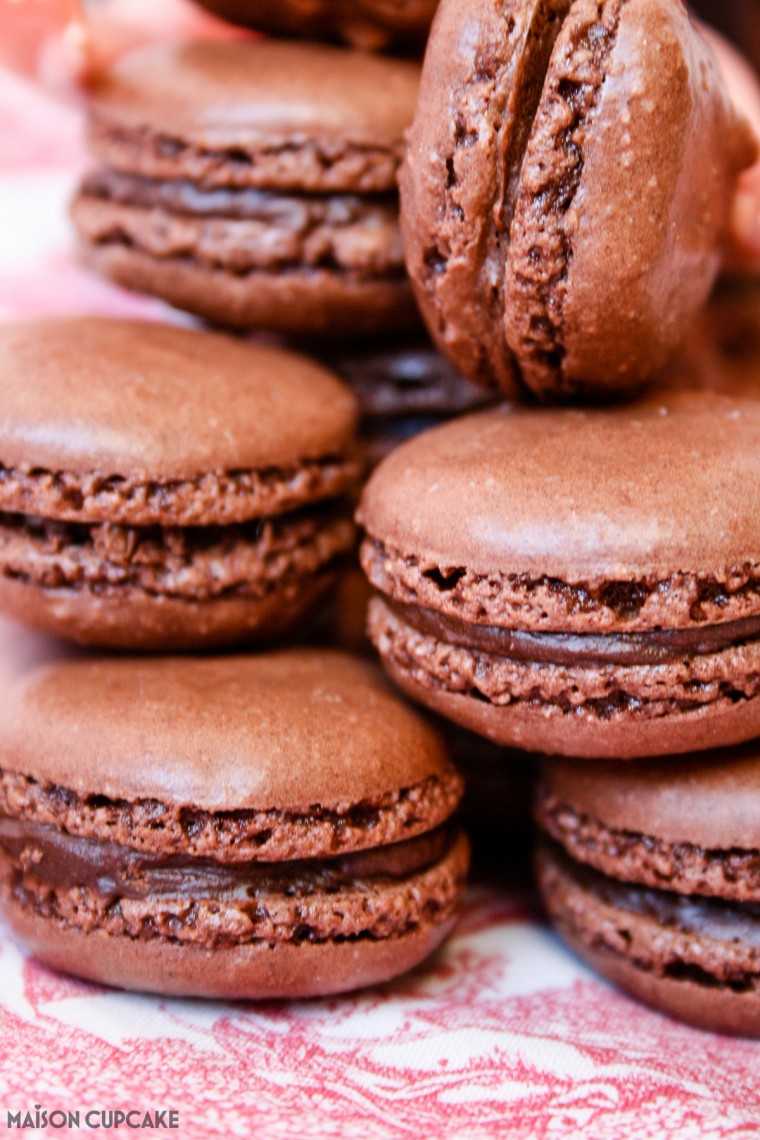 At the time, a lot of food bloggers were raving about Ottolenghi, The Cookbook in which I finally found some guidance on macaron making in English with ingredients sourced in the UK. My method deviates massively from theirs although the ingredient ratios are the same.
The actual macaron making process was woefully familiar to me through previous attempts and watching various You Tube videos. There is variation how people mix the dry ingredients into their meringue, do they do it carefully or beat the hell out of it. I verge towards the latter.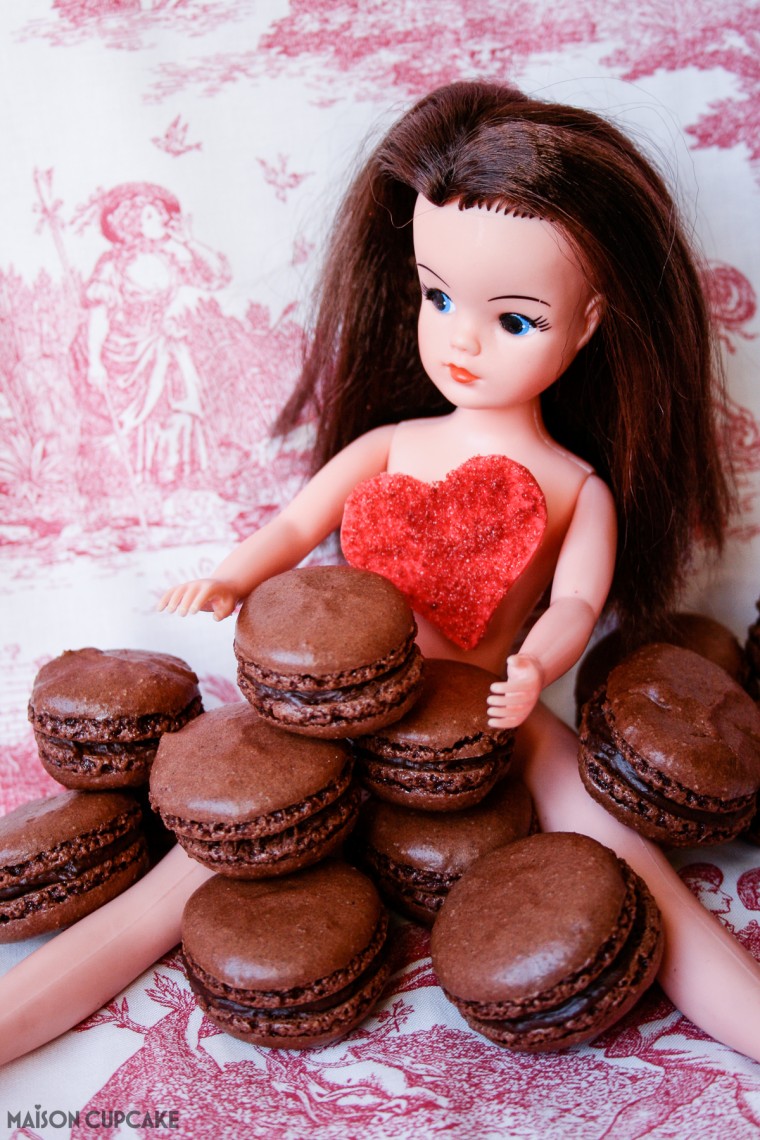 I made three trays of chocolate macarons from one mix. The one new thing I did with this batch was to sit my trays of piped circles on a chair next to a radiator for about twenty minutes. Skins on the dried out shells have always evaded me previously but this radiator trick seemed to work for me. In summer it's not necessary. All three trays, joyfully, had feet.
If you've never had feet on your macarons or can brag that you get them every time let me illustrate that getting feet after five months of trying is rather like Meg Ryan in When Harry Met Sally.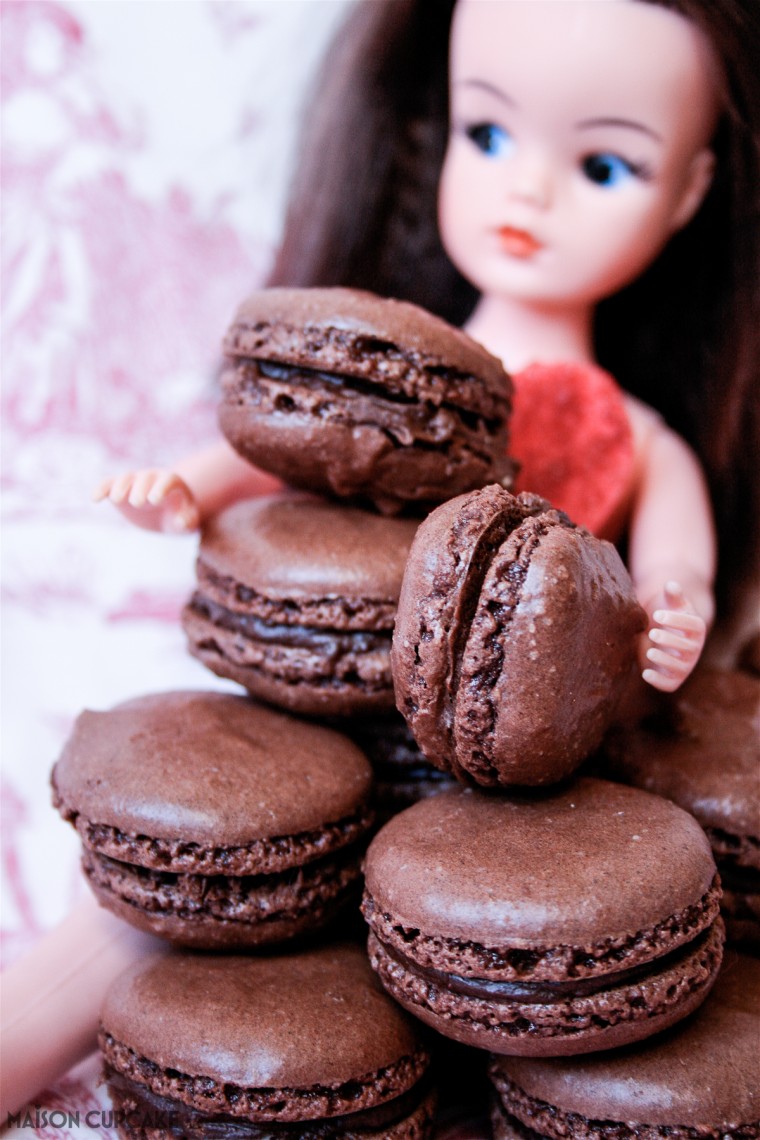 I was so ecstatic that instead of myself jumping out of a cake we had Sindy doing a Dita Von Teese with the chocolate macarons. I would like to say Sindy was my cherished toy from 1979 but I found her recently, posing naked would you believe, in the PDSA shop down the road. Struck by her near immaculate WAG style tresses, a rarity for a twenty year old doll I snapped her up for £1.50.
I should have grown out of using dolls to act out my daydreams by at least ooh, 1982. But I couldn't possibly bake enough macs (with feet in any case) to manage this for real.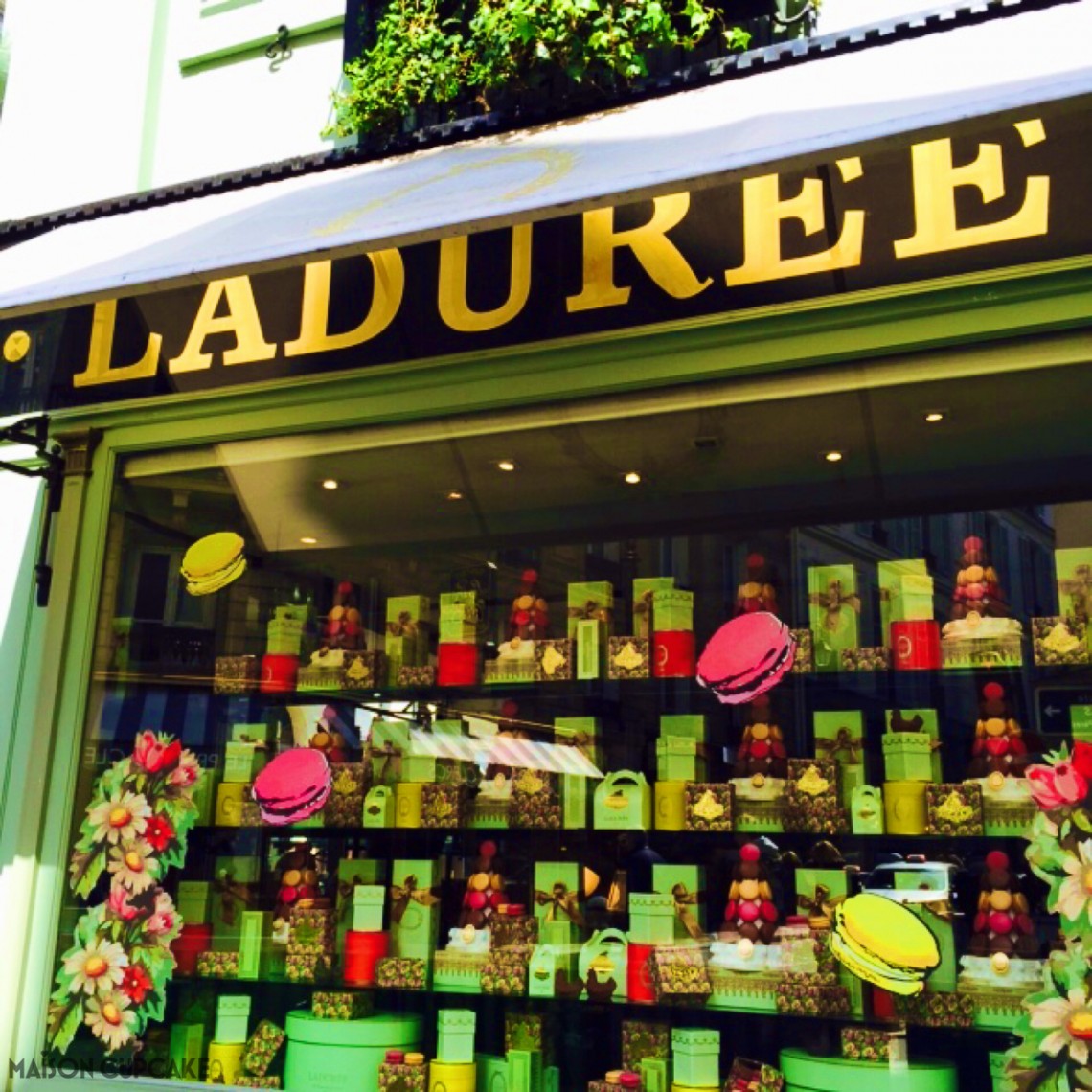 Happily since then I have enjoyed authentic French chocolate macarons in Laduree and although I can't vouch for my own being better, it is easier than travelling to Paris.
It is one of my dreams to manage a child-free patisserie tour of Paris.
From the thick hot chocolate of Angelique to the slinky eclairs of Fauchon. In our child friendly Paris Easter trip last year, I escaped from Nick and Ted for a few hours but being Easter Monday all the bakeries were SHUT. Which when you'd just spent three days humouring a small child who only wants to ride Le Metro is as good an excuse as any to go again. Ted LOVED Paris and has begged to go back ever since. Even though it's to ride on double decker RER trains.
Travelling to Paris is easy from London and booking a package holiday deal with a site like Expedia makes it easier still.
I can spend many an hour ogling hotels and travel schedule options from the comfort of my desk. (Sigh – when I really should be working.)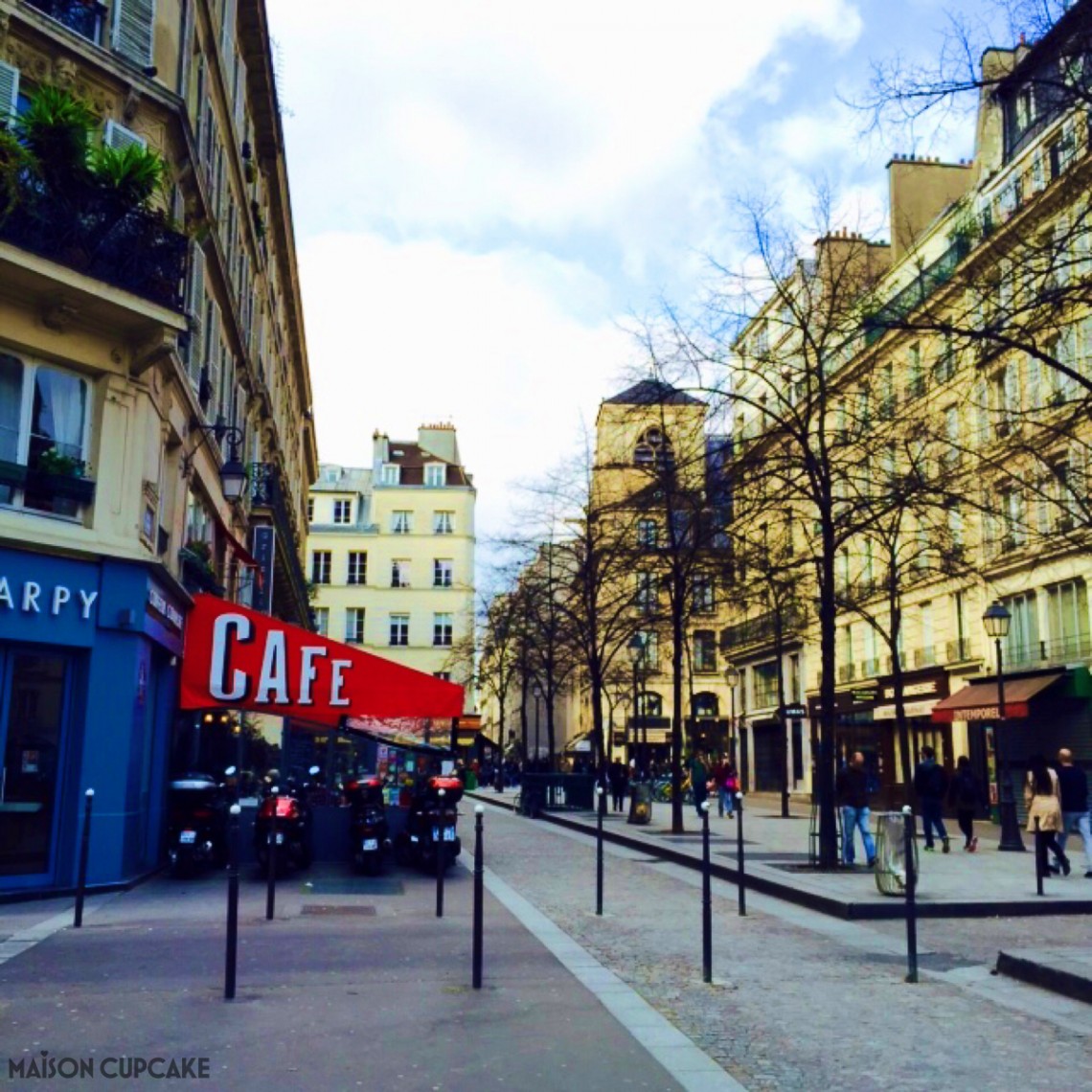 We've booked trips through Expedia in the past and I like the way you can tweak details such as flight times and car hire options but still see a price per person at a glance.
In theory I might travel on the Eurostar from Kings Cross on a Friday night and spend a weekend in Paris before coming back first thing Monday morning. It's not the babysitter that's stopping us – we have grandparents to do this – but how could we break it to Ted that we'd been to Paris without him?! I don't think I could bear his little face sinking that he'd missed out.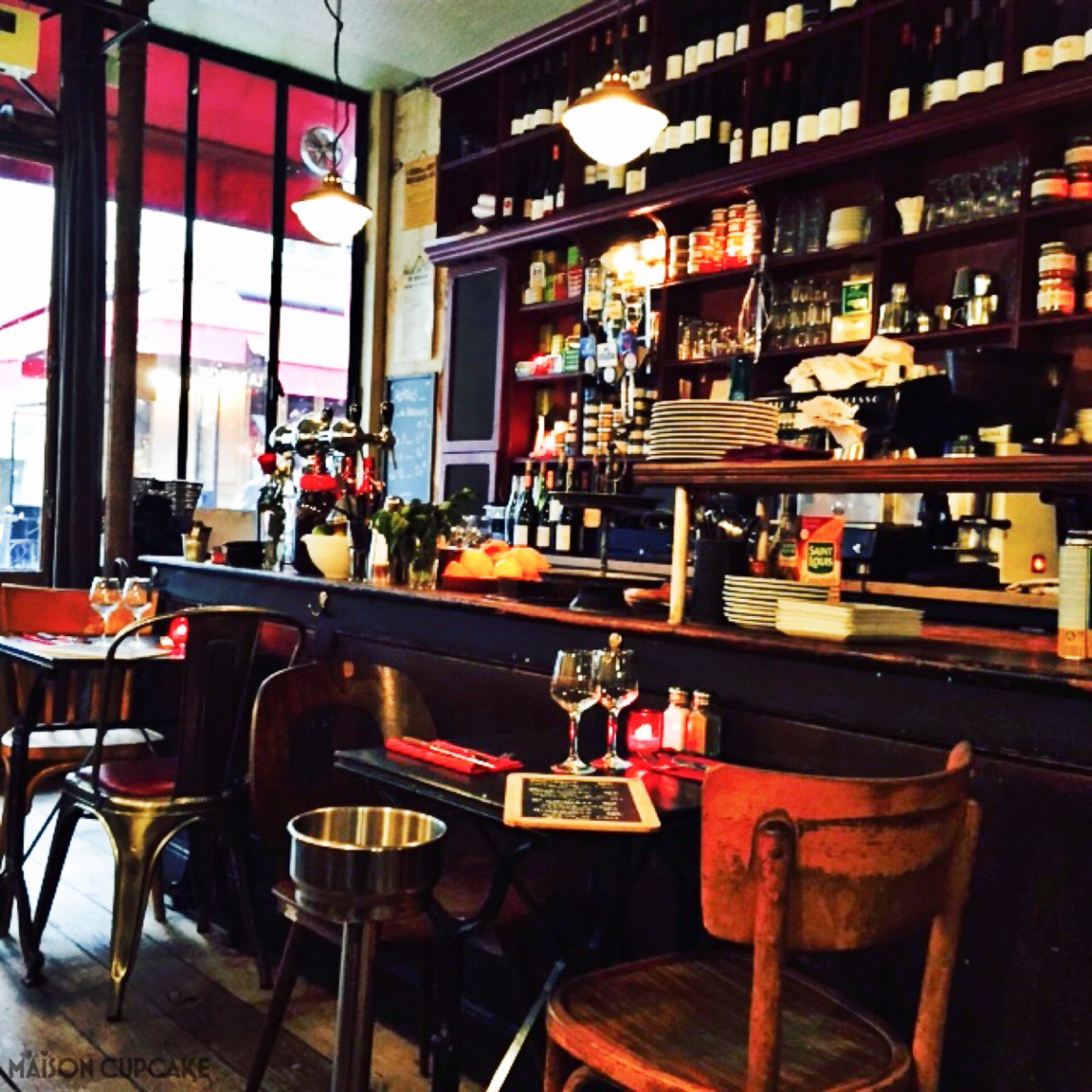 I suppose we could take the grandparents as well but then this does change the dynamic somewhat. No romantic meals in French bistro. More like burgers in Hippopotamus.
In the meantime I'll just make chocolate macarons for my beloved and fantasise about our going back to Paris alone…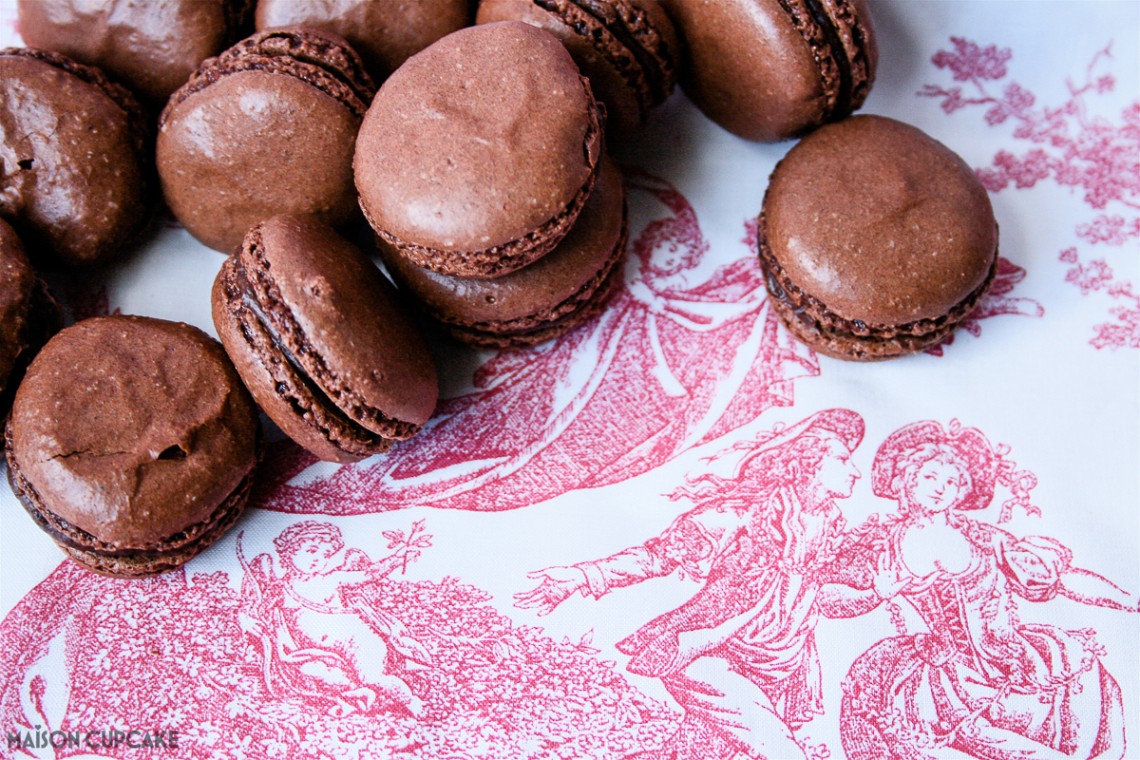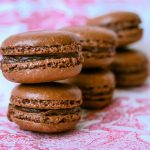 Print Recipe
Chocolate macarons: the French patisserie classic
Chocolate macarons are a French patisserie classic. This version filled with chocolate ganache for the ultimate luxurious chocolate treat.
Ingredients
<em>for the shells</em>

110

g

icing sugar

50

g

ground almonds

12

g

cocoa powder

2

free range egg whites

60g worth, left to age for 2 days

40

g

caster sugar

<br>

<em>for the ganache</em>

100

g

dark chocolate

100

ml

single cream
Instructions
Sift the icing sugar and almonds into the food processor and blitz to give yourself an even finer powder.

In a large mixing bowl, whisk the egg whites to a foam using an electric mixer then add the caster sugar gradually and continue beating until you have a meringue that stands in stiff peaks.

Tip all the icing sugar and almonds on top. Using a silicon spatula, sweep around the bowl in a circle and then cut sideways strokes with the thin blade of the spatula through the centre backwards and forwards ten times. Repeat sweeping around the edge of the bowl and doing your ten strokes five times so that you've done fifty strokes. Your batter should be roughly ready by this point, you are looking for a flowing lava effect. If it is too stiff continue sweeping around the edge of the bowl and doing another ten strokes until you are happy with the flow.

Fix parchment paper to your baking sheet with a blob of meringue batter in each corner. Fill piping bags with the batter, I use disposable ones with around 1.5cm width snipped of the end.

Pipe discs in a circular movement around the size of a two pound coin. Allow a similar distance between the piped circles incase they spread. Pick the tray up with both hands and rap on the table firmly to make the circles settle.

Leave the piped circles near a radiator for twenty minutes to dry out (winter only). In summer, leave for 30 minutes. The surface of the circles should dry out so that they are no longer sticky to the touch. The feet develop as the surface has toughened before the centre has cooked, the pressure that builds up under heating forces the top of the macaron to rise, then you should get feet.

Bake for 12-18 minutes depending on size. The length of time really is trial and error. I put mine on the lowest oven shelf but again you will need to experiment.

Hopefully, if you've cooked them enough but not too much, you'll have that happy medium of a surface that peels beautifully off the baking parchment but a meringue which remains soft and gooey like a truffle inside. If you are having trouble removing them from the paper, some drops of water sprinkled under the parchment whilst still warm will help steam the macarons off. But I find that they come off best when completely cool and don't need this. So don't be impatient!

Meanwhile make the ganache by heating the cream and dark chocolate together - preferably in a double boiler or heatproof bowl above simmering pan of water. When combined allow to cool and firm up.

When cool, spread your ganache or other filling on the flat side of a shell and sandwich with another, squeezing gently. Allow to set for a couple of hours. I find they keep in an airtight tin for a week. If you can resist them.
More macaron recipes
If you're bitten by the macaron baking bug try these other easy macaron recipes:
Chocolate macarons with chocolate Philadelphia(above)
Lemon and Rosemary macarons
Nutella Hazelnut macarons
Bucks Fizz Macarons (Botanical Kitchen)
Crunchie Honeycomb Macarons (Recipes & Reviews)
Speculoos Macarons (Casa Costello)
Chocolate macarons recipe post commissioned by Expedia World on a Plate Campaign.