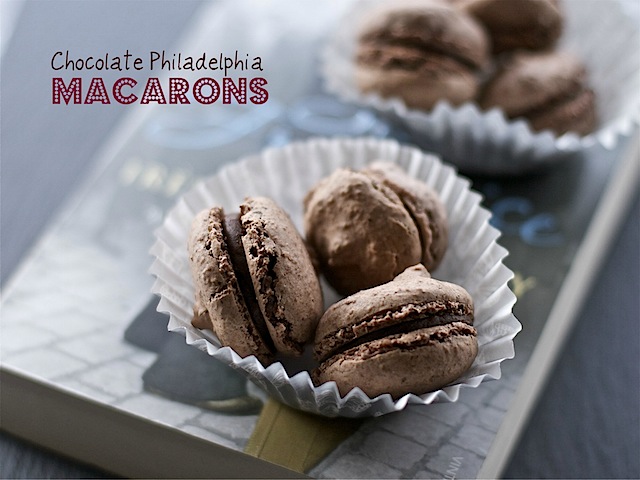 Not since the photo shoot for my book in October had I made any macarons and I thought it was about time.  Usually when I make macarons I give the ground almonds an extra grind in the food processor and sieve the icing sugar several times.
Not so today, these were deliberately rustic and I expected pointy bits. Not just plain chocolate shells but made with a fifty fifty split of almonds and ground hazelnuts and a touch of Kenco Millicano coffee powder for a subtle mocha flavour.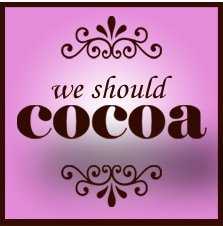 I am sending these macarons to Choclette who is hosting this month's We Should Cocoa with the theme "cheese".
I have been cooking with Philly lately anyway (in my next post!) but leapt on the new Cadbury's Chocolate Philadelphia when it came out. Since it keeps for two months (before opening) I stocked up on 4 tubs whilst it was on half price. As it's good enough to eat on its own with a spoon this probably wasn't a good idea.  It makes an ideal spread to sandwich macaron shells together and it's lower in fat than a ganache made with double cream.
Recipe: Chocolate Philadephia Macarons

Ingredients:
for the shells
25g ground almonds
25g ground hazelnuts
2 egg whites
110g icing sugar
40g granulated sugar
10g cocoa powder
2g good quality coffee powder such as Kenco Millicano

for the filling
100g Cadbury's Chocolate Philadelphia

You will need
Piping bags
2 baking sheets

Directions:
1. Sieve the nuts, cocoa, coffee and icing sugar into a medium sized bowl pushing any larger bits of nut through the holes as best you can.
2. In a large mixing bowl, whisk the egg whites to a foam using an electric mixer then add the caster sugar gradually and continue beating until you have a meringue that stands in soft peaks.
3. Tip the sugar and nut mix on top. Using a silicon spatula, sweep around the bowl in a circle and then cut sideways strokes with the thin blade of the spatula through the centre backwards and forwards ten times. Repeat sweeping around the edge of the bowl and doing your ten strokes five times so that you've done fifty strokes. Your batter should be roughly ready by this point, you are looking for a flowing lava effect. If it is too stiff continue sweeping around the edge of the bowl and doing another ten strokes until you are happy with the flow.
4. Fix parchment paper to your baking sheet with a blob of meringue batter in each corner. Fill piping bags with the batter, I use disposable ones with around 1.5cm width snipped of the end.
5. Pipe discs in a circular movement around the size of a two pound coin. Allow a similar distance between the piped circles incase they spread. Pick the tray up with both hands and rap on the table firmly to make the circles settle.
6. Preheat the oven to 150c. Leave the piped circles near a radiator for 15-20 minutes to dry out (winter only). In summer, leave for 30 minutes. The surface of the circles should dry out so that they are no longer sticky to the touch. The feet develop as the surface has toughened before the centre has cooked, the pressure that builds up under heating forces the top of the macaron to rise, then you should get feet.
7. Bake for around 8 minutes depending on size. You'll need to experiment with which oven shelf and temperatures 10c higher or lower as everyone's oven is different. But start out with middle shelf and 150c.
8. Hopefully, if you've cooked them enough but not too much, you'll have that happy medium of a surface that peels beautifully off the baking parchment but a meringue which remains soft and gooey like a truffle inside. If you are having trouble removing them from the paper, some drops of water sprinkled under the parchment whilst still warm will help steam the macarons off. But I find that they come off best when completely cool and don't need this. So don't be impatient!
10. When the shells are cool spread the Chocolate Philadelphia on the flat side of a shell and sandwich with another, squeezing gently. Allow to set for a couple of hours. I find the texture softer when they've been filled and kept in a tin overnight. They keep in an airtight tin for a week. If you can resist them.
With thanks to Kenco Millicano for the sample coffee.