Homemade chocolate bars make the best edible gifts! Here are instructions how to make homemade chocolate bars extracted from the new book Clean Cakes* by Henrietta Inman. She has also given her favourite toppings and flavourings, but you can add whatever you like to your real chocolate.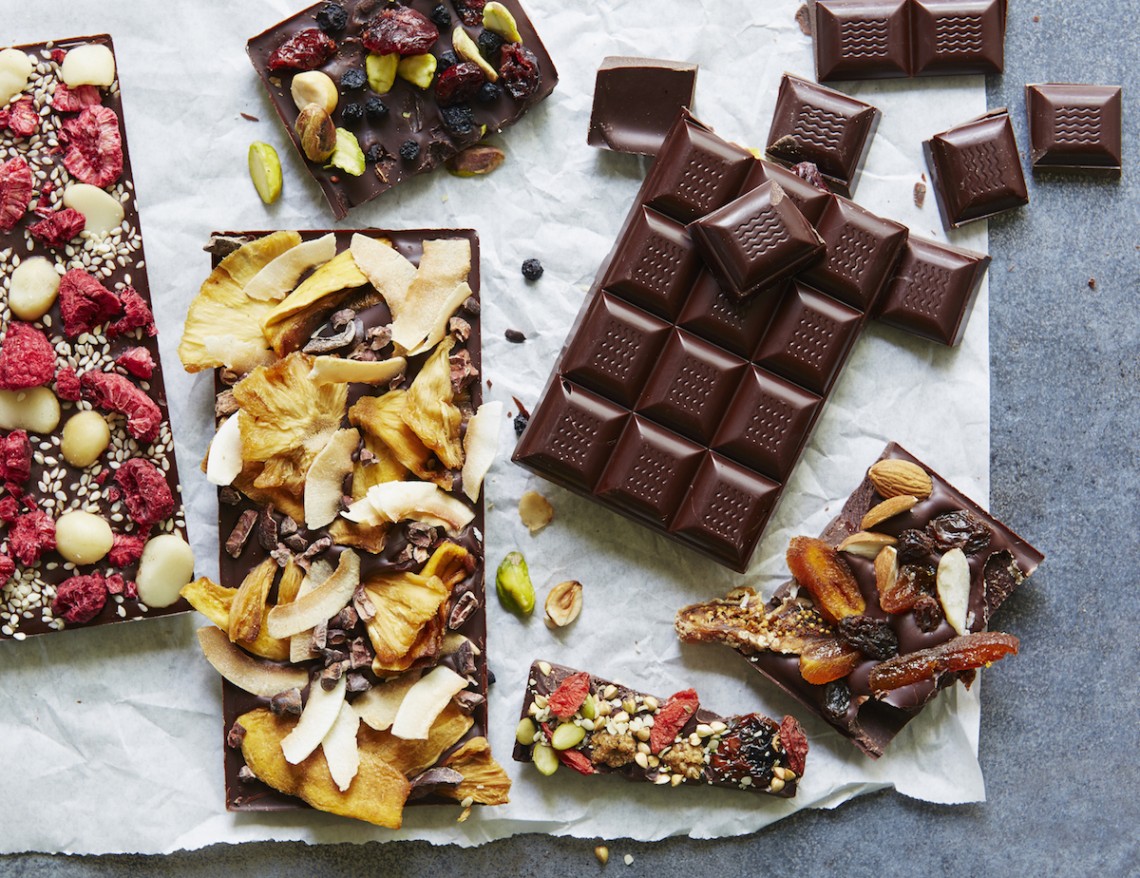 The ding dong about so-called "clean eating" has been raging for at least a year. Regardless of my feelings about this controversial term, I am very excited about this new Clean Cakes book and feel it has much to teach about baking methods for alternative and restricted diets.
Throwing away the traditional baking rule book of refined sugars and flours, pastry chef Henrietta began to experiment with brown rice and quinoa flours, to sweeten with coconut nectar sugars and date syrups. Not only did she learn about the nutritional profiles of these allergy-friendly ingredients but she realised they brought new flavours and qualities to her baking.
The Clean Cakes philosophy cuts out dairy, gluten and processed sugars yet creates cakes and treats that are anything but bland, colourless or uninspiring. The recipes are a goldmine for those with food allergies and intolerances, or anyone who simply wishes to diversify the ingredients they bake with and try out new techniques (I definitely fall into this latter category). Many recipes are vegan friendly. I am neither vegan nor gluten intolerant but I firmly believe in the benefits of varying one's diet as far as possible – which for me means avoiding blind daily reliance on wheat and dairy when alternatives are available.
Clean Cakes starts out exploring what for many of us is an unfamiliar world of explaining dairy free alternatives to milk, yogurt or cream and butter. Next comes a detailed list of natural replacements for refined sugars, gluten free flours, egg replacements and increasingly popular "superfoods" such as cacao, lucuma and maca. Then after a second introductory chapter layout out foundation techniques including how to make nut butters, nut creams, nut milks, jams and jellies come over 75 recipes.
I have chosen a selection to show you here: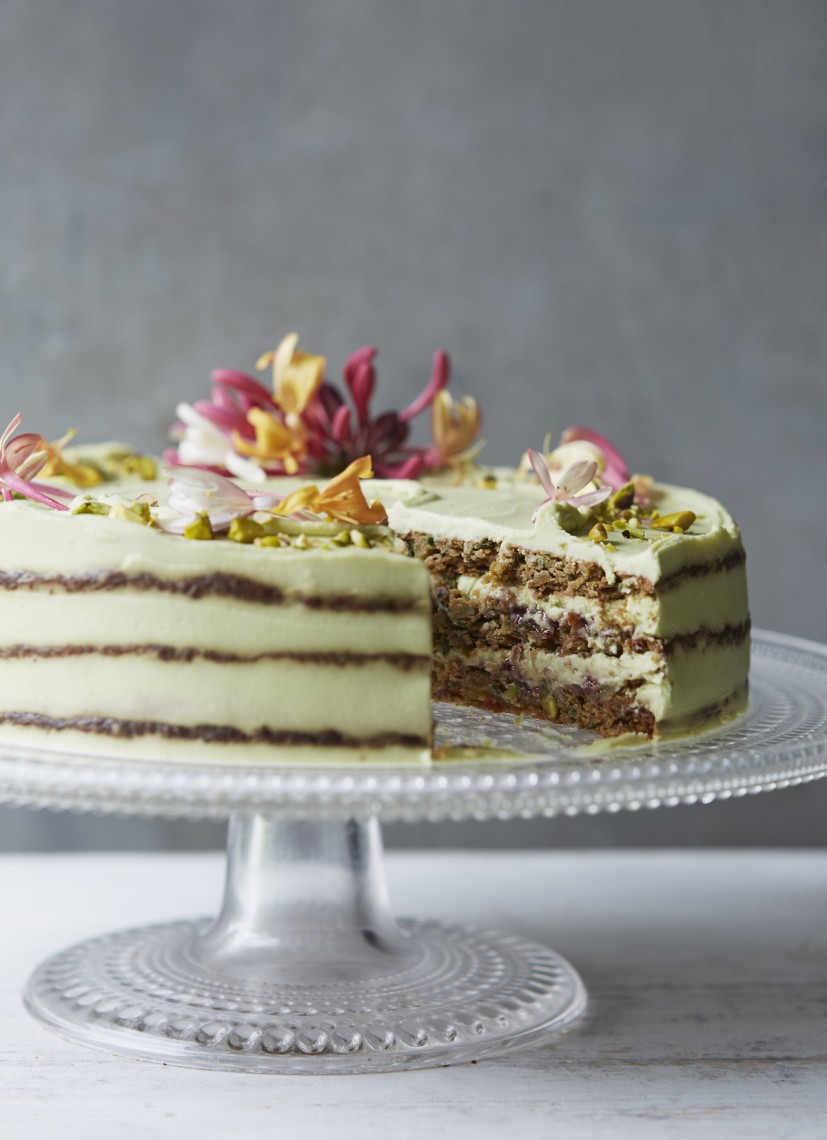 Courgette (Zucchini) basil, lime and pistachio cake with avocado lime cream and raspberry jam (jelly) is the show stopping opener. This pretty layer cake decorated with edible flowers is made from "activated" pistachios, coconut flour and of course, courgettes.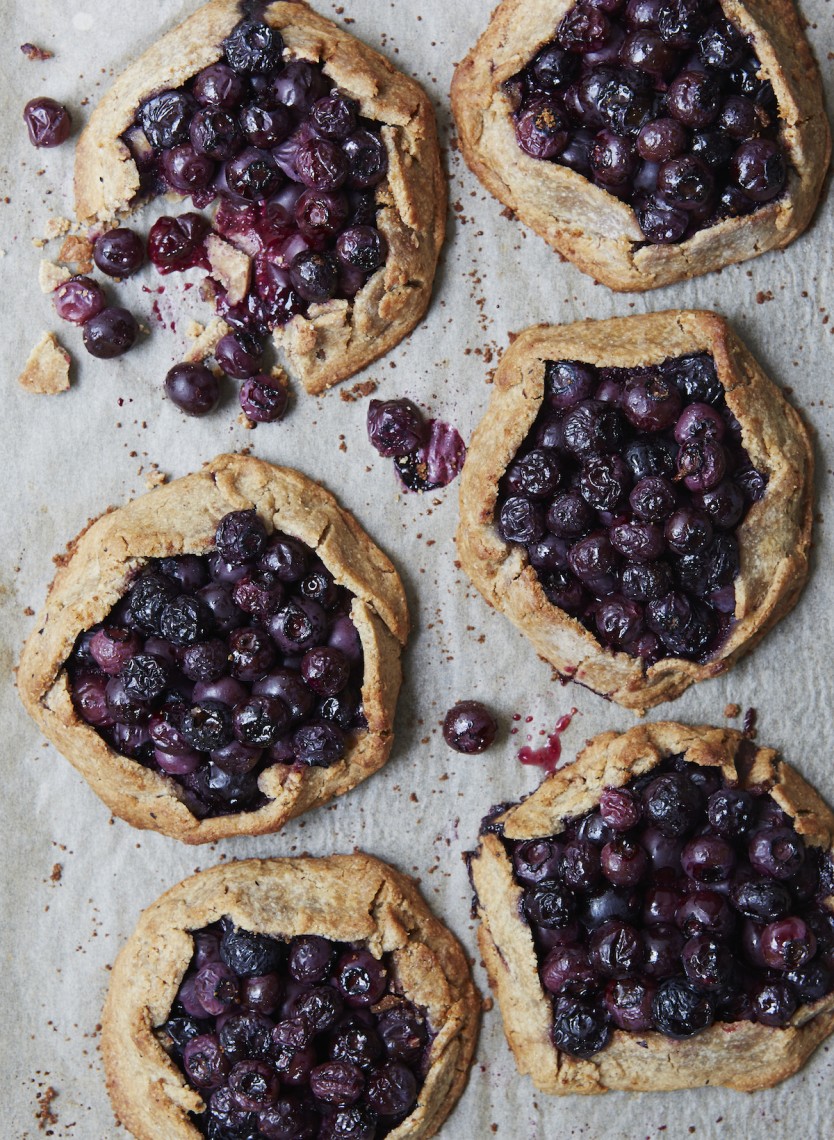 Blueberry galettes sweetened with coconut sugar and pastry made from almond meal and buckwheat flour.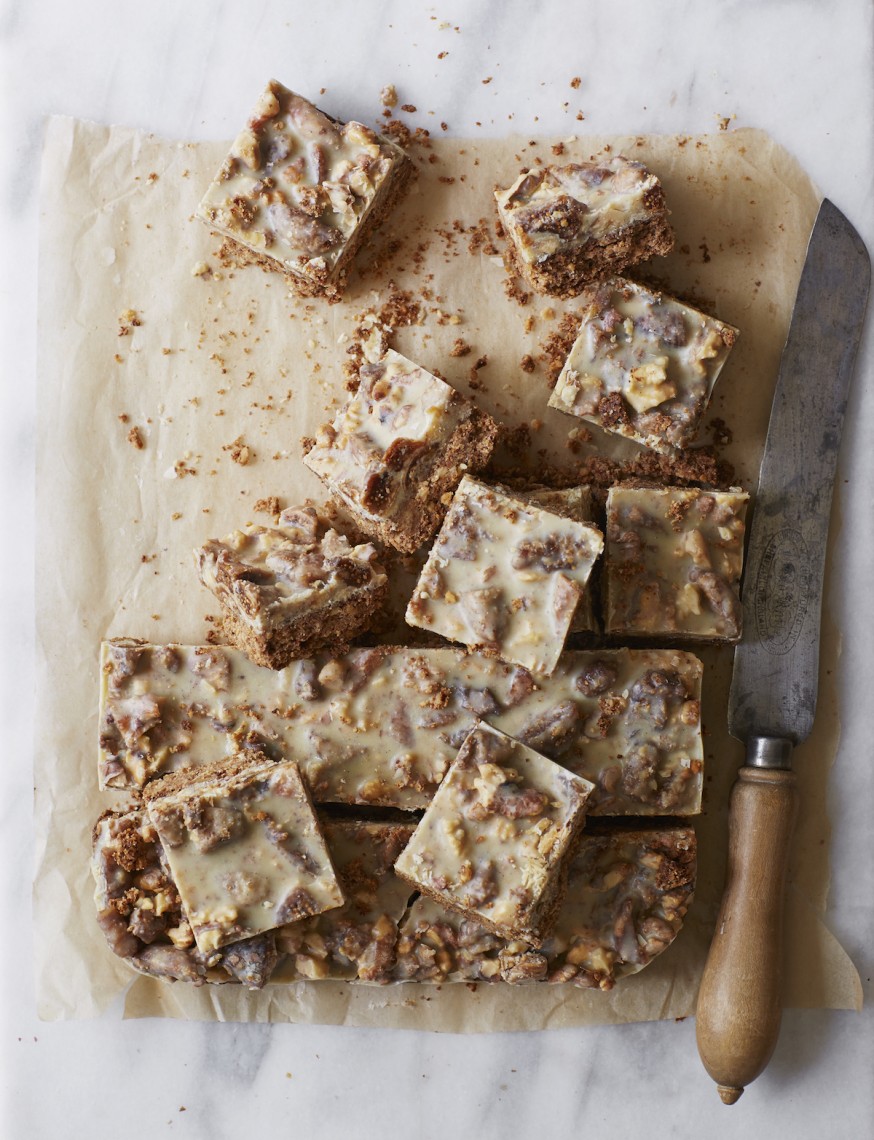 Salted tahini shortbread biscuit (cookie) bars with yogurt-coated walnuts and figs – made with cashew butter, oat flour and activated walnuts.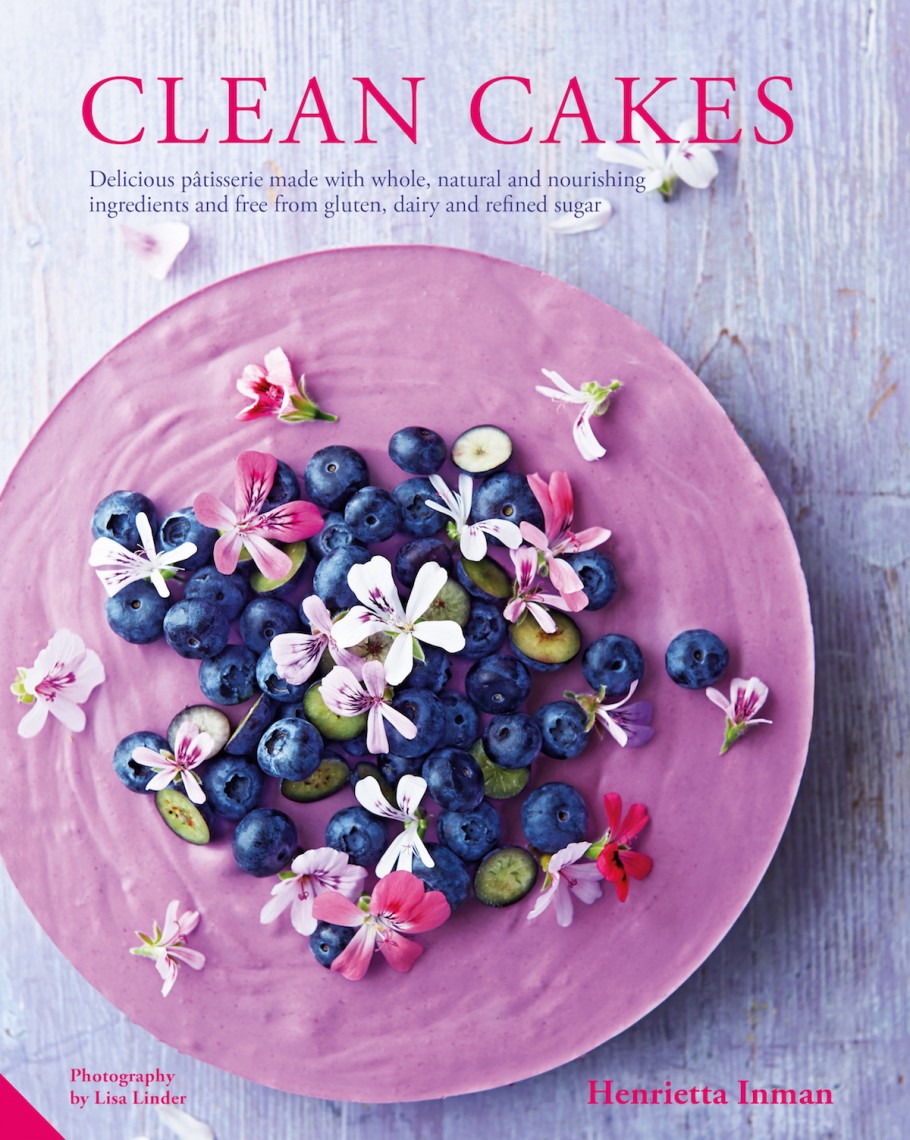 The stunning cover cake is called Blueberry Lemon Mousse Cake with Scented Geranium Flowers. I'm not entirely sure where I'd get the geranium flowers from unless I grew my own. Nevertheless the vanilla base including Medjool dates and dessicated coconut then topped with coconut milk and cashews coloured with blueberries is a sure fire head turner for any dessert table.
As well as baking cakes, muffins, breads and tarts, the book also includes raw desserts and petit four style treats. It was these homemade chocolate bars below which caught my eye most as I'd not come across a homemade chocolate bars recipe before. So it's not strictly a clean cake but very beautiful all the same.
We've just gone through a Christmas season with every celebrity doing their checklist Clean Eating book. I predict next autumn will see many following up that trend with a clean baking or low sugar baking book. You can be ahead of the curve by grabbing a copy of Clean Cakes*  now.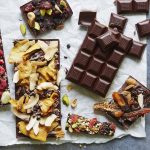 Print Recipe
Homemade chocolate bars
Homemade chocolate bars make the best edible gifts! I have given you my favourite toppings and flavourings, but add whatever you like to your real chocolate.
Ingredients
250

g

8 3/4 oz/ 1 1/8 cup cacao butter, chopped or processed into small pieces

125

g

4 1/2 oz/ 1 cup plus 1 tbsp cacao powder

90

g

3 oz/generous 1/4 cup maple syrup 1 vanilla pod (bean), split lengthways and seeds scraped out
Instructions
Line a large 35 x 25 x 2 cm deep (13 3/4 x 9 3/4 x 3/4 inch) tray with baking parchment.

Make a bain-marie by fitting a glass or ceramic bowl over a saucepan of water. Do not let the bottom of the bowl touch the actual water. Bring the water to the boil then turn it down to a simmer. Very slowly melt the cacao butter in the bowl of the bain-marie. Take the cacao butter to no higher than 40–45°C/104–113°F. If you think it is getting too hot but hasn't all melted, take it off the heat to finish melting. It is important not to overheat it or the chocolate will taste grainy and be 'bloomed', with a white cloudy appearance.

When the cacao butter has melted and is at around 40–45°C/104–113°F, add the rest of the ingredients. This should lower the temperature and we now want to bring it down to 28–30°C/82–86°F; just above or below will be fine.

Blend all the ingredients together with a hand-held blender to get rid of any cacao powder lumps and until velvety smooth and glossy. Do not over-blend or the chocolate will stiffen too much. If it is too stiff, place the bowl back over the hot water and stir gently for a minute or so then remove from the heat. Keep stirring the chocolate gently to cool it then, when around 28–30°C/82–86°F, pour it into the lined tray. Bang the tray on a surface and shake it gently to get rid of any air bubbles and make a nice even layer of chocolate, then refrigerate.

Break up the set chocolate and store in a large glass jar or container in the fridge, where it will keep for at least three months.

To make your own chocolate bars you need chocolate moulds measuring 15 x 7 x 1 cm deep (6 x 2 3/4 x 1/3 inch). Wash the moulds with hot water, soap and a soft cloth, then dry with a cloth and polish with cotton wool before each use.

Make or melt the amount of homemade chocolate you want to use in a bain- marie (see above). Once the chocolate is around 28–30°C/82–86°F, pour or ladle it into the moulds, one at a time. Each bar (with above dimensions) can take 90 g (3 oz) of chocolate. Shake the moulds slightly and bang them a few times to get rid of any air bubbles and make an even layer. Next, if you want to, add 40–50 g (1 1/2–1 3/4 oz) of toppings (see left for suggestions) and transfer to the fridge immediately to set. If you are in a rush, place in the freezer. Once set, the bars will fall out easily from the moulds.
Suggested toppings and flavourings for homemade chocolate bars
Wonder berry bar
Goji berries, white mulberries, Incan berries, buckwheat groats, hulled hemp seeds and pumpkin seeds.
Exotic bar
Dried mango, dried pineapple, toasted coconut flakes and cacao nibs.
Fruit 'n' nut 1
Chopped dried unsulphured apricots and figs, raisins, Brazil nuts and almonds.
Fruit 'n' nut 2
Pistachio, hazelnut, dried cranberry and dried blueberry.
Peppermint
Add 1 tsp pure unsweetened peppermint extract to 90 g (3 oz) chocolate, then fill the mould.
Bitter orange
Add 1 tsp pure unsweetened orange extract to 90 g (3 oz) chocolate, fill the mould, then decorate with cacao nibs
Rose, orange blossom, raspberry, macadamia and sesame. Add a generous 1/2 tsp rosewater and 1/2 tsp orange blossom water to 90 g (3 oz) chocolate, pour into the mould and then decorate with freeze dried raspberries, macadamia nuts and white sesame seeds.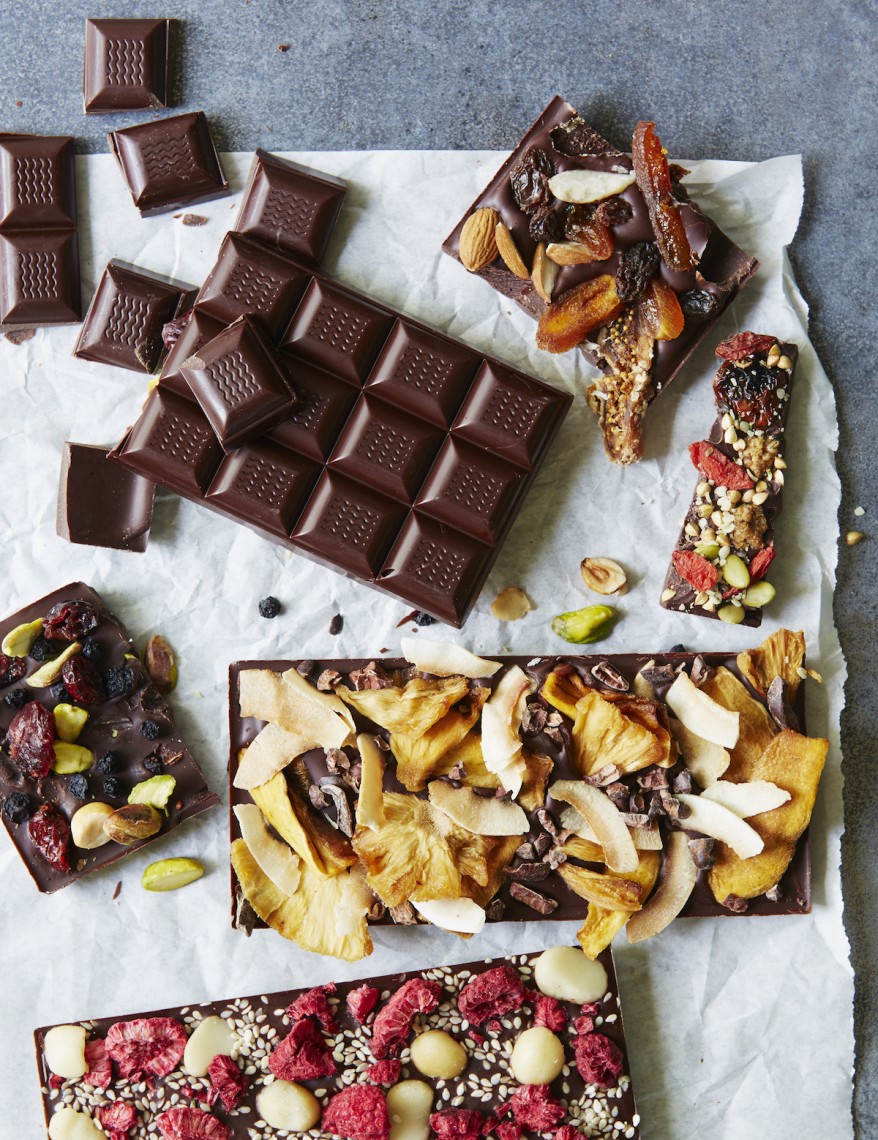 Images by Lisa Linder reproduced with permission from Jacqui Small publishers. Clean Cakes* by Henrietta Inman is available now from Amazon. Review copy received with thanks.  *Affiliate referral.
If you enjoyed this post see also: gluten free blackberry tartlets with almond crust