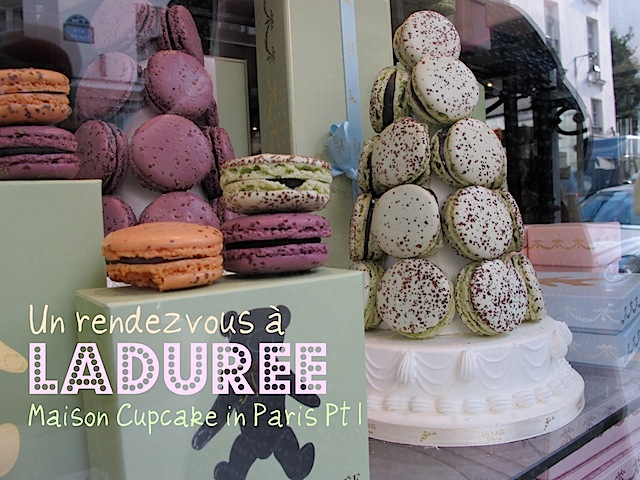 Maison Cupcake in Paris Part One
Is it Easter already? Twelve months have passed yet it feels like yesterday my husband and I escaped by ourselves for a holiday weekend in Paris by Eurostar.
As I was preoccupied with a tight deadline for the first photo shoot of the book I never got around to blogging about our brief sojourn but a recent Paris post by I Heart Cupcakes and subsequent exchange with one of my earliest Twitter friends @annecupcake convinced me that one year on was an ideal time to share the pictures I'd already prepared for posts but never published.
This is the first of a series of three posts that I will publish over Easter weekend. The other two aren't directly cake related but reflect two other aspects of my first trip actually staying in Paris for over twelve years.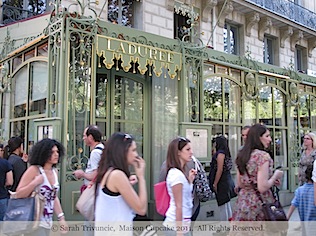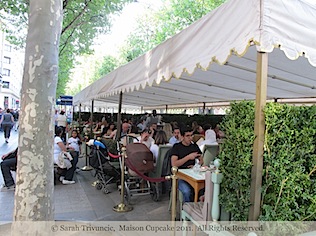 Ladurée may well have a branch in London's Piccadilly but it was the branches in Paris I wanted to see. Initially we passed the chaotically busy branch on the Champs Elysées but didn't go inside.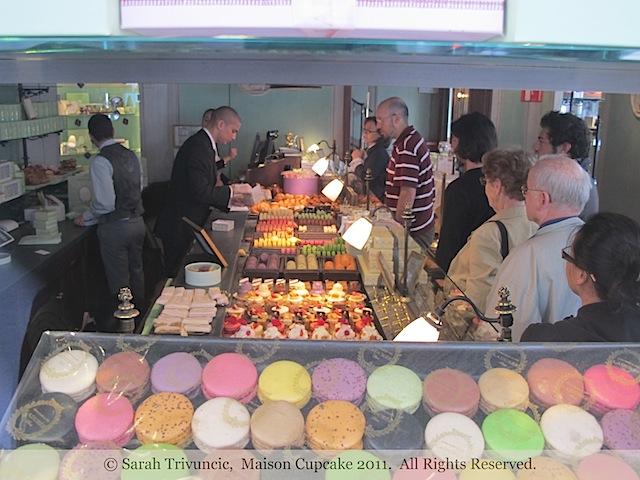 Ladurée St Germain de Près
The Ladurée in St Germain de Près was the highlight of our weekend. Now sadly I could not take pictures inside – oh how I craved to show you the pastries and desserts on display in this picture close up – so instead I bring you a nose-pressed-up-against-glass view instead.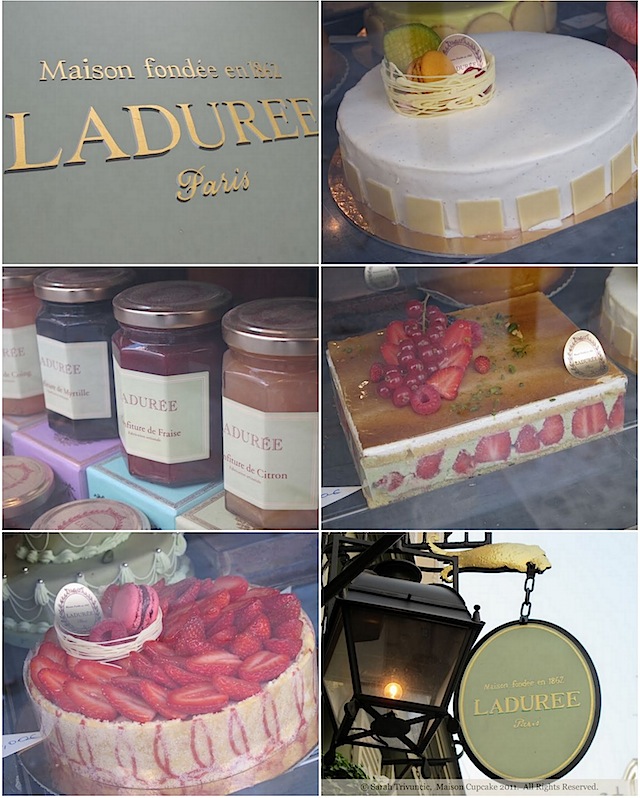 I'm often hearing how the French buy in their desserts from patisseries rather than make their own and seeing the confections above it's easy to see why. Worthy of any Daring Bakers' challenge, I was bewildered by the showmanship in these cakes. I especially liked the strawberry tart (above bottom left) with joconde imprimé collar and decoration of raspberries and a macaron.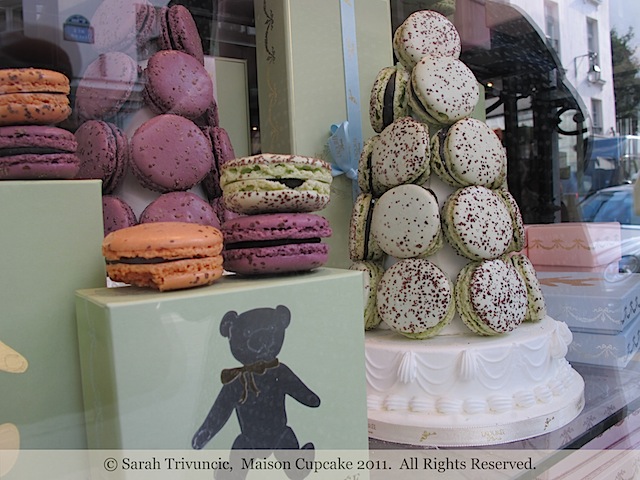 Ladurée Macarons
These splendid pyramides des macarons also caught my attention! I keep meaning to present some macarons at home on a cone like this but haven't got around to it yet. (It looks like someone took a bite out of the orange one above when dressing the window – who can blame them?!)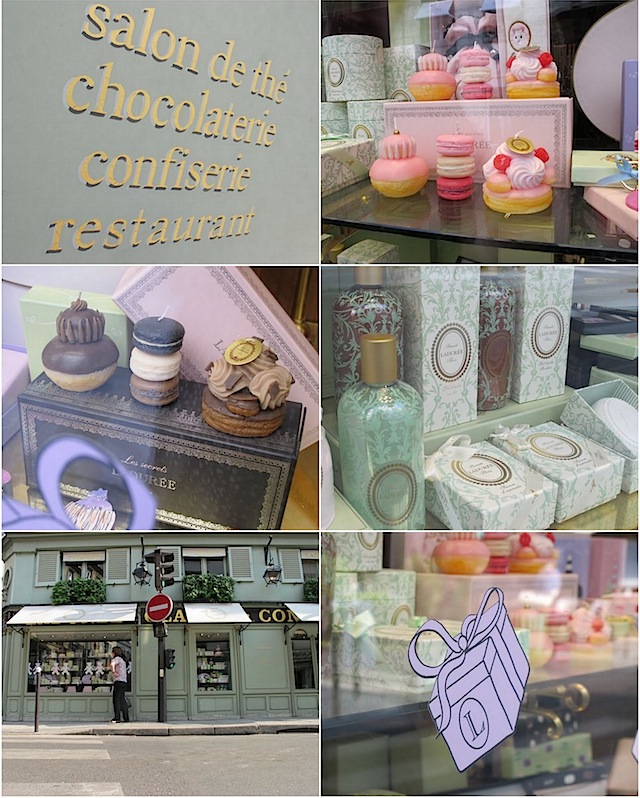 Ladurée Gifts
Inside Ladurée we sadly didn't have time left to experience the tearoom but we were able to enjoy the impressive gift shop laden with toiletries, candles and stationery.
If you don't feel you can spare the calories on a religieuse, why not burn a scented wax version of one instead?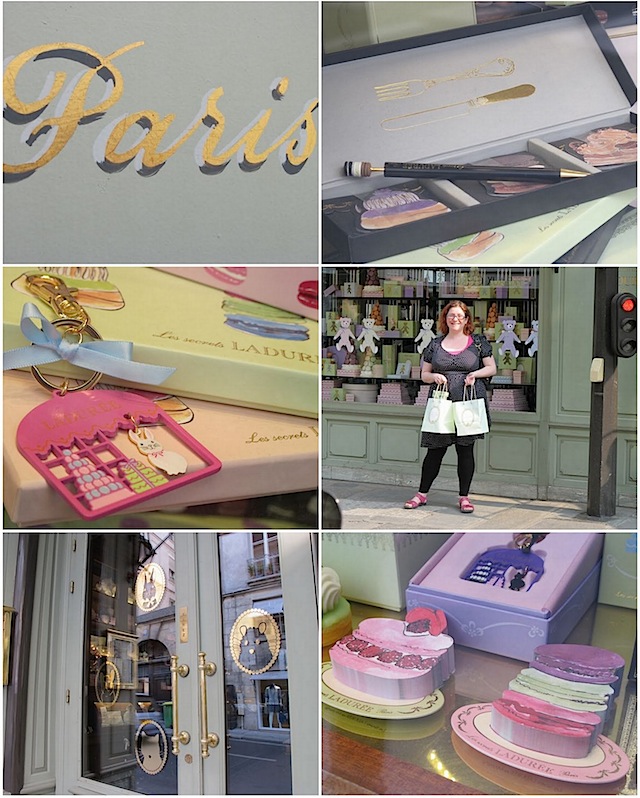 The stationery was especially fun – macaron topped pens, Ladurée post-it notes and key fobs all beautifully detailed with their signature bakes and desserts.
I was sorely tempted to buy the macaron topped pen however the price put me off (around £40 if I recall correctly) and opted instead for a far more reasonable Ladurée macaron print PVC tote bag that some of you in real life may have seen me with since!
This was on our final morning in Paris and I brought home two boxes of macarons for my mother (looking after Ted) and ourselves.
Maison Cupcake in Paris, Part 2: La Coupole and La Rotonde: The Paris of Simone de Beauvoir

Maison Cupcake in Paris, Part 3: The Paris of Amelie Poulain