A break from cake and sweet things today. Since it's Easter Sunday you may well have had enough sugar already!

This is part two of my three part series about my too-long-unblogged Easter trip to Paris in 2011. Check out part one with my Laduree in Paris visit.
Away from my blog, one of my passions is literature and history of the first half of the twentieth century. I love books, film adaptations and documentaries especially those covering from 1920 to the 1950s.
On my trip to Paris I explored some of the haunts of two of my favourite French writers, Simone de Beauvoir and Jean Paul Sartre.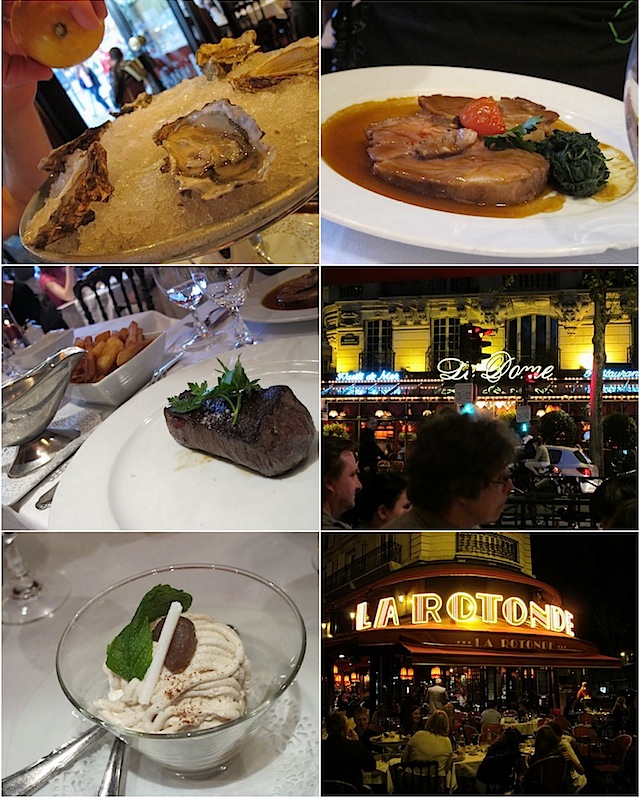 Simone de Beauvoir and John Paul Sartre were amongst a group of Parisian intellectuals known as the Existentialists who found literary recognition from the 1940s onwards.
From our Montparnasse hotel, The Pullman, we were well placed to explore their left bank neighbourhood.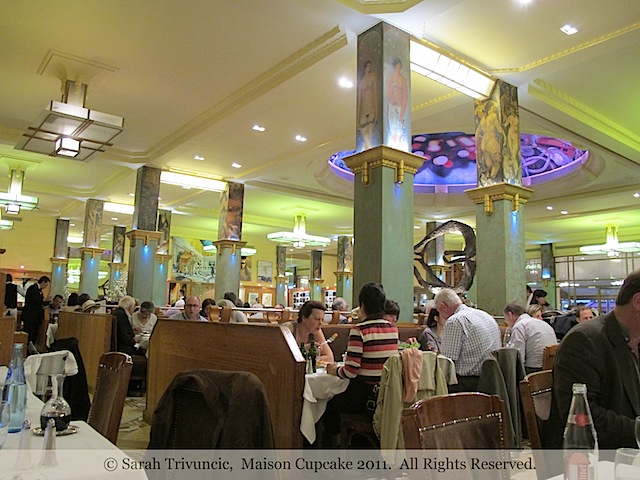 Dining at La Coupole
La Coupole on the Boulevard Montparnasse is one of Paris's most famous brasseries. With the original Art Deco interior intact it has changed little since de Beauvoir's time.
From Josephine Baker to Jane Birkin, French celebrities have long frequented La Coupole, the restaurant website even has a list of celebrities at La Coupole saying who used to order what and sometimes which were their favourite tables!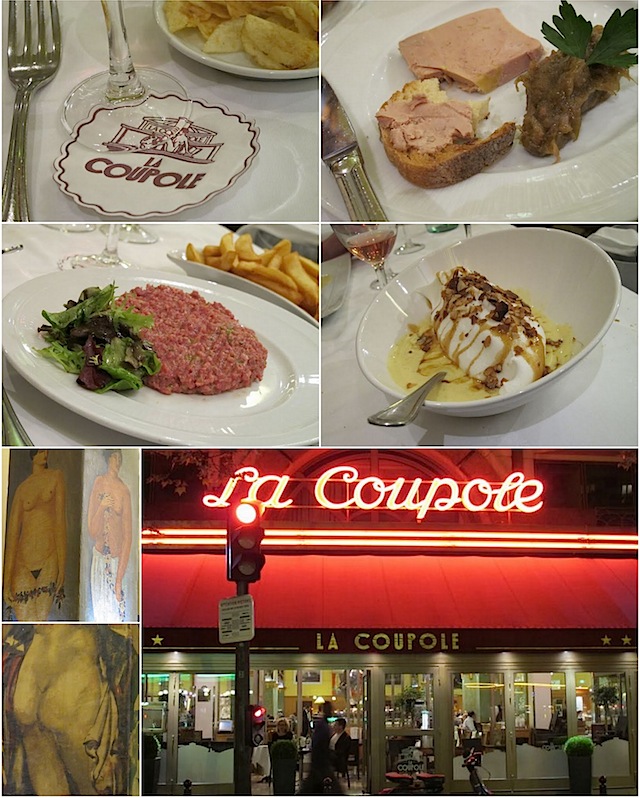 Our corner was an ideal people watching spot. According to La Coupole's website we were close to de Beauvoir and Sartre's favourite table 149, sat at the same angle but in the next block. Sartre apparently enjoyed watching the ladies tending the cloakroom from his table.
Simone would order a hot chocolate and sit on the terrace at La Coupole whilst working. In keeping with this, our dining neighbours were single diners engrossed in their laptops (one having a Skype chat whilst he ate).
To review the food this far on would be absurd – as you can see we enjoyed a traditional French brasserie set menu of pate, steak tartare and Iles Flottantes for around 33 euros. All good.
A la carte main dishes cost up to 36 euros and seafood platters costing over 100 euros are available. However the greatest draw at La Coupole is the atmosphere. We secured a table late on a Wednesday without booking – although it was very busy.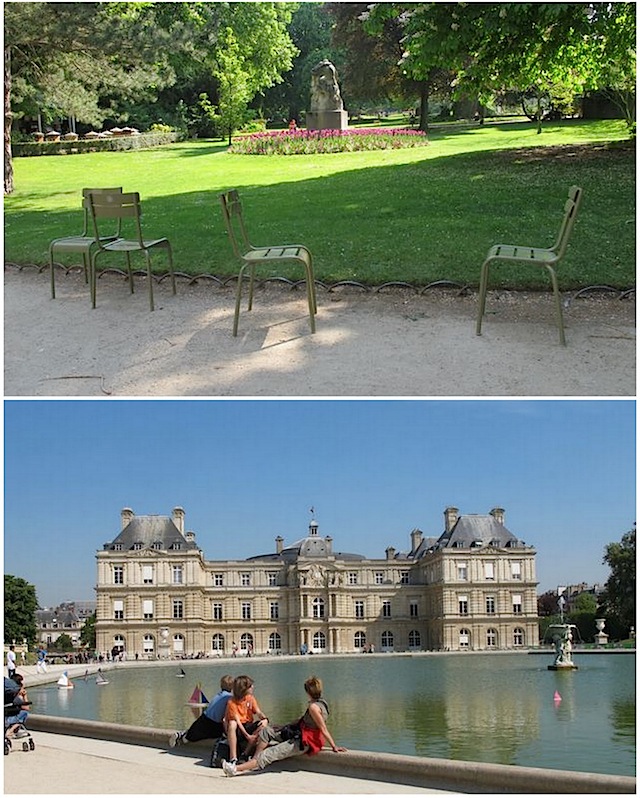 Le Jardin du Luxembourg
De Beauvoir and Sartre walked frequently in Le Jardin du Luxembourg. Similar in size to Kensington Gardens, Parisians with young children can enjoy a series of adventure playgrounds. We were (briefly) wistful that Ted wasn't with us.
Like the beach at Cannes, painted metal framed chairs are dotted around to sit on. It's like being able to move a park bench to sit wherever you wish! Radio controlled boats buzz on the pond in front of the Palais du Luxembourg.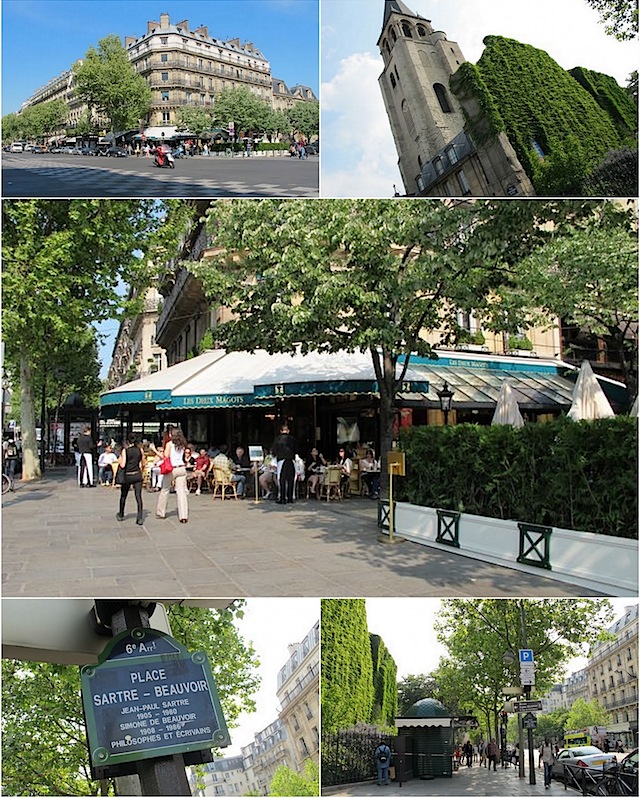 St Germain de Pres
Within walking distance is St Germain de Pres. The main square is named after de Beauvoir and Sartre in tribute to times they spent at nearby Cafe de Flore and Les Deux Magots.
Regrettably we didn't have time to stop here as we were on a mission to visit Laduree!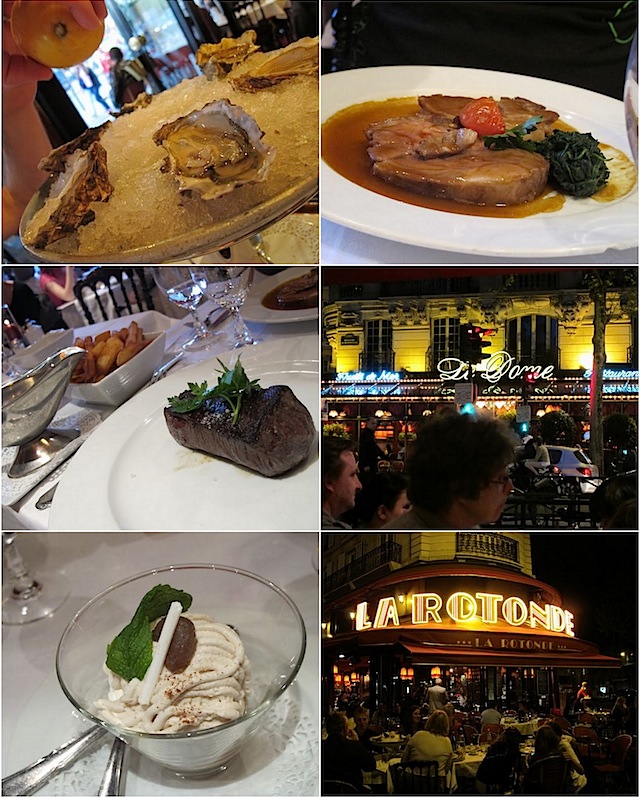 La Rotonde, Montparnasse
La Rotonde, Boulevard Montparnasse lies below Simone de Beauvoir's childhood flat. She used to hide there when playing truant from school!
On scarlet banquette seating, we enjoyed hustle and bustle through open windows onto the street. Despite enjoying our meal immensely, the happy memories are sadly eclipsed by us both being horribly ill during the following twelve hours. I will spare you the details but just say it was a huge pity to lose the middle day of our trip stuck in our hotel room.
Visiting Montparnasse Cemetery
Finally, in the Cimitiere Montparnasse we paid our respects at the joint grave of de Beauvoir and Sarte. Never married, not always partners in the sexual sense, they were soul mates until their twilight years. Simone outlived Sartre by around six years and was distraught by his absence. They were reunited when Simone died in 1986.
Also at Montparnasse, a decorated shrine around the grave of Serge Gainsbourg was as much a focus here as Jim Morrison's grave is at Pere Lachaise. Tucked away against the outer walls close to the entrance, de Beauvoir and Sartre's memorial is clearly visited by many with posies of flowers and lit candles but less of a spectacle.
Simone de Beauvoir – recommended reading

Simone de Beauvoir is best known for her feminist work The Second Sex however I preferred her novels and autobiographies. There also exists volumes of letters between herself and Sartre although I've not read these.

Having written my university thesis on Simone de Beauvoir I read most of her books 20 years ago but my recommended reading would be:
She Came to Stay – semi autobiographical novel based on Sartre and de Beauvoir's love triangle with a female student.
Memoirs of a Dutiful Daughter and The Prime of Life – parts 1 and 2 of de Beauvoir's 4 part autobiography.
The Woman Destroyed – a trilogy of novellas in one volume each exploring the lives of three middle aged women who find themselves in crisis for various reasons.
A Very Easy Death – a short volume about de Beauvoir's experience caring for her dying mother.

If you'd like to read something with the same feel but less philosophical, I heartily recommend Suite Francais by Irene Nemirovsky, a fictitious account of several households of Parisians fleeing the city as the Nazis take control.
Maison Cupcake in Paris Part 1: Laduree
Maison Cupcake in Paris Part 3: (to follow) – The Paris of Amelie Poulain