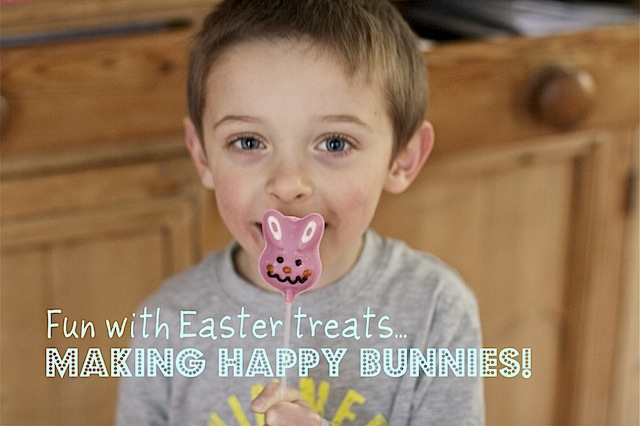 There's more to Easter goodies than giant eggs and a colourful delivery of Lakeland's wide range of Easter baking and treat making products silicon moulds and trays gave us opportunity to have a play making chocolate bunnies and chicks.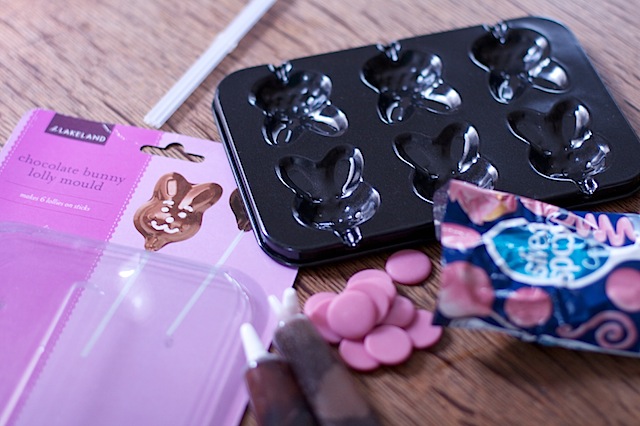 First up was the metal chocolate bunny lolly mould. I made use of pink strawberry chocolate buttons by Silver Spoon to make our rabbit lollies pink.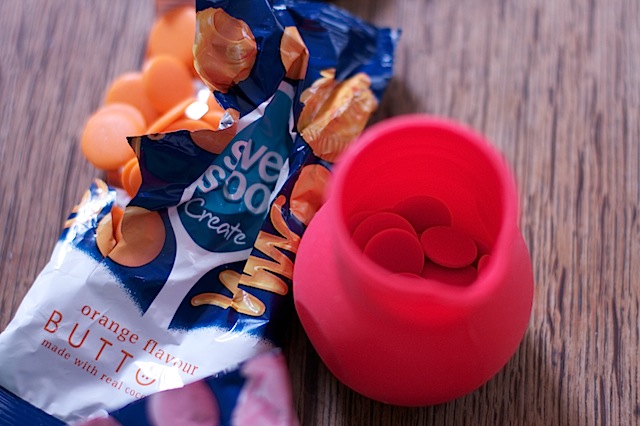 Jolly useful to melt coloured buttons and chocolate chunks was this dinky silicon chocolate melting pot. I was sceptical at first whether I'd see a point to this but quickly changed my mind.
It's ideal for melting small quantities of chocolate in the microwave – my only gripe is that I could do with 3 or 4 of them to have several shades of molten chocolate on the go at once!
The pot is big enough to melt 100g of chocolate chunks in one go but take care to microwave chocolate in short bursts so you don't burn it.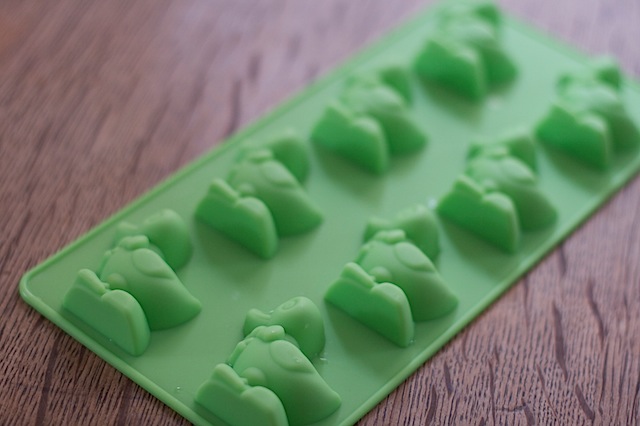 Lakeland have a couple of Easter themed silicon moulds – this green one was my favourite as you may recall I collect lime green objects for my kitchen!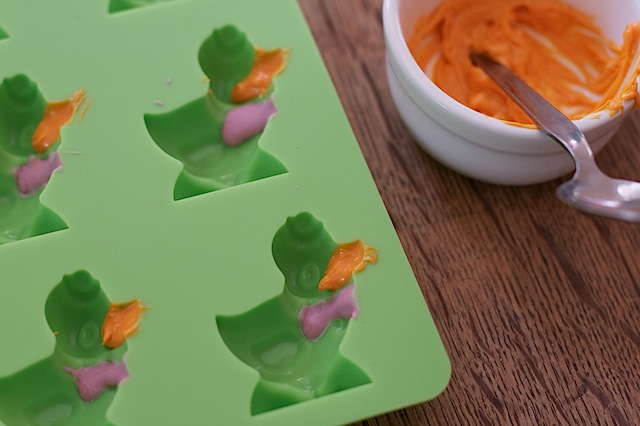 Melting a little each of pink and orange chocolate buttons gave us pink bows for the ducks and orange beaks and feet.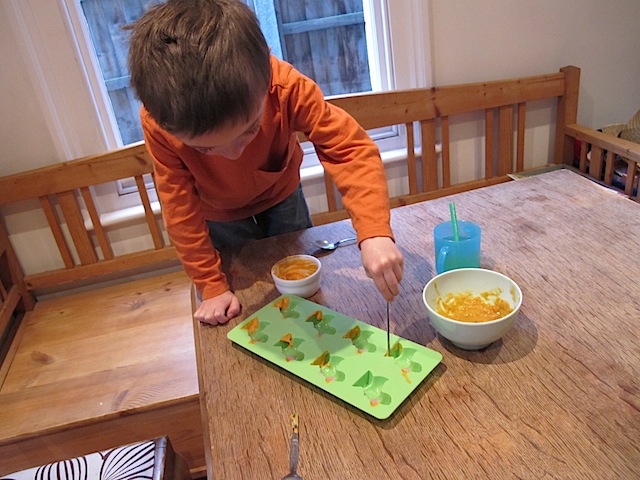 To my surprise, Ted was quite accurate painting orange feet on the ducks although he got bored after doing 3 of them and ran off to play elsewhere despite his enthusiasm and insistence 30 seconds earlier that he help.
(N.B. Actually left in shot is a bowl of left over butternut squash soup incase you're thinking the bigger bowl is melted buttons too!)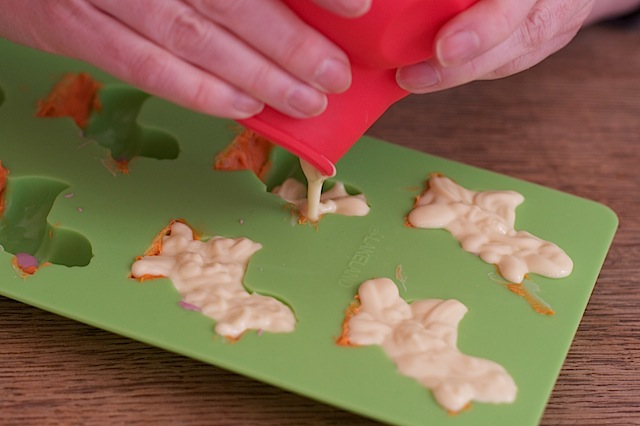 I especially liked the silicon chocolate melting pot since you could squeeze the spout to pour accurately and it's flexible enough to turn inside out and clean easily.
It also comes with a fitted lid.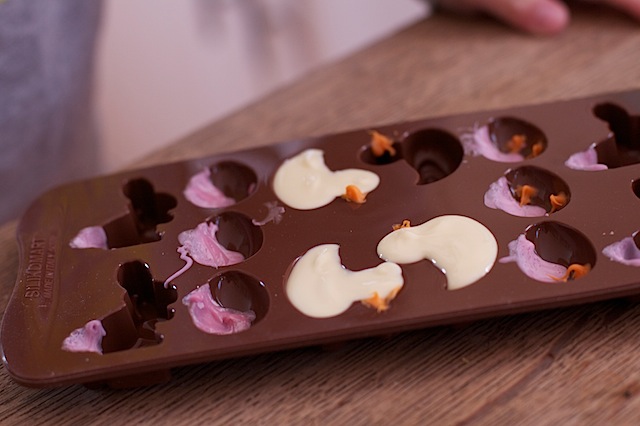 Another Easter chocolate mould by Silkomat gave a selection of smaller ducks, eggs and bunnies. Here I gave milk chocolate bunnies pink tails and coloured in different panels on the mini eggs.
After letting one colour of chocolate cool I added the white or milk chocolate on top. When that's cooled too the mould can go into the fridge to set completely.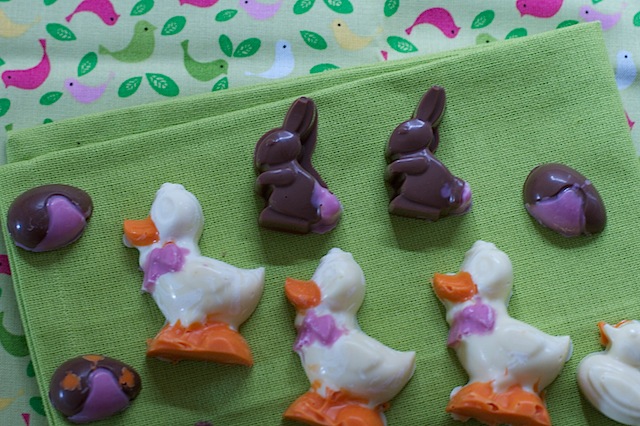 Once set hard, the chocolates pop out of their moulds effortlessly, even the larger ducks. You can see above the ducks' feet have some air bubbles, it was tricky to tell whether you'd gone in the corners properly but on reflection I think this was due to the orange buttons not melting as well as the the pink, milk and white chocolate.
As you can see, the milk chocolate comes out very glossy with no marbling. The white chocolate separated a bit on cooling but at least didn't show up too badly.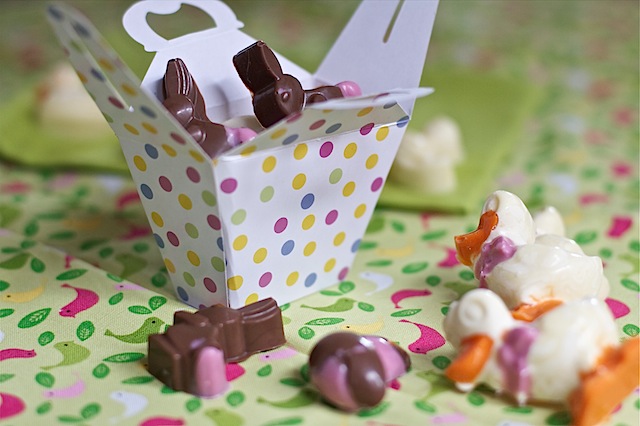 As we were visiting some of Ted's friends the next day I assembled these Lakeland treat boxes which are ideal for a handful of small chocolates. These boxes are not very big, they'd be ideal for a selection of sweets rather than a complete gift or small cake. I managed to fit 2 big ducks and 3 smaller chocolates into each one.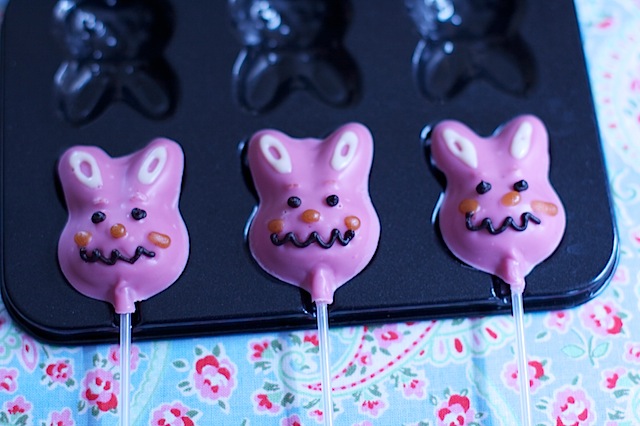 The pink bunnies came out very well however the orange button chocolate didn't melt properly and went marbly after I thinned it with a little trex.
Their faces were drawn with tubes of chocolate and caramel writing icing from Sainsbury's own brand of cake decorating products.
The bunnies also pop out of their metal tin very easily however I was cautious not to snap the sticks out of the chocolate. Probably this bit is best done by a grown up!
As well as these items Lakeland are stocking plastic Easter egg moulds (both full size and miniature) and various Easter themed cookie cutters. Since the Easter holidays have started I'm not sure I'll manage to blog any of the others before Sunday but we will certainly be using them.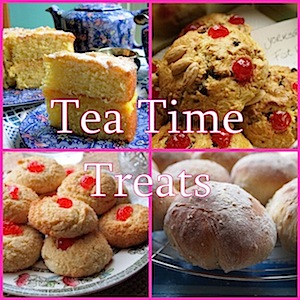 I am sending these Easter treats to Kate and Karen's Tea Time Treats which is hosted this month by What Kate Baked with the theme of "Easter".
With thanks to Lakeland for sample Easter products.