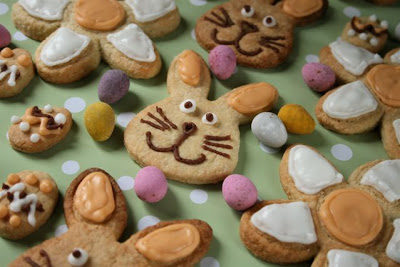 Three months in and I've bombed out of my first Daring Bakers' Challenge. This month we'd been due to make Orange Tian which had core components of p

até sablée biscuits, whipped cream mixed with gelatin or something, carefully cut pieces of orange segment, caramel sauce and as if that wasn't enough, marmalade.  
It all sounded very nice but I knew from the start that unless I got the challenge done early, I was not going to be able to complete it as I had low sugar carrot cake muffins and lemon cupcakes to make the day before the "reveal" as well as an early hair appointment and a quick get away to the Midlands on the day itself.
I got as far as the first step, making the dough for the p

até sablée. It sat in my fridge for a couple of days, with shock horror, raw egg in it.  Cookie dough for what my mother would describe as "poisoned biscuits". She's one of these people who diligently ditches stuff on the Best Before Date… whereas I use my judgement.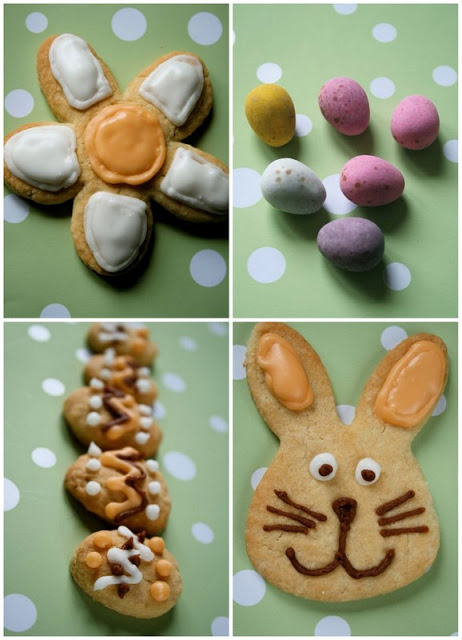 As I ran out of time to make the Orange Tians, I decided to roll out the dough and do some Easter cookies.  Seven days after eating them and we're all still here.
This was my first attempt at icing cookies using royal icing to "pipe and flood" as frequently seen on Sweetopia and Bakerella. I've also been inspired by iced custom cookies produced by Susan at She's Becoming Doughmesstic.
I think mine look a bit of a mess compared to their magnificent efforts. I get a bit daunted by the prospect of colouring loads of different shades of icing, in two consistencies each. Here I managed two colours (the chocolate was from a tube). 
Ted, presented with two cookies, flower and bunny, opted for cute bunny. I wish I had a picture of his little face at the time but he ate it so quick I couldn't get the camera out fast enough.
I was recently admiring this Easter display in the window of a cookware shop in Whitstable, Kent. Pastel bunny baskets, sugary or foil wrapped eggs to eat, painted ones to hang up. Even if the weather is foul for Easter (see my hot cross buns macarons complaining about this), these delicate displays certainly lift the spirits after winter.
I don't recall Easter being celebrated with displays like this when I was young, we had eggs in cardboard boxes and occasionally painted real eggs but no pussy willow branches with trinkets dangling from them.  A couple years before I had Ted, I bought an Easter "tree" which consists of two fake pussy willow branches made from wire and a dozen or so painted plastic green and white eggs that live in a cardboard tube in the loft until they adorned my dining table for Easter. In Ted's first and second year they were relegated to the dining room mantlepiece lest he climb up and grab at the swinging temptations above his little head. My long suffering husband starts getting excited in March saying "It's time to get the Easter tree down!"  I quashed his enthusiasm, in the manner of Scrooge Bah Humbug! saying "Oh do we have to bother this year?" The prospect of a toddler yanking the fragile construction to the floor – plus the fact my husband always wants to leave it up until May half term week (which to me seems like leaving a Christmas tree up until Valentines) has put me off.
So it is by way of a compromise that I produce these cookies. No floppy pussy willow lookey likey egg waving thingy teetering from the mantlepiece. Nice eggy soft cookies with lemony royal icing. Not as good as the sites above but they taste very good and like my various macaron adventures I hope to get better.
What foods do you enjoy at Easter? Do you have any Easter decorations?
2 medium-sized egg yolks at room temperature
80g granulated sugar
½ teaspoon vanilla extract
100g unsalted butter, ice cold and cubed
1/3 teaspoon salt
200g all-purpose flour    
1 teaspoon baking powder

Method:
1. Put the flour, baking powder, ice cold cubed butter and salt in a food processor fitted with a steel blade.
2. In a separate bowl, add the eggs yolks, vanilla extract and sugar and beat with a whisk until the mixture is pale. Pour the egg mixture in the food processor.
3. Process until the dough just comes together. If you find that the dough is still a little too crumbly to come together, add a couple drops of water and process again to form a homogeneous ball of dough. Form into a disc, cover with plastic wrap and leave to rest in the fridge for 30 minutes.
4. Preheat your oven to 350 degree Fahrenheit.
5. Roll out the dough onto a lightly floured surface until you obtain a ¼ inch thick circle.
6. Using your cookie cutter, cut out circles of dough [or in my case, cookie shapes for Easter themed biscuits] and place on a parchment (or silicone) lined baking sheet. Bake for 20 minutes or until the circles of dough are just golden.
The cookies are decorated with piped and flooded royal icing.