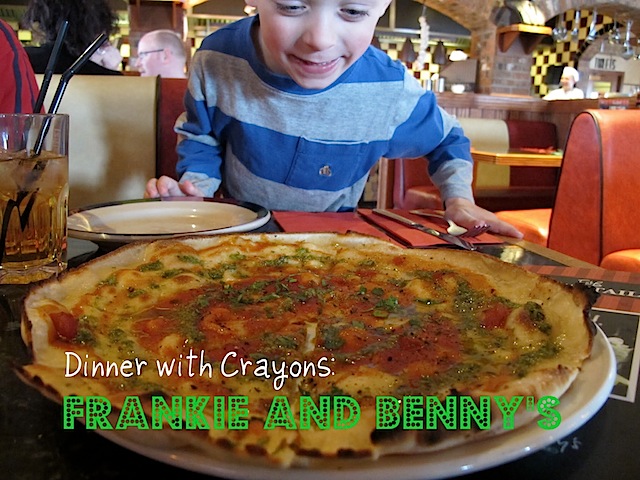 The web is awash with parent blogger reviews of Frankie and Benny's right now so I apologise if this is the eleventh review you've seen this week. Enticed with vouchers to sample the new menus, I embraced the chance to visit Frankie and Benny's for the first time in a decade.
"Ilford? Beckton? Gatwick?" I quizzed my husband. "Are they all in industrial estates and airports?" he asked. Not quite. Although most Frankie and Benny's branches are located next to multiplex cinemas and retail parks.
Chingford Frankie and Benny's is a more picturesque location than most, sitting by the local swimming pool and a Harvester. Decked with red and green striped awnings, it would not look out of place in The Sopranos.
Frankie and Benny's Italian American menu serves a vast selection of burgers, grills, pastas and pizza. The sheer breadth of the menu alongside the not so huge open kitchen sets off alarm bells that this chain could serve fewer dishes at greater quality.
Our helpful waiter was hazy which dishes were new on the menu so we ordered what we wished. Main courses start from around £9 rising to over £20 for big steaks.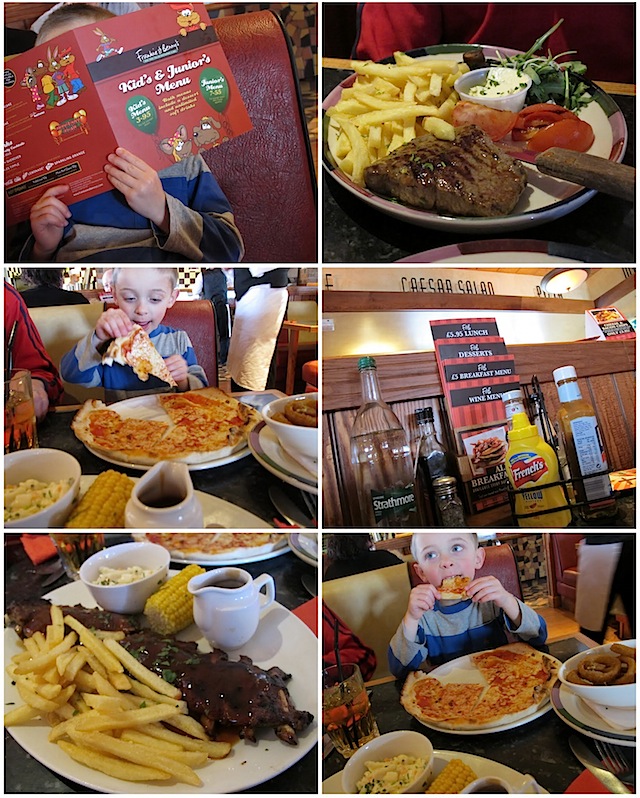 Our verdict:
Garlic bread topped with tomato and pesto: Tasty and generous. Great to share but avoid ordering if you're having pizza anyway.
Sirloin steak with fries (£15.95): Disappointing. Over cooked (well done rather than medium) and too chewy. Limp rocket salad that should never have been allowed to leave the kitchen.
Ribs with fries (£14.95): Excellent ribs. Tender and generously portioned and smothered with barbecue sauce. But the fries are a let down at this price – too much like a fast food joint. This dish was better value than the sirloin steak but the fries and budget style coleslaw let it down.
Sides: Although our waiter steered me away from ordering corn on the cob which came with my ribs, he allowed me to duplicate an order for coleslaw which also came with the dish. From our conversation I think he should have twigged that I didn't realise my dish came with coleslaw (the wording on menu made it sound like you got fries "or" the sides). The coleslaw was disappointing, like supermarket budget coleslaw although the corn was juicy and acceptable. Deep fried onion rings were much the same as anywhere else.
Kid's margarita pizza: Authentic stretched dough base. The topping is what it is with little to go wrong. We were offered a box to take leftovers home and I can vouch it was good to snack on later!
Kid's dessert: Strawberry ice cream with syrup and fanfare of Cadbury's Chocolate Buttons announced on menu. Then you only get three Cadbury's Chocolate Buttons. You really should get more than this.
Caramel and pecan cheesecake: In the interests of "research" I can confirm this was a fat slice of mighty fine cheesecake.
Service: Friendly and attentive anyway but kicked into overdrive after we presented our "VIP voucher" to pay!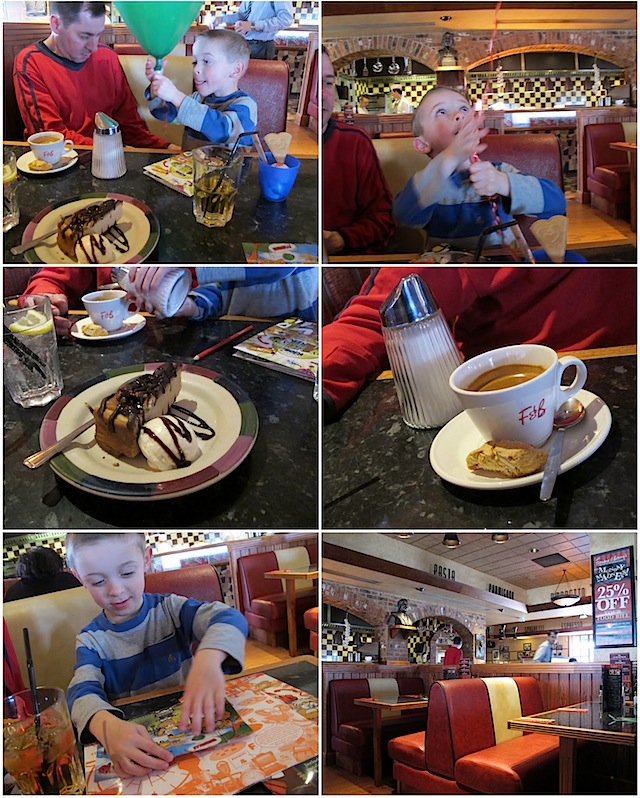 We like: Smart chequer tiled bathrooms playing tapes of Teach Yourself Italian. Children receive a colouring pack with a jigsaw and a balloon afterwards. Seating is in diner style booths. Fifties and "rat pack" music is played. Parking is plentiful and free. There are two children's menus: young kids' version at £4.95 and more sophisticated junior menu at £7.95.

We don't like: Being in a dark dark restaurant when it's bright sunshine outside. The plates with dark design around edge make food look dark too. White plates for everything please! The fast food fries and salads need improving to justify the prices. And be more generous those chocolate buttons…

Cocktails start from a reasonable £5. Breakfast dishes are served from 9am to midday (also £5) and from Sunday to Friday there is a two course £10.95 menu available. An extensive lower calorie menu is also available.

Outside of these deals, Frankie and Benny's is pricey. Our bill topped sixty pounds even though my husband and I shared a starter and dessert. I'm curious to try other things on the menu but I'd stick to one of the deals to keep the price down in future.

With thanks to Frankie and Benny's.