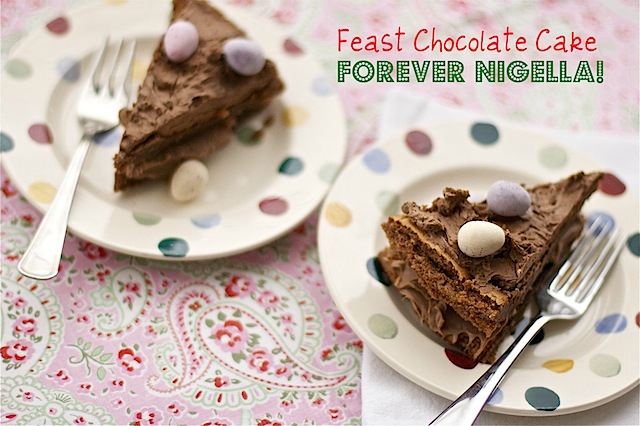 This may be the Easter Egg Nest Chocolate Cake from Nigella's Feast but aside from the addition of some mini eggs, there's no reason you couldn't try it all year round.
It's indulgent, I admit, comprising 6 eggs, 375g chocolate and lashings of butter and cream to boot. Sadly the Easter Egg Nest Nigella Chocolate Cake recipe has been removed from Nigella.com.
It's a flourless cake and my version varied slightly in structure to Nigella's original. Although Nigella's instructions say this is a stress-free cake to make, I'd say anything that requires egg separation and meringue whipping has its hairy moments for the less confident baker. The batter whipped up a dream, foamy, surprisingly pale considering the amount of chocolate but this led me to my quandary?
Dare I fill a single cake tin with this batter? Yes it's due to sink back but surely it would rise first and I feared I'd have cake explosions inside my oven.
Chickening out, I divided the batter between two 9 inch/23cm loose base tins. Indeed the batter rose in the oven but I wasn't expecting it to sink back as much as it did.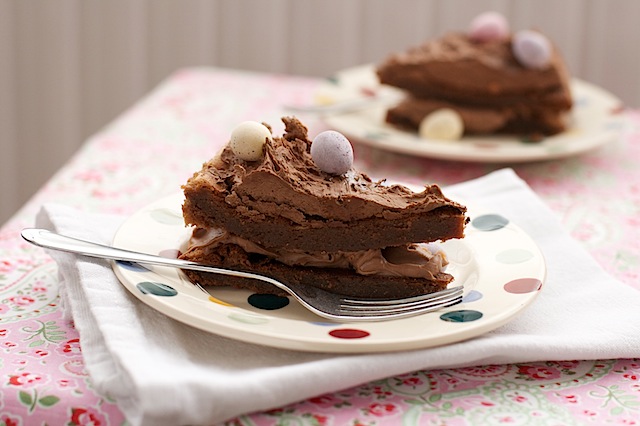 As you can see above I ended up with two truffley layers each around an inch thick. I was astonished a cake batter so airy and plentiful (and costing so much in ingredients) could sink back to something so flimsy?
I decided to sandwich these with some milk chocolate ganache (my other variation was to use milk chocolate instead of dark as it's my favourite) which worked a treat although admittedly added to the calorific burden of the whole thing which was already topped with a layer of chocolate and whipped cream.
The result, with layers of ganache and whipped chocolate cream included, is a truly indulgent chocolate cake. Your pockets and scales alike will thank you for keeping this as a definite treat rather than a regular event. But every now and again, this cake looks pretty and will delight all who try it.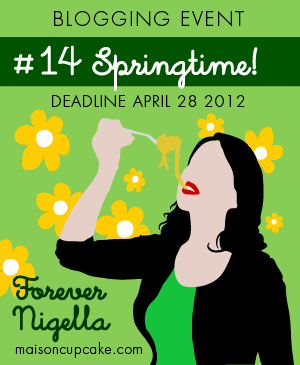 Today's post is my entry to Forever Nigella which is being hosted by Lucy at Vanilla Frost Cakes – you can find out how to submit your entry (by 28th April) at her passionfruit curd post here. One week left for all your favourite spring themed Nigella recipes, not just Easter.
I think this is the richest most indulgent cake I've ever made. What's yours?
With thanks to Waitrose for providing me with enough milk chocolate to make this cake!