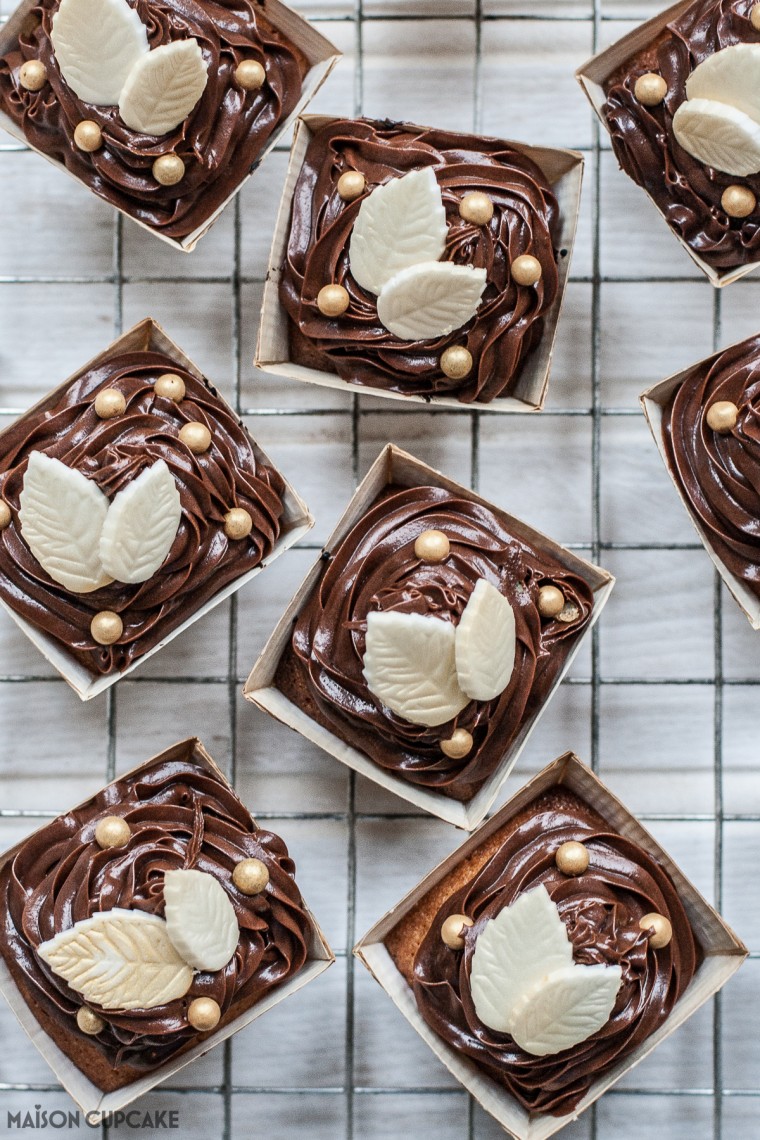 Are you getting your baking hat at the ready for Christmas? I made these little cupcakes in boxes at the weekends and it struck me they'd be perfect for handing out as gifts to teachers and class mates as they're easier to transport than cupcakes in paper cases.
I was creating a loosely seasonal cupcake with an easy design that makes use of several nifty products to save time whilst making cupcakes – namely Dr Oetker's chocolate icing and gold shimmer spray in a can. Ooh and a sneaky bit of surprise cake filling and gold decorating balls whilst we're at it.
If you like to have a play with such goodies, you're going to love 
WeBake.co.uk
. It's a brand new social media platform that rewards you for baking, opening just this month. The website will be packed with coaching and motivational ideas to get baking fans doing more of what they love – making and talking about cakes!
On the site you can create a profile and share recipes, tips and advice with fellow baking fans of every level. It's a kind of cross between Facebook and Instagram but focussed strongly on cakes and baking. There will be plenty of seasonal baking ideas, advice, competitions and community challenges.
We Bake's first community challenge has been to find their best cupcake bakers. If you share your bake on We Bake you have a change to win one of six unique medals (such as most colourful, most fun, most delicate etc) and then be invited to a baking masterclass hosted by a cupcake guru. Whilst there you'll have the opportunity to recreate your recipe and the cupcake guru will crown an overall winner who will receive a "Cupcake Cup" and weekend break to visit London's most famous baking destinations.
The second We Bake challenge, especially for Christmas, 
Bake Us a Bauble
is now underway.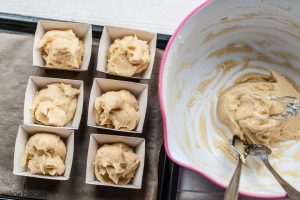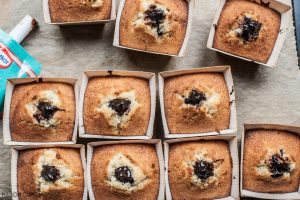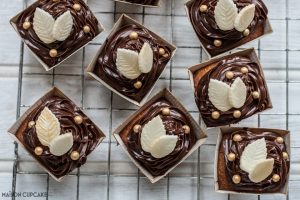 I have kicked things off with my own autumnal chocolate cupcakes – and a few shortcuts from We Bake's supporter, Dr Oetker – but I'm sure you can do MUCH better.
If you're knocking up some cupcakes in the next few days don't forget to send them to We Bake and you may win a prize. This is where you sign up and create a profile.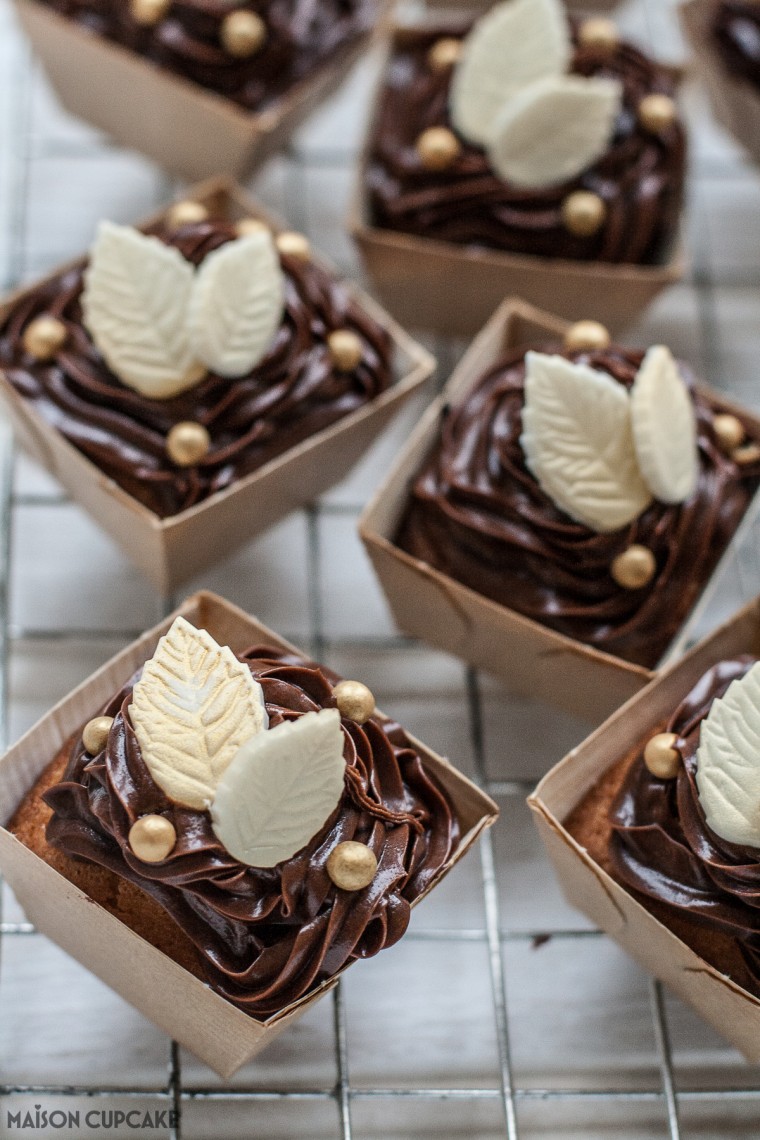 Print Recipe
We Bake Autumn Chocolate Cupcakes
Ingredients
Ingredients

125

g

caster sugar

125

g

softened butter

2

large eggs

1/2

tsp

vanilla extract

125

g

self raising flour

1

pouch Dr Oetker Easy Fill Cake Centres Rich Chocolate

1

canister Dr Oetker chocolate icing

50

g

white sugarpaste

Dr Oetker gold shimmer spray

Chocolate balls for decoration

<em>You will need 12 cupcake boxes or cases and two leaf cutters<em>
Instructions
Preheat the oven to 190c / gas mark 5. In a large mixing bowl, beat the butter and sugar until fluffy. Beat in the eggs and vanilla extract until smooth then quickly fold in the flour until just combined.

Spoon the batter into the cupcake boxes or cases and bake for around 15-18 minutes until risen and golden.

Leave the cupcake bases to cool for a few minutes and then inject the easy fill cake centres; leave to cool completely.

Meanwhile, roll out the white sugar paste and stamp out leaf shapes. Lay these on a sheet of baking paper and spray with the gold decorating spray.

When the cakes are cooled completely, cover the tops with swirls of chocolate icing.

Affix the gold leaf shapes to the chocolate icing, dot over chocolate balls and serve.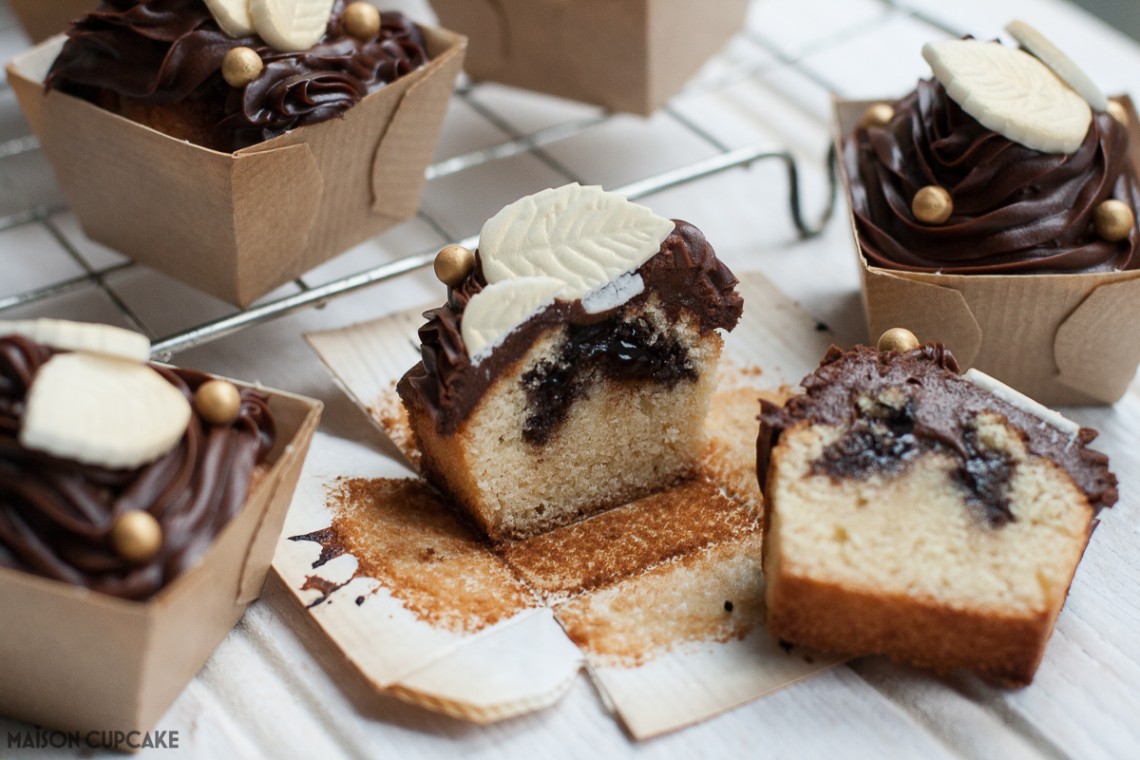 This autumn chocolate cupcakes post was commissioned by Dr Oetker as part of the launch of their new We Bake platform. To sign up and join in the baking fun visit WeBake.co.uk.