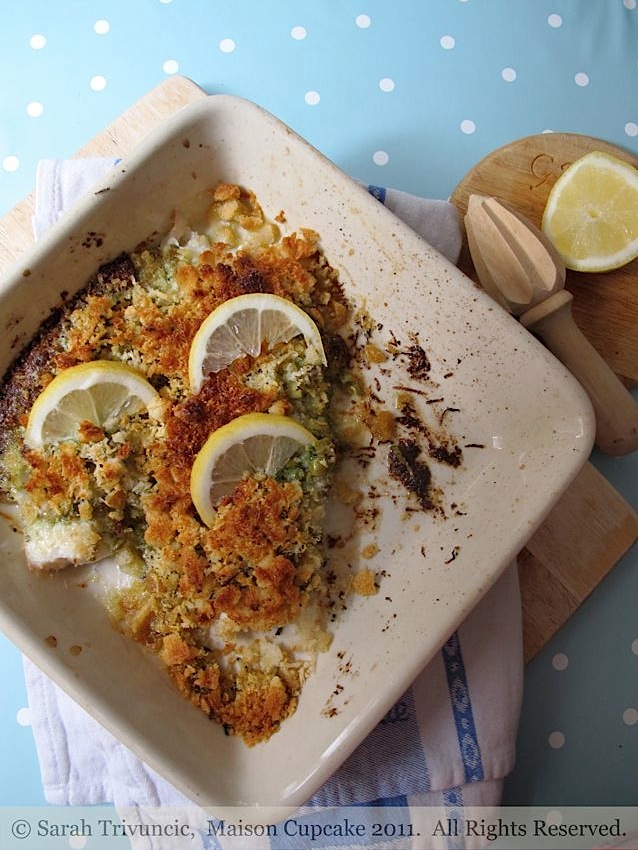 My son's eating habits are baffling me at the moment.
At home he's a fussy little jack in the box who says "I don't like this, I don't like that" and leaps about at the table never sitting still.
From nursery I get reports that he has been offered a veritable smorgassbord of:
10am: yogurt
11.45am: roast turkey, potatoes and vegetables, bananas and custard
3.00pm: vegetable soup, bread and butter
5.00pm: fruit salad
They have a chart with columns telling you your little darling ate a) all of it, b) most of it, c) some of it or d) none of it.
So far Ted has eaten all or most of everything they've offered him.
"He has a good appetite," they tell me.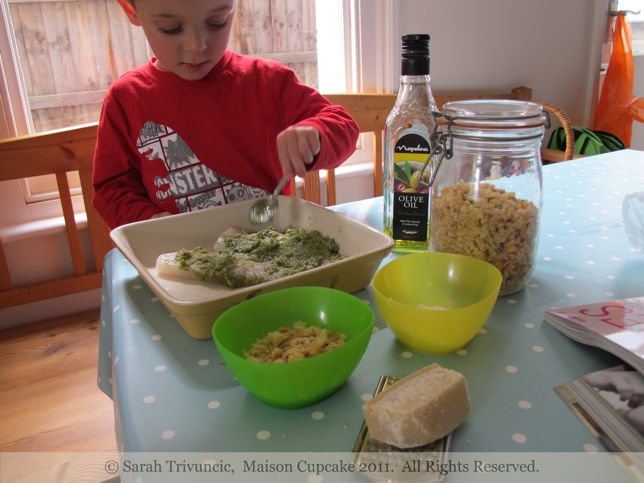 I'm putting it down the social experience, that Ted likes sitting amongst other children to eat.
We've talked about school dinners, about collecting dinner from some ladies at a hatch and carrying it back to the table on a tray to eat.
"It will be just like a cafe," I've told him. Ted likes cafes.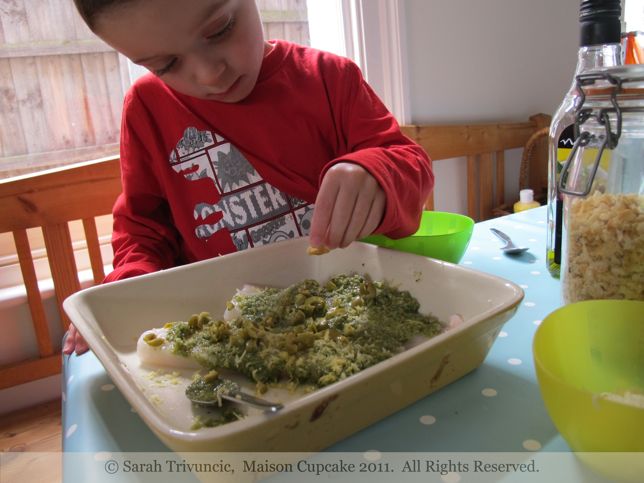 I'm not surprised he's eating a lot, it's the range of stuff he's willing to eat that amazes me.
At home he refuses most vegetables (except broccoli, mushrooms and tomatoes. Occasionally peas) and says "soup is yuk" yet at nursery he's happily chowing down soup.
"I bet he's feeding himself too," said my husband.
Ted's laziness with cutlery has been a cause of concern for us with big school looming.
Although apparently, laziness to bother appears to be the root cause of not feeding himself, not dressing himself.
(I have proven he can dress himself promptly last week by threatening not to take him to the elephants unless he was dressed in two minutes flat. It worked)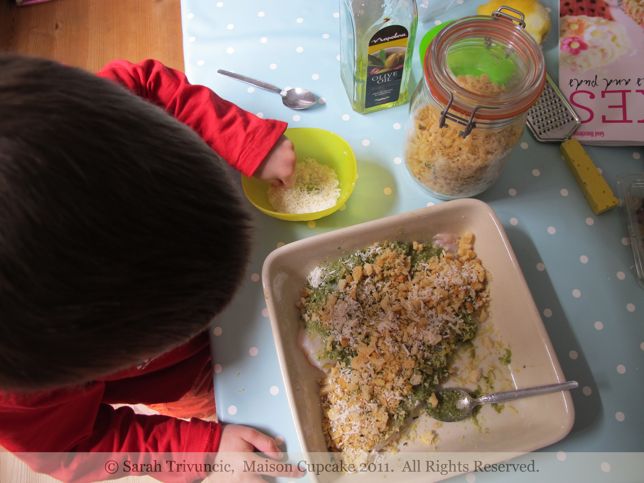 Thus my genius idea today was to feed Ted "fish with bits and loads of garlic" by getting him to help make the dinner.
His "help" amounted to little more than smearing pesto about with a spoon but as far as he's concerned he made dinner.
(This happens with my husband when he lights a hob under something I've cooked to warm it up. He's "made" dinner).
And look – I even managed to sneak in some butternut squash and carrots!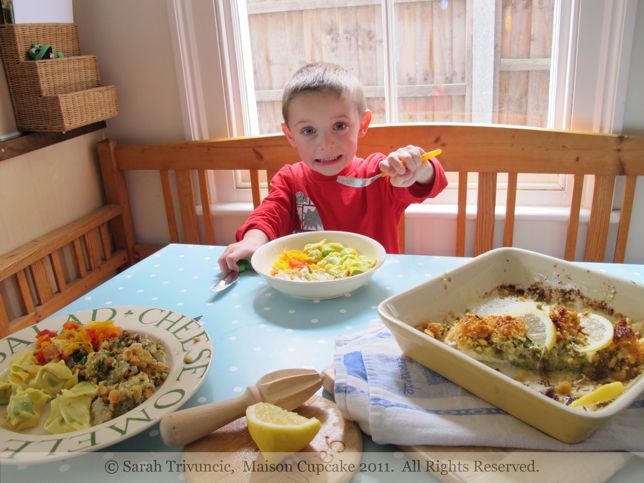 Recipe: baked fish with pesto

Adapted from "pesto-topped fish" in Lawrence Dallaglio's My Italian Family Cookbook

Prep time: 5 minutes
Cooking time: 15 minutes

Serves 2 and a little one

Ingredients:

1.5 tsp olive oil
25g stoned green olives, roughly chopped (I keep some vacuum packed ones ready in my cupboard)
3 tbsp pesto
zest of half a lemon
2 pieces haddock loin or other white fish
30g toasted breadcrumbs (again I keep a supply of home made dried bread crumbs in a jar)
20g parmesan cheese
salt and pepper
a few lemon slices

1. Preheat the oven to 200c/Gas 6.
2. Stir the oil, olives, pesto and lemon zest together in a small bowl.
3. Drape the fish pieces in an oven proof dish and top each piece with the pesto mixture. Sprinkle over breadcrumbs, parmesan and a couple of lemon slices.
4. Season with salt and pepper and bake for 15 minutes until fish is cooked. Squeeze some lemon juice over to serve.