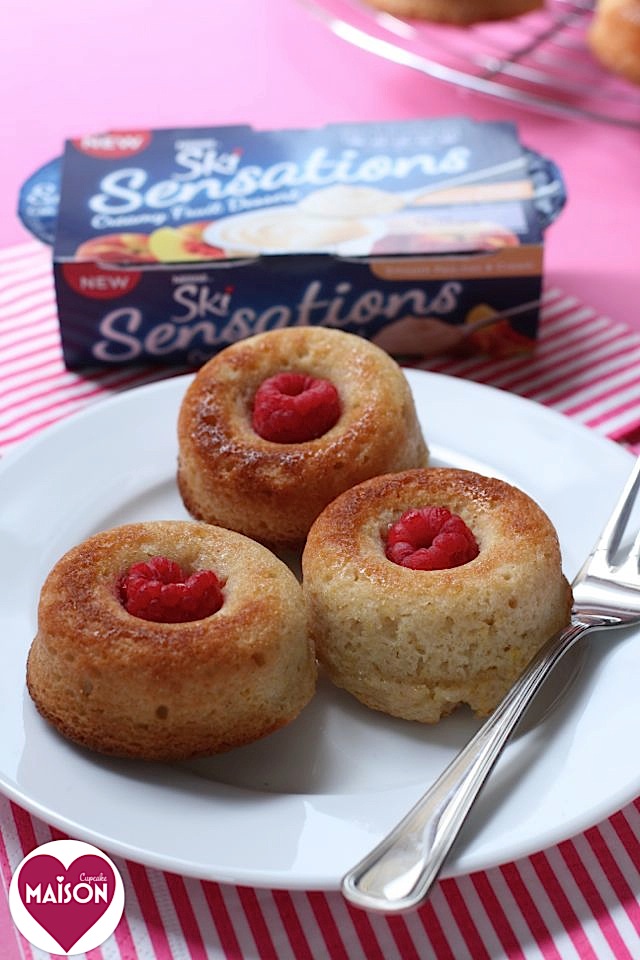 Baking with yogurt and dairy products is one of my favourite ways to whip up an easy sponge so when the folks behind new dairy dessert Ski Sensations set up an exclusive blogger challenge I knew exactly what to make.
Ski in my mind is synonymous with skiing – the brand has been around for 50 years and whilst I'm not quite that old I do remember this retro advert for ski with strapline "as recommended by the Ski instructor" – which since my father was indeed a ski instructor I found this highly amusing as a child.
I'm pleased to say the packaging is still that iconic blue – sadly the milk churn shaped pots seem to have been ditched in around 1979 (in this nicely zeitgeisty 1970s Ski advert I also dug up on You Tube) so maybe we should start a campaign to bring those back right now.
It's important to make the distinction that Ski Sensation is not yogurt. Rather it's an indulgent fruit dairy dessert you'll find it in the section with grown up puds in pots rather than amongst the cartoon cartons aimed at kiddies. That said, it behaves similarly with yogurt in baking so you could try using it in any sweet recipes featuring yogurt for a similar effect.
Hiding in the cupboards was my new silicone doughnut mould. This recipe involves none of that creaming fat and sugar faff here – simply spoon the batter into the moulds and bake. Similar to muffins, the quickest whisk of the ingredients, and you're virtually good to go.
My recipe rustling rivals will be:
Utterly Scrummy
At Home With Mrs M
Sticky Fingers
All four of us have each produced recipes and serving suggestions using Ski Sensations and these will shortly be showcased upon the official Ski Facebook page.
Keep tabs on each blogger recipe as it is announced then the happy recipe hop will culminate with a vote by followers of the Ski Facebook page will take place at the end of the month. A lucky Facebook-liking-recipe-voting follower will win a set of Ceracraft pans and the recipe that gets the most votes will be immortalised on video in the respective blogger's kitchen!
To join in the fun, hop on over to the official Ski Facebook page and hit "like" to stay in touch.
Meanwhile I will leave you with a nibble of my Ski Sensations creation… baked berry doughnuts!
Baked Berry Donuts using Ski Sensations Makes 8-10

Ingredients
70g pot Ski Sensations strawberries & cream flavour dessert
1 large egg
125g caster sugar
45ml sunflower oil
110g self raising flour
50g raspberries

Equipment needed:
Silicone donut ring mould
Cake release baking spray (optional)

Directions:

1. Preheat the oven to 180c / Gas mark 4.
2. Place the Ski Sensations dessert, egg, caster sugar, flour and oil in a medium size mixing bowl.
3. Gently beat the ingredients together until just blended and smooth.
4. Spray the mould with cake release spray if using. Decant the batter into the mould using two teaspoons.
5. Bake the donuts for 15 minutes until golden and springy to the touch.
6. Allow the donuts to cool for a few minutes in the moulds then gently pop them out and transfer to a wire rack to cool completely.
7. When ready to serve, pop a raspberry into each hole.

Tip: if you don't have a donut mould, try making them with a muffin mould instead.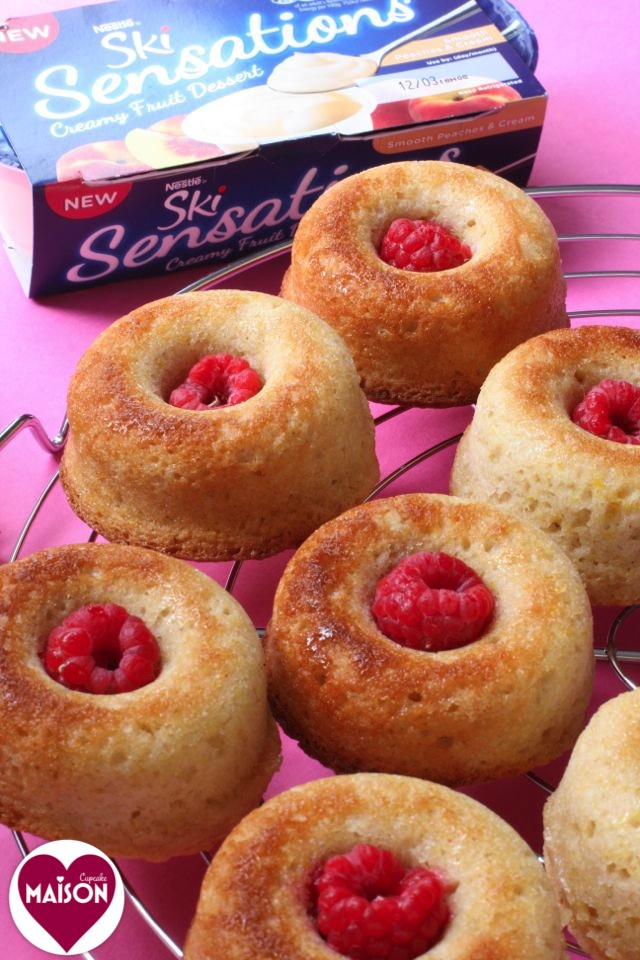 Recipe and pictures commissioned by Ski for a fee in conjunction with their Facebook campaign and associated competition running between 31 March – 4 April.