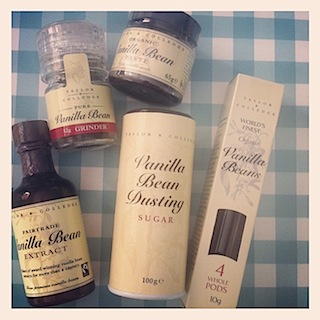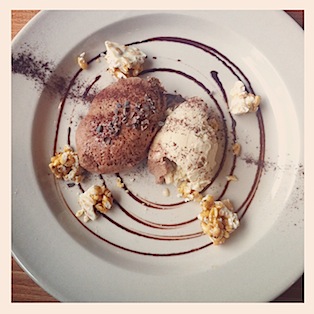 Taylor & Colledge may not be a name you're familiar with but keep an eye out for them in the baking aisle. Established over 100 years ago, the latest incarnation of their range features vanilla bean dusting sugar, vanilla bean grinder, paste, pods and extract. However you like to bring vanilla to your baking, there's a version here for you. Stocked by Waitrose, their vanilla bean extract at RRP £3.69 for 100ml is competitively priced too. I like that the bottle doesn't have a fiddly dropper although you may use more by mistake so be careful!
Grain Store is a newish restaurant in London's Kings Cross which has received a fair amount of hype. I went for lunch there with my friends Helen, Nazima and Jude during October. The interior was industrial yet homely, the waiter delightfully helpful and informative however I felt the food was mixed. One of those places where you come away not feeling like you've eaten anything, it's probably best for ladies who lunch but are on diets. Dessert of chocolate mousse and white chocolate puffed rice was my high point. Jude and Nazima did better out of their menu choices – read Nazima's review over at Franglais Kitchen.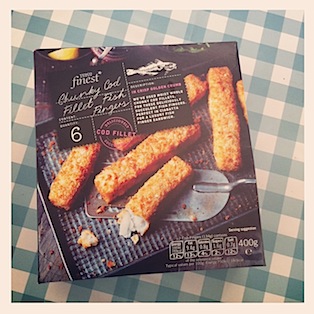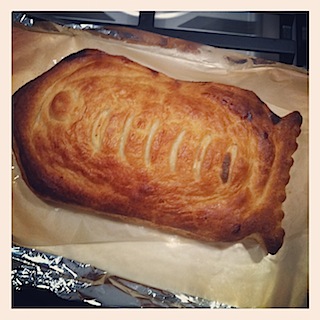 Tesco Finest have relaunched – and enjoying much promotion via their current sponsorship of Downton Abbey on Sunday nights. Ever the sucker for good graphic design, I'm enjoying the black and white packaging (so on trend) and welcomed the opportunity to stock up on some items from the new Tesco Finest frozen range. Above you'll see their Salmon Wellington RRP £4.99 which serves 4 people and makes for an effortless weekday supper or Sunday lunch alike. Also the range are duchesse potatoes (especially appropriate for that Downton link), premium fudge ice cream and coquilles St Jacques. Everything we've tried from the range has been top notch "Monsieur you are really spoiling us" standard. Read more about their product launch over at my pal Katie Feeding Boys and check out my Fish Finger Sandwich with Pea Pesto over at Dinner With Crayons. With thanks to Tesco for sample Finest products. Say hi to them on Twitter @Tescofood or hashtag #LoveEveryMouthful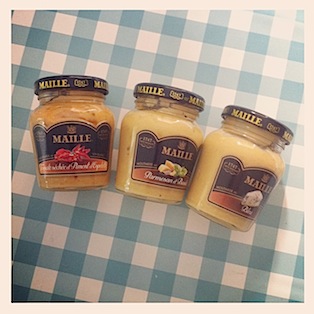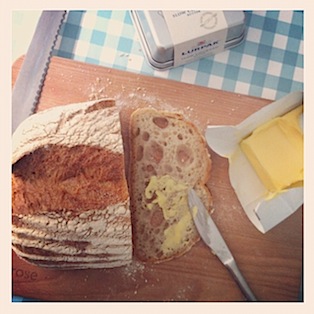 Maille Mustard is something I always stock up on during French holidays so I was interested to hear they've opened their first "international mustard boutique" in Piccadilly Arcade, London. The original Antoine Maille, master mustard and vinegar maker supplied French king Louis XV back in 1747 and his company is still going strong over 250 years later. Of these samples shown, from left to right, sundried tomato and parmesan/basil versions are great however I found the blue cheese one raspingly strong.
Lurpak have brought out a new "slow churned" version of their classic butter. We served ours on sour dough bread with the fridge bottom soup previously seen at Dinner With Crayons and whilst it was very nice, it doesn't trump my favourite French brand with salt crystals. Say hi to Lurpak on Twitter @lurpakbutter
Recommended reads elsewhere:

Urvashi gets "Lost in Patisserie" during a trip to Paris – read more at Botanical Baker

Ren has published a series of posts about her visit to IFBC Seattle – read more at Ren Behan.

Jeanne goes foraging in the Vaucluse, Provence and I'm exceedingly envious – read more at Cook Sister.

 
With thanks to Taylor & Colledge, Tesco Finest, Maille and Lurpak for sample products.