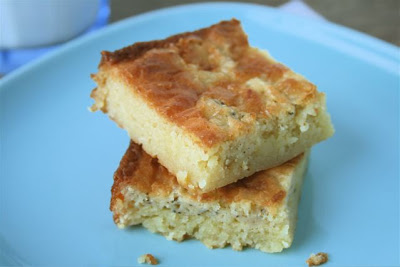 Final installment of my trio of recipes using up seasonal ingredients. Having dealt with the
mincemeat
and
chestnuts
we're moving on to something more obscure. For some reason I always buy a pack of Boursin with Black Pepper at Christmas to be the soft cheese in my cheese selection. Seduced by the memory of that advert showing French people at a dinner table with the slogan "Du pain, du vin, du Boursin" no doubt.  I can't remember if I've seen it in French supermarkets and never buy it any other time of year. I love it on crackers however the abundance of everything else means I generally have a fair amount or all of it left by the time New Year healthy eating regimes start (such as
Ten in 10
… I'm doing nicely thanks).
Actually this year I was better organised. I bought my Boursin but used it up in these blondies for some highly suspicious friends during the week before Christmas. When I say suspicious, I don't mean they were hanging around outside my house looking shifty, I mean they were sceptical when presented with some weird cake that not only had cheese in it but pepper too.
It's not such a leap if you consider that dark chocolate with chilli is widely accepted as a great flavour combination.  This recipe originally featured in Nigella Lawson's
How to be a Domestic Goddess
as brownies made with cream cheese and dark chocolate. Having made this previously using said Boursin and Black Pepper I decided to do a blondie version with white chocolate instead.
Not only were the suspicious friends won over, but each of their husbands raved about these blondies too (my friends often get goodie boxes to take home with them these days). They are similar tasting to cheesecake with a subtle peppery hit afterwards.
Try them! You can have great fun getting your friends to guess what is in them. They will be flummoxed – and bowled over – I promise.  If you cannot get Boursin you could use a roulade soft cheese with black pepper or just plain soft cheese with a teaspoon of black pepper.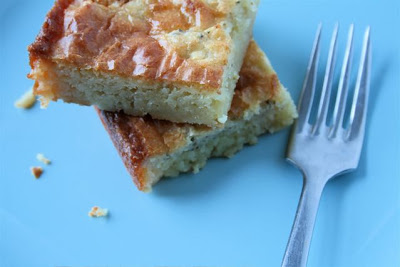 Blondies with Boursin and Black Pepper
(Adapted from Nigella Lawson's Cream Cheese Brownies, How to be a Domestic Goddess)
Makes around 12
Ingredients:
125g white chocolate
125g butter
2 large eggs
200g caster sugar
1 tsp vanilla extract
75g plain flour
pinch of salt
150g Boursin with Black Pepper (or use plain soft cheese and 1 tsp coarse ground black pepper)
You will need a 23cm square tin, 4cm deep
1. Preheat the oven to 180c / gas mark 4. Line your baking tins with butter and baking parchment.
2. Melt the white chocolate and butter in a medium size saucepan. When very nearly melted and combined, take them off the heat and leave aside for a few minutes to cool a little.
3. Meanwhile beat the eggs in a bowl with the sugar and vanilla
4. Measure the flour and salt into a larger mixing bowl.
5. Beat the eggs and sugar into the chocolate and butter mixture.  Tip in the flour and salt and beat until smooth.
6. Pour half of the mixture into the tin, coaxing it to the edge.
7. With a table knife, dollop little nubs of the Boursin over the surface of the batter until you've used it all up.
8. Pour the remaining blondie batter on top and spread across the surface evenly so that the cream cheese is covered. It may be scantly covered in places but it will be alright.
9. Bake for around 20 minutes. The top should be paler and dry but the centre if you test with a cocktail stick still moist. You don't want the centre to dry out totally or you will have cake not blondies.
10. Allow to cool in the tin for 10 minutes before cutting into squares. They are easier to lift out when cold but warm ones taste delicious!