A round up of lovely stuff we've been trying recently…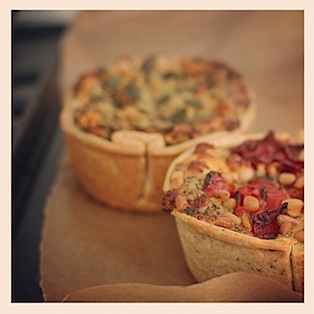 Higgidy are a small company based in Suffolk who sell pies, tarts and quiches. I think you'll agree they've still got that handmade quality, I served them warm for lunch for my vegetarian mother in law but they'd be just as good cold at picnics. We tried the sweet potato and feta with pumpkin seeds and also spinach, feta and toasted pine nut. Stocked by Sainsbury's, Waitrose and Ocado. If you cut out ten "use-by" dates in a four month period from Higgidy they'll even send you a voucher to get another quiche or pie free. Say hi to them on Twitter @higgidy
Gran Luchito is a new collection of products made with rare chillies from Oaxaca, Mexico. Shown above is their authentic Mexican smoked chilli paste, chilli honey and smoked chilli mayo. Priced around £4-5 each, all three products are versatile enough to earn their keep in the larder livening up dish after dish. I've already featured them in huevos rancheros and stuffed peppers with black eyed bean chilli over at Dinner With Crayons and no doubt many more lovely things to come. Say hi to them on Twitter @luchito_mexico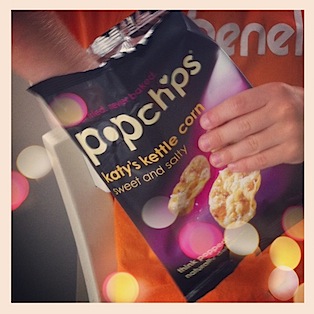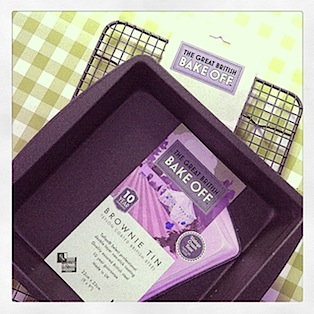 Popchips have a new flavour out endorsed by kooky popster Katy Perry. Sweet and salty Katy's Kettle Corn is crispier than standard pop chips and might addictive. I had assumed it was a limited edition however Popchips assure me the flavour is here to stay. Say hi to them on Twitter @popchipsUK
HobbyCraft isn't just for scrapbooking and stitching, they sell a growing range of baking kit and I was cock-a-hoop when a branch finally opened in Chingford. Hobbycraft are currently gearing up for National Cupcake Week September 16-22 and the Great British Bake Off rolled into one. This chunky wire rack is highly covetable for perking up food photos (for you all food blog prop geeks out there) and the brownie tin is embossed with the GBBO logo and has a vintage style cream base. Other items in the range include 12 hole bun tins for those all important cupcakes, measuring spoons, spatulas and printed worktop saver. Definitely a range to remember closer to Christmas. Say hi to them on Twitter @hobbycraft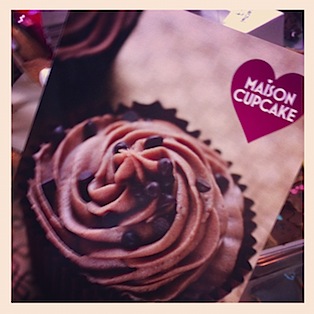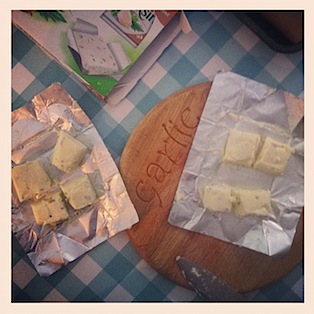 Overnight Prints came to my rescue before my cake stall at the Walthamstow Appetite Food Fair. They offer all manner of speedy digital printing services – I ordered glossy A5 postcards which arrived within 48 hours. Prices are reasonable, the print quality excellent value – costs come down if you are in less of a hurry.
Boursin Cheese has been featuring in various snacks and meals this month – see my quick quiche with Boursin and Tomato already published and there'll be more to follow via instagram and Dinner With Crayons. Aswell as the square boxes you can now get individually wrapped mini portions for a Boursin flavoured snack fix. I'm partial to them on a retro Ritz cracker but the cheese is versatile enough to cook with as an ingredient. My personal favourite flavour is black pepper as seen here in Black Pepper Blondies. Try also these two Boursin recipes for tomato and chive tart and smoked salmon blinis over at Maison Cupcake Tumblr. Say hi to them on Twitter @boursincheese.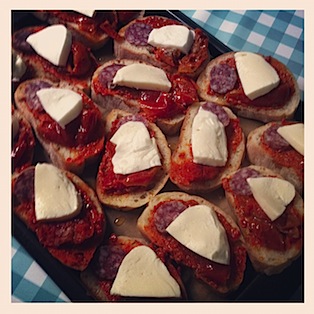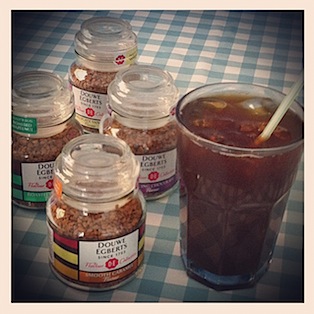 Dinner With Crayons continues to be my blogging home for savoury dishes and family food – if you've not taken a look yet do visit and admire my new blog banner whilst you're at it. Recipes recently featured include ciabatta mini pizza using Sacla chilli pesto and Yorkshire Three Little Pigs' salami. Say hi to them on Twitter @saclaUK and @rareflavour (three little pigs account)
Douwe Egberts must have heard about my new enthusiasm for iced skinny lattes. They sent me jars from their Flavour Collective range now including an "enticing chocolate" flavour. Other flavours include roasted hazelnut and smooth caramel although personally I find the delicate vanilla version the most distinctive. Available from Tesco and Sainsbury's RRP £2.99. Say hi to them on Twitter @douweegbertsUK
With thanks to Higgidy Pies, Gran Luchito, Popchips, Hobbycraft, Boursin, Sacla and Douwe Egberts for sample products.