Whether you're a food tourist visiting Borough Market or a London City worker, I've found the ideal lunch venue for you.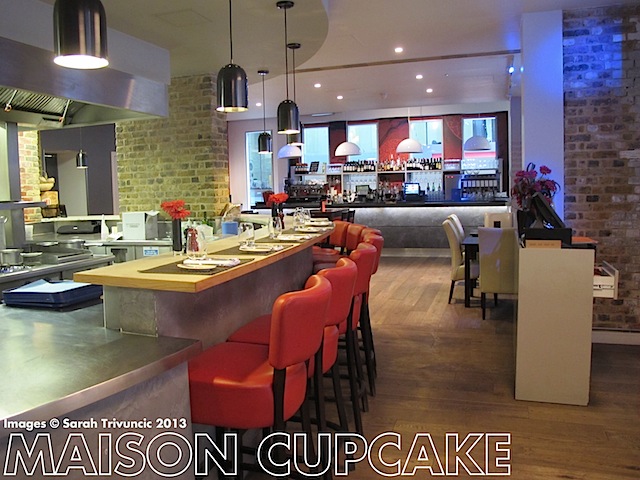 Brigade Bar and Bistro is based in an old fire station close to London Bridge. Not just an ordinary restaurant, it is home to the Beyond Food Foundation. This social enterprise offers those who have been at risk or who have experienced homelessness training in the restaurant industry. With qualifications and mentoring, the project helps apprentices secure sustainable employment.
Alongside several friends I took lunch there recently. Would it be a blazing success or a burn out?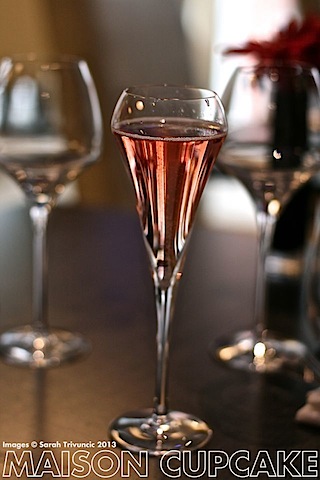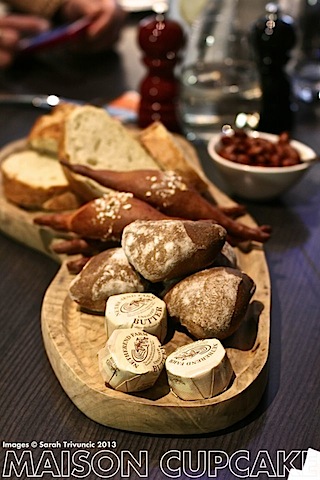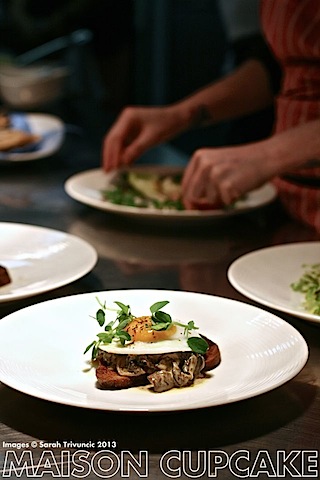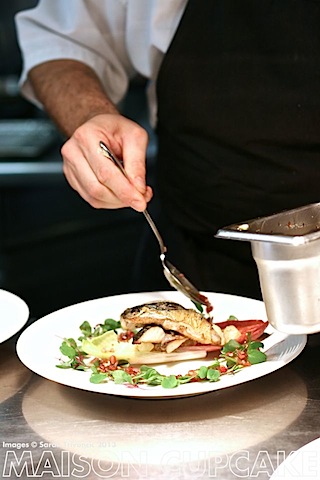 There is a full cocktail bar at Brigade however you may already know my personal preference – pink or fizzy, preferably both. I might add that Brigade is kitted out with some very stylish glass and tableware.
Bread was a feast in itself, three types with giant pats of butter. For reasons unrelated to the restaurant we were dining later than planned – the various breads, nuts and olives kept us very happy whilst waiting for one of our number to arrive at the table!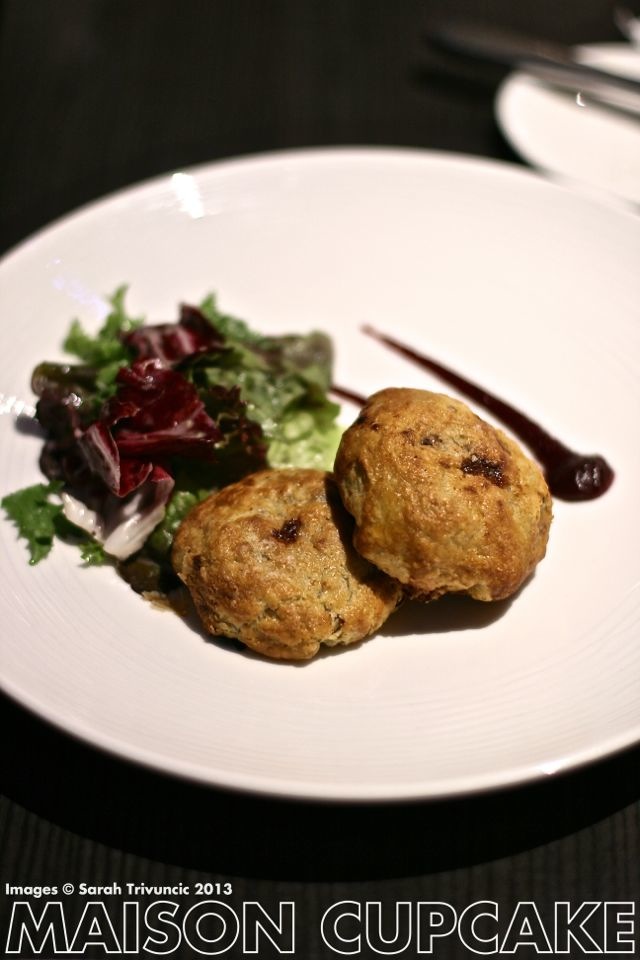 For a starter I had Colston Bassett Eccles cakes with cranberry and rosehip ketchup. A savoury Eccles cake is not something I've seen done before and indeed we do not see ordinary fruity Eccles cakes around enough these days. These pastry parcels with cheese and raisins worked really well – a glam version of the traditional cheese and pickle combo. Nicely presented and just the right portion size.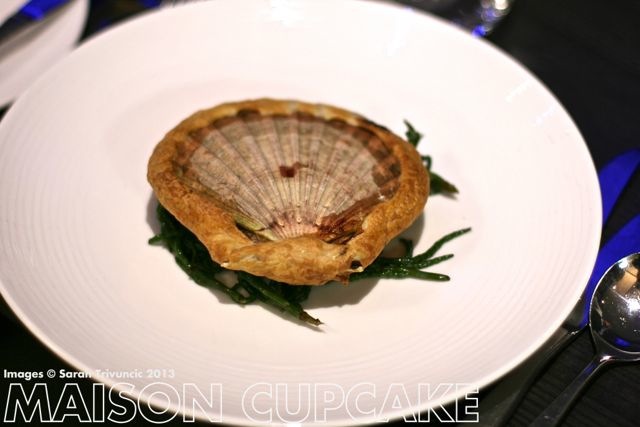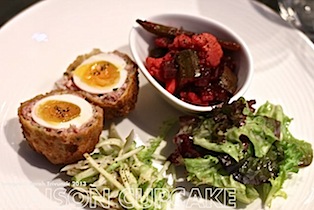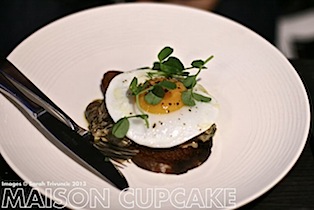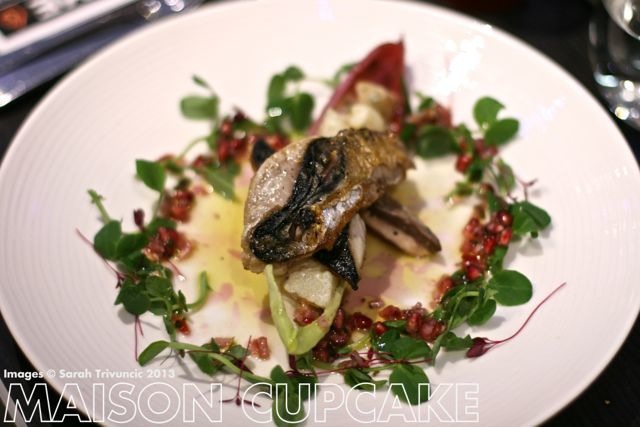 Friends ordered for their starters:
New Forest wild mushrooms on sourdough toast with a fried duck egg
Scotch eggs with beetroot piccalilli, fennel and green apple slaw
Cornish crackling mackerel salad with pomegranate and mauka honey dressing
Baked british seafood in pastry covered shell.
Check out their reviews to see what they thought. (Links at bottom of this post).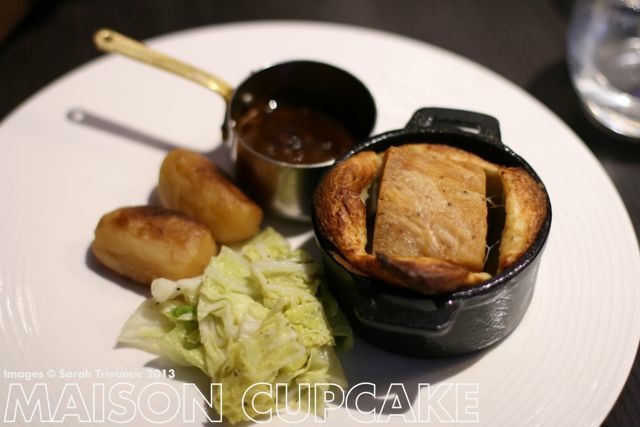 For mains I enjoyed pork belly toad in the hole with buttered cabbage and a pear cider and onion gravy.
What arrived was a bit of a suprise, although in a good way. I'm so used to toad in the hole done as traybake and had envisaged pieces of pork belly. Instead it was a chunk of pork belly surrounded by batter in a miniature casserole. I have mixed feelings about mini cutesy containers for my food – (a local place in Walthamstow serves chips in a miniature frying basket) but was relieved at least it was served on a plate rather than a giant slate. The dish itself was great albeit fiddly to eat in the little pot.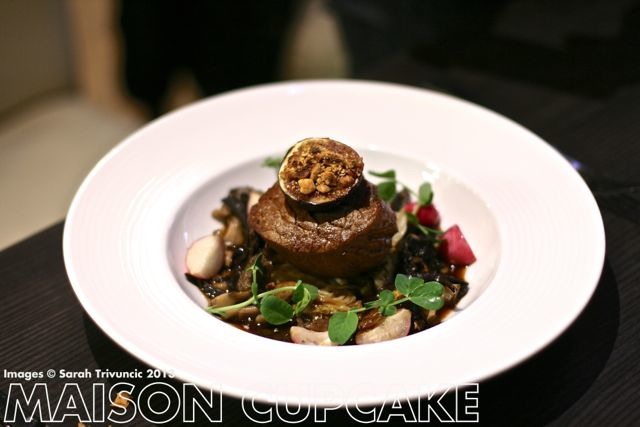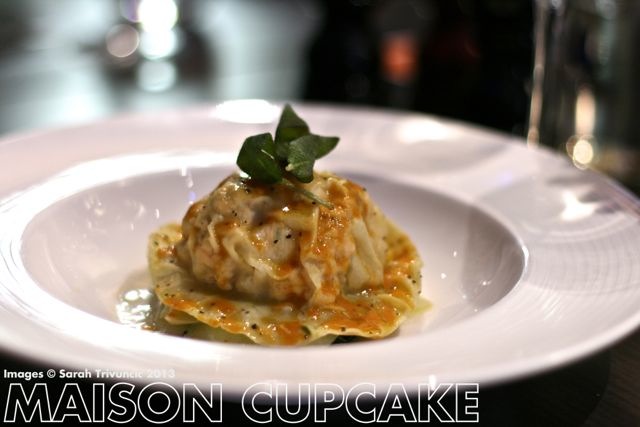 Friends' mains were:
Poached fillet of beef with figs, wild mushrooms and radish – a pricey £29.95 but well received.
Ravioli of lobster and salmon with lemon and sage dressing.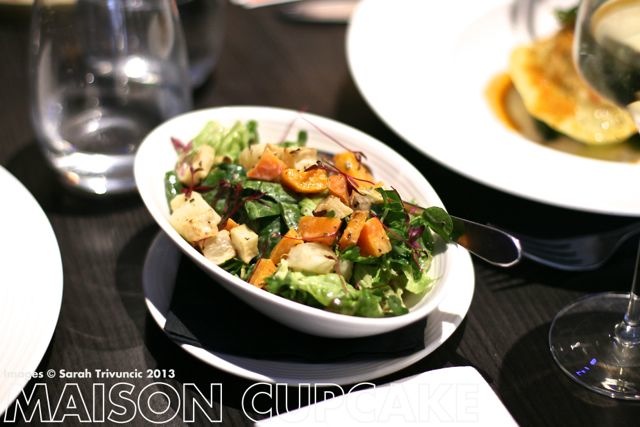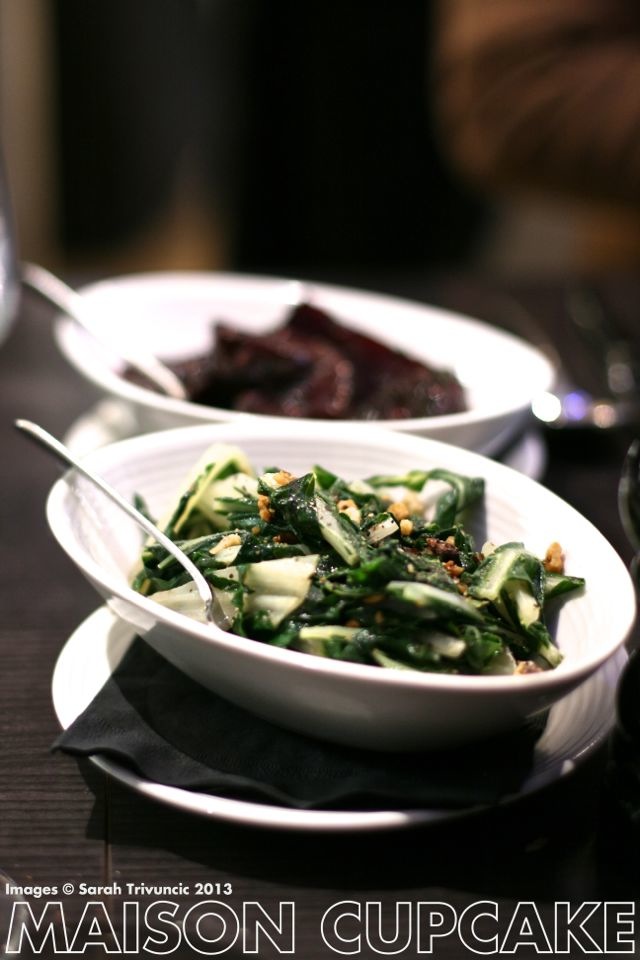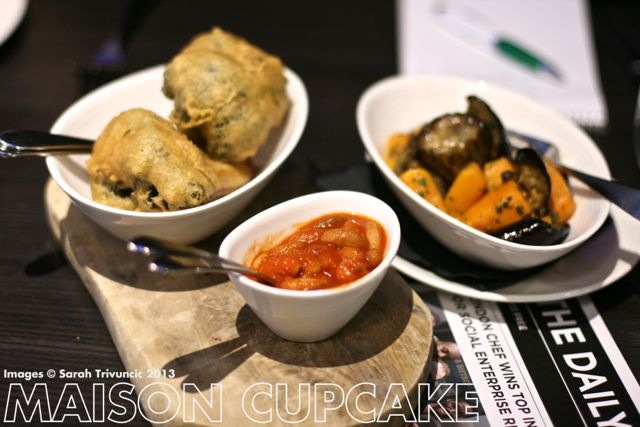 Side dishes were inventive dishes in themselves. Each added interest to the meal rather than being a predictable after thought. Side dishes we tried were:
Roasted butternut squash, aubergine and chilli oil
Deep fried broccoli, tomato and white bean stew
Sauteed chard with hazelnut butter
Tossed autumn salad with chive and mustard dressing.
I was pacing myself somewhat for dessert so I personally didn't try these side dishes apart from the roast squash.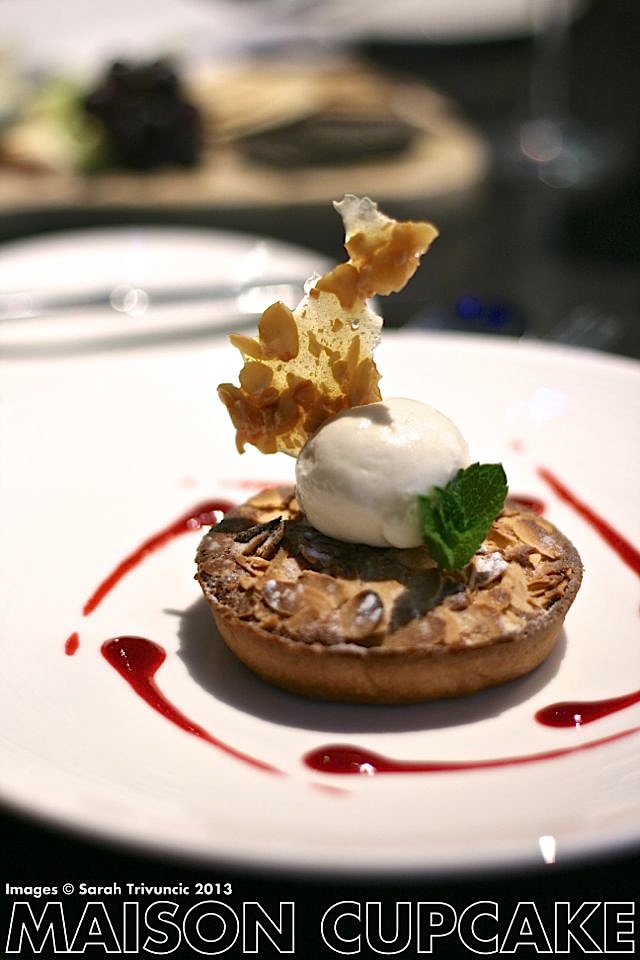 Desserts were well worth saving space for. My Bakewell pudding came toasted flaked almonds and peanut brittle.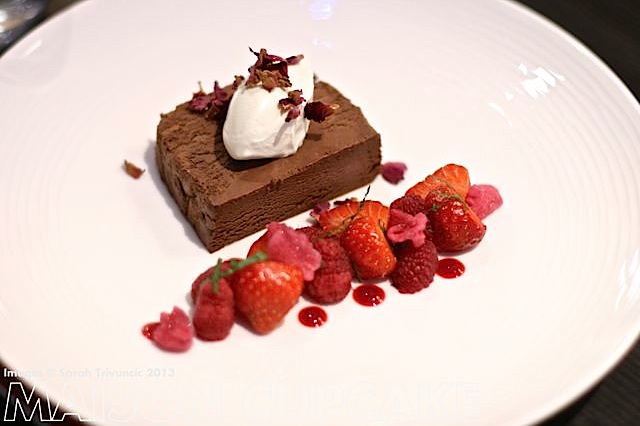 Ordered elsewhere was chocolate and rose parfait. Having previously made a milk chocolate and rose cake I know these two flavours work together very well (think Fry's Turkish Delight!).
The cheese board was a sight to behold… a well balanced arrangement of mild to stronger cheeses and the inclusion of my personal favourite cheese board items – charcoal cracker and grapes. More unusually there was quince cheese. We were introduced to the cheeses one by one however I regret I can only recall the name of the Stinking Bishop (which was hoovered up first) and Colston Bassett stilton as previously featured in my starter.
Summary
Brigade has an imaginative menu which represents excellent value for the standard/location. I would heartily recommend it to others whether in a group or couple. It's five minutes' walk from London Bridge station and you can walk off your meal with an enjoyable walk along the Thames afterwards.
A three course meal with wine will probably set you back £80-100 depending what you order. Don't forget you'll also be supporting the Beyond Food Foundation helping the homeless – there aren't many restaurants where you can combine a good meal and a good deed. Opening times are aimed at the City: no lunchtime opening on Saturdays and closed all day Sundays (although private events may be taking place at these times).
Take a look at my friends' verdicts over at:
London Unattached (to follow)
Eat Cook Explore (to follow)
Cook Sister (to follow)
With thanks to Brigade restaurant with whom we dined as guests. Find out how to donate to the Beyond Food Foundation here.