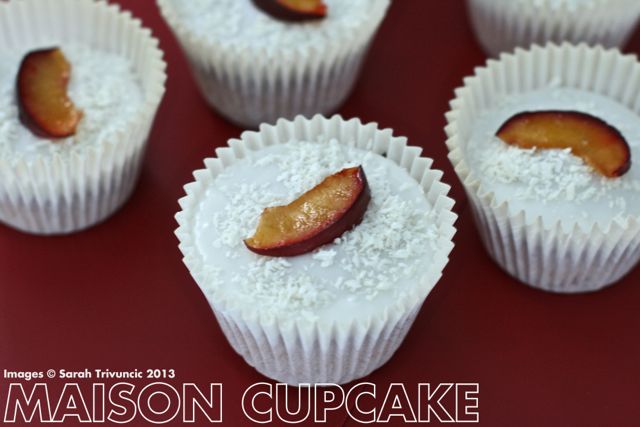 It's become a standing joke that I barely ever publish any cupcakes. It's not deliberate, I just go ages without doing them.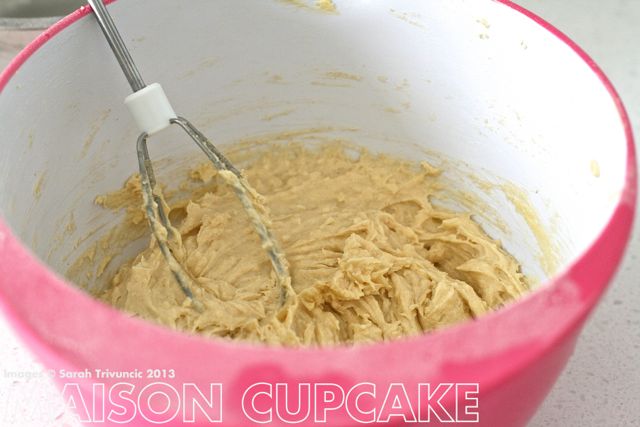 These plums had been intended for something entirely different but I was struck with inspiration to combine plums and coconut in cupcake form.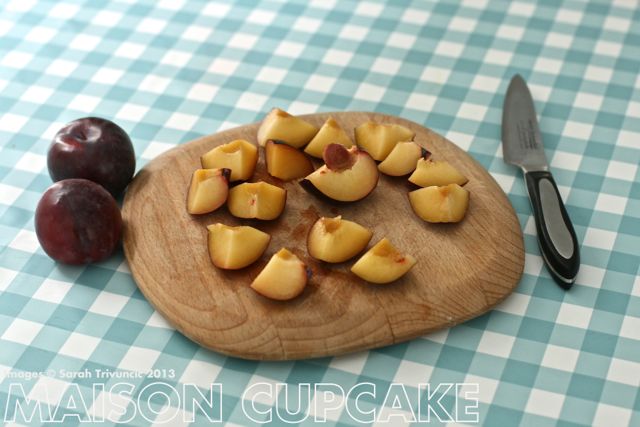 They've actually been in the fridge a fortnight, they were still very firm and not yet pink inside. (Secretly I prefer my plums pink and juicy but I am terrible at leaving them too long in the fruit bowl and they end up squishy squashy).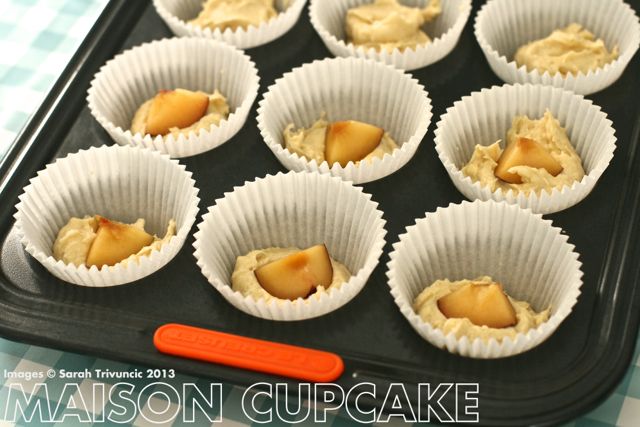 Mix up a basic cupcake batter – with the simply change to substitute 15g flour with 15g desiccated coconut.
I also threw into half a teaspoon of the coconut flavouring I recently bought in a French supermarket.
Each cupcake contains a one eighth segment of plum.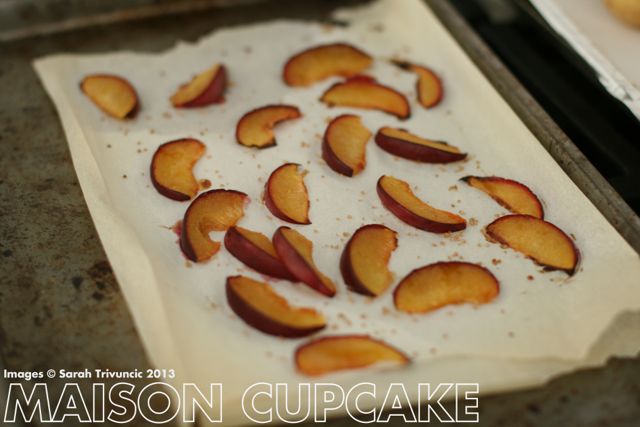 To add interest on the tops, I grilled slivers of plum sprinkled with demerara sugar.
Adding coconut milk to glace icing seems such an obvious thing now I've done it but I don't recall seeing it elsewhere. I wanted a wet icing onto which I'd sprinkle dessicated coconut for an all white effect. Having tried it, I will definitely use this icing again and in other things.
The trick is to use full fat coconut milk that's had a good shake before opening the can. Low fat canned coconut milk tends to be watery with a thick top-of-the-milk type bit with all the fat in that. I haven't tried this with solid coconut but am not convinced it would improve on the milk.
Finally, I used Lakeland muffin cases here which with the 2 egg mix I'm showing the recipe for was a bit stingy spread across 12 cakes. I'd recommend using either smaller cases (supermarket plain white cases are usually smaller than Lakeland) or making just 9 cakes instead. If these cakes had a high buttercream topping it would be less obvious but since it's a skim over the top with glace icing, there's no fooling anyone!!
A few plum recipe recommendations from elsewhere:
Spiced plum semifreddo (Cook Sister)
Easy plum and port crumble (Greedy Gourmet)
Polish plum compote (Coffee and Vanilla)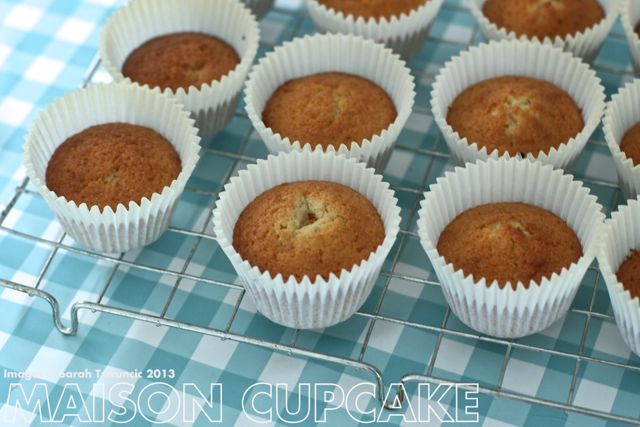 Plum and coconut cupcakes
Makes 9-12 depending on cases used
Ingredients:
3 (not too ripe) plums
1 tbsp demerara sugar
130g unsalted butter
130g caster sugar
2 large eggs
115g self raising flour
15g desiccated coconut
1/2 tsp coconut flavouring (optional – alternatively you could use a teaspoon of Malibu liqueur)
100ml coconut milk
400g icing sugar, sifted
extra desiccated coconut for sprinkling
Directions:
1. Preheat the oven to gas 4 / 180c. Slice one of the plums into slivers and lay on a baking sheet lined with parchment paper. Sprinkle with demerara sugar and bake for around 10 minutes until the sugar has melted and the fruit slightly cooked. Keep an eye on it making sure it doesn't burn though.
2. Meanwhile, cream the butter and sugar in a large mixing bowl until light and fluffy using an electric hand mixer. Beat in the two eggs.
3. Fold in the flour and coconut together with the coconut flavouring if you are using.
4. Line a 12 hole baking tray with paper cases and divide the batter between them.
5. Cut the remaining two plums in half, then quarters (removing the stones) and then eighths. Dot a plum piece into the batter of each cake.
6. Bake the cakes on the middle shelf for 15-20 minutes until golden and springy to touch. (18 minutes is what works in my oven).
7. Allow to cool completely on a wire rack.
8. In another large bowl, spoon the coconut milk over the icing sugar a little at a time, beating it into a smooth paste. It should be like thick PVA glue (at least this is how Ted's friend described it).
9. Once the cupcake bases are cool, spoon over the coconut icing and sprinkle over desiccated coconut. Arrange slivers of plum on top of that and serve.
Actually, once I'd taken the pictures, I realised they looked better with 2-3 slivers of plum on each cake. But it was too dark to take more pictures!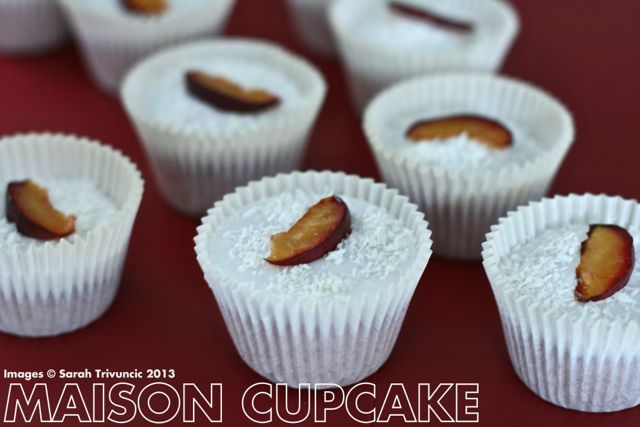 These plum and coconut cupcakes are going to Laura & Nazima's One Ingredient Challenge (theme plums)

Let's Cook With… at Simply Sensational Food (theme coconut) and Laura and Dolly's Calendar Cakes (theme cupcakes).