We don't have Buffalo Grill in the UK but if we did, I'd be going.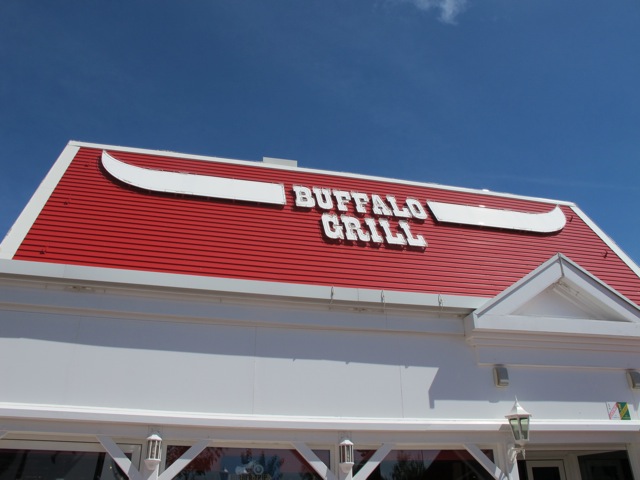 Arriving at a self catering holiday destination late on a Saturday night has one problem. Come Sunday, you have a brief window to buy your groceries in a neighbourhood you're not yet familiar with.
The whole wild goose chase which was that Sunday morning need not be repeated in full here. Suffice to say, by the end of nearly three hours, my father hadn't been to church, we didn't have any groceries, something MASSIVE had been going on down the town but we didn't know what and we were overly familiar with the local industrial estate.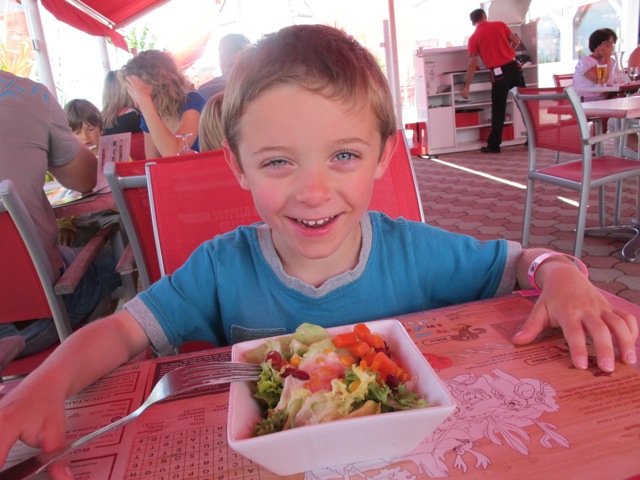 Buffalo Grill, with its pseudo American red and white hoardings is a familiar site from dual carriage ways and motorways across France.
It's somewhere we'd been curious about. Was it cheap? Was it tacky? Was it one of these much mooted French roadside restaurants where the food is low price and high quality? As we wouldn't normallly stray onto out of town industrial estates and retail parks, we'd not previously found ourselves in the vicinity of one when it was meal time.
Empty stomached and oblivious to any grocery stores likely to trade before Monday morning, Buffalo Grill was (we hoped) our saviour.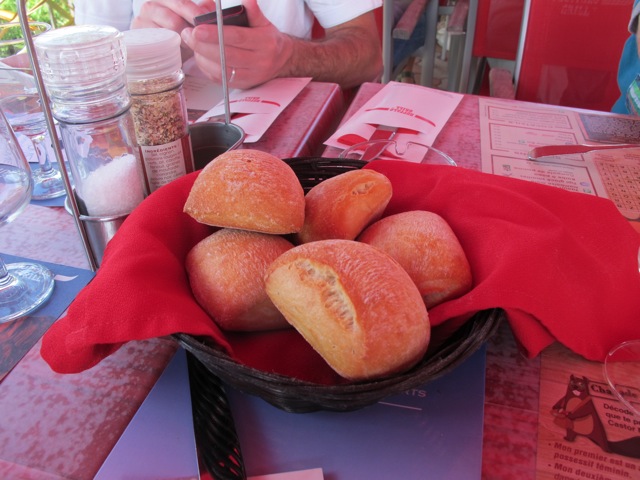 From the outset we were impressed. Everyone at the table was served with an hors d'oeuvres salad and a basket of warm bread wrapped in a cloth napkin.
It's moments like this I'm reminded of Samuel L Jackson's speech about McDonalds in Pulp Fiction. "It's the little things…"
My husband and I each ordered the promotional set menu "Le Burger Trip" comprising choice of bacon burger or bavette (steak) with a dessert and drink.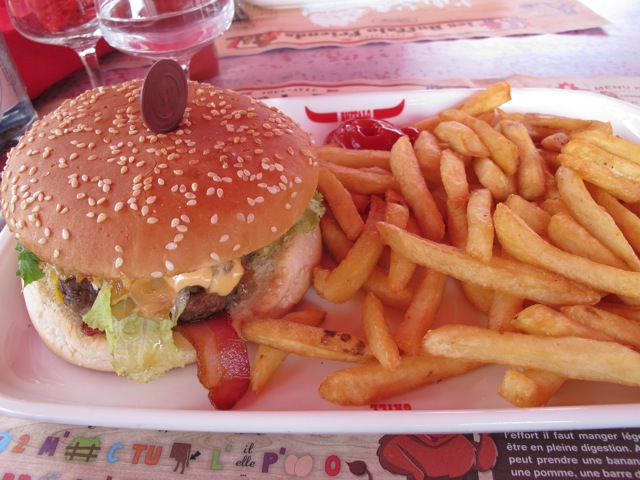 I'll cut to the chase. After the morning we'd had, I was in serious need of a burger. Now this might look fairly bog standard and McDonalds like but it was a great burger with chunky meat and a bun of substance rather than fresh air. The fries, I'll admit were not the best but respectable. We were even offered fries refills. (I declined).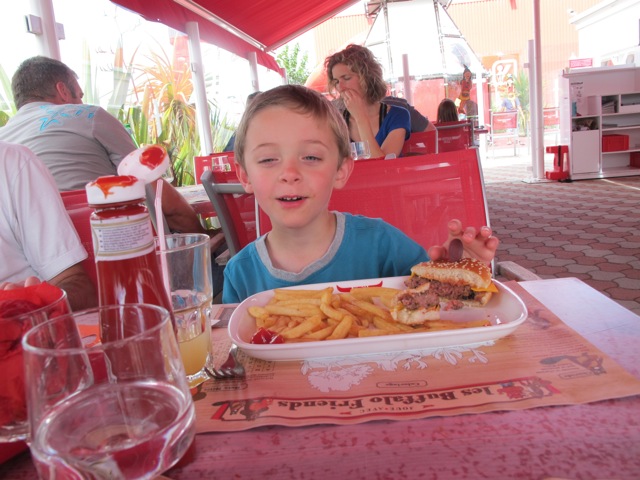 Ted had a kids' portion of cheese burger with chips. We had a worrying accident with some ketchup but I think we got away with it.  My father had the only fish dish on the menu – salmon with rice and vegetables.
Buffalo Grill has a similar American, identikit buildings feel to Frankie and Benny's in the UK however the menu is more similar to Byron Burger. Prices were a reasonable £12 per head for 2 courses plus the salad appetiser. I even begged my husband for us to go back later in the week when the range of local restaurants proved disappointing (he refused saying we were in France and couldn't go out for burgers twice).
And as if this wasn't enough, they have a play area. We hoped Ted would pick up some French however with his bossiness, it's more likely the French kids picked up some English.
Buffalo Grill was clean and smart with attentive staff. It's wall to wall burgers and steaks but if you're ok with that you'll enjoy.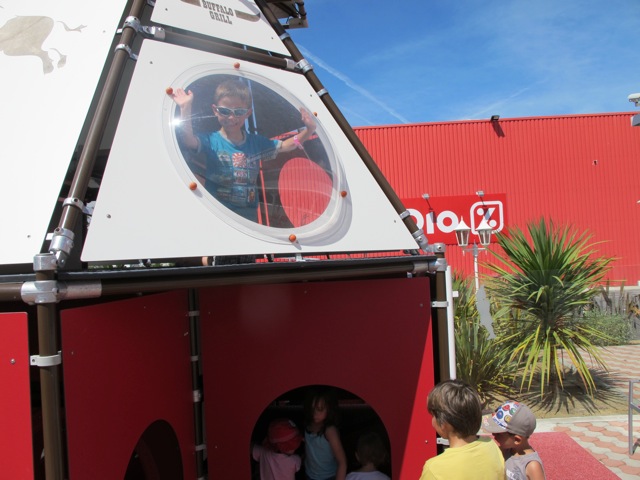 Buffalo Grill – branches peppered nationwide across France. Sadly they've yet to launch in the UK although there are a handful of branches in Spain, Belgium, Luxembourg and Corsica.
Get 10% off Siblu holiday in France – early booking offer

Siblu have 15 holiday parks across France – mostly on the Atlantic coast with 4 in the south. Accommodation in self catering luxury mobile homes has 2-3 bedrooms. There are also options to buy your own mobile home.

Siblu currently have an early booking offer available with 10% off holidays to France for anyone booking a Siblu holiday before 31st January.

Simply use the offer code LANC13 and book online at www.siblu.com or by calling 0871 911 7777.

We travelled as guests of Siblu holiday parcs. Read my review of Siblu Les Pierres Couchees here.