Pink grapefruit has a unique flavour and this pink grapefruit jelly makes a sparky low fat dessert.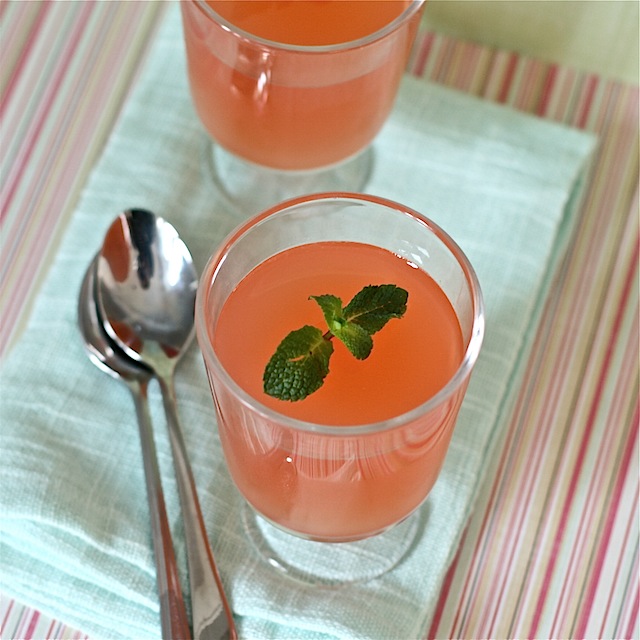 If the dearth of jellies featured on food blogs is any indication, few people get around to making home made jelly. Indeed, this was my first time. Gelatine something I have in the cupboards yet never use. Other ingredients that have met similar culinary graves in my stocks have been suet and rennet. All animal based – I am neither vegetarian nor squeamish about these ingredients' origins – although I think this is just a coincidence.
Jelly evokes nostalgic memories in me. Making a jelly was one of the few tasks, apart from washing lettuce and spreading butter on bread, that my grandmother would entrust me with. Whilst she put the finishing touches to the roast dinner, I would boil the kettle before dissolving cubes of jelly in a jug of hot water.
Rowntrees' jellies come in fairly predictable flavours; orange and raspberry are the easiest to buy. Last year I struggled to find lime green jelly until I went to a large supermarket. You certainly don't see flavours beyond the obvious on sale in their squeezy plastic packets.
Which is a shame. For jellies can be flavoured with most fruits and I have never come across one for my favourite, under used fruit: the pink grapefruit. Some fruits such as pineapple or kiwi have an enzyme that prevents setting.
How to make pink grapefruit jelly
This pink grapefruit jelly did create some washing up – I used the juicing attachment on my food processor and strained the contents through sieves and a clean j-cloth. The gelatine mixed with 120ml boiling water doesn't smell exactly but there's something unpleasant – rather like socks being washing in hot water – about it. Fortunately once you mix it with the fruit juices this effect is gone.
My pink grapefruit jelly didn't have a very firm set but it was definitely set. I hadn't used too much liquid but possibly straining through the clean j-cloth filtered off some gelatine as well as surface froth. One gelatine sachet will set 1 litre of liquid. I had mislaid my muslin cloth in the kitchen refit – muslin has larger holes so presumably doesn't trap the already thickened gelatine.
Nevertheless I ended up with four clear pink jellies in my new IKEA wine glasses that double up as dessert dishes.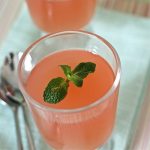 Print Recipe
Pink grapefruit jelly – homemade low fat dessert recipe
Ingredients
2

whole pink grapefruit

120

ml

boiling water

1

sachet of powdered gelatine

200

g

caster sugar

<em> You will also need a muslin cloth or clean j-cloth

a sieve and citrus juicer.</em>
Instructions
Slice the grapefruit in half and press them in the citrus juicer to extract their juice.

Boil the kettle and pour 120ml into a plastic jug. Empty over the sachet of gelatine and beat briskly with a whisk so it will dissolve fully without forming lumps. Whilst this liquid is still hot, stir in 100g of the caster sugar until this too dissolves.

Pour the grapefruit juice through a sieve into a medium size bowl to filter off the pulp.

Then pour over the gelatine solution and stir in the remaining 100g of caster sugar.

Remove the pulp from the sieve then drape the insides with a muslin cloth or clean j-cloth. Pour the whole mixture through, squeezing the fabric into a ball if necessary. Squeeze as much liquid through as you can.

Decant the pink liquid equally into glass dishes. There should be enough for 4-6 servings.

Chill the jellies overnight in the fridge.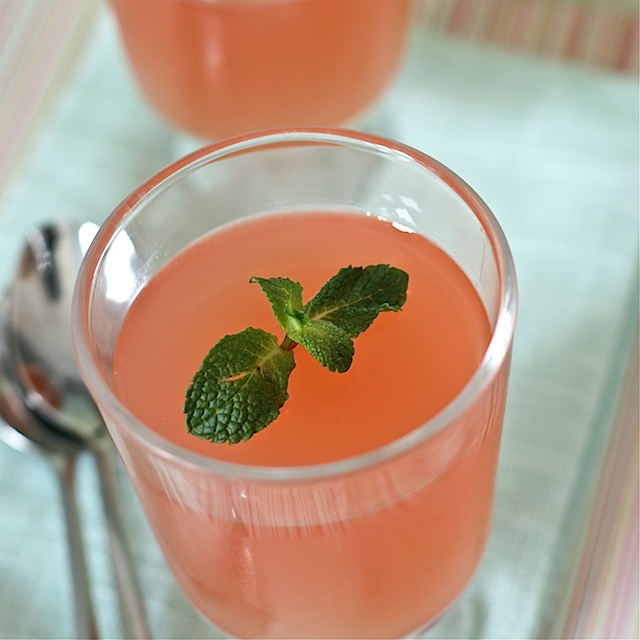 If you like these jellies then you'll love my Pinterest board "Lovely Things in Jars".
Follow Sarah Trivuncic Maison Cupcake's board Lovely things in Jars on Pinterest.