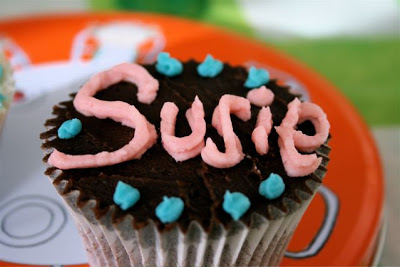 Gel food colouring has infinitely improved my confidence making icing.  After the problems I'd had getting the right colours when making the Very Hungry Caterpillar Cake, I decided to invest in some gel food colouring.  Mine are little pots of Wilton gel food colouring which come in a box of eight colours.  They cost around £8 which sounded a lot to me, hence my not buying them sooner, but when you consider that some liquid food colourings in the supermarket cost nearly a pound each and you are getting eight bottles which will last you an awful lot longer and give you much greater control over the colour obtained, I have decided they are excellent value for money. I imagine they are available all sorts of places online but I bought mine at Lakeland.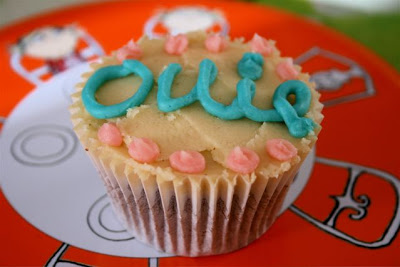 Liquid food colouring, as well as failing to get deep pigment without using an entire bottle and it tasting horrible anyway, is clumsy to apply to icing. One slip with the spoon and you've had it.  Gel food colouring on the other hand, gives you far greater control. You dip a cocktail stick in the gel and swirl this round in your icing before mixing throughly with a small palette knife. Repeat this as required until you get the colour you want.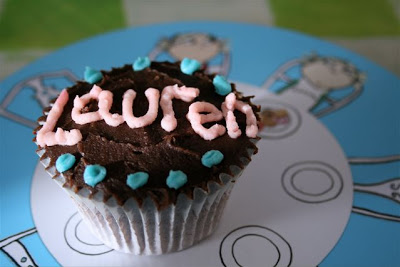 These cupcakes were made for my sister-in-law Susie and her family.  It was my first time both using gel food colouring and piping lettering.  I was using disposable plastic piping bags with the end snipped off. I think I would get thinner icing with a proper fine nozzle but as I was experimenting with the colours and was in a hurry I didn't have time to keep washing my canvas piping bag.  Most of the names required were quite short and it's only my own name, Sarah, that I bodged.  Not bad for a first go!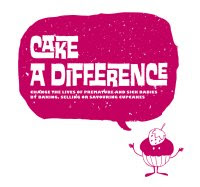 I need more practice and am hoping to get this over the next couple of weeks as I have just been asked to make some cupcakes for a baby shower and also I am intending to take part in a charity event for
Bliss
, the UK's leading premature baby charity, called "
Cake A Difference
" for which I would like to make people cupcakes with lettering on.  Some of you last year may have read my previous post "
HELLP I'm supposed to still be pregnant
" which explains my interest in supporting a charity for premature babies. At the time I'd been bemoaning that there was no way for bloggers, food or otherwise in the UK to support Bliss but happily they have now launched this event.  I will update you on my Cake A Difference project nearer when it takes place between 8-14 February.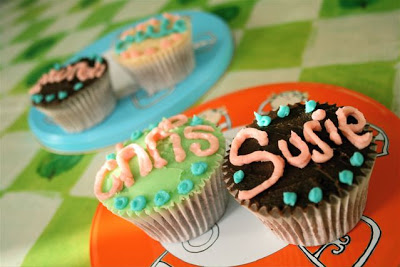 Basic Cupcake Recipe 
based on fairy cakes, Nigella Lawson, How to Be a Domestic Goddess
Makes 12 large muffin case size, 18 standard cupcake size or approximately 24 mini muffin size
Ingredients: 
For the cupcake bases
125g self raising flour
125g caster sugar
125g softened butter or baking margarine straight from fridge
2 large eggs
1 tsp vanilla extract
2 tablespoons milk
For the buttercream
250g icing sugar
80g softened butter
30-50ml milk
Method:
1. Preheat oven to 190c or gas mark 5. Simply blitz everything together in the food processor except the milk which you drizzle in last through the funnel before pulsing a few times to a smooth batter.
2. Spoon the mixture into large muffin cases in a 12 hole muffin tray so that they are around two thirds full. Bake for around 15-18 minutes. For 12 large cupcakes  I set the timer for 12 minutes, turn around and leave for another 6 minutes.  For standard cupcake size and mini muffin size I set the timer for 10 minutes, turn around then give them a further
3. The centres may erupt like little volcanoes but that's ok, you can lop off these peaks if you want to ice them flat.
4. When they are done a cocktail stick will just about come out dry.  With practice you get the confidence to know how early this is, leaving them even a couple of minutes beyond this point will make your sponge too dry.
5. Leave to cool in the tins for a few minutes before transferring to a wire rack.  Allow to cool completely before covering with icing.
6. For the buttercream, beat the softened butter and milk with an electric hand mixer or free standing mixer until very soft and fluffy.  Sift on the icing sugar several table spoons at a time and incorporate.  The more you do at once the more it gets wafted round the kitchen covering everything so it's best to go slow.  When all the icing sugar is mixed in, add another tablespoon of milk if you think it's still too stiff. Beat the buttercream with the mixer for several minutes, it will go fluffier and lighter. Remember that although it will be soft and squidgy now, the surface of the buttercream will go harder when it's had a couple of hours to dry out on the surface of a cake. If it lasts that long.
7. Paste your buttercream over the cupcake bases using a small palette knife.
8. If colouring your buttercream, divide it into as many bowls you would like colours. Dip a cocktail stick into your gel food colouring and swirl around in the buttercream. Mix thoroughly with a small palette knife. Add further food colouring with a clean cocktail stick for a deeper colour.