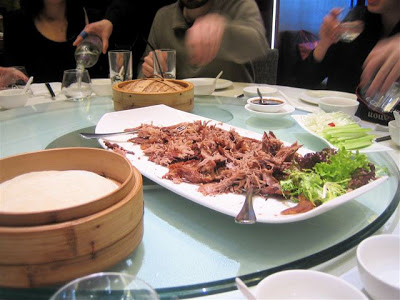 Writing about restaurants is not something I really do, mainly because with a two year old, I rarely venture anywhere more imaginative than various branches of Gourmet Burger Kitchen and Pizza Express with their child friendly packs of crayons and high chairs.  The envelope was being pushed last Sunday with a trip to the plush
Royal China Club
when I took Ted and my husband to meet several friends I'd made at Food Blogger Connect back in November.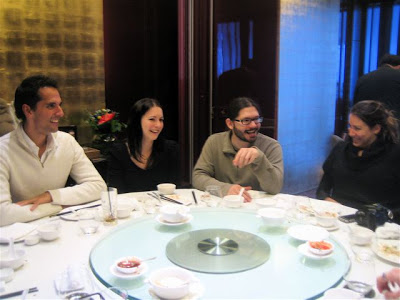 From left: Mowie, Sari, Sari's boyfriend Pavel, Beth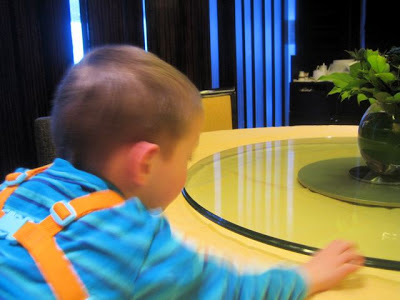 Ted explores the Lazy Susan
Knowing that Ted would most like spurn food from a Chinese menu beyond prawn crackers and omelette we were armed with lock-and-lock boxes full of bread sticks, cheese and chopped sausage and tomato.  But then Ted arrives at most restaurants with a packed lunch to keep him going until the main course arrives. These waiters are just too sloooow for a two year old tummy.
The high chairs promised on the Time Out website
review
of Royal China Club did not exist so the orange baby reins came out.  Unfortunately Ted now knows how to unclip these so it wasn't long before he was exploring an empty neighbouring table to play with the Lazy Susan.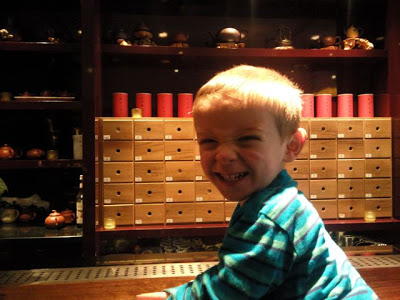 Ted's "Cheese Face" at the Royal China Club's bar
Although up and down like a jack-in-a-box, Ted delighted everyone by staying still and posing happily for photos.  There was a time when all our Ted pictures were a blurry haze of toddler lurching arms out stretched towards camera but lately he has discovered what we call "The Cheese Face" where he screws his nose up excitedly saying "Eeeeese!"  We'd rather have more photos of the angelic non-screwed-up face but at least our cameras are safe.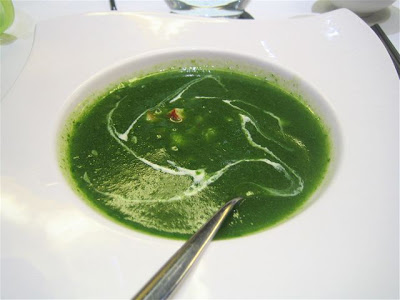 Spinach and Lobster Soup
Now, I'm not normally one for taking photos of restaurant food, nor do I particularly enjoy reading about it.  I prefer pictures such as the one at the top of this post that convey the general atmosphere of a restaurant. Kang,
London Eater
is someone who does this
exceptionally
well and I urge you to check out his site. On the other hand, unless the pictures are very good, I get tired reading food blogs that are a photo diary of what someone else ate. Mainly because I'm jealous they get out so much.
That said, the lighting in our room at Royal China Club was great and I couldn't resist photographing this  spinach and lobster soup and the crispy duck.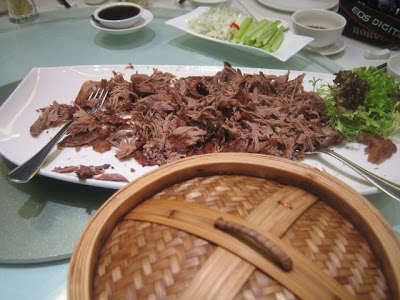 Whole crispy duck with pancakes
The Royal China Club tableware was much admired by our band of food bloggers who unanimously agreed that this was Prop Heaven with delicate little china dishes and tea cups that would look fabulous in photos.
We ordered a whole crispy duck with pancakes between us, if only because we had seen one being prepared for the next table and all wanted to photograph it.  Sadly we were not granted the theatrical spectacle of it being shredded in front of us but this didn't spoil how good it tasted.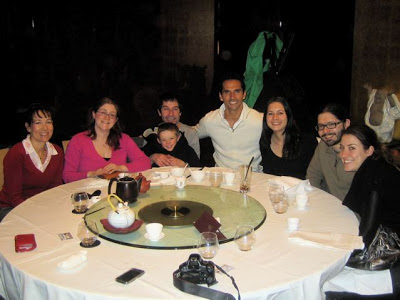 From left: Jeanne, myself, my husband Nick holding Ted, Mowie, Sari, Pavel and Beth
I must have got caught up in the food or else the endless trips to take Ted to visit the live lobsters in the tanks out front because I didn't manage to get pictures of all the dim sum or the rice dishes we ordered.  But take it from me they were very good.  I ordered the steamed prawn and chive dim sum but also tried one with scallops and another with pork.  At thirty pounds a head this was more than I'd usually expect to pay for the amount of Chinese food we ate but the setting and the quality of food were a very high standard.
We left, as Beth described it, "80% full" which if you are doing Ten in 10 like I am, was a good thing.  I dread being invited to restaurants when on a diet but managed to enjoy my meal here without feeling like I'd sacrificed the previous fortnight's efforts.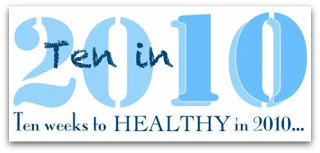 I am now into my third week of healthy eating with Recipe Girl's
Ten in 10 challenge
.  I have joined Weight Watchers and so far lost around 5lb.  The cold weather put me off being particularly active out of doors but I intend to put that right now it's not freezing and icy outside (for now at least).
My new habits to keep me on track have been:
1. Eating my evening meal with Ted at 6pm rather than with my husband at 9pm.  This has put a full stop to me eating Ted's left overs and continuing to snack endlessly between 6-9 when I was always starving hungry!!  9pm is way too late to eat and it feels weird to me now if I do it at weekends.
2. Not eating between meals unless it's fruit or a low calorie item that is "counted".
3. Watching portion sizes.
I hope to have lost a stone altogether by the end of the ten weeks.  In case you are wondering how I manage to not eat any of the stuff I make, my trick so far has been to allow myself one teaspoon full of something specifically to see what it tastes like. Unless it's cupcakes. I don't have any of those because I know what they taste like.  I have iron will for now at least but wish me luck to keep going!