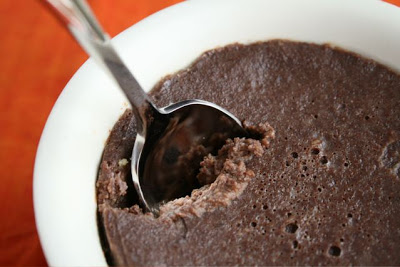 What to do, what to do with a heap of egg yolks from my various macaron making disasters?  (See what happened with the mince pie macarons if you haven't experienced these yet).
Having recently done a vanilla custard for mince pie ice cream I opted this month for some flavoured custards.  First up is chocolate custard pudding.  I have based this on the classic baked custard recipe which I used last year but added the compulsory chocolate.
I, as I keep boring everyone, am on a diet. My husband and son fortunately, are not.  They were devouring these for pudding a couple of weeks ago and have been pleading for me to make them again. Well ok, the husband is doing the pleading. Ted just points at the fridge insistently and says "No" to every other dessert I've pulled out of there since, which I take to mean the same thing.  Having tasted my rationed teaspoonful, I can understand why.  Given that MacTweets Valentines Special is just around the corner, they won't have long to wait before I have serious egg yolk build up once more.
Chocolate Custard Puddings
Makes 4-6 ramekins worth depending how deep you make them
Ingredients:
250 ml milk
250 ml single or pouring cream
2 eggs
2 egg yolks
110g caster sugar
1/2 tsp chocolate extract (optional – mine is from Lakeland)
80g dark chocolate, coarsely chopped.
Method:
1.  Preheat oven to 150c.  Place the milk and cream in a saucepan over medium heat and heat until hot but not boiling.
2.  Place eggs, egg yolks, sugar and vanilla in bowl.  Whisk until well combined.  Slowly pour over the hot milk mixture, whisking well to combine.
3. Melt the chocolate either in a double boiler or the microwave.  Stir into the custard.
3.  Grease 4-6 ramekins (I used little pudding basins). How many you need is a little unpredictable, on average I find I have enough mixture for 5 but I could probably spread it thinner to six. Alternatively you could go bumper and do 4 big ones. Place in a deep baking tray and pour enough hot water to come halfway up the sides of the dishes.  Bake for 35 minutes or until just set.  Serve warm or cold. They are super either way.