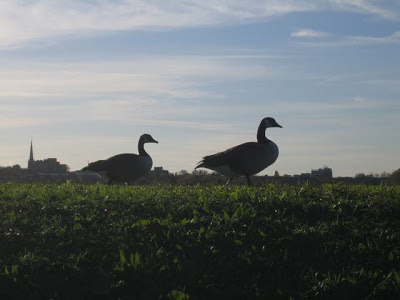 Postcard from… is my series of Saturday mini-posts. Today's postcard is from a bird hide in Tottenham Marshes, part of the Lee Valley Park which borders the 2012 London Olympics site.
Selfridges food hall, the Designer's Guild Warehouse Sale, St Tropez; there are many places I'd rather be than sat in a bird hide and more still that I'd rather be than Tottenham, North East London.  So the two together are hardly my usual form of entertainment.
Nevertheless, I can see the appeal of a wooden shed to sit in. I just wish it was a pink beach hut decorated with cute Cath Kidston accessories in
Tankerton
instead of a dusty shack with a big letterbox cut out of it.
We came here, in the depths of winter, to entertain my grandparents (not the Grandma Kitty side) a few short months before Ted's arrival.  My grandfather and his second wife who has been my new grandmother since I was around six years old are both ardent birdwatchers and they had come to visit.  We'd marched them around 
Walthamstow Village
, looked at stuffed animal displays in
Epping Forest
 visitor's centre and admired 
Blackheath Farmer's Market
. Now we needed something else to amuse them on the Sunday afternoon.
My aunt (on the Grandma Kitty side) who lives near by and also likes pointing binoculars at our feathered friends suggested a visit to the nature reserve at
Tottenham Marshes
 down the road.  It was just the ticket and we passed a pleasant couple of hours ambling from one wooden hut to another peering into the distance at birds and… more birds.
I'm sure my companions would have been equally unmoved by a tour around the china and glass department of John Lewis so with that in mind, don't judge me too harshly when I say the best bit was the flask of hot chocolate and the jaffa cakes.  I got a bit bored once we'd finished those and started daydreaming about these geese above being nicely browned, upside down and on a roasting rack.