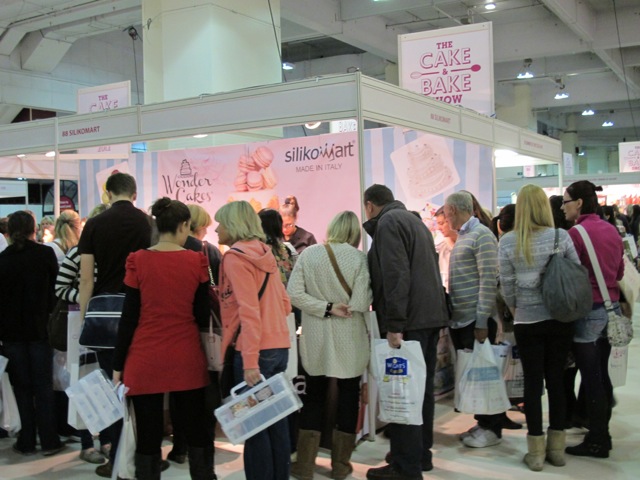 The eagerly anticipated Cake and Bake Show took place at London Earls Court this weekend.  With show tickets long sold out, January sale style queues of enthusiastic baking fans staked their place to get inside.
Billed as the first live event dedicated to cakes, breads and the art of baking, visitors were surprised to find more than a sprinkling of sugarcraft brands dominating the exhibition stands. As well as the demos people go to these shows for the shopping. Purchasing opportunities for bread and pastry makers proved far fewer than for piping bag princesses and cupcake connoisseurs.
On paper, The Cake and Bake Show should be a more mainstream day out than the longer established "Cake International" sugarcraft show. Headline acts of Great British Bake Off judges Mary Berry and Paul Hollywood were supported by names including Baking Mad's Eric Lanlard, pastry guru Richard Bertinet and Fabulous Baker Brothers' Tom Herbert.
Baking and cake decoration are two different disciplines, you'd not expect to attend a knitting fair and discover it full of specialist embroidery. Amidst the sugary backdrop there were also some sticky organisational situations arising.
The Cake and Bake Show Facebook wall tells a tale of frustrated exhibition goers queuing thirty minutes or more to spend their dough at limited selection of food sellers (and indeed a penny in the ladies).
Others who had paid money on "classes" were disappointed to discover they'd signed up to seated demonstrations that were just as easily watched for free by people standing behind. People bagged seats 90 minutes in advance for the slot to watch Mary Berry. Many left earlier than planned with legs crossed and stomachs rumbling.
Like Westfield on a Saturday in December, getting everything you wanted out of The Cake and Bake Show was possible but exhausting. Earls Court 2 is a hideous venue (soon due to be knocked down) and the exhibition hall was laid out in a baffling triangular layout. Difficult to navigate, many stalls were easily missed. Pinch points felt like Holborn tube station on a Monday morning.
The Cake and Bake Show will return in Manchester, April 2013.  Follow my tips below to be prepared.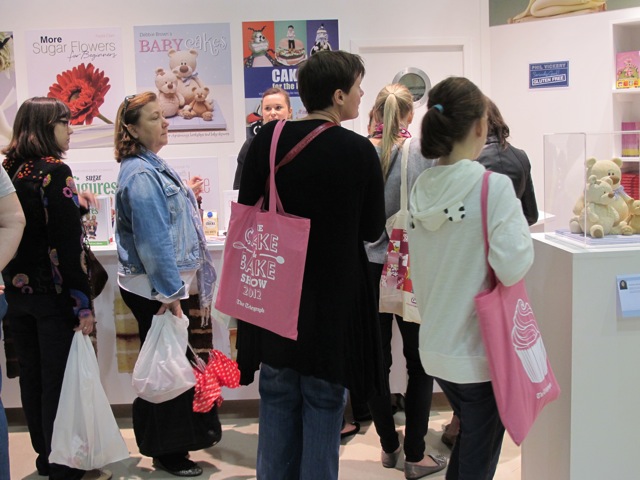 How to survive The Cake and Bake Show:
Wear thin layers of clothing as if shopping in the sales.
Keep your hands free by carrying a light weight ruck sack. I recommend the ultralight foldaway rucksack by Flylites.
Withdraw cash from an ATM before you get anywhere near the venue. Many stalls may not take card payments below a certain spend.
Fill your tum and empty your bladder before going inside. Take your own water bottle but don't drink it until you're about to leave.
Research the programme in advance and decide which sessions you'd most like to see. Coincide waiting for these to start with eating your packed lunch.
Avoid weighing yourself down with purchases too early. Scout around deciding what you'll come back and buy later. Don't be someone lugging around a giant plastic cupcake box unless you're on your way to the exit.
Haggle stall holders for better prices, especially if you're buying any items in bulk towards the end of the show.
If the above sounds like too much hard work, you could always Skyplus reruns of the Bake Off, stock up on Fiona Cairns cookies, Paul Hollywood breads and Mich Turner cakes from Waitrose then surround yourself on the sofa with books, magazines and the Squires catalogue.  Oh hello, that's how I spend most of my time anyway…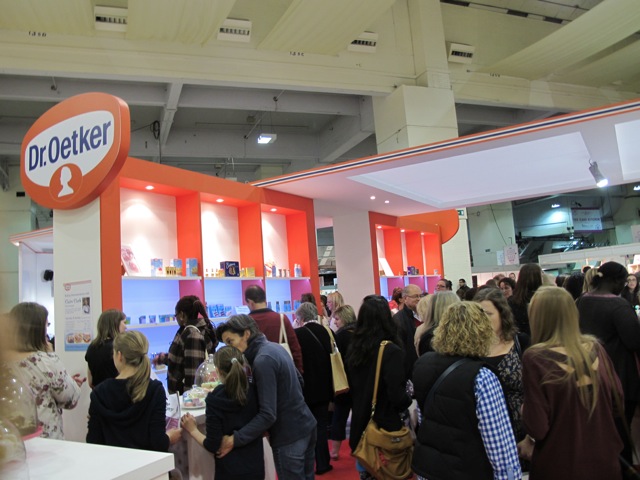 Did you go the The Cake and Bake show? How was it for you?