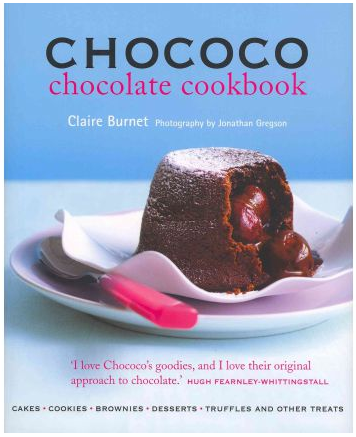 Chococo is a chocolate baking book from the Dorset based artisan chocolate company of the same name. It's attractively presented with attractive styling and graphics. The opening pages give some useful background to the company and working with chocolate.
The truffles in the opening "Truffles and Treats" chapter would all make nice handmade gifts as would the chocolate slabs and salami included alongside.
Citing Bill "Grainger" [sic] as a food hero is an embarrassing spelling error ahead of an adaption of one of the Australian chef's recipes. The "Cakes and Bakes" chapter is the weakest chapter with a lurid red and green tinted "Surprise Cake" and some very ordinary muffins. Things do pick up however with three tempting brownie recipes, notably the "very berry cheesecake brownies".
The first couple of cookie recipes in confused mish mash chapter "Cookies, Biscuit Cakes and Drinks" did not impress me. Indeed the red splattered white chocolate and raspberry ones are most un-photogenic. However this chapter redeems itself with more sophisticated "double chocolate shortbread", playful "orange choccie dodgers" (a twist on traditional jammie dodgers), and swirly patterned ginger marble cake biscuit bars.
An intriguing German recipe for "lukullus" features a tiered stack of almond biscuits layered with chocolate paste. (Incidentally, I googled "lukullus recipe" to find out more. It's also a brand name for dog food.)
The desserts chapter is my favourite with "crowns of passion" featuring chocolate shells filled with white chocolate mousse, whole cherry filled "wild thing chocolate fondants" and memorable "Blackstrap Harry Tart with Rum-sozzled Raisins" named after a Dorset pirate. That said, this chapter also features pallid numbers such as the nutmeg-spiced chocolate cheesecake and honeyed rhubarb chocolate fool which look less visually appealing.
Verdict: Overall it's a pretty book but the contents are not consistently great. There are some real hits and a good range of recipes but a disappointing number of mediocre entries to flick past on the way.
With thanks to Ryland Peters & Small for the review copy.
This review was originally published on Amazon. If you found it useful please click through to it here and mark as "useful". Thanks!
Don't forget…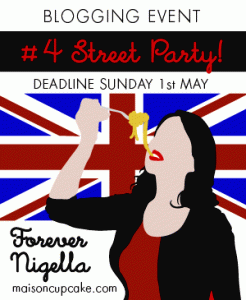 Forever Nigella 4 is currently being hosted by Mardi at Eat Live Travel Write. The theme is "Street Party". For more details read the current announcement post here.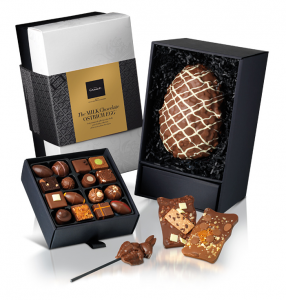 Hotel Chocolat Ostrich Easter Egg – my fabulous giveaway is still open until midnight Sunday 17th April. Have you entered yet? Visit this post to be in with a chance of winning this whopper.