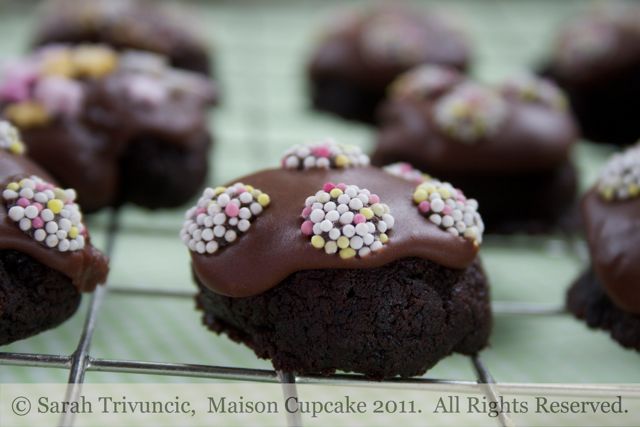 You could be forgiven for thinking I've fallen of the edge of a cliff or that my kitchen has been taken over by builders lately, I hold my hand up high that there have not been many recipes round here lately.
Gradually though, as my son approaches his first week in primary school, I am getting back to normal and these little guys were my contribution to a recent mass play date, a veritable frog spawn of little people swarming about getting excited, spreading crumbs everywhere and hiding random objects behind pieces of furniture.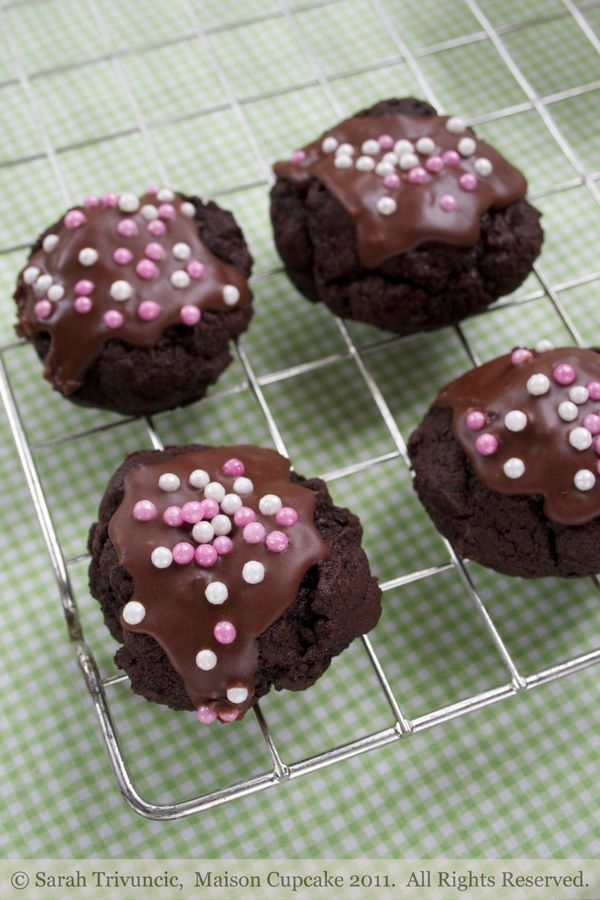 As a mummy with a reputation for making cakes, I can't just turn up to these occasions with a bag of treat size Milky Ways.
Instead I randomly grabbed something treat sized for little childrens' fingers to get excited about and set about making my first ever whoopie pies from Claire Ptak's The Whoopie Pie Book.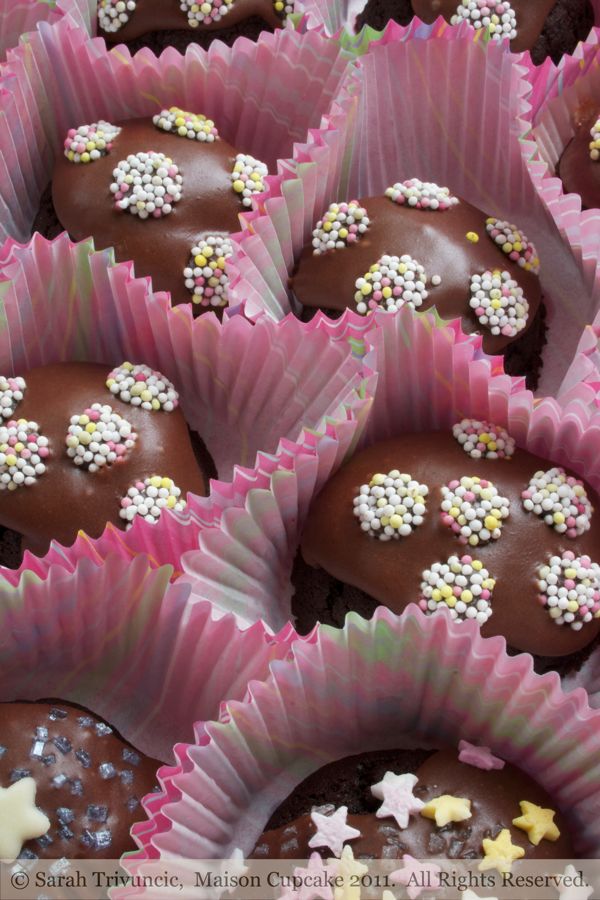 Although I spooned them out in scant mounds, I decided that paired up they'd be a bit big for toddlers and that by serving individually, I was able to pop a few in little bags for mums to take home too.
Hence I presented whoopie shells in individual paper cases decorated with chocolate glace icing and some Dr Oetker mini jazzies.
I am sending these to Random Recipes at Belleau Kitchen and Random Bakes of Kindness at Vanessa's Writing a Cookery Book.
To be honest, I think the recipe needs tweaking, they were not as light as I expected and had an uneven texture – fortunately this is disguised by the icing.
I was also using a special whoopie pie tray available from Lakeland. If you're fussy about having your bakes the same size then this tin is quite useful, although if you go for the rustic slightly dishevelled appearance, don't let not having one of these put you off trying to make them on a normal baking sheet.
Recipe: Chocolate Whoopie Pies

Summarised from Claire Ptak's The Whoopie Pie Book

Ingredients:

175g plain flour
100g cocoa powder
1.5 tsp bicarbonate of soda
0.5 tsp baking powder
0.5 tsp salt
125g unsalted butter
200g sugar
225ml buttermilk
1 tsp vanilla extract

You will need baking trays lined with parchment paper or a greased whoopie pie tray.
Makes 18 large or 48 small shells.

1. Preheat the oven to 180c/gas 4.
2. Using a large bowl, sift the flour, cocoa powder, bicarbonate of soda and salt together and set aside.
3. In a separate bowl, cream the butter and sugar until light and fluffy. Beat in the egg too followed by the buttermilk and vanilla extract.
4. Add the dry ingredients in two batches until just incorporated. Chill for 30 minutes.
5. Drop scoops of batter on the baking trays about 5cm apart and bake large ones for 10-12 minutes and small ones for 8-10 minutes. They should leave a slight impression when touched with finger. Allow to cool for a few minutes before turning onto a wire rack.

I used icing sugar and water with cocoa powder to frost the whoopie pie shells.