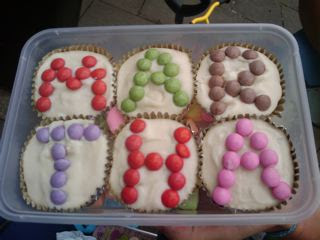 I say #1 as I know three Marthas who are all 2 years old.  I have promised my friends each a batch of cupcakes with their child's name on them – fortunately everyone's names have six letters or less so they will fit into these plastic boxes.
Today is Martha's birthday and we are meeting in the playground at Lloyd Park.
Martha's cupcakes are covered in Silver Spoon white chocolate cake covering with a plain base using same recipe as previous batch below.  They are served in a plastic tub on a bed of mini marshmallows although you cannot really see that in this picture which was taken as the lid came off before we ate them.  The mini marshmallows have a purpose as well as being decorative; they raise the cakes in the tub so that they fit snugly inside the wider part at the top.  The box is tied with a pink ribbon.  I was very pleased with how these six cakes fit into this box but artistically, I felt the chocolate beans were disproportionately large to form the letters.  As a result the letters are rather clumsy.  And the colour has smudged on a couple of them.  I would use something smaller in future.*  Or bigger cakes.
But all of this was lost on Martha.  She was so pleased with them she hung onto the box all around the playground.  There was a little queue for mini marshmallows from people who are not very tall.
(*Subsequent research has proven that mini-smarties in fun size boxes are no smaller than Dr Oetker chocolate beans but they do come in slightly different colours.  All feature identical red, green, brown, pink and lilac beans but with Mini Smarties you also get blue and with Dr Oetker you also get yellow.  I can discern no difference in taste but haven't yet worked out which works out cheapest by weight.  I suspect mini smarties are cheapest.)