I've only been to Chiquitos once and that was by accident. It was about 1997 and my housemate and I attempted to try out the local Harvester in Ealing Common. For some reason we ended up deviating on the tube to Park Royal and entering the Chiquito next to a multiplex cinema.
I have no memories of said meal so it really was a first time visit for which I accepted an invite to dine at Chiquitos with my family.
Our nearest branch is at the 02 North Greenwich so Ted had no hesitation announcing our trip meant a compulsory ride on the Emirates Airline cable car!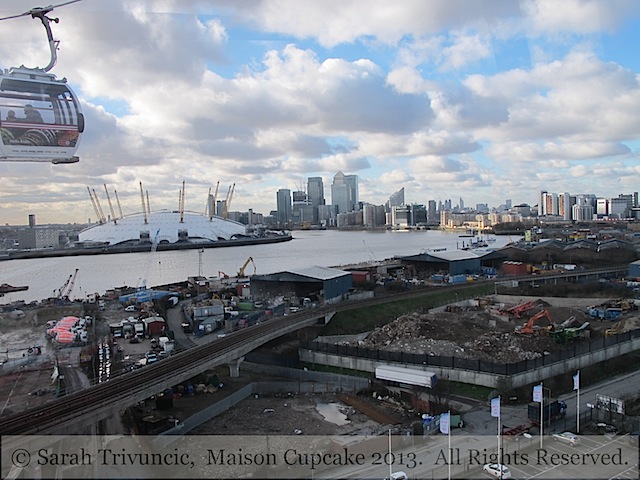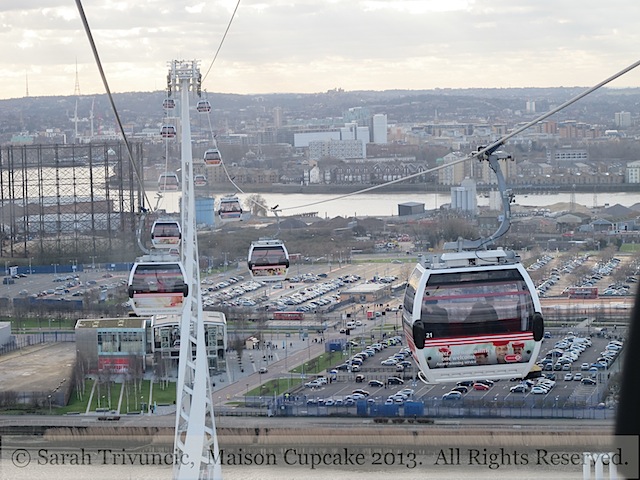 If you've not taken a trip on the Emirates Airline yet then I wholeheartedly recommend it. It's more fairground ride across the Thames rather than useful means of transport (unless you are traversing from the dome to the ExCel centre) but well worth a trip. It takes around 10 minutes each way and if you have Oyster pre-pay you can jump any queues to get on. Even if you are a season ticket holder the fare comes out of your pre-pay at £6.40 for a return trip.
I never got around to visiting the Millennium Dome. After years being labelled a white elephant, the North Greenwich peninsula is a buzzing hub of entertainment just 20 minutes away from our home. There are restaurants, bars, a cinema, pop concerts, the British Music Experience, the Emirates Airline. And if that wasn't enough you can take a supervised hike over the top of the dome itself or be filmed "reading the news" in a mock up Sky News Studio (great fun!)
On arrival from North Greenwich tube, it seemed all twenty or so chain restaurants were packed – Strictly Come Dancing Live were in town and everywhere emptied out when the show began.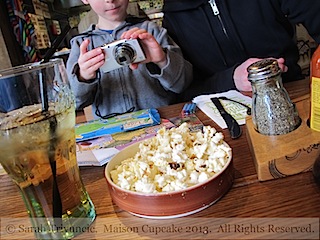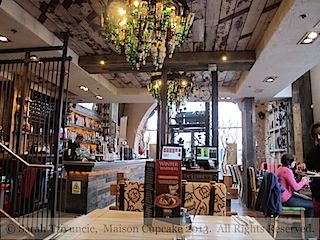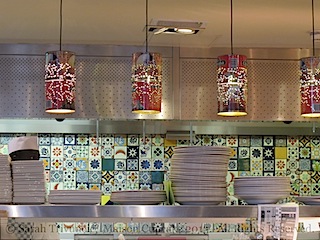 Thus we enjoyed drinks at the bar in Chiquito whilst waiting around 30 minutes for our table. They gave us one of those buzzy pager things you get in Toby Carvery and Westfield food court. I noticed a colour poster on the staff side of the reception podium that customers being asked to wait more than 15, 30 or 60 minutes were supposed to be offered incentives such as free drinks or appetisers to encourage them to wait although none of these were offered to either ourselves or the other customers waiting around us. Once we were at the table we were given popcorn before our order had been taken.
A bar running out of prosecco wipes out several things I might have wished to drink. Actually, bars running out of fizz at weekends is one of my pet hates. I ordered a white sangria instead – which was pleasant enough.
Chiquito have just launched a new lunchtime menu from £6.95 per main course however we were ordering from the main menu since it was the weekend.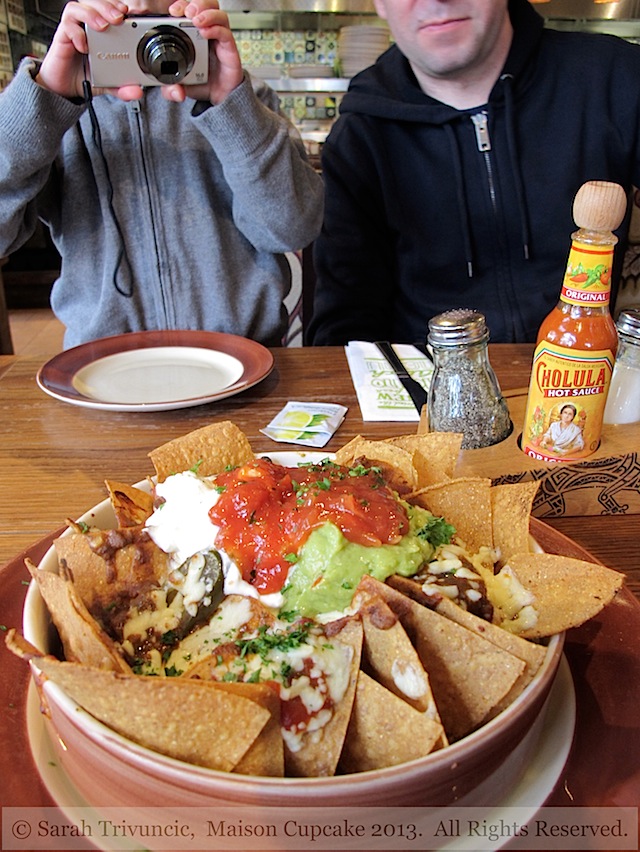 As a shared started we ordered fully loaded nachos (£9.95) covered in beef chilli (chicken and veggie options available). Seeing that a sharing platter at £16.95 fed four people we'd assumed the larger nachos would be the right size for two and a half people. Actually it was rather too large and we could have got away with the still generously sized nachos for one (£4.95) that I saw being served to an adjacent table.
They were seriously good and being rather hungry by now we soon polished them off.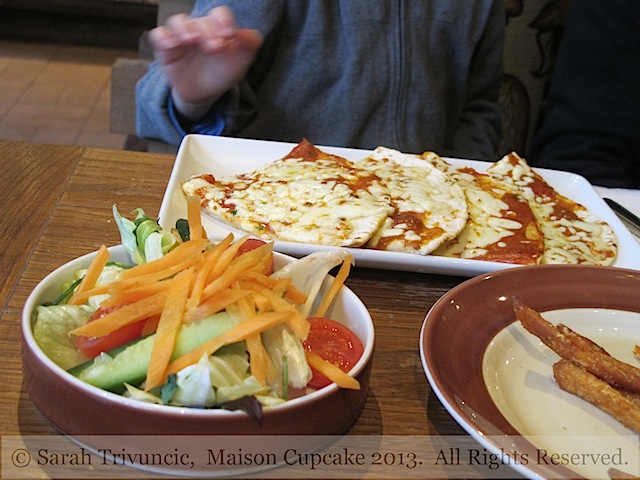 Ted had a kids favourites meal deal (£4.95) comprising flat bread pizza and salad, drink and dessert. We missed out on the drink included with the kids menu because we'd already ordered a drink from the bar whilst waiting.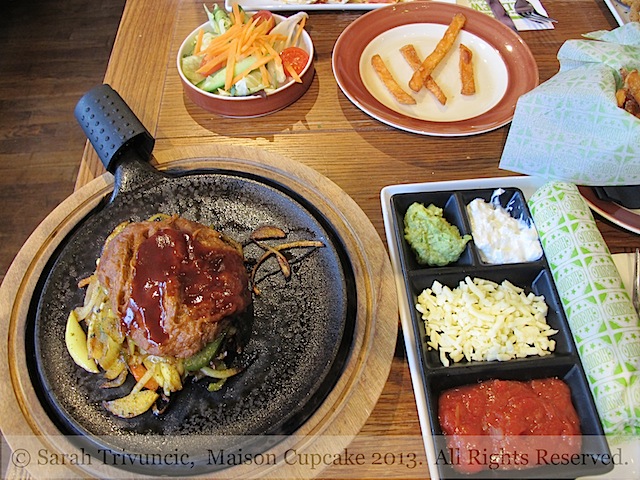 My dish was barbecue pulled pork fajita (£14.95) which comes served on a sizzling platter of onions and peppers alongside a tray of guacamole, sour cream, grated cheese, tomato salsa and a cylinder of tortilla rolls wrapped in paper. The pulled pork was soft and comforting – I think it was mixed with refried beans.
The amount of stuff in front of you gets a bit unwieldy but I enjoyed assembling my own fajita rolls. As a side order we had some sweet potato fries (£3.95) although in hindsight we needn't have bothered with these.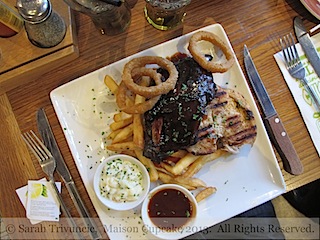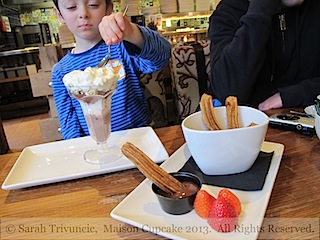 My husband had chicken and ribs (£15.95) complete with onion rings, fries, coleslaw and barbecue sauce. It was very similar to what he'd had at Frankie and Benny's and he said the chicken was rather dry. The ribs got the thumbs up though with generous meat that fell off the bone.
We shared churros (£3.95) for dessert. These were a bit disappointing since you only got four dough sticks and the suspect sauce was "chocolate flavour" rather than real chocolate. It also seems a bit daft serving them with strawberries in the middle of winter. Ted had chocolate sundae included on his menu.
Service which had been good at first slipped away by dessert. The staff had mostly vanished upstairs for a break. Our dessert took an eternity to arrive – the break was actually welcome since we were pretty stuffed – however it transpired both Ted's molten ice cream and Nick's tepid coffee had been sitting on a counter for ages before being served. Nick being Nick neglected to tell me this until three hours later otherwise I'd have asked for a replacement.
Although Mexican just like Wahaca, the Chiquito menu has more in common with Frankie and Benny's. My fajita dish was the most memorable dish we ordered, everything else was fairly identikit. I'd go again, although this is more a lunch with the kids or grab something before the cinema type of place rather than a destination to dine out as the main event. The prices are on a par with Wahaca although depending how adventurous your child is, Chiquito is much a kid friendlier menu.
Best bits:
Barbecued pulled pork fajita – very enjoyable
Location – watch groups of climbers trekking over the dome whilst you eat
Not so good:
Coffee and dessert had been sitting around too long before they were served.
We dined as guests of Chiquito.