A few baking trays and an hour's attention paid to this store cupboard granola and you'll have a crunchy breakfast waiting for six weeks. This is the first of three posts written in conjunction with Whitworths Baking Sugars – see below how you can win a selection of your own.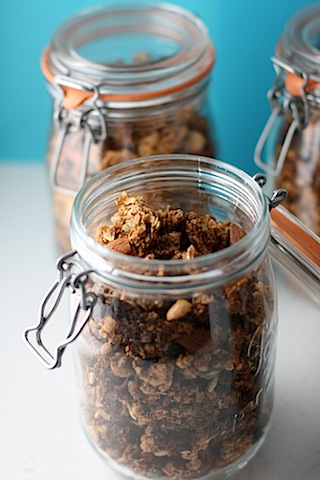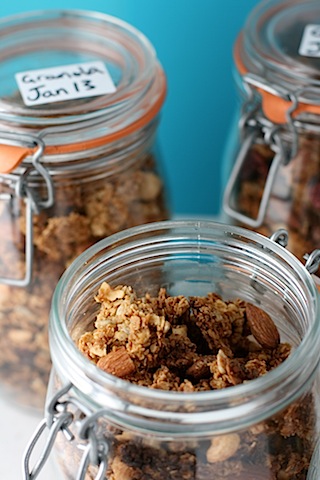 My husband complained last time I made granola and I was inclined to agree with him. The last batch I made, whilst tasty lacked the pleasing clumps you have in the bought variety.
I was interested therefore to learn that the way how to get homemade granola with clumps is to compress it down in the baking trays and break it up afterwards. It's like making flapjacks only there's not enough sticky stuff to glue it all together permanently.
My previous method had been to exercise caution against burning by turning the granola mix in the oven every few minutes. I now realise this was preventing those satisfying clumps from forming.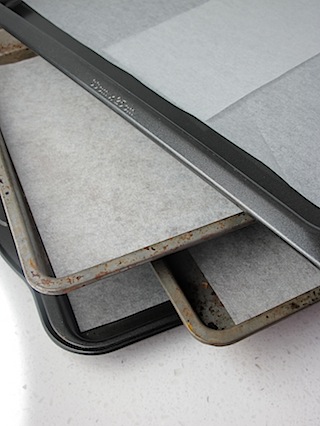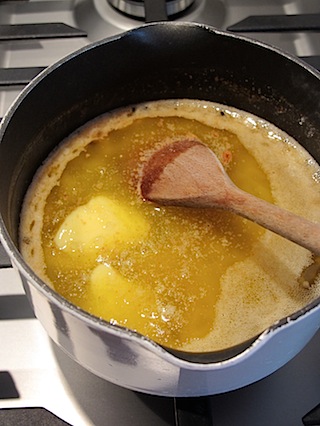 You'll need several of two things to make granola without getting in a tizz; plenty of flat baking sheets lined with parchment paper and several glass storage jars. I have a huge collection of Le Parfait jars in various sizes which I'm ashamed to say I've never used for their designated purpose of preserving and canning foods, only as straightforward storage. In my previous home I had a six foot wide deep mantle shelf in my kitchen which housed over thirty large glass Le Parfait jars however now I only use about twelve at once. I'll never forget the many trips lugging them home on the bus from John Lewis in Oxford Street – these were the days before I owned a car and had access to Westfield.
One reason I've never used the Le Parfait jars for proper preserving or jam making is that I'm a terrible minx for amassing collections of jams, compotes, mustards and suchlike whenever I go on holiday – often 7 or 8 jars of French things come back in my luggage and too often they lurk in my cupboard for a year or two before being used.
Another acquisition is jams or chutneys that other people have made. It would be sacrilege to throw any of these away but fact is I only keep one jar of jam open in the fridge at a time and there are six in the cupboard waiting to be sampled. I had to stop my father bringing me Worcestershire honey as I already had 3 jars of honey still queued up – a honey sponsor at Food Blogger Connect had added to the pile. So as well as sugar, there is honey thrown into the mix of this granola. I should call it hotch potch granola rather than store cupboard shouldn't I?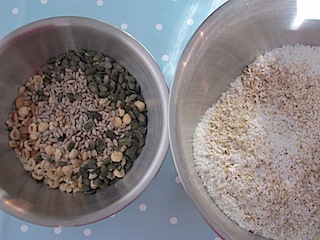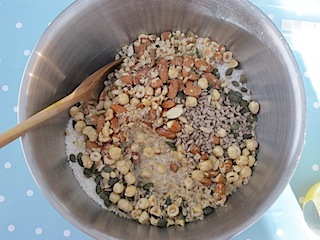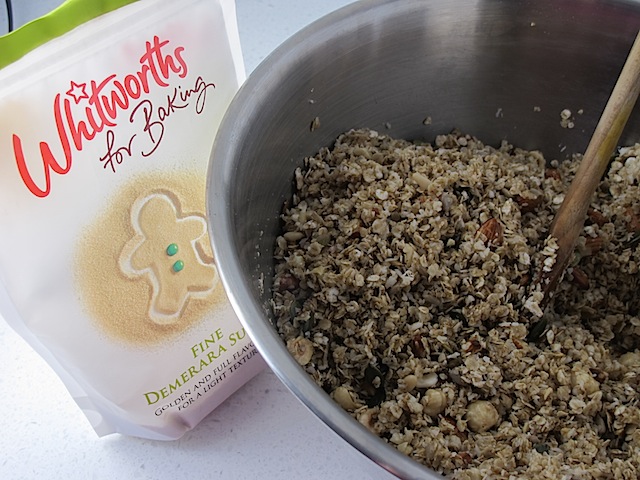 I have recently been working with Whitworths to promote their range of baking sugars. If you're not familiar they're the brand above sold in resealable opaque plastic pouches. Within the range they do two types of demerara sugar, a fine one and a large crystal one and I've been especially satisfied that the sugars flow freely and are less likely to form hard clumps in the bag like some other sugars can. There's nothing more annoying than battling to open a bag of sugar, to find that the plastic tears and the contents spill out. Worse still that the inside has turned into caramelized rocks are various sizes that are hard work to push through a metal sieve.
I'm quite amused in this post I've ended up telling you one way to get clumps (in granola) and another way to avoid them (in the sugar). Clumps have their place, we want them in the granola but not in the cake mix.
I have called this granola store cupboard granola since I have used up all the last bits of bags of nuts, seeds and fruit that were knocking about in my cupboard. I don't know about you but I find it very satisfying to finish off lots of ends of bags and containers of things all in one recipe. There is a place for flavoured granola – indeed try my sour cherry and coconut granola recipe – however when my husband is munching a bowl of something before he leaves for work, so long as it tastes good he doesn't mind what flavour it is. It's the home made element which is most satisfying.
Whether making home made granola is any cheaper than buying it is questionable. But certainly using up dribs and drabs of non-perishables that might otherwise have languished in cupboards makes sound sense.
Do you ever make your own granola?
Store cupboard Granola
Makes around 1.5kg – which is 4-6 weeks supply depending how many people in your household and how often you eat it!

Ingredients

125g butter
150ml honey
150g Whitworths fine demerara sugar
1 tsp vanilla extract
500g rolled oats
150g dessicated coconut
200g nuts of your choice
150g seeds of your choice
250g dried fruit of your choice

Directions

1. Preheat the oven to 170c (325f), Gas 3.

2. Place the butter, honey and vanilla extract in a small saucepan on a low heat and gently melt together.

3. Mix the oats, nuts, seeds and coconut together in a large bowl. Pour over the melted butter and honey mixture stir and ensuring all the dry ingredients are coated. Finally stir in the Whitworths fine demerara sugar until well mixed.

4. Divide the mixture between several large baking trays and pushing down into a flat flapjack like layer but less compacted.

5. Bake for 20 minutes keeping an eye on it towards the end to make sure it doesn't scorch. When golden, remove from the oven and allow to cool down (and the sugar to harden) in the trays before taking the granola out.

6. When cooled, remove each thin slab of granola and break into chunks in a large bowl. Make sure it is absolutely cold before decanting to jars otherwise you will get condensation making the granola go soggy.

7. Store in airtight containers – in my case these Le Parfait jars – until ready to eat. The granola can be stored in airtight containers for a couple of months.

This post, upon original publication in 2013 was sponsored by Whitworths.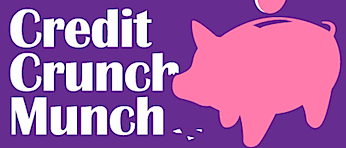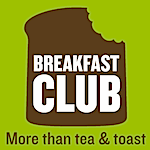 Since I've used up various things in the cupboard to make this recipe I am sending it to Credit Crunch Munch organised by Camilla and Helen. I'm also sending it to Janice at Farmer's Girl who is hosting Helen's other event Breakfast Club under the theme "cooked and baked".