Winding back to the
Rhubarb Breakfast Muffins
, I said I was working my way through several Rachel Allen's
Home Cooking
recipes.  I made this granola on that same productive muffin morning.
Describing cereal as life changing sounds lunacy to me but home made granola was an unexpected revelation. Gathering the ingredients, the scale of how much I was making made me think, "I'm going to have this sitting around for months."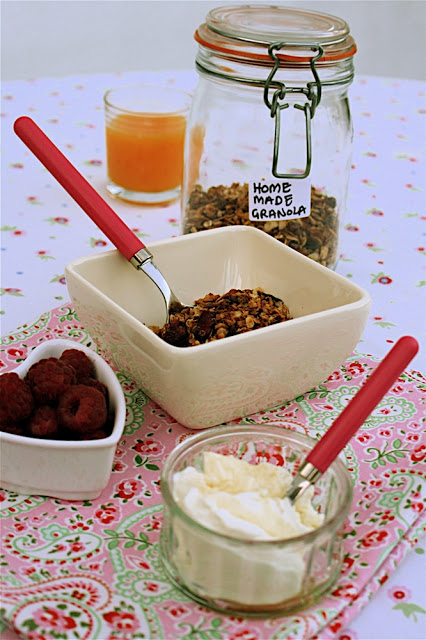 Quite the opposite. Home made granola turned out to be crunch-
tastic
. I vowed to make it again although I still assumed we had 2 months' supply. Yet the granola disappeared at frightening speed.  I skipped into the kitchen to tip it into bowls of Greek yogurt each morning. Ted tucked in too. Even my father who mostly exists on a diet of porridge, sardines and raw carrot ate it.
After ten days I had to stop. It was nearly gone and I hadn't photographed it yet! A long shelf life meant torture as the pictures were repeatedly shunted down my to-do list.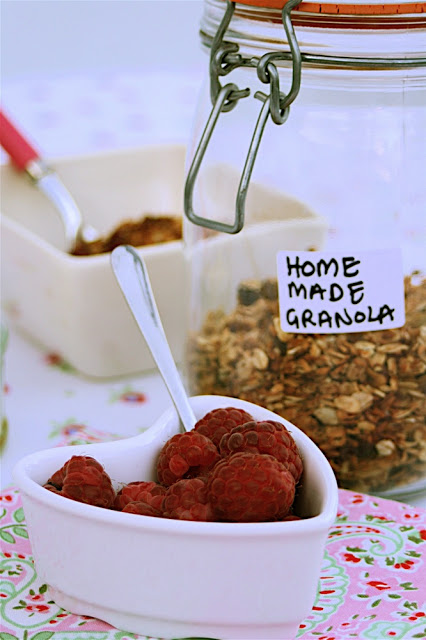 Until now. There is a new regime at Maison Cupcake HQ.  Ted, who frequently napped for 2 hours in the afternoon (how else do you think I manage to write this blog) now has an all day routine with early bedtime.
So it was evening when I finally took photographs in the garden.  I figured if I could take pictures like
this
at 3.30pm indoors in December that 7pm outdoors in summer should be easy. I have new found freedom with longer evenings can finally eat the photographed granola.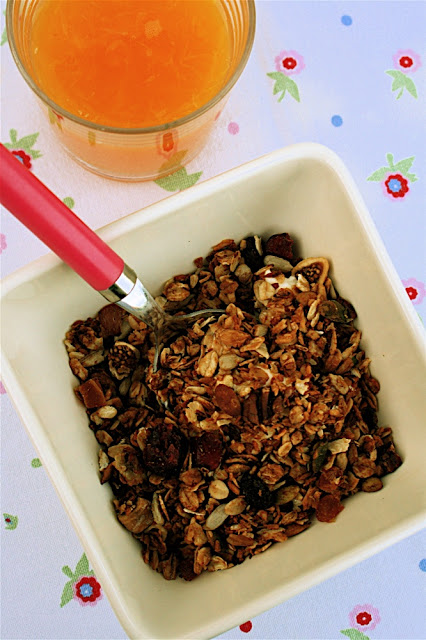 Rachel's original recipe features a wider range of fruit and nuts but I felt the need for something more focused. I also wanted to run down my stock of dried sour cherries from
Montenegro
before the in-laws go back there. I upped the ratio of desiccated coconut too – because I like it and didn't have linseed.
Now I need to make another bucketful. Which would last me, ooh, a fortnight.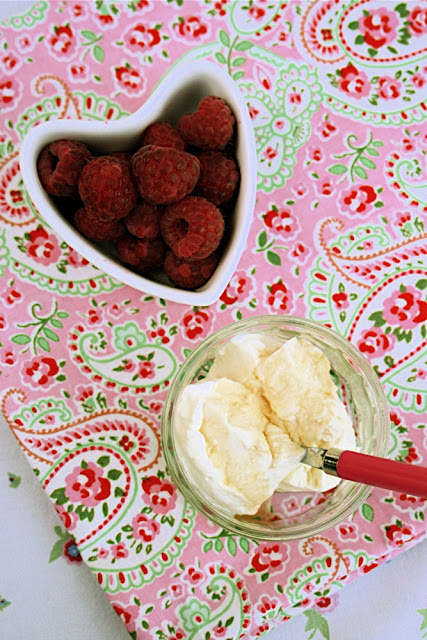 There is still time to enter the
(closes midnight BST, Sunday 20th June)
Sour Cherry and Coconut Granola
Makes around 1.5kg
Ingredients
125g (4.5oz) butter
150ml (5fl oz) honey
1 tsp vanilla extract
500g (1lb 2oz) rolled oats
200g (7oz) pecans, roughly chopped
75g (3oz) pumpkin seeds
50g (2oz) sunflower seeds
150g (5.5oz) dessicated coconut
200g (7oz) dried sour cherries
100g (4oz) dried figs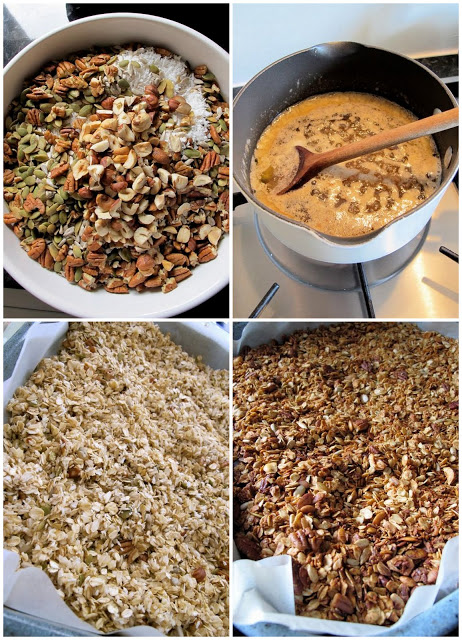 Method
1. Preheat the oven to 170c (325f), Gas mark 3.
2. Place the butter, honey and vanilla extract in a small saucepan on a low heat and gently melt together.  Mix the oats, nuts, seeds and coconut together in a large bowl. Pour over the melted butter and honey mixture and stir ensuring all the dry ingredients are coated.
3. Divide the mixture between two large baking trays and spread in an even layer.  Bake in the oven for 20-45 minutes, tossing every 5 minutes until golden brown. (Rachel's recipe said 20-25 minutes but in my oven it took 45 minutes until I was happy with the colour so you can use this as a guide and decide for yourself when it is ready).
4. Remove from the oven and leave to cool on the trays. Do not transfer to jars or deep bowls yet as the condensation on the cooling granola might make it go soggy.
5. When cool, transfer to a large bowl and stir in your dried fruit.
6. Pour into an airtight container. Keeps at room temperature for up to two months.