These dulce de leche brownies are so gooey and are the ultimate chocolate caramel treat.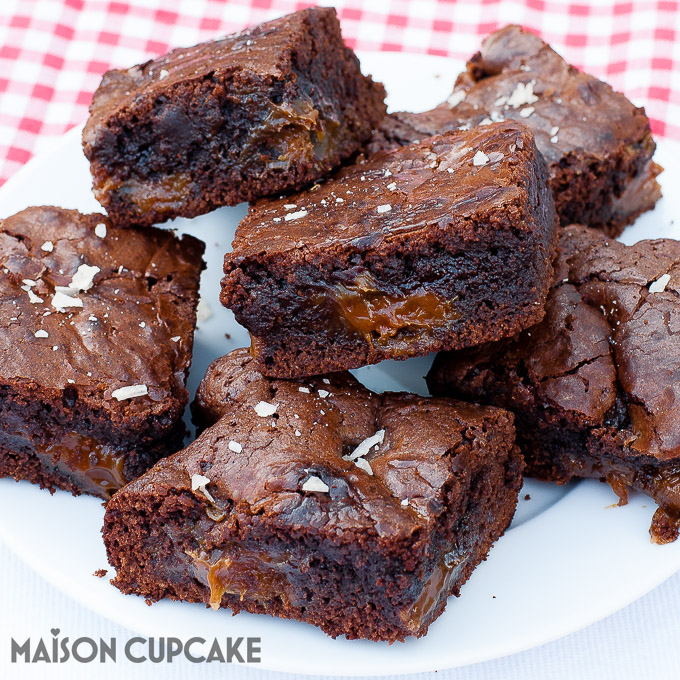 I often refer to myself as "the brownie police" for I am rather fussy about what makes the perfect brownie. Some people like brownies with nuts although my preference is damp squidgy brownies without nuts.
So when I was in the presence of these dulce de leche brownies with caramel oozing out I knew they'd be up to my standards!
We were baking dulce de leche brownies (amongst other things) at the airy Cactus Kitchen in Clapham, south London – home to studios for BBC's Saturday Kitchen and a cookery school run in partnership with BBC Masterchef judge Michel Roux*.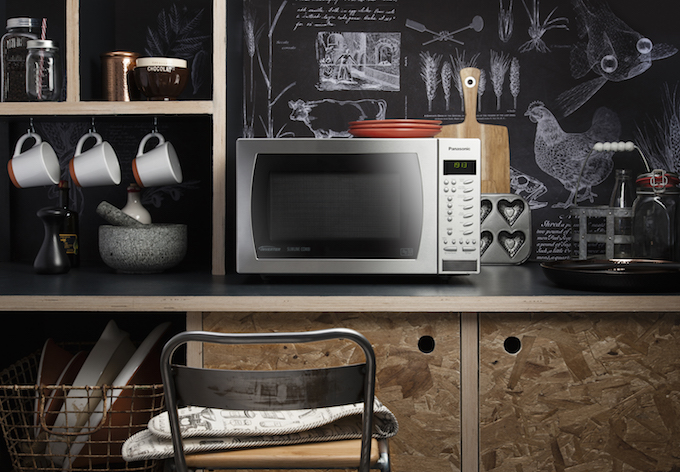 Our star tool for the evening was the new slimline Panasonic combi microwave oven*. It was the first time I'd cooked anything in a combi microwave oven and I was keen to see how it differed to cooking in an ordinary microwave.
And our star teacher for the evening was none other than Ballymaloe Cookery School's Rachel Allen*. After she'd demoed the technique for the brownies she was on hand at every work station for a chat and giving us tips. Rachel taught me how to crush garlic with the blade of a large knife and I have to tell you it was so effective I felt myself warding off vampires for 24 hours afterwards.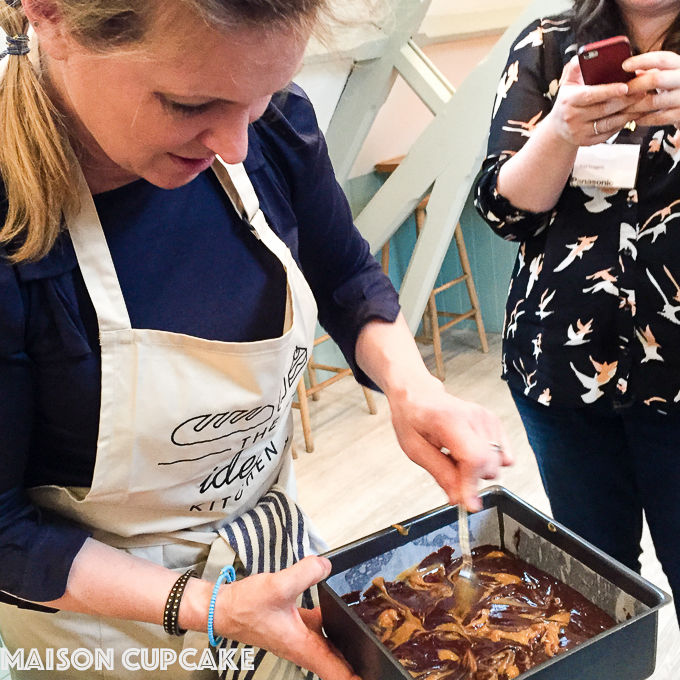 Making dulce de leche brownies
Normally I would use a double boiler to melt my chocolate but Rachel's recipe said to put it in the microwave together with the butter and cocoa powder. Microwaving chocolate has not been ideal in the past as hot spots burn quickly but it seems microwaving chocolate together with butter avoids this as the mass quickly liquifies. Nevertheless at home I covered the jug with pierced clingfilm and opted for 2 mins blast with 1 min standing time rather than 3 mins as in Rachel's instructions. The brownie batter had dulce de leche swirled in it in large globs before being baked.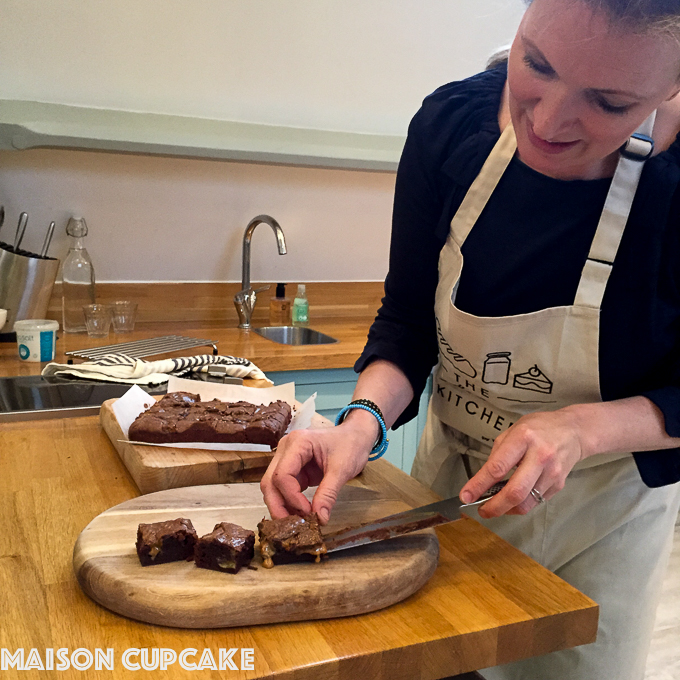 As you can see, after the dulce de leche brownies were baked, the caramel sauce is still oozing out nicely.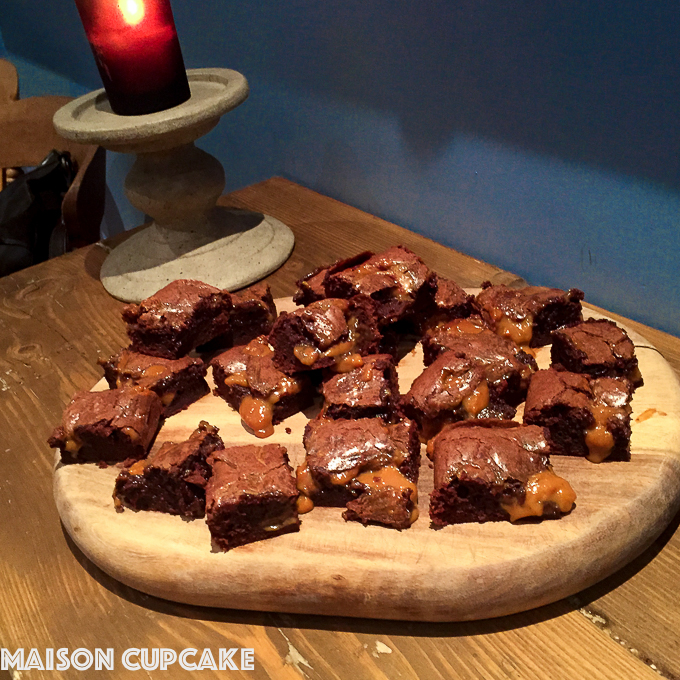 Here are Rachel's on the night.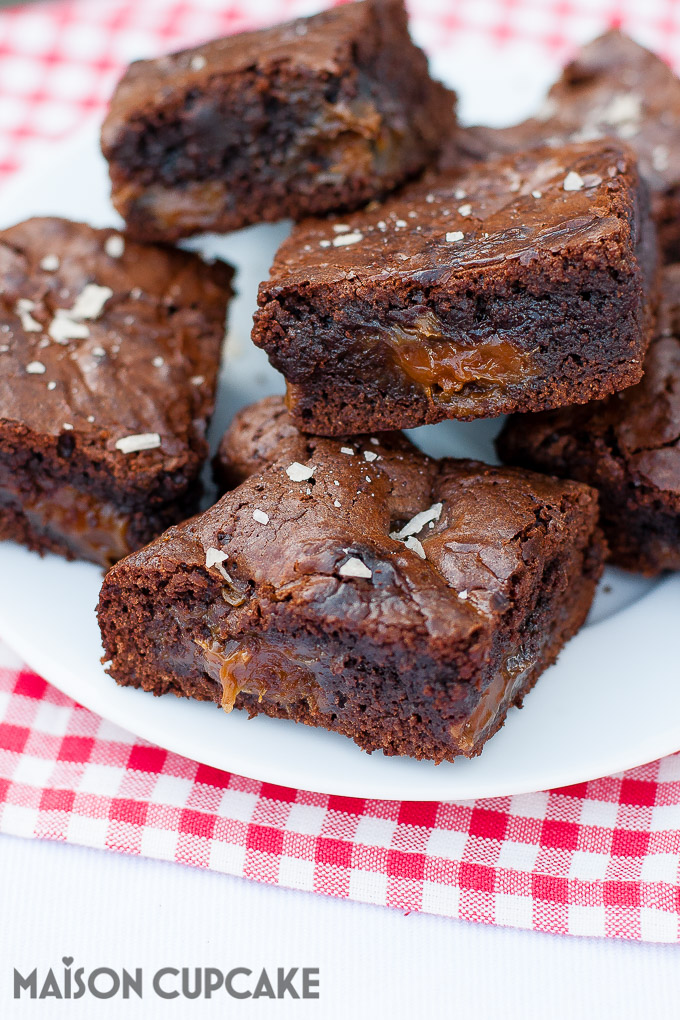 And here are mine made at home afterwards! I've added a sprinkling of cracked smoked sea salt by Falksalt* too.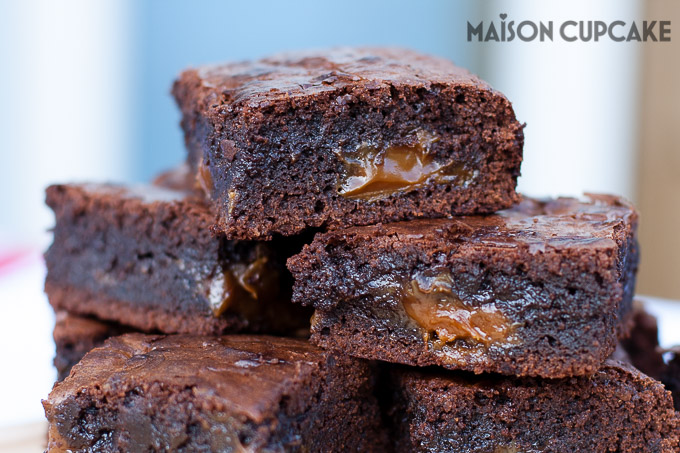 You'll find the recipe for these decadent dulce de leche brownies below but first let me show you what else we prepared in Panasonic's combi microwave oven and their latest bread maker.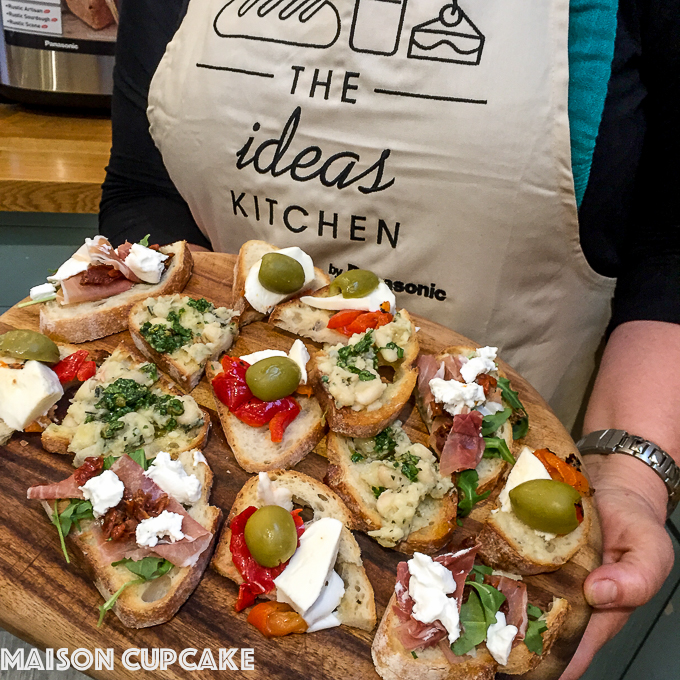 Focaccia bread dough was mixed in the bread maker and then finished off in the combi microwave oven. Here is the focaccia sliced up and topped with anti pasti style toppings.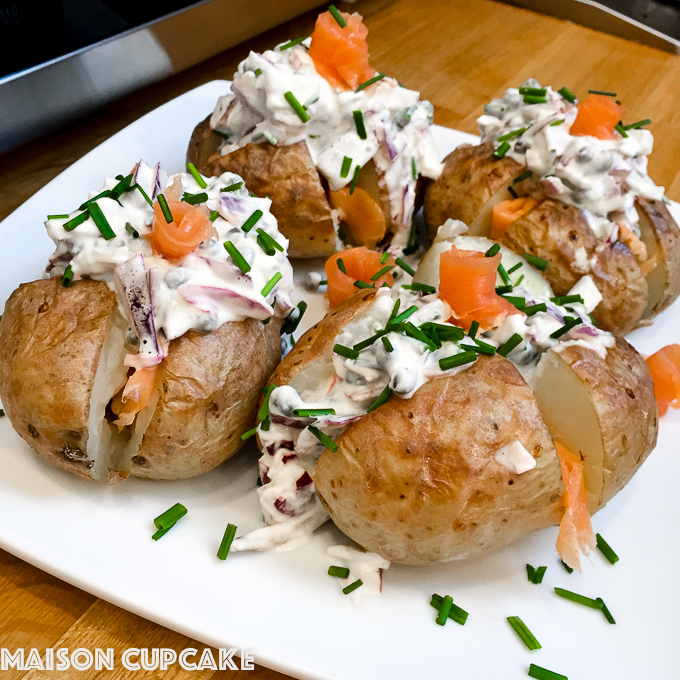 These jacket potatoes with smoked salmon and chives were baked in the combi microwave oven giving them crispy skins and soft floury flesh. Obviously the type of potato you use makes a difference but honestly these were the most wonderful jacket potatoes I'd ever had and I'd never have believed they'd been done in a microwave if I'd not known.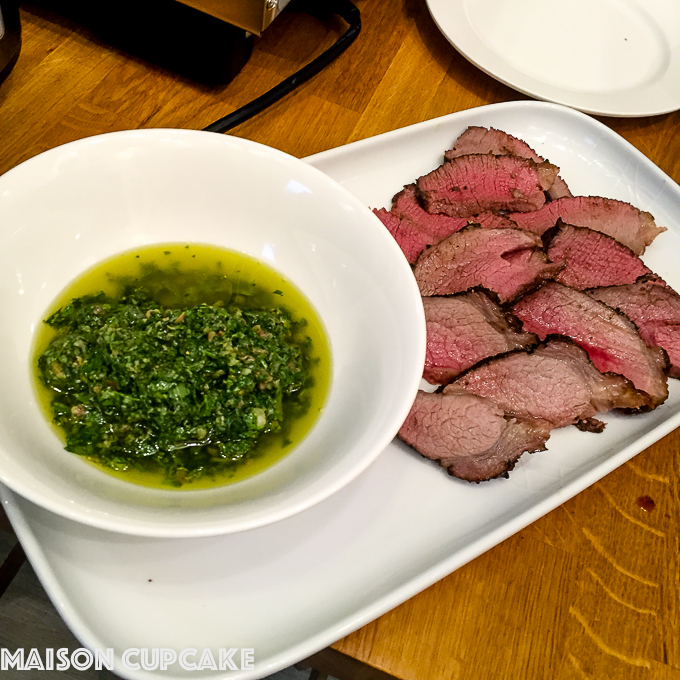 And the piece de resistance. Roast beef in the combi microwave oven and salsa verde. Sunday roasts will never be the same again. A piece of beef was rubbed with olive oil and salt and pepper and put in the combi microwave on the "beef" setting for forty minutes. When the microwave went ping the beef smelled amazing with a brown crispy skin as impressive as any I'd seen done in a traditional oven. As you can see, the meat was done medium rare to perfection and was beautifully juicy.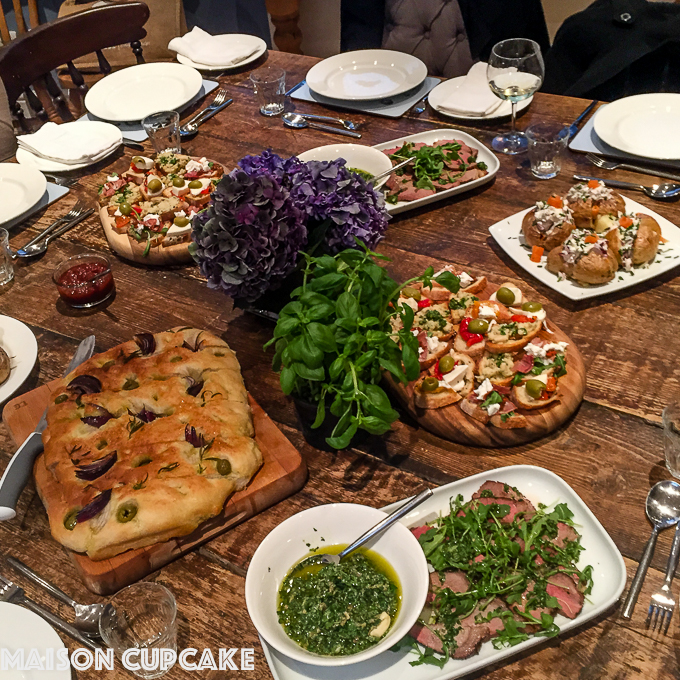 It was hard to believe that everything had been made partly with a microwave! The combination function allowing you to part bake and part microwave adds flexibility to cooking and I can't wait to try it out myself at home. Have you ever used a combi microwave oven?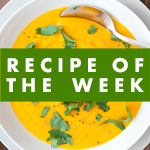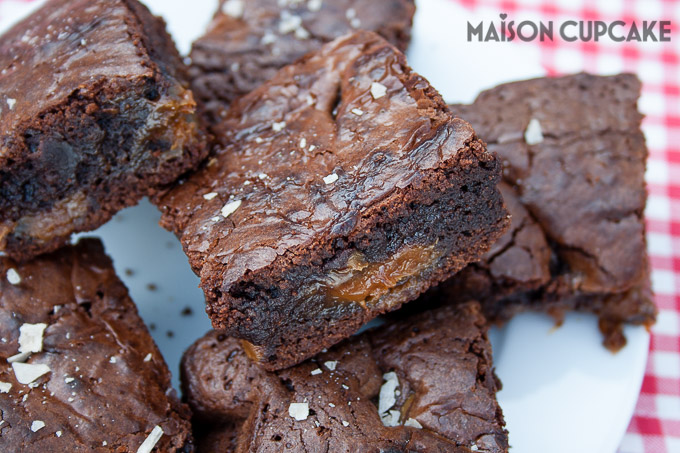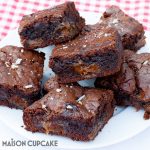 Print Recipe
Dulce de leche brownies
These dulce de leche brownies are so gooey and are the ultimate chocolate treat. *Editor note - 2 mins to microwave the chocolate plus 1 min standing time proved adequate when testing in my home kitchen. Be sure to cover the jug of chocolate/butter with pierced clingfilm to avoid spitting and messing up the interior of your microwave!
Ingredients
175

g

good quality dark chocolate

175

g

butter cubed

25

g

good quality cocoa powder

sifted

3

large eggs

225

g

caster or soft light brown sugar

1

tsp

vanilla extract

100

g

plain flour

or gluten free plain flour

½

of a 397g tin of Carnation caramel or dulce de leche
Instructions
Pre heat the oven to 180ºC

Place the chocolate, butter and cocoa powder in a microwavable dish and cook on HIGH MICROWAVE for 3 mins*. Remove from the oven and stir well, put to one side to cool.

In a separate bowl, whisk the eggs sugar and vanilla extract together for 2 mins until light and creamy.

Add the chocolate mix and continue to whisk until well combined.

Fold the flour through with a metal spoon.

Spoon the mixture into the prepared tin. Using a teaspoon add blobs of the caramel all over the surface of the brownies. Then using a sharp knife or skewer, run it around in swirls for a marbled effect.

Bake in the oven for 25 mins. When cooked it should be dry on top but still slightly gooey and fudgy inside. Don't be tempted to leave it in the oven any longer.

Allow to cool in the tin, and then cut into squares.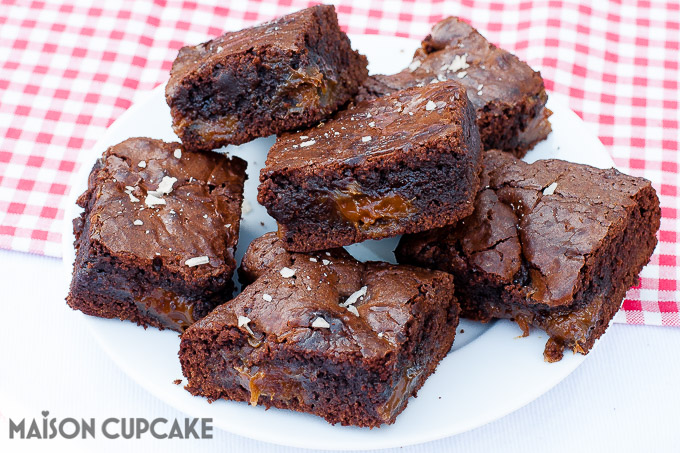 More recipes using dulce de leche
If you liked these dulce de leche brownies then you might like these alternative recipes:
Food processor banana ice cream with dulce de leche by Helen at Fuss Free Flavours
Three ingredient caramel apple croissants by Emily at A Mummy Too
Caramel and biscuit cake by Michelle at Greedy Gourmet
Or these Dulce de leche cupcakes with Daim bar pieces here on Maison Cupcake: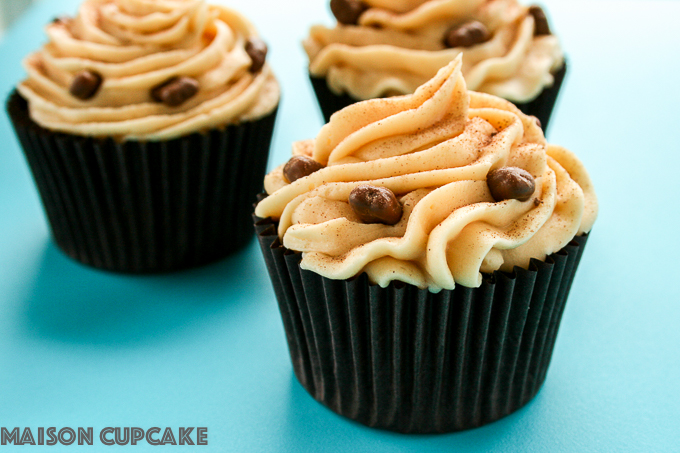 And if you're after more inspiration for great tray bake recipes follow me on Pinterest!
Follow Sarah | Maison Cupcake's board Baking | Bars and traybakes on Pinterest.
*Affiliate links are used in this post. With thanks to Panasonic who are giving me one of their combi microwave ovens to review in a later post. Dulce de leche brownies recipe by Rachel Allen for Panasonic Ideas Kitchen reproduced with permission.