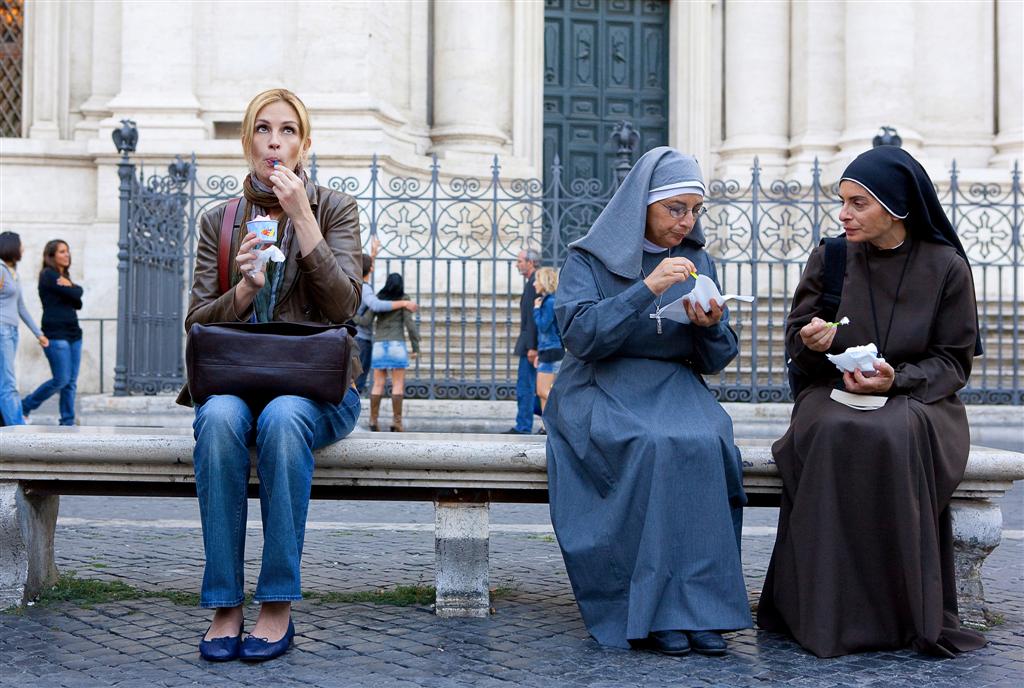 "Are you happy?" is a little question with big answers. If "yes" then that's cool and you can roll back on the sofa with a glass of prosecco or pant your way round a squash court, whatever floats your boat.
If you're not, do you annoy your friends and endlessly grizzle? Or alternatively, like Liz Gilbert, leave husband and home to set upon a personal voyage of discovery?
Eat, Pray, Love is the new film adaptation based on Liz Gilbert's autobiographical book of the same name and with Julia Roberts in the starring role. Newly divorced and bankrolled by her publishing company, Gilbert embarked on an indulgent year long global journey in which she ate (Italy), prayed (India) and found a balance between the two and ultimately new love (Bali). Roberts' popularity, evocative locations and a message that will appeal to many means this film is destined to be a hit.
The UK release is on September 24th but I recently attended a bloggers' advance screening at Sony with Cook Sister and Gourmet Chick. Plied with pizza we settled down to watch before listening to a panel discussion afterwards.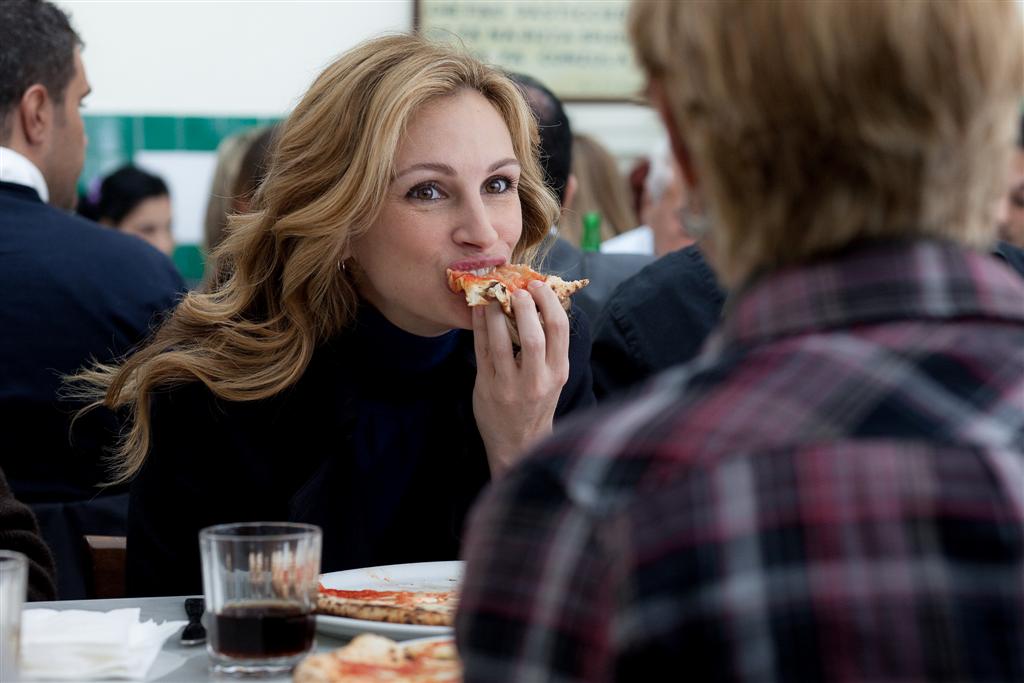 I always enjoy Julia Roberts' films (except possibly Flatliners) even if they're otherwise fairly naff productions so I expected this to push my buttons. I'm not a film critic, I sit there with my popcorn and enjoy most things without aliens or zombies.
Engaging scenes in New York, Rome and Naples are a good start. Ironically, Roberts has the greatest onscreen spark with the soon to be ex-husband Stephen (Billy Crudup, Mission Impossible: 3). His memorable scenes are his representing himself at their divorce hearing and the toe curling wedding flashback.
Rebound toy boy David (James Franco, Spider Man trilogy) is as wishy washy as his panty folding scenes in the laundrette. It's apparent their relationship is going nowhere from the start. Brazilian lover Felipe in Bali, Javier Badem (Vicky Christina Barcelona) is the most appealing of the three but chemistry with Roberts is flat. Centre stage throughout of course, is Gilbert's relationship with herself.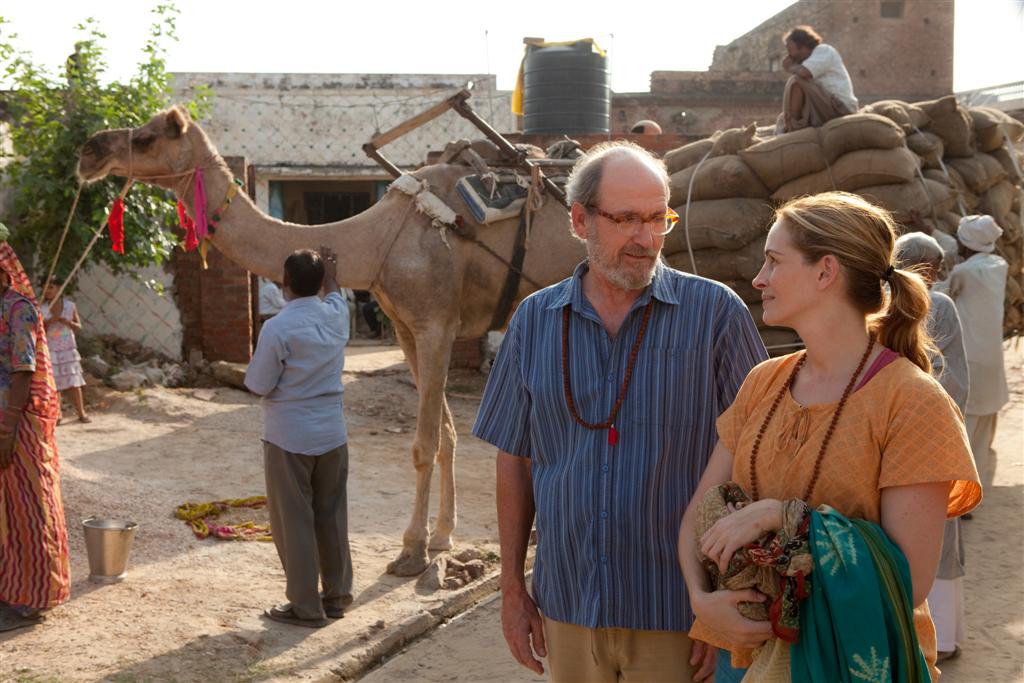 In India, we suffer the dreary "Richard from Texas" who mercifully isn't a love interest. Opinion was unanimous in the panel discussion that the Indian scenes lacked substance. I might have felt more fondly towards Richard if I'd realised he was the omnipresent dead dad from Six Feet Under.
There's fun in Rome explaining Italians' hand gestures and later we get a nod towards Balinese culture but India gives us little insight other than a stereotype of an arranged marriage of a girl in the ashram with no real significance to the plot.  Infact the plot of the entire film is totally linear, there are no surprises. 133 minutes of predictability makes tedious viewing that would be unbearable without Roberts to soften Gilbert's self centred-ness.
How happy I am not travelling, not looking for myself (I was on the sofa with the Prosecco last time I checked) and not meditating. I didn't need to watch Eat, Pray, Love to realise this. An obvious gift on DVD for women, but try not to feel guilty if the recipient leaves their partner and runs off to Goa.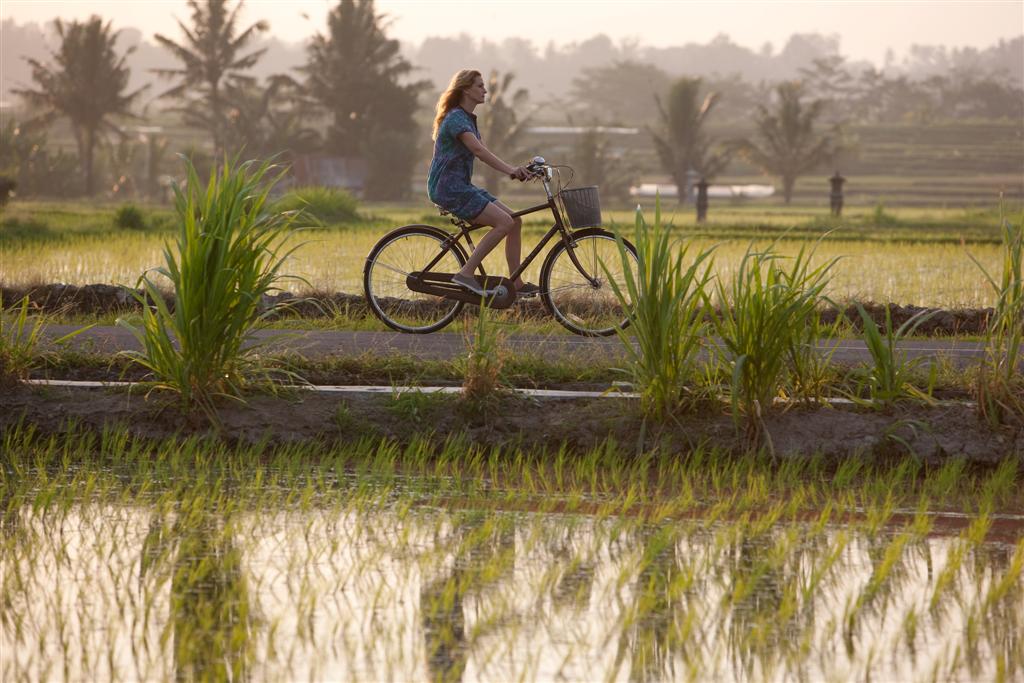 This isn't a bad film, but it left me hungry for more than what was offered. There's some food in Italy, but it never feels much of a big deal. She eats a plate of spaghetti and some ice cream. So what?
The cinematography, despite the locations is never breathtaking. The arrival in India is memorable with Roberts rattling along in a taxi through noisy rubbish filled streets but the rest of "India" is mostly spent in the dull ashram.
A fantastic soundtrack should have showcased the character of the countries featured. Instead we get MOR fodder. The only song that really fits is Fleetwood Mac's "Dreams" played early on whilst Gilbert and husband drift apart. After this, there might as well be no soundtrack for the songs chosen are largely invisible.
Gilbert had the luxury of a book deal ahead of her trip and then published a bestseller through which millions have identified with her situation and copied her route. One can't help thinking that someone had an eye on the commerciality of Eat, Pray, Love from the start. The fortune teller in Bali must be delighted.
If you are a regular cinema goer and like Julia Roberts then go watch this film. If like me, a trip to the multiplex is a rarity, you won't miss much by waiting for the DVD. Meanwhile, to find less self centred enlightenment about seeking happiness, I suggest you re-watch Groundhog Day, even if it is for the fifth time. Just like I did this evening.
Six out of ten.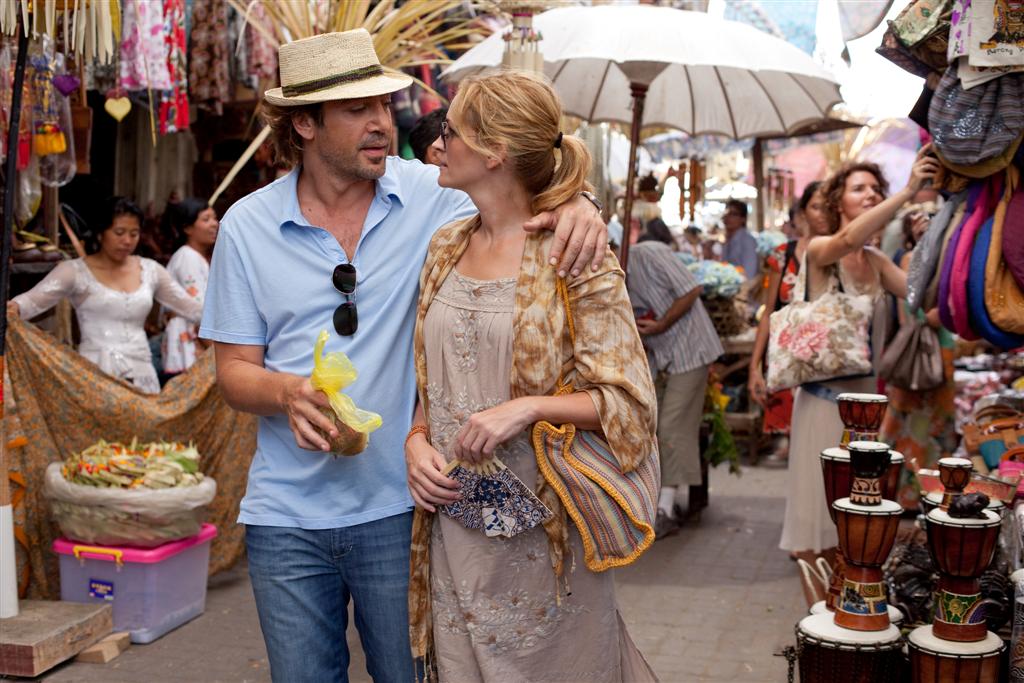 Images reproduced with permission from Sony.